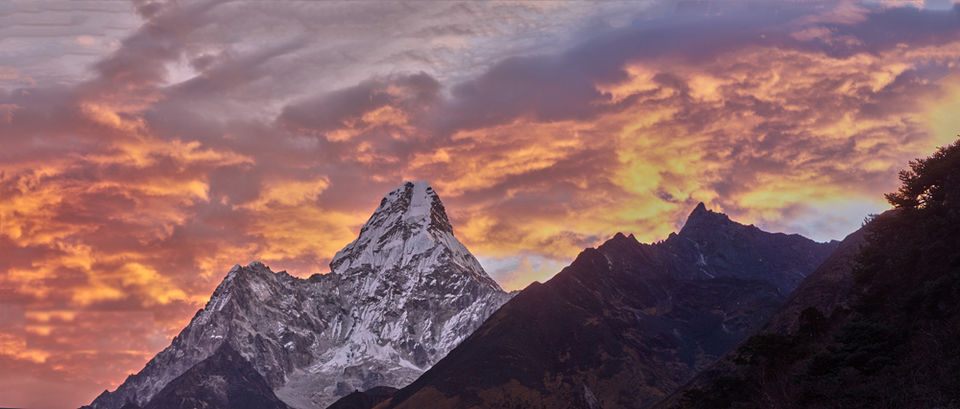 Everest View Trek is a short trek and best one for short holiday trekkers in Everest Region. Mt. Everest and that is the reason why the Everest short trek is so popular. Everest View Trekking has a number of stunning attractions; not least of these is being able to say you have visited the place of the highest mountain in the world. Everest Short Trek is the spectacular scenery and the outgoing Sherpa people of the Solu (down to the Lukla) and Khumbu (up to the Lukla) region where Mt. Everest and its attendant other many peaks are and Sunrise view from the Sherpa village Khumjung and top of monastery Tengboche Monastery viewing Mt. Everest many snow peaks above the Khumbu glacier and amazing landscape.
Everest View Trek is recommended as one of the momentous sites to visit in your lifetime in short time. Everest short trek is the well-known settlement of the welcoming Sherpa people, colorful festivals and the Buddhist monasteries with colorful pray flags. Everest region is known as Khumbu and it has been bounded in the Sagarmatha National Park, the world heritage site. Sagarmatha is the Nepalese name of Mount Everest 8848mtrs, the top of the world. The famous climbers are the dwellers of Khumbu region. Many expedition teams can be observed during this trial period of April and May heading higher with an aim to be on the top of the world.
For more details, please click here
http://www.peregrinetreks.com/everest-view-trek/
Brief Itinerary of Everest View Trek
Day 01: Arrival in Kathmandu (1,338 m)
Day 02: Kathmandu - Lukla (2,800 m/9,184 ft) - Phakding (2,652 m/8,700 ft)
Day 03: Phakding - Namche Bazaar (3,440 m/11,283 ft)
Day 04: Namche Bazzar - Syangboche-Everest View Hotel
Day 05: Trek down to Lukla
Day 06: Fly back to Kathmandu
Day 07: Kathmandu (1,338 m/4,390 ft): Sightseeing
Day 08: Final Departure
Everest View Trek – 8 days Day to Day Itinerary
Day 01: Arrival in Kathmandu (1,338 m)
Peregrine Treks welcomes you to the nation of Himalayas as you make your landing at the Tribhuvan International Airport (TIA), which is the only international airport, located in the capital of Nepal. Our airport representative shall be waiting for you at the airport arrival terminal to pick properly welcome and greet you while showing you the generosity of Nepalese affection towards their guest like you. Now you shall be escorted to a private transport vehicle, which is destined to take you to your respective hotel rooms. Inside your rooms, you can sooth your jet-lagged muscles and later go outside to have a look around at the touristic places near your hotel. Stay overnight at Kathmandu.
Accommodation: Hotel.
Day 02: Kathmandu - Lukla (2,800 m/9,184 ft) - Phakding (2,652 m/8,700 ft)
You need to wake up early today as we have scheduled an early morning flight to Lukla far away from Kathmandu. Those who are bored with polluted city areas should be thrilled with their upcoming flight to the lovely dust free naturally conserved Khumbu region of eastern Nepal. The flight is bound to take around 40 minute to reach Lukla, as it is 138 km away from Kathmandu in the northeast direction. Picturesque mountain views welcome trekkers even before landing in Lukla, alongside that you can witness stunning scenario of lush green hills and torrential river flowing below you. With each passing minute trekkers get closer and closer to the naturally blessed Khumbu region. Now as soon as you land at the Lukla Airport, our trekking guide to give you your first trekking experience in eastern Nepal now guides you. In the starting phase of your trek today, you first descend down to a place called Chaurikharka and later ascend up towards Phakding village. We have planned this short trek while considering the fact that you have just reached at a high altitude of 2,800 meters above sea level. Thus, your body might need some time to get adjusted to the surrounding environment. Stay overnight at Phakding.
Overnight in a local lodge. Walking time 3 -4 hrs, Included Meals: B, L, D
Day 03: Phakding - Namche Bazaar (3,440 m/11,283 ft)
Our adventure has still many phases left for us to enchant upon, hence you shall now wake up with the great feeling of being near the Himalayan Mountains. After waking up, you shall be served with mouth-watering breakfast, which needs to fill your tummy to the fullest in order to make sure that you can complete the entire trek without getting weak during your trek. Continuing our endeavor, we now ascend further while enjoying the mesmerizing scenic view of Mt. Thamserku after reaching Benkar village. Trekkers have to cross the milky white Dudh Koshi River several times through high suspension bridges where strong wind blows through during the afternoon. Going through we now arrive at Monjo village and Jorsale, which is also the entry point to enter into the Sagarmatha National Park. Here the relevant officers after whom you continue walking in the direction of Namche Bazaar check your trekking permits. Before reaching Namche Bazaar, we are to take some rest at Chautara from where trekkers can enjoy all encompassing view of the snowcapped mountains, which are worth remembering. Lastly, we reach the crescent shaped bustling town of Namche Bazaar where are to stay for the night and have our dinner. Stay overnight at Namche Bazaar.
Overnight in a local lodge. Walking time 5-6 hrs, Included Meals: B, L, D
Day 04: Namche Bazzar - Syangboche-Everest View Hotel
The freezing night ends with the glowing rays of sunlight hitting this scenic town called Namche Bazaar. So, as you wake up and have your breakfast as usual, just remember that today is the most important day of our entire trek as we plan to head for the Everest View Hotel, which is situated at very high elevation of 3,962 meter for which it has been named as the "Highest Hotel in the world". Due to its location, trekkers can enjoy the crystal clear panoramic view of the Himalayan Mountains including the most popular Mt. Everest. The Everest View Hotel is Japanese build deluxe hotel, which offers trekkers a chance to enjoy their food while being able to see the highest mountain of the world, Mt. Everest without any disruptions. Not only that but the short hike to Everest View Hotel lets trekker see Mt. Amadablam, Mt. Lhotse, Mt. Nuptse and many others to if they want to. Other side trip includes visiting Hillary School or the monastery, which previously used to have the scalp of a Yeti. Later we again descend down to Namche Bazaar and enjoy visiting some of its popular cafes and restaurants before returning back to your lodge for the night. Stay overnight at Namche Bazaar.
Walking time 4 – 5 hrs, Included Meals: B, L, D
Day 05: Namche- Lukla
Well we hope you enjoyed viewing the soaring summit of Mt. Everest as we now have to head down all the way to Lukla today. After finishing our breakfast, we shall pack our bags and tighten our shoelaces to continue our trek, which goes downward to the lower hill areas of Lukla from Namche Bazaar. Keeping our easy pace walk we again cross several high suspension bridges, you may remember walking by the trail as you previously been there few days ago. Continuing on, we now cross the Hillary Bridge and other several bridges, which can be seen copiously festooned with Buddhist prayer flags all over. Now as the altitude decreases and the amount of oxygen molecules starts increasing so you may feel the air getting denser and denser. Similarly, the temperature also starts to rise higher than at Namche bazaar as trekkers try to approach Lukla which is located far below Namche Bazaar. Trekkers can encounter many stupas and monasteries, mani walls along their route down to Lukla and can start hearing the sound of rushing Dudh Koshi River flowing strenuously below. We pass through several forested trails with rhododendron and pine trees covering large areas while seeing some of the last glances of the snowcapped mountains. As you reach Lukla, you take rest inside a local lodge and spend your remaining time by enjoying the local dishes before going to sleep. Stay overnight at Lukla.
Overnight in a local lodge. Walking time 6 -7 hrs, Included Meals: B, L, D
Day 06: Fly back to Kathmandu
As scheduled, today we have an early morning flight back to Kathmandu, which can take us over some of the most beautiful hills and valleys. After flying for about 40 minutes, you shall be transferred to your hotel rooms by a representative of Icicles Adventure. While inside your room, you can rest and stay relaxed or may go out for some souvenir shopping in the Thamel area. Last of all, you shall return back to your hotel room and start packing up all your things for your departure flight tomorrow. Stay overnight at Kathmandu.
Overnight in hotel. Included Meals: B
Day 07: Kathmandu (1,338 m/4,390 ft): Sightseeing
Hope you enjoyed your sleep yesterday because today as per our prior itinerary you are to go on a very educating sightseeing tour of the famous UNESCO World Heritage Sites which are scattered all over the Kathmandu valley. So, as you finish your breakfast, you along with your other trek mates shall start the tour by visiting the revered Buddhist stupa of Boudhanath, which has gained worldwide attention due to its immense size. Then after we go to the sacred Hindu temple called Pashupatinath, which according to its believers is one of the most important Hindu temples in the world for its ties with the divine Lord Shiva. Similarly, we visit The Monkey Temple or aka Swayambhunath Temple located at the top of hill which offers full 360-degree view of the entire city. To conclude our trip, we also take a side tour to the magnificent Kathmandu Durbar Square where historical items define the past legends of Kathmandu. Stay overnight at Kathmandu.
Accommodation: Hotel – Included Meal: B
Day 08: Final Departure
Today is the day when you depart from Nepal and travel back to your home nation. Hence, a representative delegate of Peregrine Treks shall escort and transfer you to the International Airport 3 hours prior to your flight time. Hoping that we were able to help you get the trip of your dream and give you the best trekking experience that we could, we shall bid you farewell. We wish you a safe and sound flight back home.
Included Meals: B