Breathe in. A salty-humid nip in the air. Thousands of restless legs moving back and forth, while hanging over hundreds of tetrapods. 
A kiss here. A tear there.
A laughter here. A silence there.
A promise here. A dream there.

Picture Courtesy: Mohnish Saraswat
My first memory of sitting by the boulevard of Marine Drive is with a group of friends, after a long day at a college fest in town. We were at least six of us, and we managed to squeeze ourselves between hundreds of other parked humans. We chatted, laughed and, probably clicked a few pictures (No, not selfies.). But apart from that I do not remember anything else, except the feeling of being detached from the rest of the world for a few beautiful moments.
This was 10 years ago. Things have not changed much since then. Sitting by the bay, staring at the horizon, hearing the waves crash against the tetrapods, watching the sun set, spotting crabs moving sideways to hide in their crevices, looking at that distant friendless ship, reading the brightly lit neon signs, gasping at the magnificence of Saifee hospital, listening to the faint calls of tea vendors, and kids selling flowers, with my favourite city skyline glowing in the soothing moon light.

Bombay (Mumbai) is a city that tends to smoothen the creases of class divide, whether it's through its nerve wrecking traffic or through the mass appeal of Marine Drive. It's probably only here that you can see a young woman wearing her expensive Nike shoes, and jogging alongside the crashing waves, while passing by a sleeping homeless man, and hundreds of couples. All somehow content in their own way. The city belongs to no one, but everyone owns a piece of Marine Drive.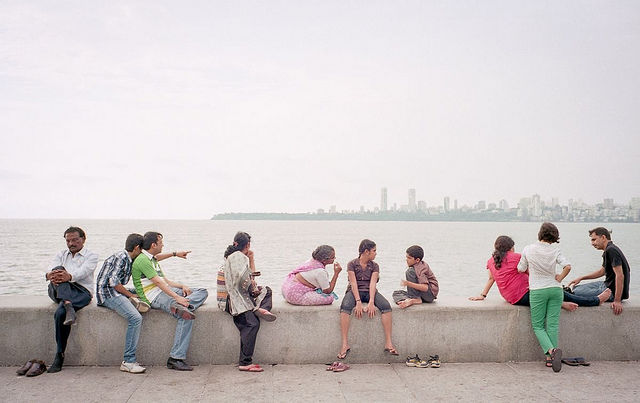 It was on December 18, 1915, close to a century ago, when the work on the Marine Drive (less popularly known as Kennedy Sea Face) promenade began. Since then the sea face has hosted many a smiles, dreams, and stories.
 Unlike most tourist places, which have a story of their own, Marine Drive allows you to create your own stories. The visitor here is more significant than the place. Every person is important; all their stories are indispensable. It doesn't steal your thunder, it subtly adds to the drama, and to the beauty of your life, your sorrows, and your happiness. Every drop in the sea, recites a different life poem.
 There are many memories associated with this place from late night drives to celebrating birthdays, from lighting Chinese sky-lanterns to watching them disappear over the horizon, from drenching in the Mumbai rains to getting a moment's peace after a long day at work. In a city that is always on the move, this is one place where everyone rests their boots.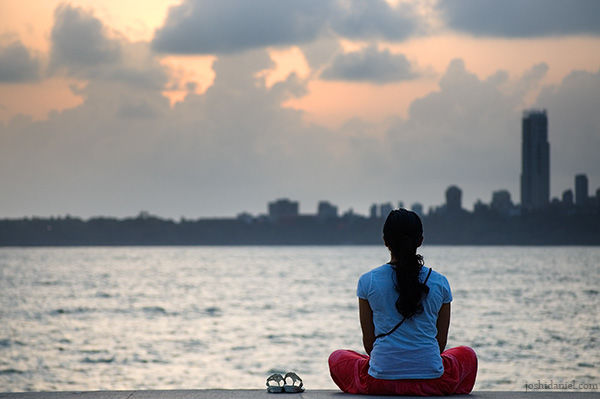 The two years that I worked as a journalist in a newspaper, which had its office in town, Marine Drive was a regular feature in my daily schedule. The strenuous working hours, however had taken a toll on my five-year-old relationship. My then boyfriend, and I broke up. It had been three months since that.
One chilly evening in November, I got a call from him. The voice on the other end said he is waiting for me on Marine Drive, right opposite Hilton – the place that was our spot on this 3 km stretch. I was supposed to go with my colleagues to the Press Club but I ditched them, and hopped on to a cab.
The place was sparsely crowded. I spotted his tall lean silhouette against the backdrop of rising waves. The cab took a U-turn and dropped me where I intended to. "Hey," he said. "Thanks for coming over." I just went, and sat up folding my legs. Conversations started. We spoke for the next two hours - about the weather, this city, my job, his expectations, what went wrong, what was perfect. We laughed. We cried. Nothing that was happening around seemed to bother us. The world was passing by while we were stuck in the moment. A brief silence followed. He held my hand. We kissed. In that moment nothing else would've been perfect. This is how it was supposed to be.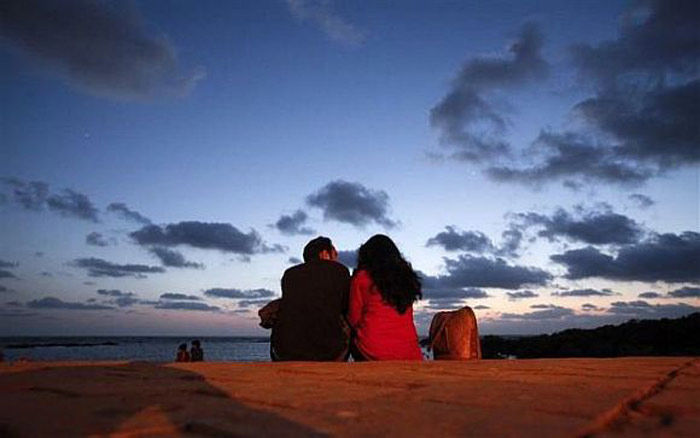 No. We are not together anymore. Sometimes, I regret meeting him there that night, and getting back together. Giving him another chance to break whatever was left of me. But then those were some honest beautiful moments; the sea was witness to it. And in a way I'm glad I lived those moments.
If there were any place in this city that has constantly seen me transform from a meek submissive girl to a strong independent woman, then it would be Marine Drive. I'm sure in the past 100 years this place has preserved billions of stories within in its depth.
 What's your story?