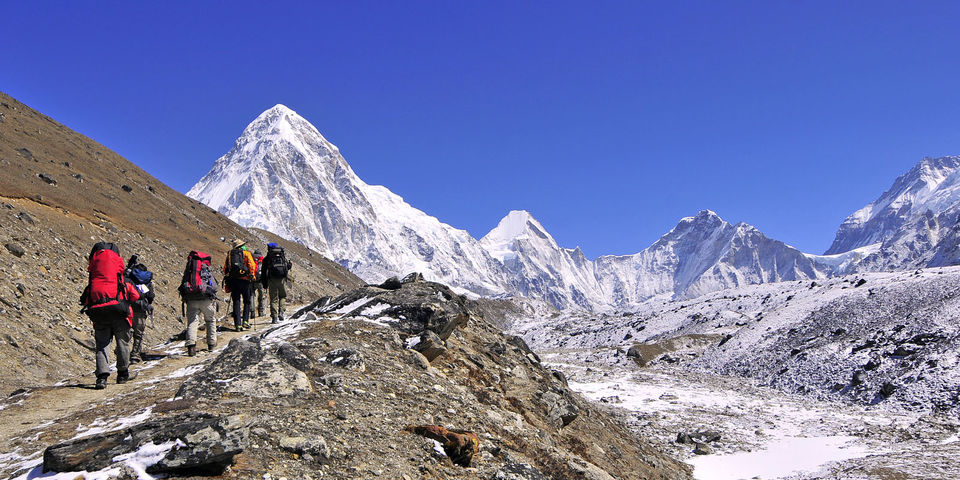 Annapurna Circuit Trek is one of the spectacular trekking regions. During the trek, you will not only get an opportunity to experience amazing trekking trail but also view Hot springs, Deepest Gorge named the Kali Gandaki, World's highest altitude lake named Tilicho Lake and many varying landscapes which shows wide view angle including stunning waterfalls.
One of the important facts about Annapurna Circuit Trek is that it was first opened for tourism in 1980 and since then the Annapurna region trekking has been recognized as one of the world's best trekking trails according to a survey conducted by Modern Maturity (USA).
HIGHLIGHTS OF ANNAPURNA CIRCUIT TREK
Fantastic views of the following Himalayan peaks Annapurna I, II, III, IV, Dhaulagiri (the spectacular ice pyramid), Machhapuchhre (Fish Tail), including others mountain ranges
Rhododendron Forests; has more than 440 species of birds and animals like Marten, Deer, Langur Monkey and the exclusive Snow Leopard
Thorong-La Pass: the Famous viewpoint in the Annapurna region and the highest point on the Annapurna Circuit
Tilicho Lake: situated at the highest altitude (4,919m) in the world and the Kali Gandaki Gorge or Andha Galchi (between the Dhaulagiri and Annapurna), the deepest canyon in the world
The Muktinath Temple: one of the most important shrines of both Hindus and Buddhists.
Natural Hot Spring at Tatopani to relax your tired muscles
Poon Hill: the second famous viewpoint in Nepal after Kala Patthar in the Everest region
Sunrise/sunset view from Poon Hill and Thorung La pass.
Culturally riched ethnic group: Gurung, Thakali and Magar settlements in place such like Ghorepani, Marpha, Jomsom and Manang
BEST SEASON
Annapurna Circuit Trek can be prepared at any time of the year. But, if you are looking for the best seasons, then Autumn (October-November/Mid December) and Spring (February-April) are the two best seasons to plan this trek in Nepal.
BRIEF ITINERARY
Day 1: Arrival in Kathmandu (1,300m)
Day 2: Drive to Bhulbhule (900m): 6-7 hours and Trek to Nagdi (920m): 1 hour
Day 3: Nagdi to Jagat (1,300m): 6 – 7 hours
Day 4: Jagat to Dharapani (1,960m): 7-8 hours
Day 5: Dharapani to Chame (2,710m): 5 – 6 hours
Day 6: Chame to Pisang (3,300m): 5 – 6 hours
Day 7: Pisang to Manang via Nawal: 6 – 7 hours
Day 8: Manang: Day Hike
Day 9: Manang to Yak Kharka (4,110m): 3 – 4 hours
Day 10: Yak Kharka to Thorong Phedi (4,600m): 3 – 4 hours
Day 11: Thorong Phedi to Muktinath (3,800m) via Thorong La pass (5416m): 7 – 8 hours
Day 12: Muktinath to Marpha (2,670m): 4 – 5 hours
Day 13: Marpha to Ghasa (2,050m): 5 – 6 hours
Day 14: Ghasa to Tatopani (1,100): 6 – 7 hours
Day 15: Tatopani to Ghorepani (2,850m): 7 – 8 hours
Day 16: Ghorepani to Poon Hill to Tadapani (2,700m): 6 – 7 hours
Day 17: Tadapani to Ghandruk (1,960m: 3 hours trek
Day 18: Ghandruk to Nayapul (1,000m): 4 hours trek and Drive to Pokhara
Day 19: Drive from Pokhara to Kathmandu: 5-6 hours
Day 20: Final Departure
MAP OF ANNAPURNA CIRCUIT TREK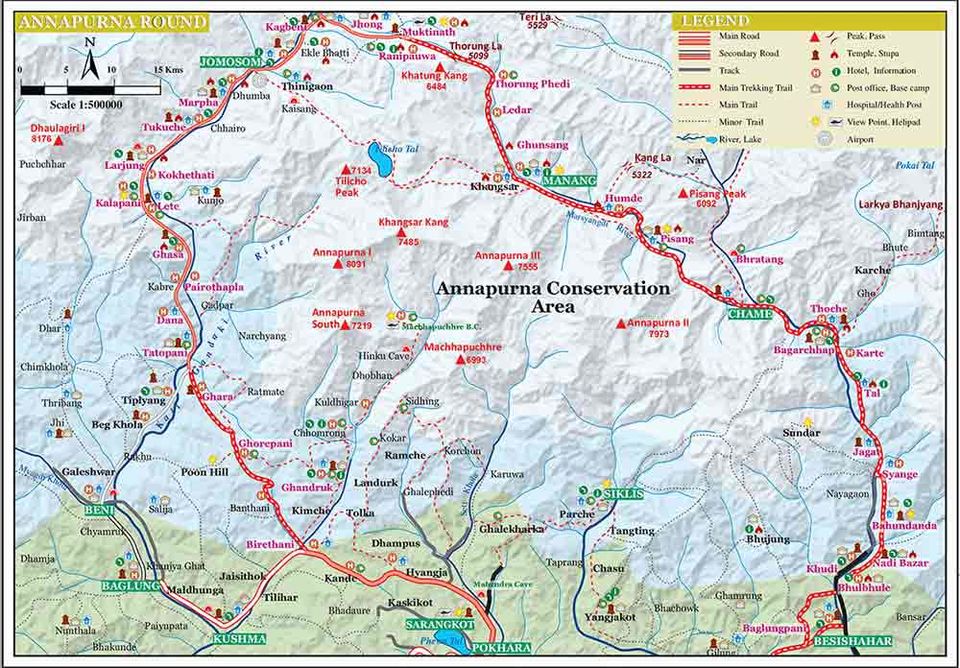 GEARS & CLOTHING
Trekking Gears:
Backpack, Trekking Poles, Camera with battery, Phone & Cord, Sleeping bag, pillowcase, Plug adapter with built-in USB ports, Water bottle, headlamp and Pack rain cover
Clothing:
Hiking Pants (1 pair), Long sleeve shirt (1), Short sleeve shirt (1), Socks (2 pairs), Comfortable and warm pants (1 pair), Down Jacket (1), Warm hat (1), Sun hat, Gloves, Raincoat, Hiking boots and Sunglasses
Lastly, you need to be clear with all permits required for the Annapurna circuit trek. Basically, you must have to purchase two permits: Annapurna Conservation Area Permit (ACAP) and Trekkers Information Management System (TIMS) card. These permits are required to enter the Annapurna Region and will be checked at several checkpoints along the circuit route.
In nutshell, Annapurna circuit trek is one of the most geographically and culturally diverse regions for trekking. Therefore, don't miss out to trek on your next trip to Nepal.
If you need any other support besides above information. Then, you can contact me directly. You are just one email away. We will do our best to answer your queries. Happy Vacation!