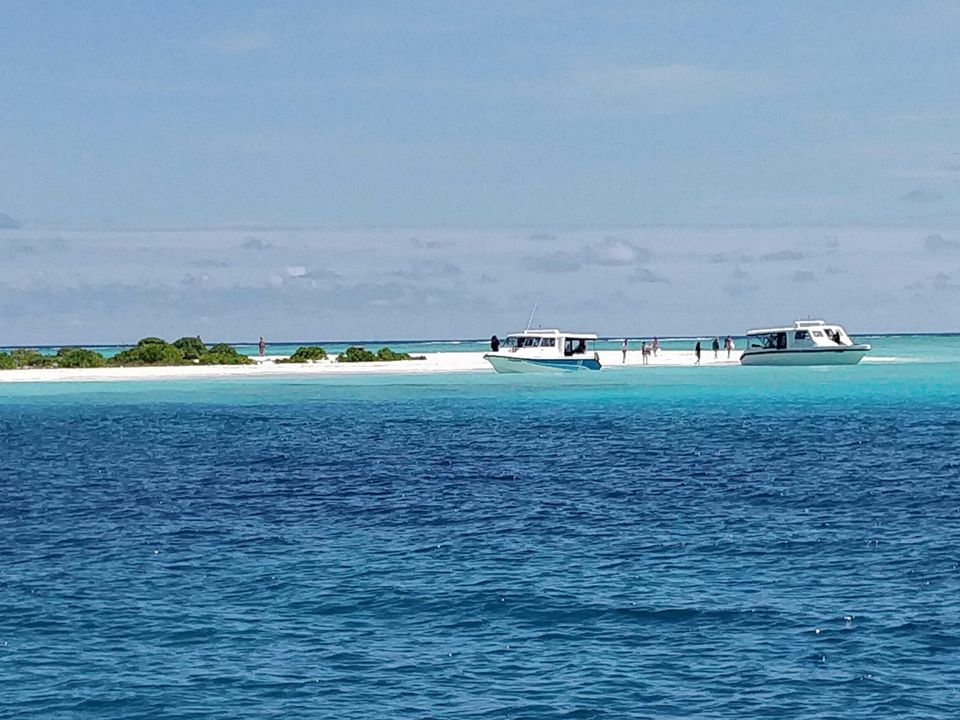 My husband and I were planning a getaway for our anniversary !! And since both of us love beaches we shortlisted three destinations for the same - Andaman, Maldives or Bali. Going by the budget we had in mind Maldives seemed to be the best option.
So after zeroing on Maldives , I made my own itinerary and listed the things we wanted to do ! Luxury stay as well as water activities were both on our mind and therefore we planned accordingly!
While flying over this amazing country you see tiny islands scattered over the ocean, I knew I had made the right choice..
When I first took that ride from Male to Mafushi, it was the most breathtaking view I have ever seen !!
The color of the ocean in three shades of blue.. Matching it was the color of the sky !
You instantly feel that you're just a tiny speck in this vast universe.
On our 4N/5D trip we decided to stay at Mafushi in a budget hotel for two nights, take all the activities and then spend another two nights on a water bungalow at a 5 star resort and just relax.
The activities included dolphin watching, swimming with the reef, fishes and turtles and sandbanking. It was a full day trip,so they take you to different parts of the ocean where you can snorkel with turtles and watch the dolphins chasing your boat !
Night was well spent on a cruise which was arranged by our hotel and served some delicious Maldivian cusine.
For people who think that Maldives can be an expensive affair but want to still experience it in a small budget here are some tips:
1) Plan early and book tickets, you should get them at cheaper rates. Also the flights via Srilanka are cheaper and if time isn't a constraint then you can stopover at Srilanka.
2) Prefer public/govt sea transfer. They cost you $20 per person as against $100 if you ask the resorts to pick you up.
3) Choose your season. Ideal time to travel is between September to January but these are the months where everything becomes expensive. We went in June (during rains) and got a great deal at most of the things. Plus weather was nice too.
4) Take up water activities on the commercial island of Mafushi. They cost you $40 per person as against $300-$500 in resorts.
5) If you're staying in a private island resort then choose your mealplan in advance. There are no other restaurants outside, so take up a meal plan accordingly. Meals which aren't included in your package tend to be expensive.
6) Alcohol is only available at the resorts and few selected hotels. A pint of beer will cost you around $10 and other beverages around $25-$30.
7) Since Maldives is a country with 100+ islands, lot of these islands are converted into resorts. While few resorts are close by to Male Airport, others are very far. This requires a sea plane transfer!! So while choosing the resort, check out their to and fro transfer prices. Sea plane transfers cost about $500 per person!! While boat transfer offered by resorts are around $150.
8) Turn off your mobile data as it might cost you a bomb. Good thing is all the resorts, hotels and even ferry boats have in built wifi.
When it comes to outfit and what you should be wearing , pack a few conservative clothes along with your beach wear. This is because Maldives is a Muslim country and they have policy on clothing. So while you're in public places wear clothing like tshirts and jeans ( something which is going to cover 60% of your body ) . Once you reach your resort you're free to wear anything you like. ! Most places there accept international cards (a fee might apply) but keep few hundred USD for safety purposes.
These were the hotels and resorts that we booked
1) Kaani Sea view Hotel - Mafushi (2N)
2) Adaaran Prestige Vadoo resort (2N) - Water bungalow
Well they say, no matter how much you read,you will truly enjoy Maldives when you experience it yourself. Overall the trip costed us $2500 (for 2people) including flights, accommodation, activities, luxury stay, food, alcohol, shopping etc.
So what are you waiting for ? Take up a pen and paper and plan your own itinerary for Maldives !!