Few months back I got a chance to visit Mauritius – a dream destination (actually Mauritius is one dream destination that can be afforded ;) ). I remember we took a lot of time in deciding this destination.
We booked our tour through makemytrip.com and they arranged it just perfectly for us. This was the first time I was going abroad and was very excited.
I had heard a lot about water sports but never got a chance to do them. This time I was sure that I am surely gonna give it a try. So what if I don't know swimming? So what if I am scared of water? I mean lifejackets and other necessary equipment were provided for such adverse circumstances. I tried to convince myself hard on that.
The splendid sight of blue waters made me forget everything.I had never seen such a beautiful sight.The sound of the waves was so comforting.I was in the midst of admiring the beauty of the white sand and the blue waters ,when suddenly we were asked by our tour organiser to get ready for underwater sea walk.
I could conjure myself drowning that very moment.Then he told us that this activity was for people like me-non swimmers.After all even we had the right to witness the underwater aesthetics.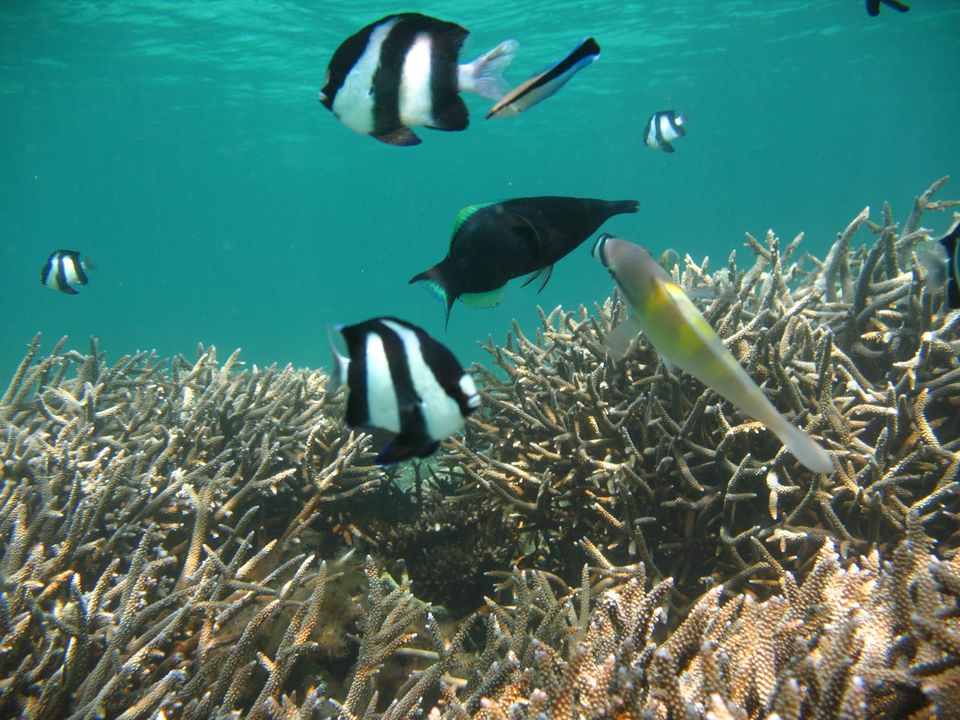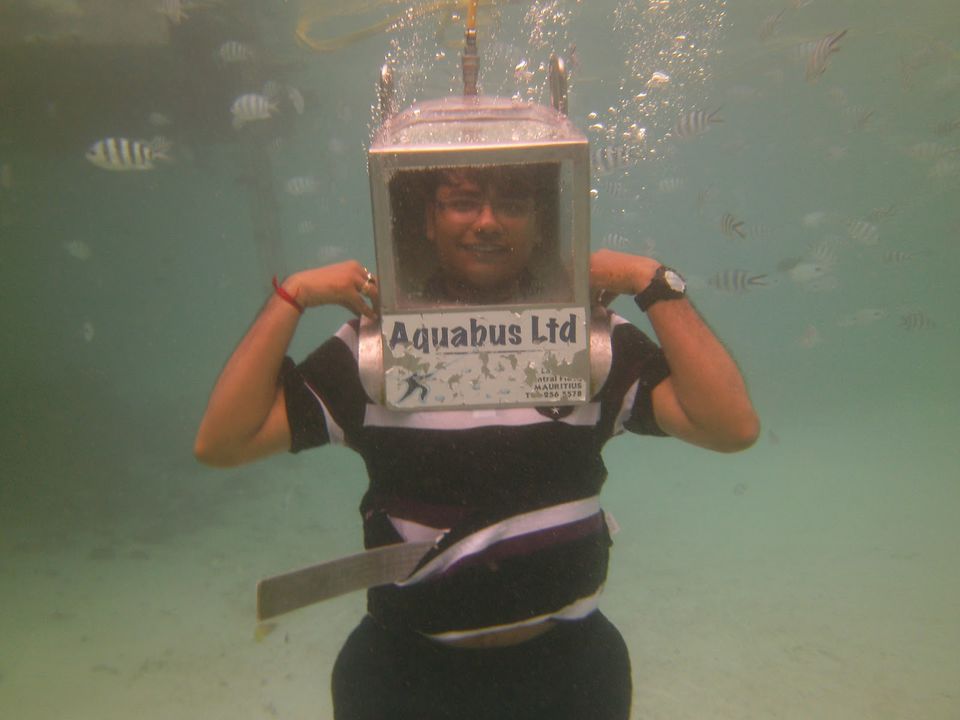 They gave me and Prashant a couple of slippers that had to be worn underneath,so that it became simple for us to walk.They had a ladder going down to the sea, from the ship on which we were getting ready with the necessary equipment. We were supposed to go down the ladder till the point only when our heads remained exposed to the air.We did the same as told.It was at this time they made us wear some heavy transparent helmet kind of a thing and we were let down into water. They had already told us before that we would be using sign language underwater as we could speak inside the helmet ,but nobody would be able to hear us. "Point your finger in the upward direction, if you feel any discomfort", was the most important instruction for me. All we could do is trust the divers who went with us.
I was extremely nervous when I was being let down into water.Then I felt somebody from their team hold me and made me properly stand and rest my feet on the seabed. I could see a view that I had never seen in my life. The beautiful corals and a variety of fishes ....a colorful sea life marked by a different ecosystem,everything was amazing. But then even though I was physically fine underwater, but psychologically I was trembling which was clearly visible in my underwater photographs as well.
That was quite a new experience for me and I will cherish it always.
The next day I was ready and more excited for the parasailing activity.We were taken to Aux Cerf ,an island ,by a speed boat which again presented us with some beautiful scenery .I could see people flying in the air from my speedboat and my excitement knew no bounds. They had a platform cum podium kind of a thing,in the middle of the sea .On that platform I could see people taking off for paragliding and landing on the same.The paragliding duration was to be about 5 mins. We wore the necessary equipment when our turn came. And then up in the air!!!! I felt like a free bird .......Never before I had felt this way.
We were high up in the air and enjoyed the gushing of wind.
Clouds above and sea down ,that is all we could see...and the boat that was taking us through this adventure.The boat man also let us once through water and then again high up in the air.But now we had to land.We were not sure about how we would be landing on that platform. It seemed we had missed on the landing instruction.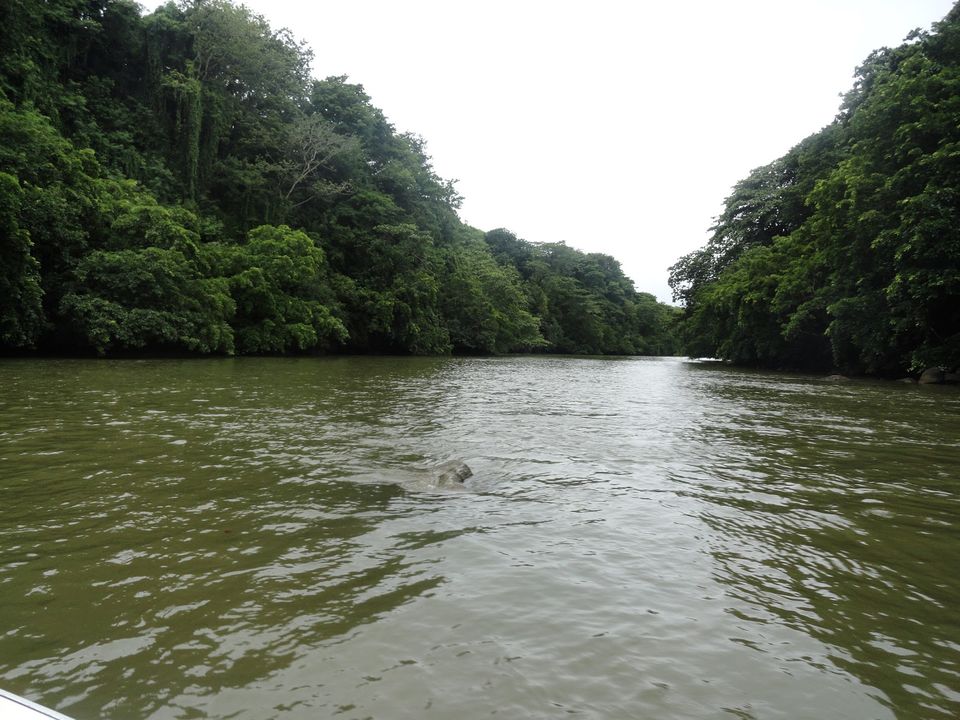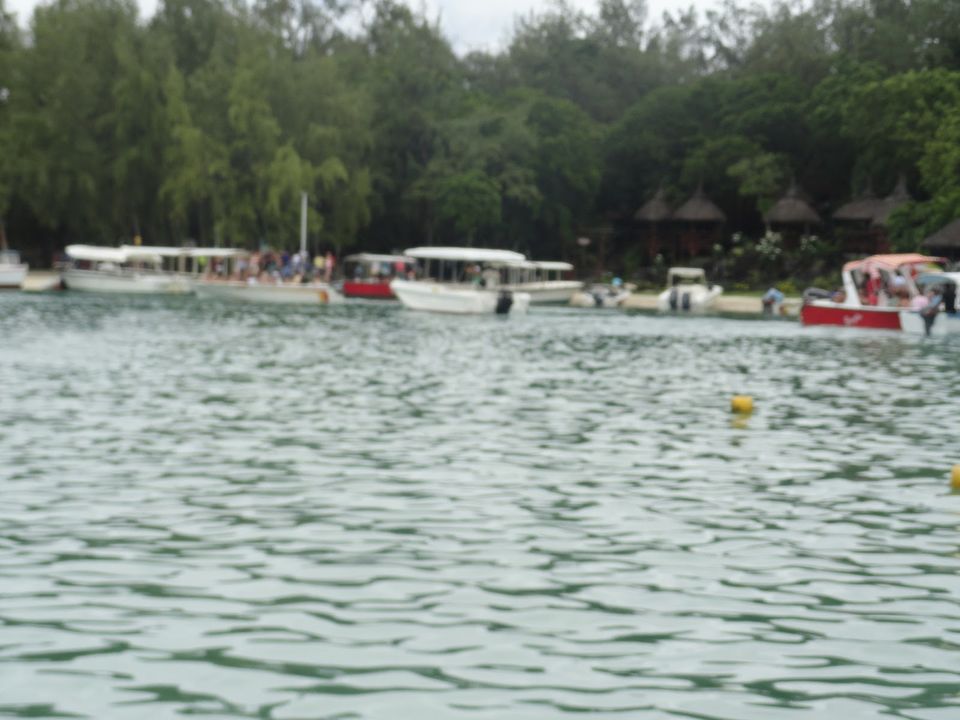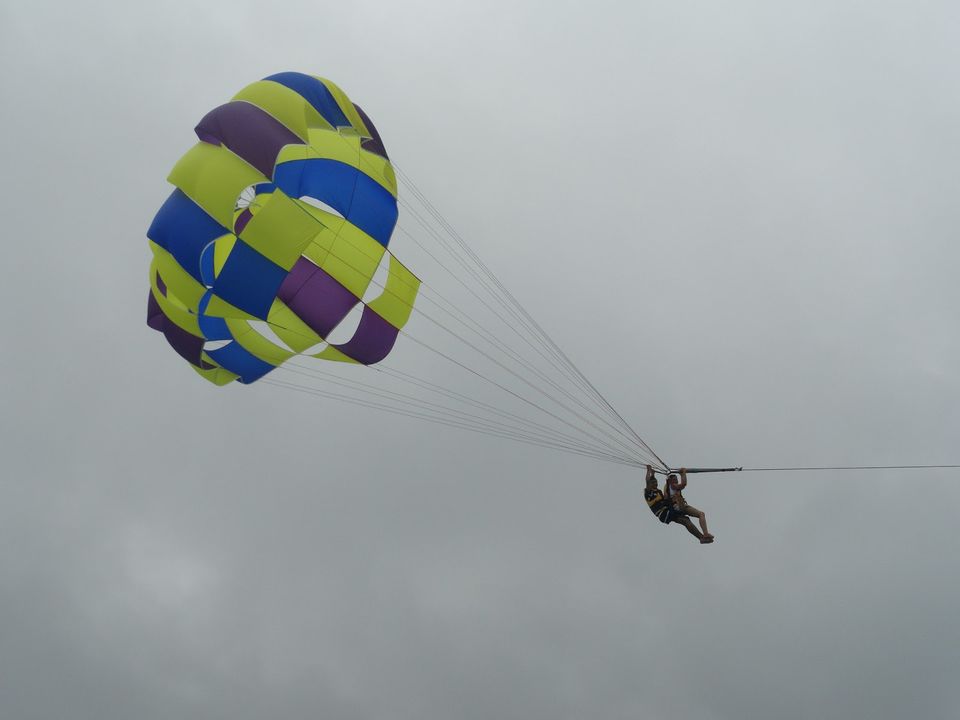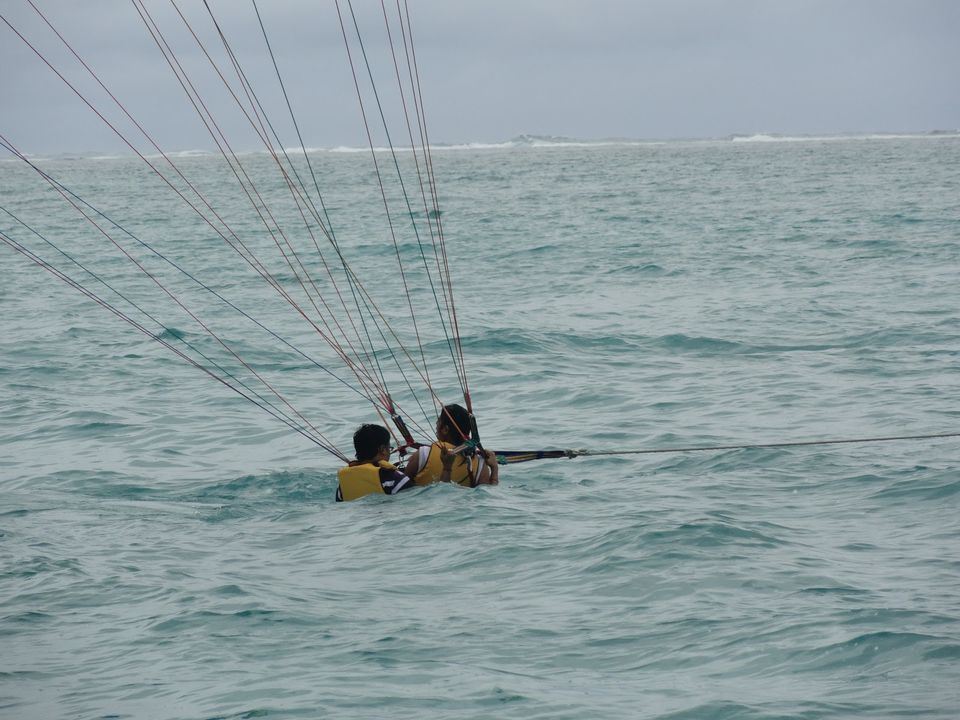 And then we were then in water again !!!!....With me shouting and crying and not realizing that I was wearing a life jacket! My husband tried to calm me down convincing me that nothing is gonna happen to either of us. But I seemed to be behaving frantically at that moment. In no time I could see a boat rushing towards us.It helped both of us in making our way to the boat and pulled us inside. Soon we were there at the platform again. A couple with whom we had made friends with during our journey, took nice snapshots of our parasailing, from the moment we took off in the air till the moment that rescue team had pulled us inside. But undoubtedly it's an unforgettable experience. Also an eye opener which suggests to pay heed to all the instructions being given!!
With this the wonderful moments sublimed into the air!