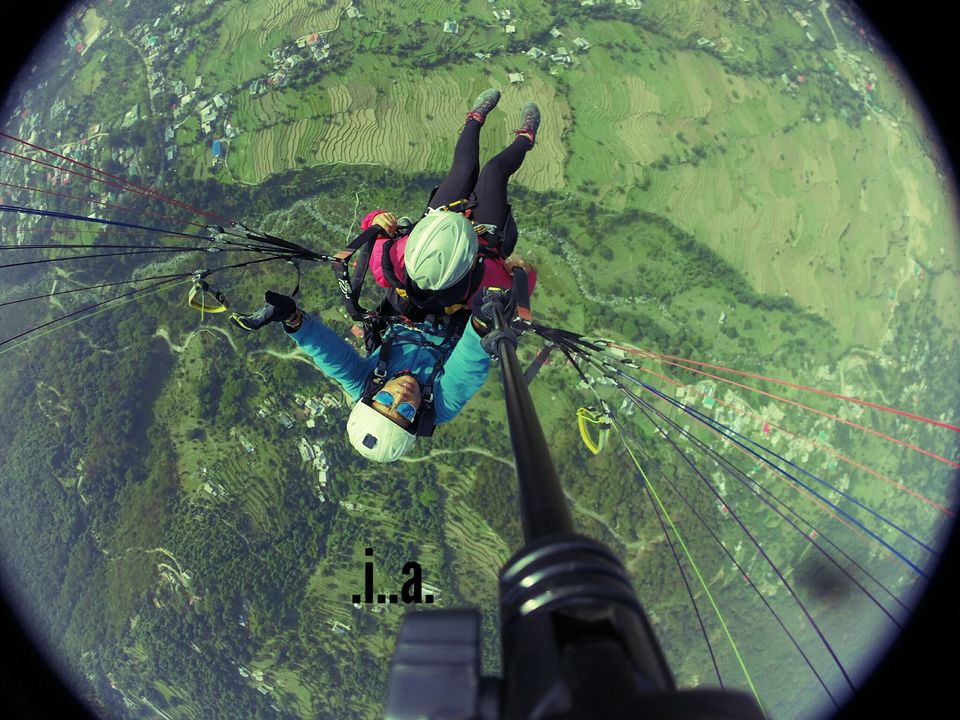 Two girls thought of planning a trip to Himachal - #Mclodganj . With no bookings, except tatkal train booking; we embarked on our journey.
There are a lot of direct trains from Delhi/Mumbai till Pathankot/pathankot cantt.
From there you can take a taxi for 2000INR or take a local bus for 150INR. From Pathankot to Dharamshala and from there till Mclod.
The frequency of buses is quite good so there's nothing to worry, but they are non A/C buses.
When in #Himachal , how can you give a miss to #paragliding .So from Mclod , paragliding  was on our list and we kept two days aside. Why two days. You can easily do up down to Bir - billing the same day but we had seen the weather there in past few days, and paragliding doesn't happen in bad weather.
We took local buses to reach there as taxi takes 1500INR one side and 2000 for to and fro. Not up to cough up 2000, buses was next best option.
Bus route - Mclod to #Dharamshala (if you are staying at Mclod) - 15 INR, you can even take shared jeep for the same price.
From Dharamshala you can a bus till baijnath and from there till Bir road.
Bus journey would cost something between 150-175 INR/per person.
People there are quite heplful, so you can not get lost even while travelling long distance by bus.
Stayed overnight at a guesthouse and booked next day early morning flight for paragliding. It starts by 6.30 am.
#Bir is the landing site, whereas #billing is the take off site.
There plenty of hotels near Bir, but Billing has very limited options that too only for camping( being uphill, take off site).
We stayed at Chhoking Guesthouse which is managed by the Chhoking monastery. Completely safe, warm and helpful staff. This guesthouse is overlooking the monastery. Very clean rooms with light on stomach and pocket food. A room with geyser costed us 1000 INR ( again no bargaining) - double bed, two chairs, electric hot water kettle, towel. There are rooms available for lesser amount as well but they come with solar water heater.
Weather was not in our favour so we got delayed and it finally started at 8 AM.
Now, there are no chances of bargaining there for paragliding as there is a union formed and the least is 2500INR, including go pro and transportation . So don't waste your time in bargaining.
It's a half an hour drive from bir to Billing (take off site). The journey till Billing is a narrow road where mostly the jeeps go.
I would suggest go on light or empty smotach, as the journey of 15-17kms itself can make you nausiatic. But it is beautiful with oodles of greenery to calm your senses. You need to let the breeze touch your soul and in no time you reach the top.
At this time of the season the take off site is lush green due to the rains. The weather at the top is on the colder side so those who feel cold should carry a jacket.
Fill your eyes with different shades of green candies all around.
Make sure to book a glider pilot through some source.
Just a few steps of running and before you realize you are off the cliff and flying in the air.
After that there's no stopping...just breathe in the air and look around. The 360° Panoramic view of the area will leave you spellbound.
You are able to se Sherab ling monastery from the top.
If you are ready to take adventure a few notches higher...ask your pilot for some stunts. He will be happy to perform a few. This comes with a warning- if you are weak hearted don't go for them.
A tandem 30 minutes flight is something not to miss.
#Birbilling is the highest paragliding point in India and home to some international events as well.
Go for it and have an experience of lifetime - your lifetime.