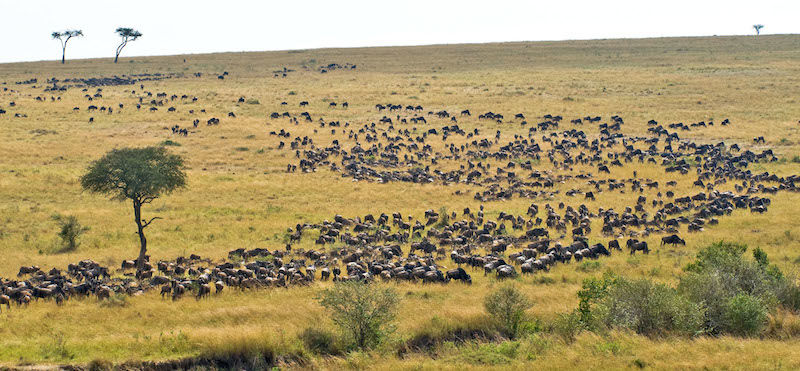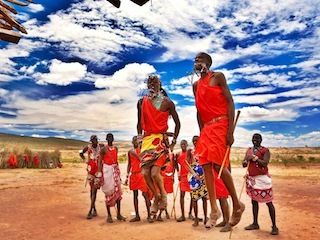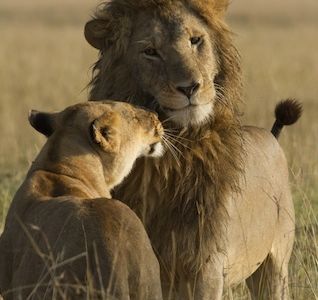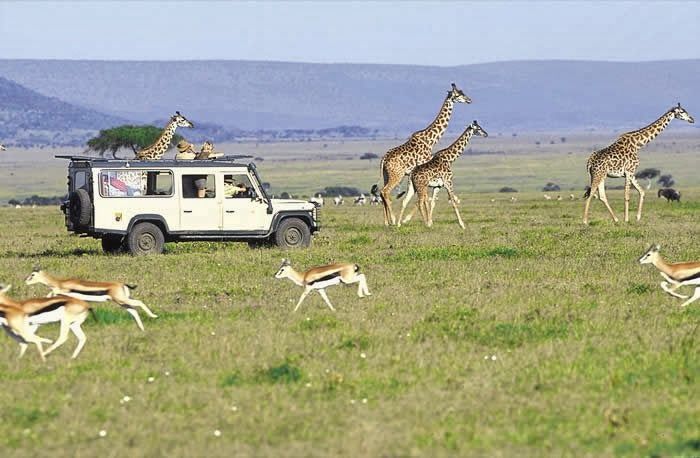 MASAI MARA NATIONAL RESERVE (KENYA)
Witness one of the greatest wildlife spectacles during July and September this year. Our 5, 7 or 10-day itineraries are ideal for families or groups departing from Nairobi, Kenya. 
PACKAGE OVERVIEW
Experience the Wildebeest Migration in the Masai Mara, Kenya
Visitors with the opportunity to travel to Kenya in the summer should experience the Great Migration for themselves. Each year, an estimated 1.3 million wildebeests overcome predators and rapid river waters to cross back into the Serengeti in search of greener pastures. Watching these 500-pound mammals struggle to make this journey is a spectacle that allows travelers a glimpse of the savage beauty of nature. The action never stops and during this period visitors are guaranteed to have front row seats in one of nature's most documented inspiring wildlife events.
Aleko Africa safaris has prepared special Great Migration packages for 2015 accommodating various travel styles and budgets. Whether you are a first time visitor to Africa or a seasoned safari traveler, we will recommend the best options in the Masai Mara specifically for the migration. Our private safari guides are highly skilled professionals and in demand, driving the best-known routes in the reserve to offer guests spectacular memories.
Our migration tours depart weekly from Nairobi and offer comfortable lodge accommodation or rustic camping options for the duration of 4, 5, 7 or 10 days. Guests departing on 5-day journeys will spend at least three days in the Masai Mara with a dedicated vehicle and private guide to enjoy dramatic sights and wildlife sightings for the duration of the tour.
Please inquire today about the various packages and availability throughout 2015. The wildebeest migration is incredible to see and a must do in Africa! Book today and qualify for special early bird discounts on group bookings.  
For travelers that would like to witness the wildebeest migration at different times during the year, the migration cycle continues throughout a twelve-month cycle and Africa Tours Online offers various other fantastic opportunities to witness this spectacle during its movements throughout the Serengeti in Tanzania.
4 Days 3 nights Masai Mara Safari
Day 1: Nairobi-Maasai Mara Pick up from your hotel in the morning at 7.30 am and head west for Maasai Mara Game Reserve with lunch en route at Narok town. Arive in the afternoon for a game drive in the game reserve which is Kenya's finest wildlife sanctuary.Including migrants, well over 450 species of animals have been recorded here. Although July, August and September are the months when the Mara plains are filled with migrating wildebeest and zebra, there is also resident wildlife year round. The famous Maasai tribesmen live within the dispersal area of the game reserve. Dinner and overnight at the Mwangaza Mara Camp.
Days 2 : Maasai Mara After breakfast full day spent game viewing a cross the rich, tree studded grassland and rolling hills. The famous mara is renowned for its great herds of plain game, black-manned lions, leopard and cheetah but also contains numerous elephant and virtually every type of wild life to be found in Kenya, lunch is served in the park at the Mara river, the boarder of Kenya and Tanzania and the scene for yearly wildebeest migration, after luch continue with your game drive covering the park into sections, return to the camp for dinner and overnight.
Day 3 : Maasai Mara Leave the camp after breakfast for morning game drive in Masaai Mara with an afternoon optional visit to the Maasai villages or nature walk with maasai guides, return to the camp for dinner and overnight.
Day 4: Maasai Mara-Nairobi Pre breakfast game drive, return to the camp for late breakfast, and then leave the camp and proceed to Nairobi with lunch enroute arriving in the afternoon.
The Price from Nairobi Non-Resident USD 780 Per Person.
The Price from Nairobi Resident KSH 30,000 Per Person.
What's Included on the Price.
-Transport based on our customized seven-seater safari Vehicle with specially modified suspension, full-length photographic roof hatches and seats designed with seat belt and all clients are guaranteed window seats.
- All game Park Entrance fees
-Full board accommodation offered in a luxury large spacious tent, all en suite bathrooms with hot and cold shower, flash toilet
- Airport pick up on arrival in Nairobi.
- Use of our Professional Driver Guide.
- 3 litres Mineral Water
What's NOT Included on the Price.
-Personal spending money
-Drinks/beers/sodas etc
-Laundry Services -Telephone
For bookings and reservations on the safari package kindly contact us on :
Miss Jayne Sessia
Tour consultant
Aleko Africa Safaris
Casaurina Business Complex, Casaurina Drive,
PO Box 546, Malindi-Kenya
Mobile: 0722 979 321 / 0722 488 900 / 0701 017 853 Email:info@alekoafricasafaris.com