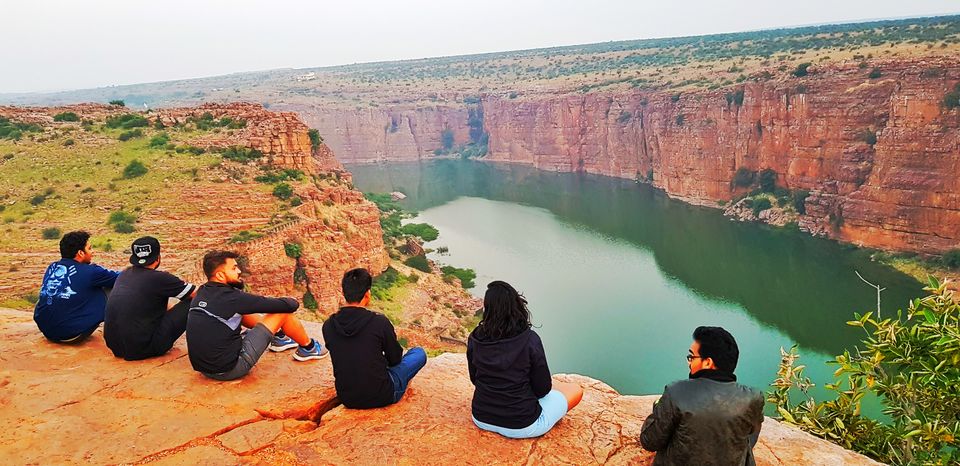 DETAILS:
The Belum Caves is the largest and longest cave system open to the public on the Indian Subcontinent, known for its speleothems, such as stalactite and stalagmite formations. The Belum Caves have long passages, galleries, spacious caverns with fresh water and siphons. This natural underground cave system was formed over the course of tens of thousands of years by the constant flow of underground water. The cave system reaches its deepest point ( 46 m (151 ft) from entrance level) at the point known as Patalganga. Belum Caves have a length of 3,229 m (10,593.8 ft), making them the second largest natural caves on the Indian Subcontinent after the Krem Liat Prah caves in Meghalaya. Today, 3.5 km of the caves have been successfully explored, though only 1.5 km is accessible to visitors. There are 16 different pathways, including the main entrance and there are deposits of quartz in the caves. The caves consist of black Limestone.
Gandikota is a small village in the Kadapa district of Andhra Pradesh that is known for its spectacular gorge formed by river Pennar that cuts through the Erramala hills. This handsome piece of Nature's architecture has come to be known as the hidden "Grand Canyon of India".
Let us explore these two Natural wonders and spend some quiet time in the silent village of Gandikota over the weekend.
DIFFICULTY LEVEL: Easy
The total hike in Belum cave is around 3 KM (To and Fro), Inside the cave the area is less ventilated and humid.
The total hike in Gandikota is around 3 to 4 KM (Gandikota fort has a perimeter of around 8 KM, although most of it is not accessible)
ACTIVITY TYPE:
Hiking
Cave exploration
Sightseeing
Camping activities (If condition permits)
BRIEF ITINERARY:
DAY 1:
We will start the pickup at around 6:00 AM, Departure from Bangalore.
After getting every participant onboard we will stop for breakfast on the way.
We will be reach Belum caves by 12:30 PM and after having our Lunch in the Belum cave complex, we will go to our cave exploration expedition.In the cave we will explore a lot of hidden gems of the cave within the 1.5 KM stretch.
After completing the cave exploration and clicking 100's of pictures we will head towards Gandikota fort.
In Gandikota we will setup our campsite and go for Dinner to taste some delicious local cuisine.
DAY 2:
Sunrise at the viewpoint of Gandikota will be the most alluring experience that you are going to witness on 2nd day
After investing most of our time staring at the beautiful view of Gandikota, we will explore the whole gandikota fort including large granary, temples, jail, Mosque and the rest of Gandikota village.
At around 12 noon we will start our return journey to Bangalore after having our Lunch in the Gandikota village.
INCLUSIONS:
Outdoor leader charges
Accommodation: Tents and Sleeping bags
Camping activities and bonfire (If condition permits)
First Aid
2 Breakfast | 2 Lunch | 1 Dinner (Locally available Veg Meals)
EXCLUSIONS:
Travel cost (Actual travel cost will be divided equally between the total number of participants joining for the event/trip)
Personal expenses (Snacks, mineral water, etc)
Any extra expenditure not mentioned.
INSTRUCTIONS AND GUIDELINES:
All participants will have to carry their backpack and Tents/sleeping bags allocated to them.
All participants have to fill the form before boarding for the trip and must bring a valid ID proof along with them.
For safety, All participants must follow the Outdoor leader's instructions and must not stay away from the group. Itineraries are subjected to change during the event depending upon the situations.
Do not wear tight jeans hike. Tight clothes can be uncomfortable.
During the trek and stay, only locally available food will be provided.
Its an adventurous and outdoor travel event trip, so please do not expect any luxury for stay, sanitation or any other unexpected situation that may occur during the whole trip. We will try our best to provide you the needed facilities during the event.
Consumption of alcohol or any other intoxicating products is strictly prohibited during this trip.
Do not litter, do not make loud noises.
Do not carry valuable ornaments with you during the event, the safety and security of your personal belongings and the tents/sleeping bags provided to you are your responsibility.
Full T&C: http://www.adventuresome.in/en/Adventuresome-terms-and-conditions/
FAQ's: http://www.adventuresome.in/en/Frequently-asked-questions/
THINGS TO BRING/CARRY:
Shoes with good rubber grip
Rucksack/Backpack
Slippers/Floaters for walking around the campsite
Water Bottle (2 Liters)
WindCheater (In case if it rains) or Jacket (It may be cold at night)
Extra pair of clothes
Flashlight/Torch
Personal medical kit (If needed)
Cap or HeadWrap
Snacks/Protein bars for Instant energy
Vaseline or Sunscreen
Spare batteries or Power Bank
Plastic covers (to keep your stuff dry)
HEALTH AND FITNESS: Though trekking is a fun-filled activity, it demands good amount of physical fitness. If you are under medication, please carry your medicines. During the trek, leaders will have over the counter medication for temporary treatment, so do give a heads up to them if you need any medical assistance.
REFUND POLICIES:
If you cancel trek/plan before 10 days:
100% refund will be provided. (Payment gateway charges will be deducted)
If you cancel trek/plan before 7 days:
75% of the actual amount of the trek will be refunded. (Payment gateway charges will be deducted)
If you cancel trek/plan before 2 days:
50% of the actual amount of the trek will be refunded. (Payment gateway charges will be deducted)
If you cancel in last 48 hours:
No refund would be provided.
CONTACT DETAILS:
1. Please call or whatsapp 8892203272 / 8553936570
2. Or shoot a mail: adventuresome@gmail.com
3. Website: http://www.adventuresome.in/en/CONTACTS/