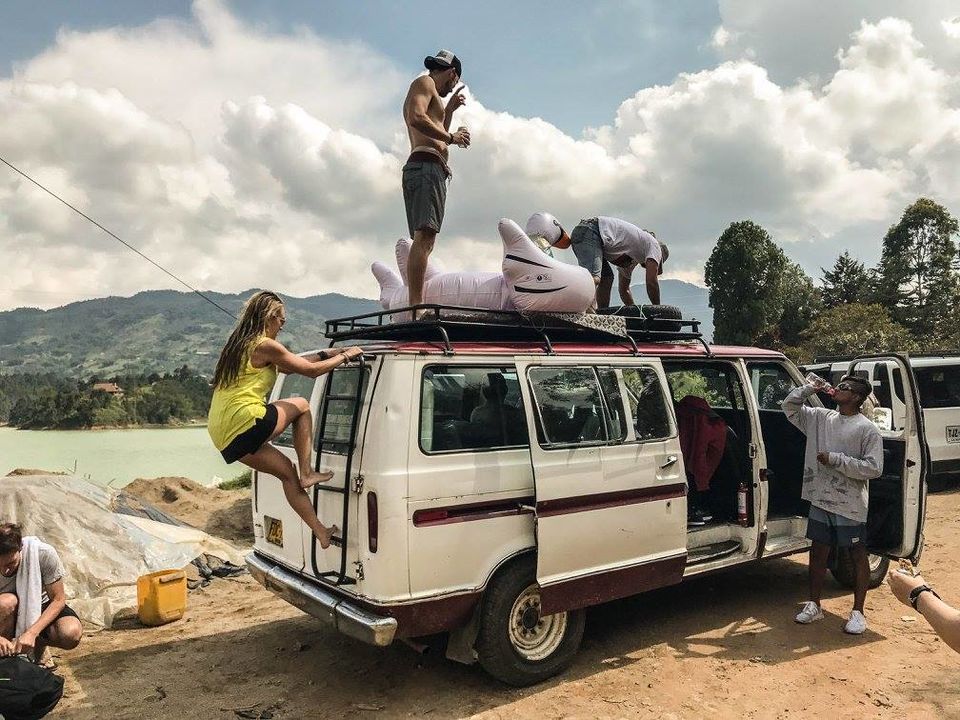 Detailed Overview
Guatapé is an Andean resort town in northwest Colombia, about a 1.5 hour drive east of Medellín. We hooked up with Rafa and his 'hippie van' for an amazing all day tour of Guatape - checking out the houses decorated with colorful bas-reliefs, view of the Peñol-Guatapé Reservoir and Piedra del Peñol - a giant granite rock with sweeping views of the area. We were a big group of 23, and started the day getting picked up by Rafa and Diego in their all-purpose vans (we'll get to this in a second!) for an insanely fun cruise to his house in the mountains for a delicious home cooked breakfast. We then hopped on top of the van (yes, on top of the van) and cruised through mountain back-country to arrive at lake Guatape, where we has a quick swim break - jumping off a 40ft bridge and getting some sunshine. Next up was the rock of Guatape - 700 steps up this beautiful formation for 360′ views of the area - and a perfect place to fly the drone! Rafa and Diego then whipped up a storm from the back of their vans - some of be best food we had in Colombia, and after a big more RnR, we stopped in to one of his favorite towns for some delicious desert before heading back to Medellin.
What I liked Most
Cruise through the countryside on top of a moving van, take a leap of faith off a 40ft bridge into a lake, climb hundreds of stairs to the top of a rock. Easily one of the most fun days we've had in 2017, and can't recommend this enough. Rafa and Diego are awesome, and made this so much more than just a tour.
Pro Tips
Bring your swim wear - you'll definitely want to jump off the bridge into the river! Let him know Bharath and the boys from Unraveled Studios sent you, and he will bring out the inflatable swan we left him to ride along with you on top of the van ;) Rafa loves WhatsApp voice messages. Make sure to send some back to him!
Cost Details
The cost will go down depending on how many you can bring, but it usually about $100.000 COP ($33 USD) per person - maximum of 23 per tour
Additional info on transportation
Pickup and drop-off from your location of choice in Medellin, Colombia.
Additional info on food
The most delicious home cooked food! Breakfast at Rafa's place in the mountains, and then an amazing lunch whipped up from the back of his all purpose van