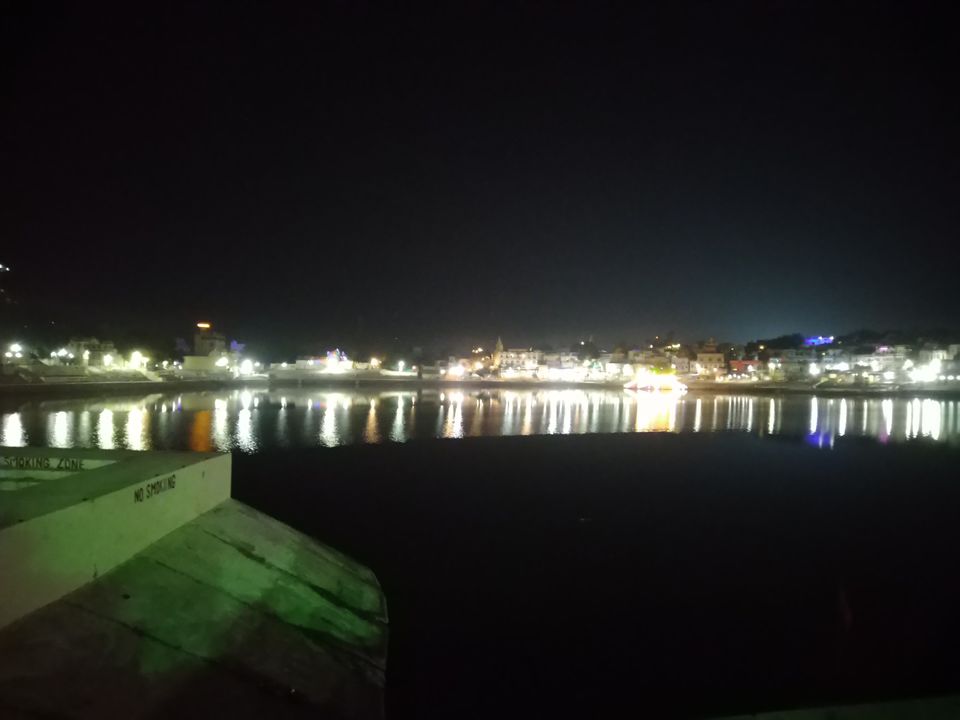 Pushkar is a small town situated in the Ajmer district of Rajasthan. But more-ever than its outstandingly beautiful hills, lake and culture it is famous for the historic and iconic 'Brahma Temple' which is considered to be the only temple in the entire world which is entirely dedicated to 'Lord Brahma'.
How to reach?
1.The nearest Airport to Pushkar is Kishangarh Airport.
2.The nearest Railway station is Pushkar railway station and another one is Ajmer junction railway station.
3.The nearest Bus stand apart from Pushkar is Ajmer bus stand.
4.Cabs to Pushkar are easily available from anywhere in Ajmer.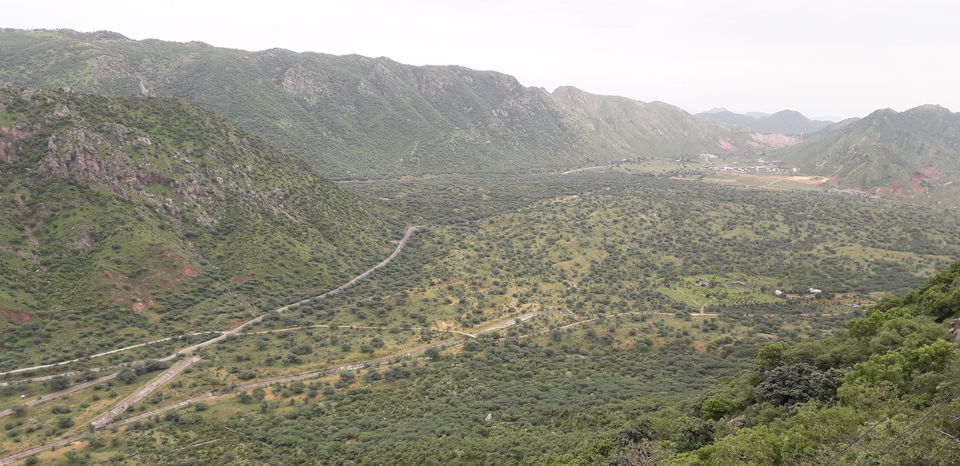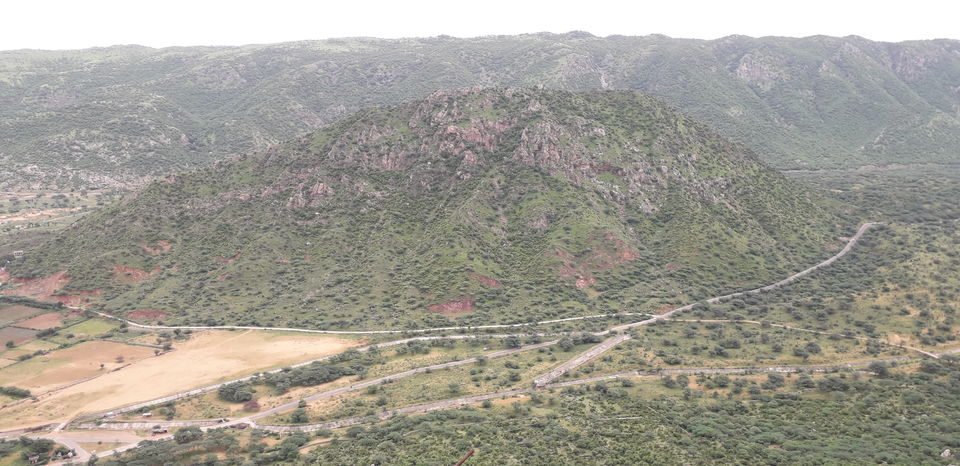 Entering Pushkar via Road is one of the better ways to explore the beauty of this Religious city. Coming from road you can witness the thrill of curvy mountainous roads as well as greenery and an outstanding top view to both the cities Pushkar as well as Ajmer.
After entering Pushkar you can see a-lot of Sadhus as well as Foreigners here. Pushkar has many luxurious and class hotels and spas. Apart from that if you are travelling in budget than you can request to any dharamshala for a stay of a night or two.
For exploring Pushkar the best way according to me is walking but if you want to then you can hire a bike or a scooter on rent easily. So on our way to Brahma Temple we visited a Gurudwara and Rangji Temple which is a beautiful example of South Indian architecture.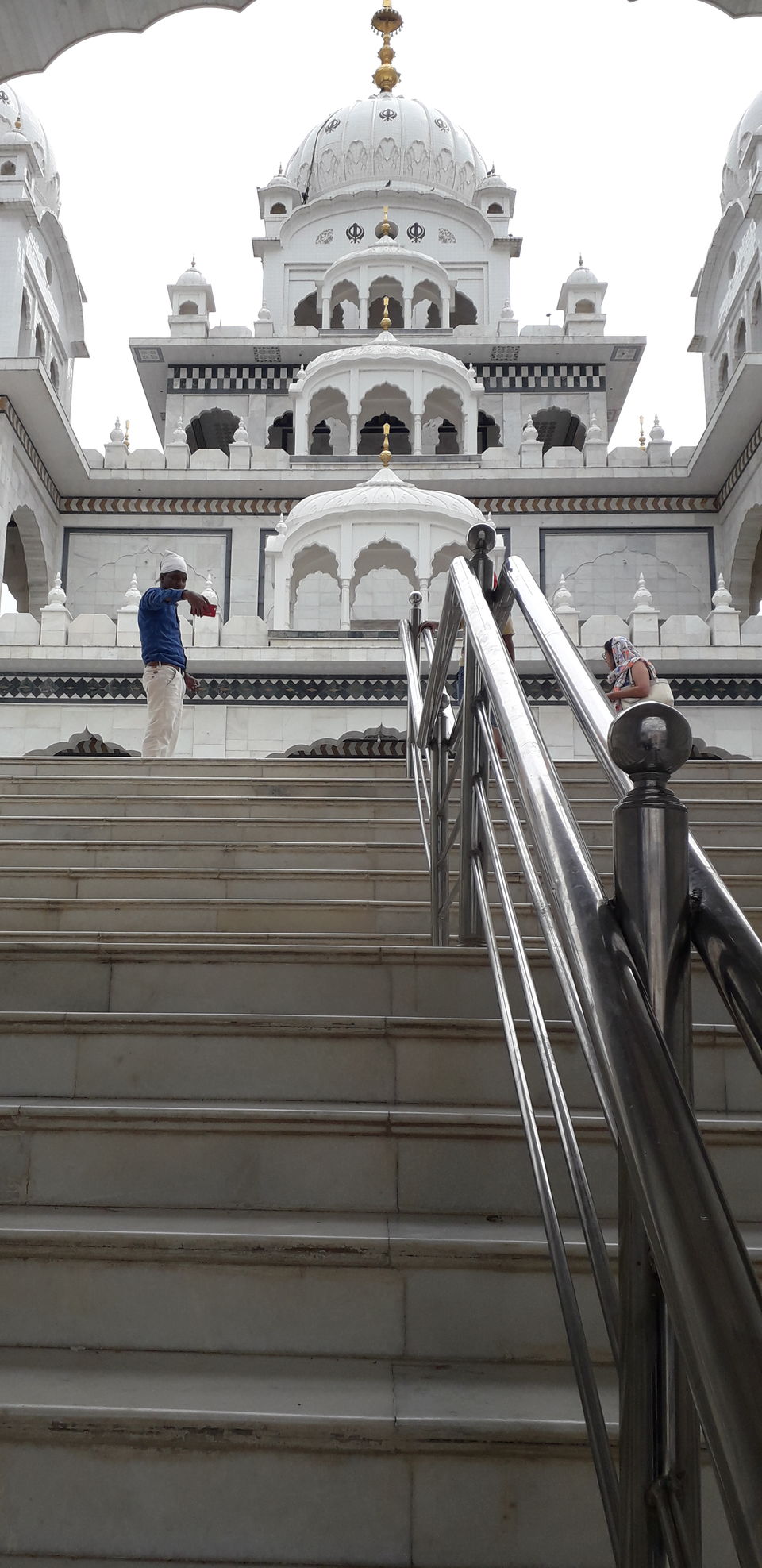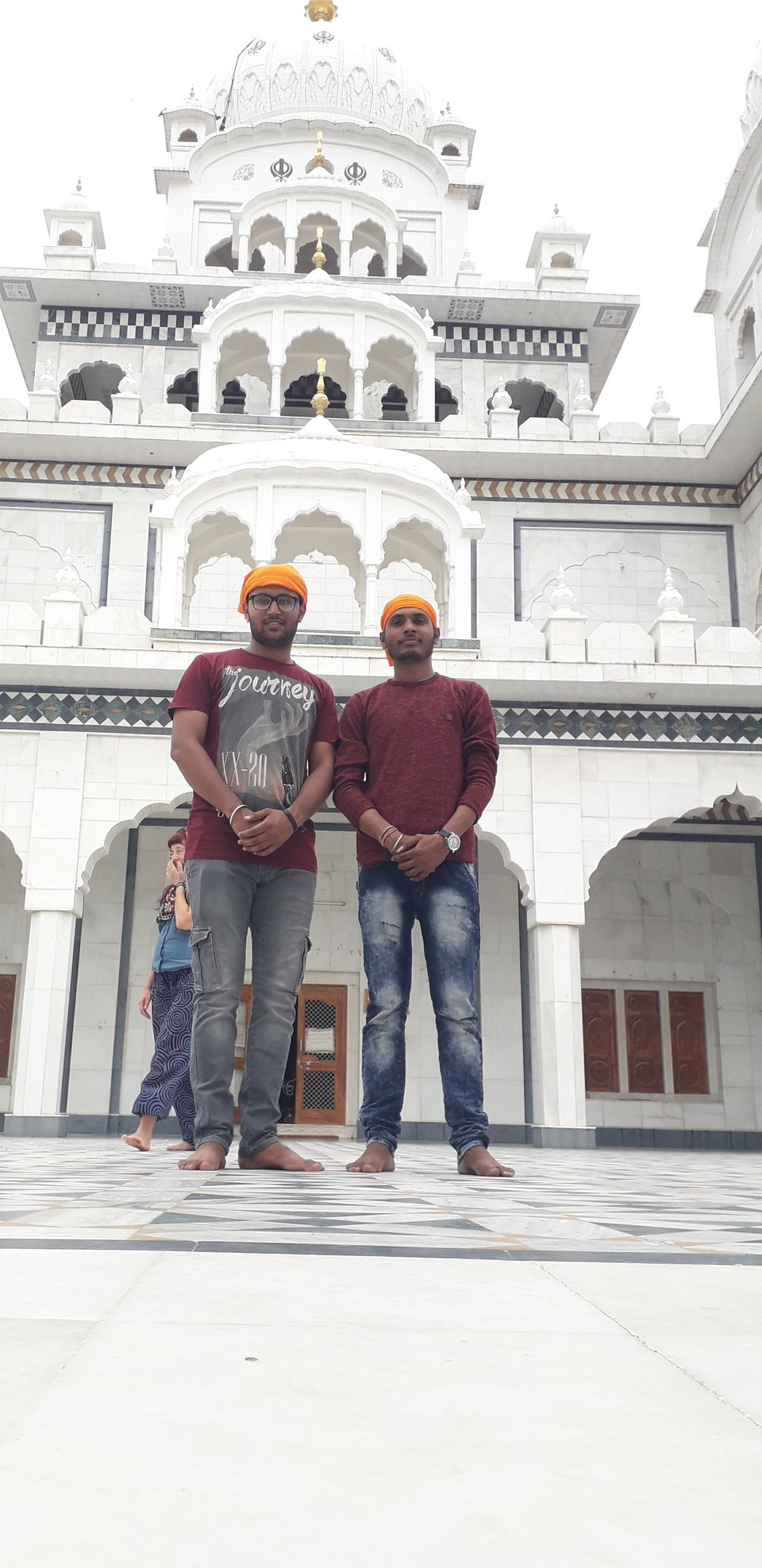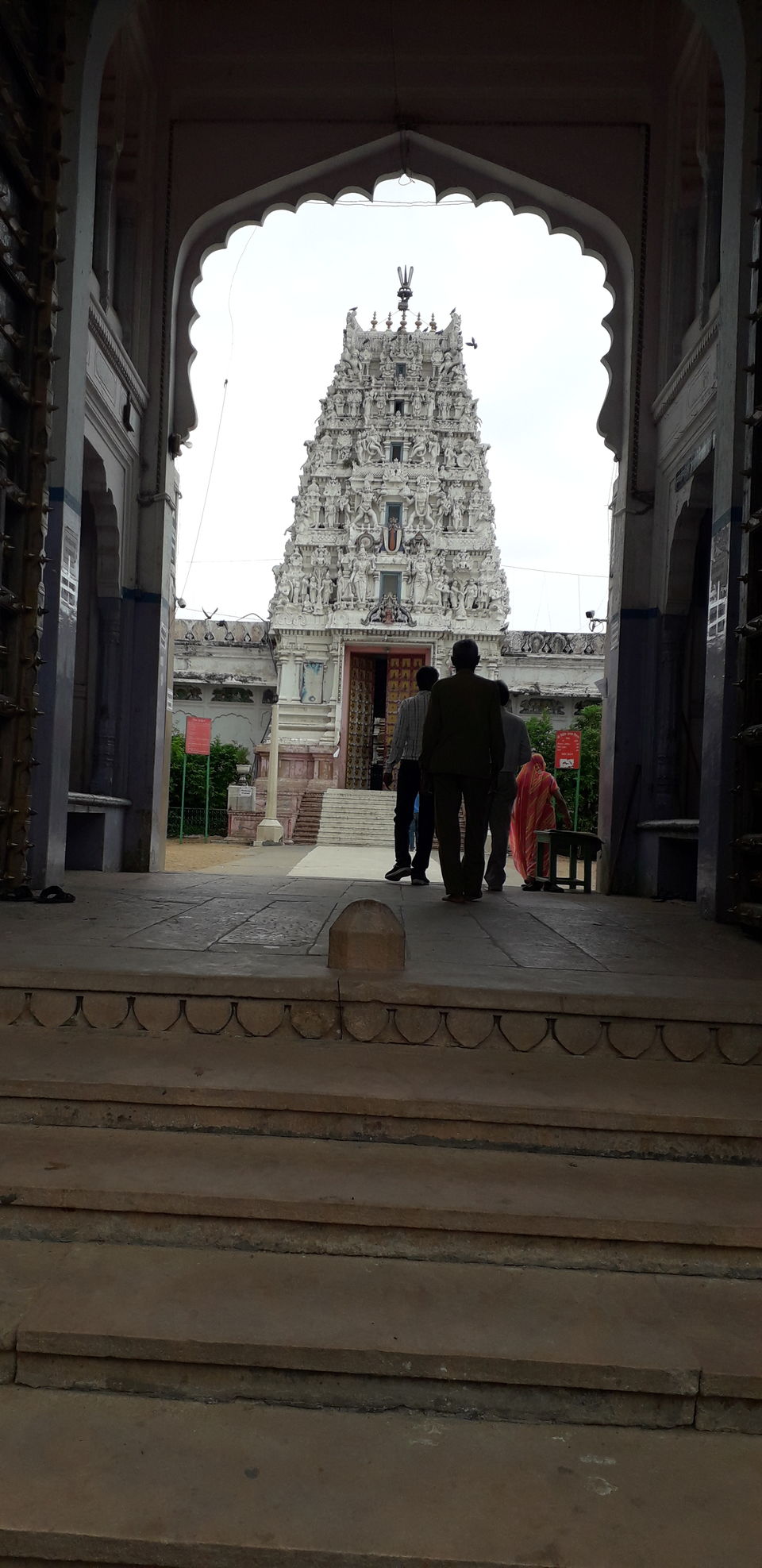 The streets in Pushkar are quite narrow and mostly crowded, here you can shop from a wide range of Rajasthani attire to some modern outfits. Apart from that Pushkar is also famous for its Rose-syrup, Rose-water and Gulkand.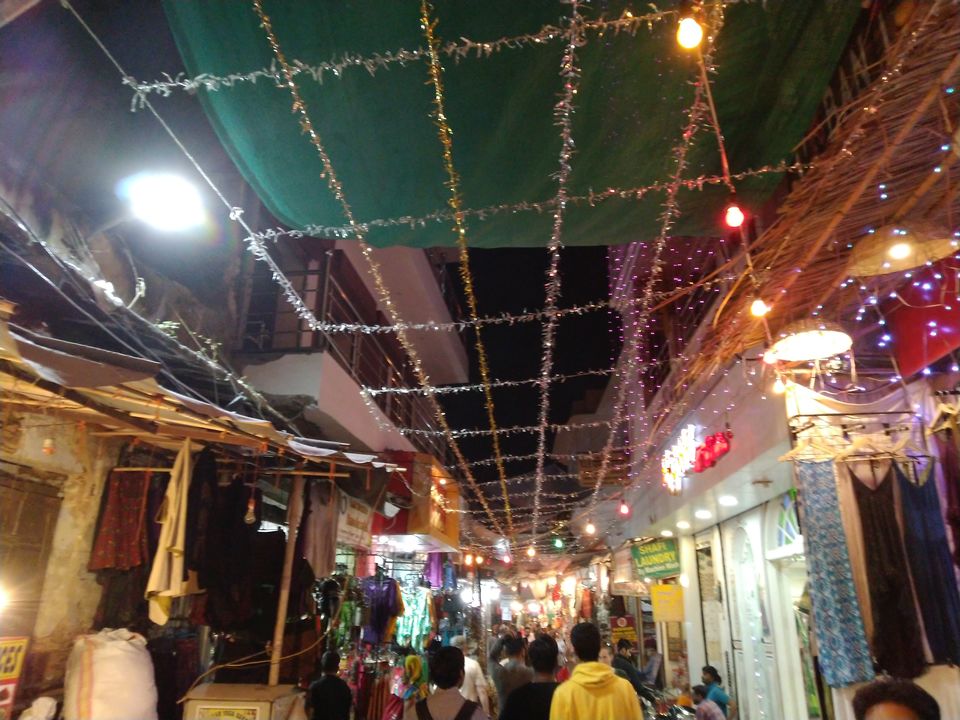 En-route to Brahma Temple you can see all the Ghats here at pushkar. There are 52 ghats here at pushkar lake and all of them are named after different gods and cities. Ghats here are always beautiful and scenic at any time of the day but at night during the 'Aarti' time they become more pure and holy. Every year during the Pushkar festival the ghats are decorated very beautifully.
As we entered the ghats i was awestruck by the beautiful view of this holy town, the lake water was shining, birds were chirping and some local musicians were playing the 'Ektara' (a famous Rajasthani music instrument). After hearing some melodies tunes I requested them to let me try my hands on it and they were very humble to accept it, although as obvious i failed but that was fun over all.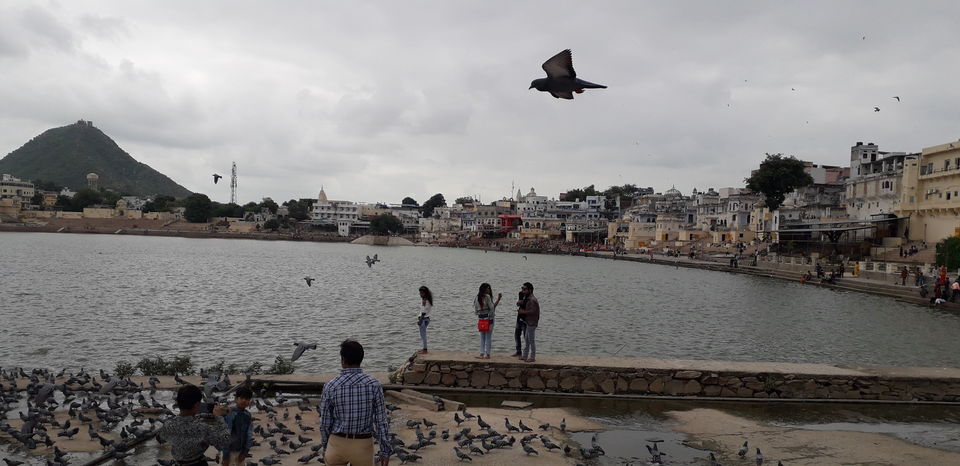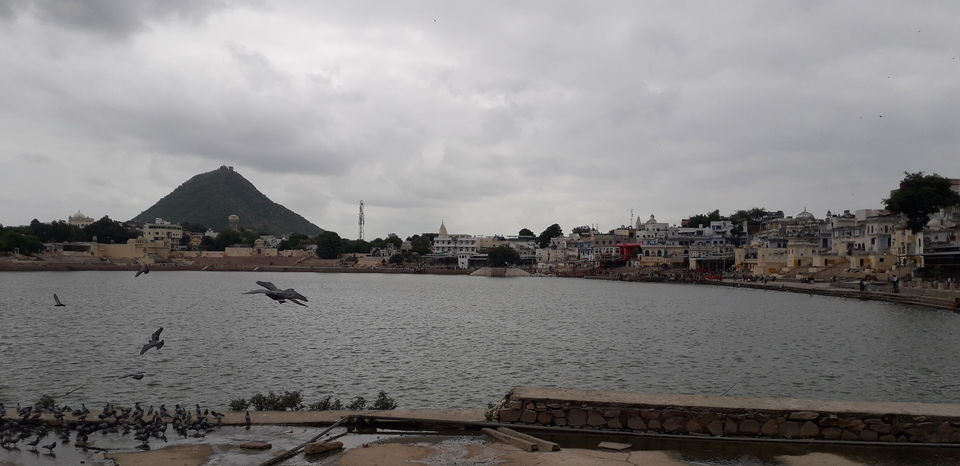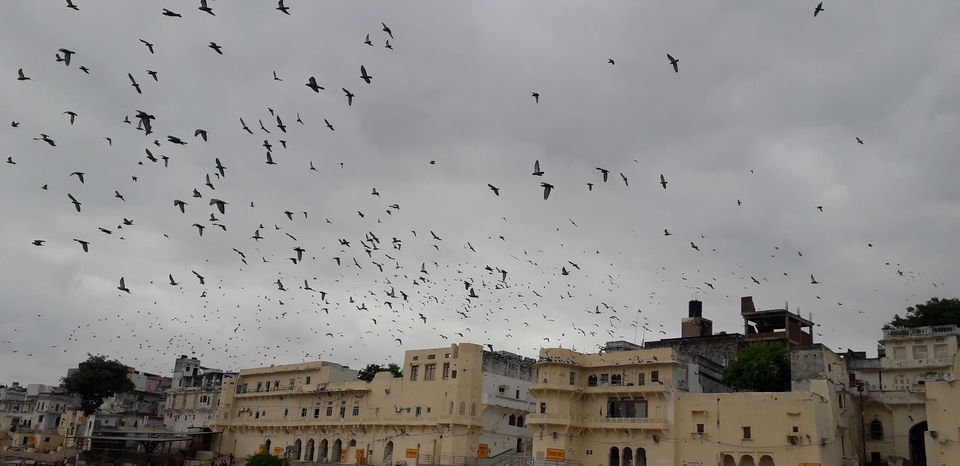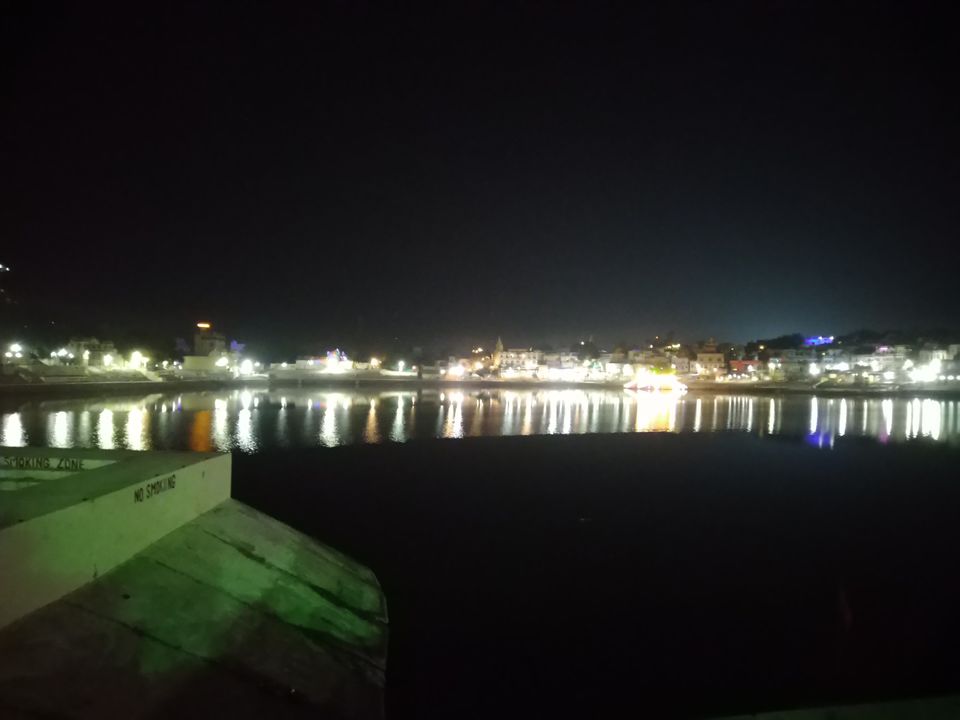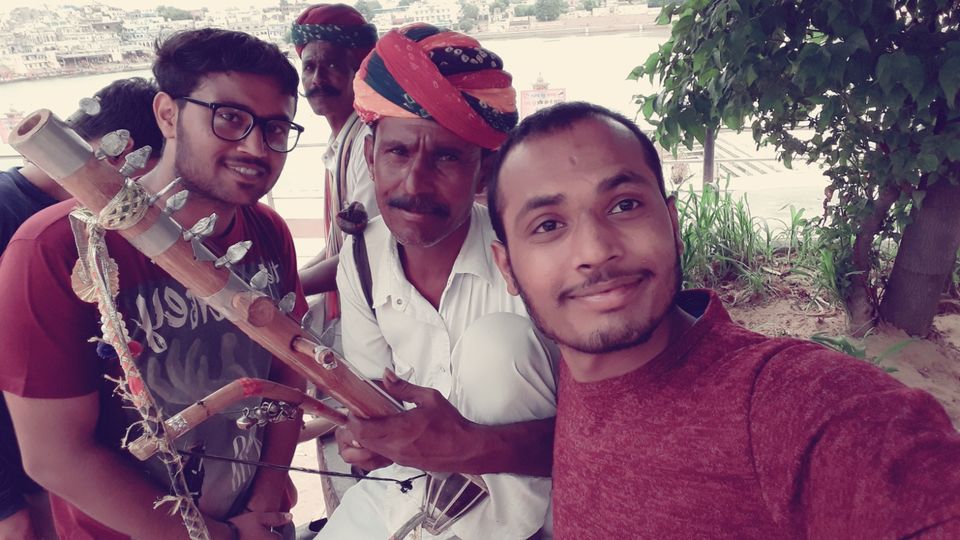 After this we reached the historic and religious 'Brahma Temple'. There after offering our prayers, we had a wood fired oven pizza and a falafel, falafel is a Israeli dish which is quite famous here because of Israeli tourists. Even at shops you will find the third language of instruction here is 'Hebrew' which is the native language of Israel.
Now we were on our way to the Savitri Mata Mandir which is situated on the top of a hill, and we were told that the view from there is just outstanding. As we were heading for it on our way we saw the icon of Rajasthani Fauna 'Camel'.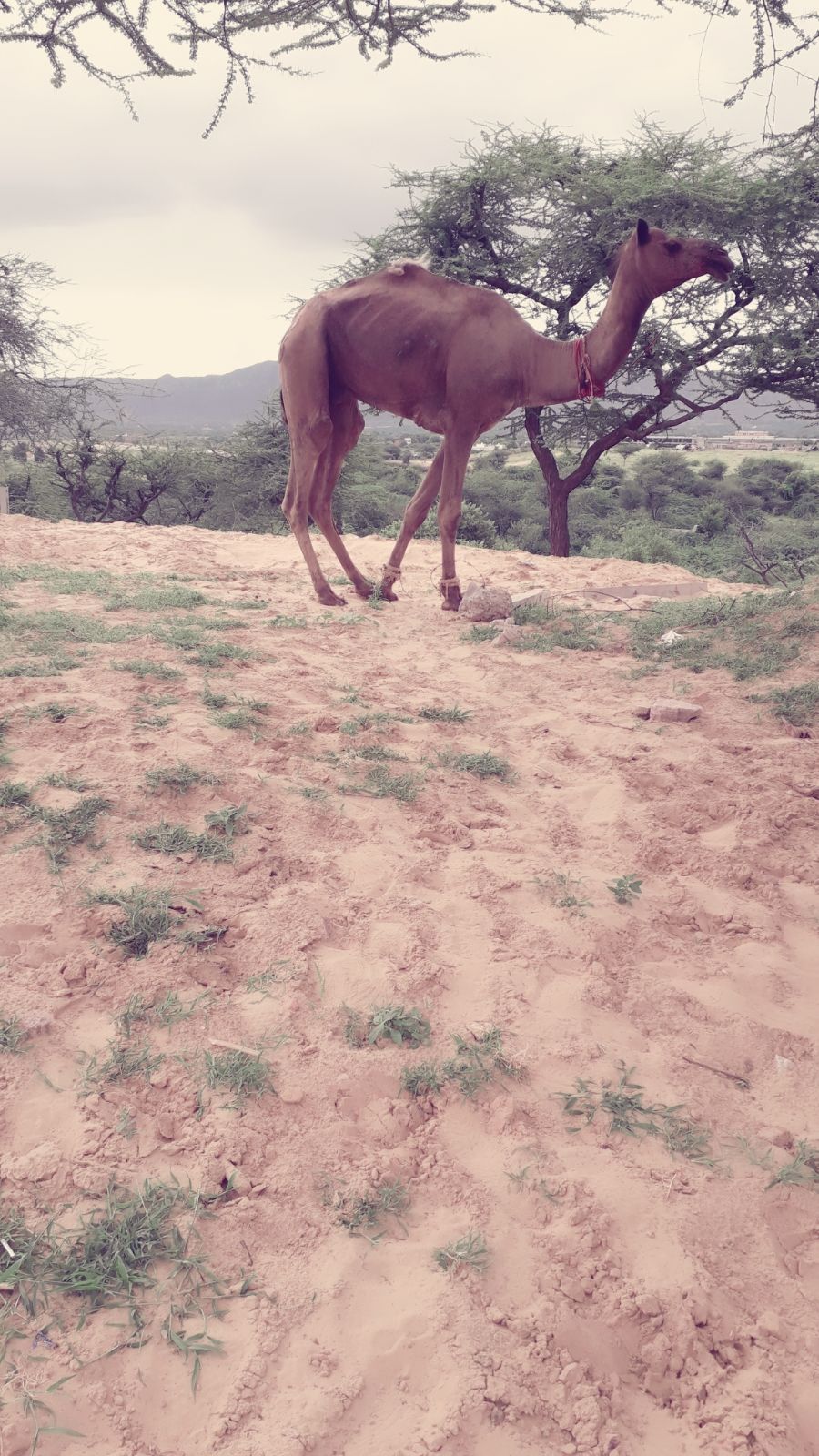 Now as we reached the vicinity we found that there are two ways to reach the Savitri Mata Mandir, we can climb the stairs or we can take the rope way. So we opted for the second the charge for the rope way are about 125Rs. both ways for a person.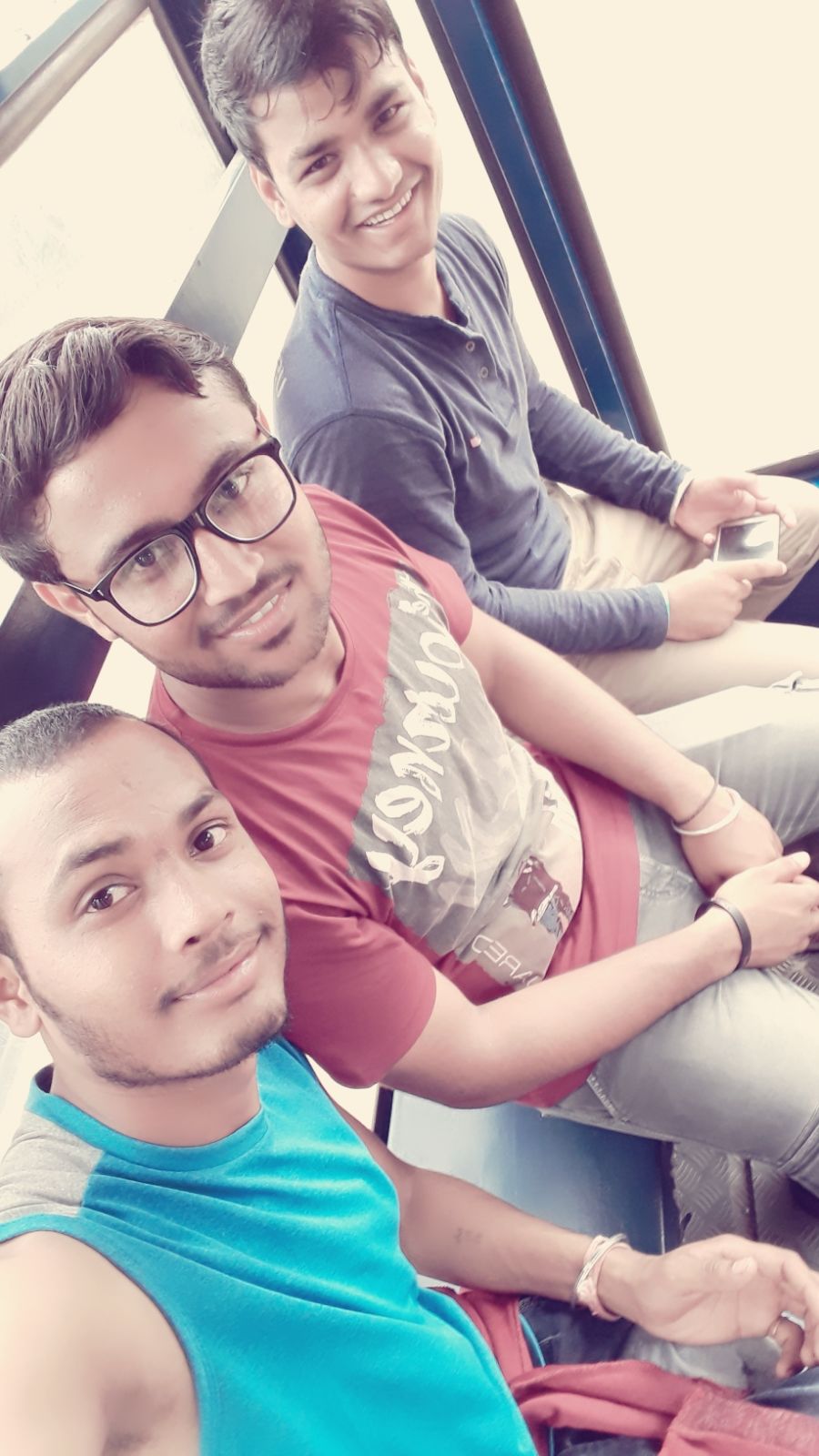 On reaching the top we were like 'OMG' literally the view from there was fantastic and the weather that day just helped it look more beautiful and stunning. Firstly, we offered our prayers to goddess, and then we started gazing the view.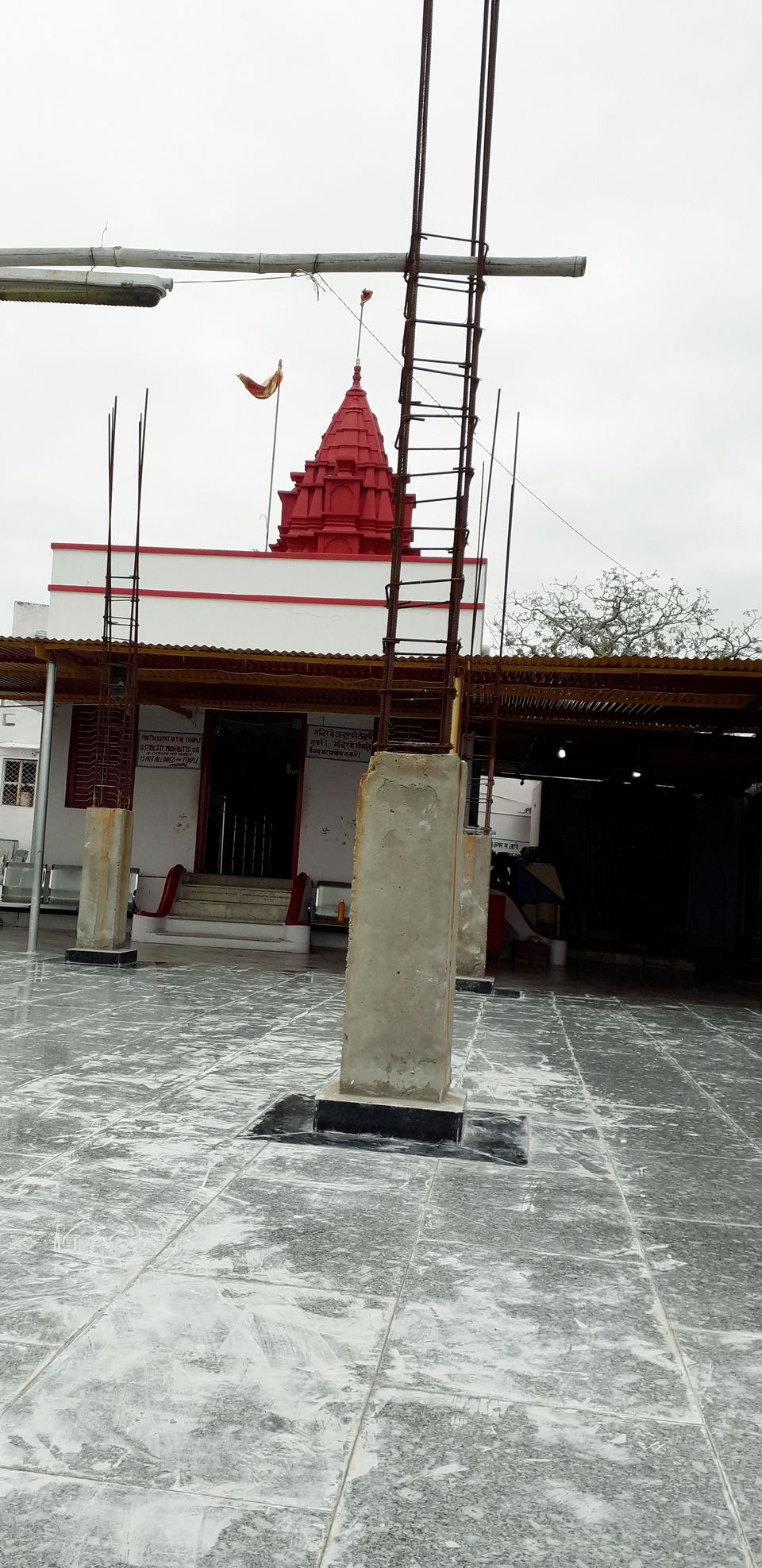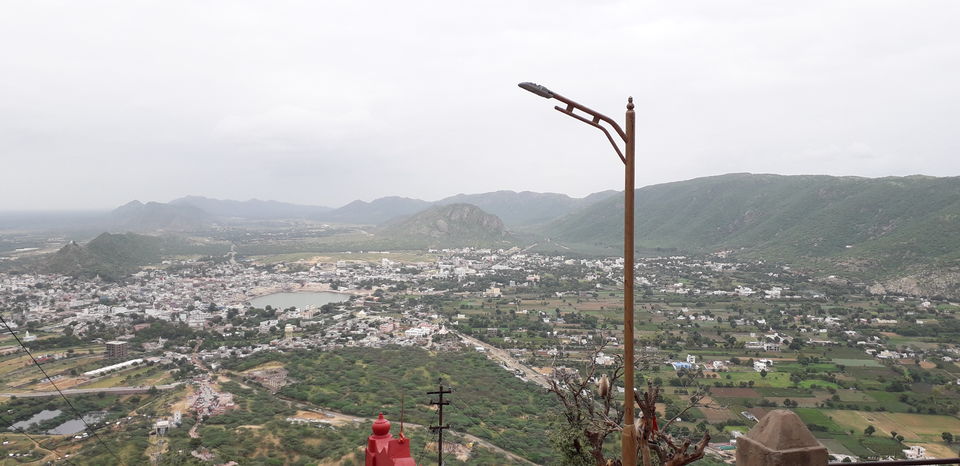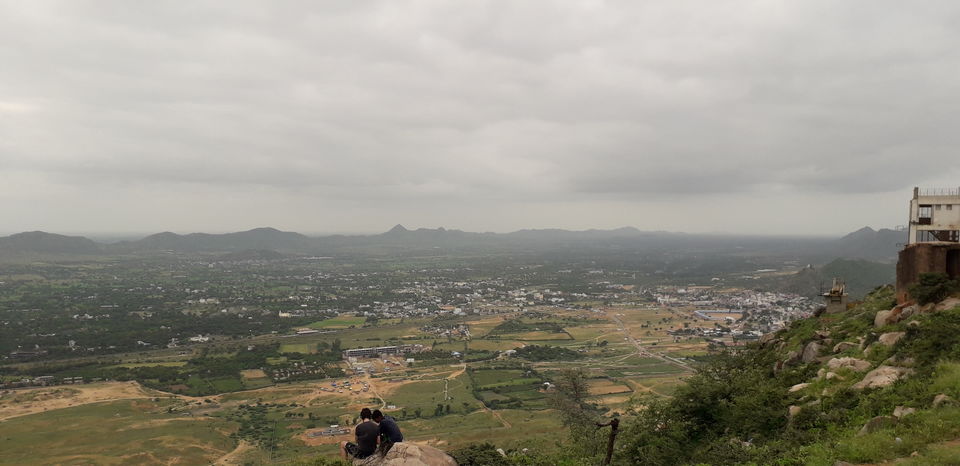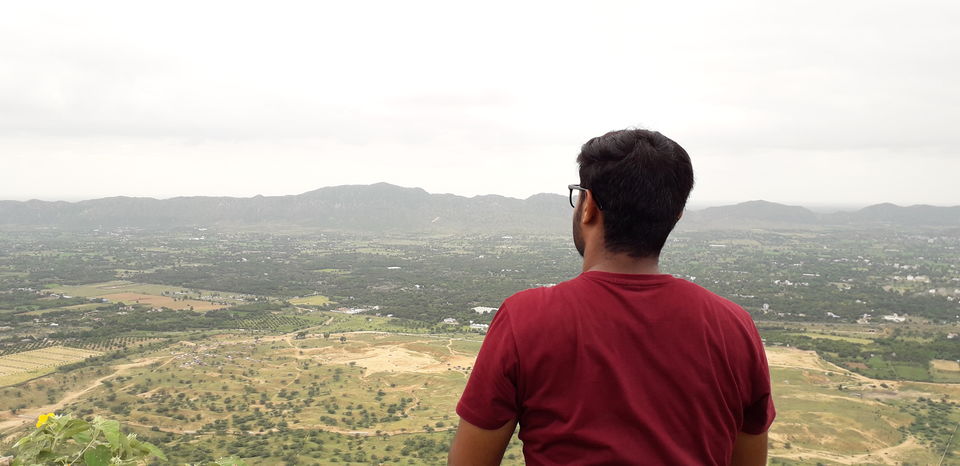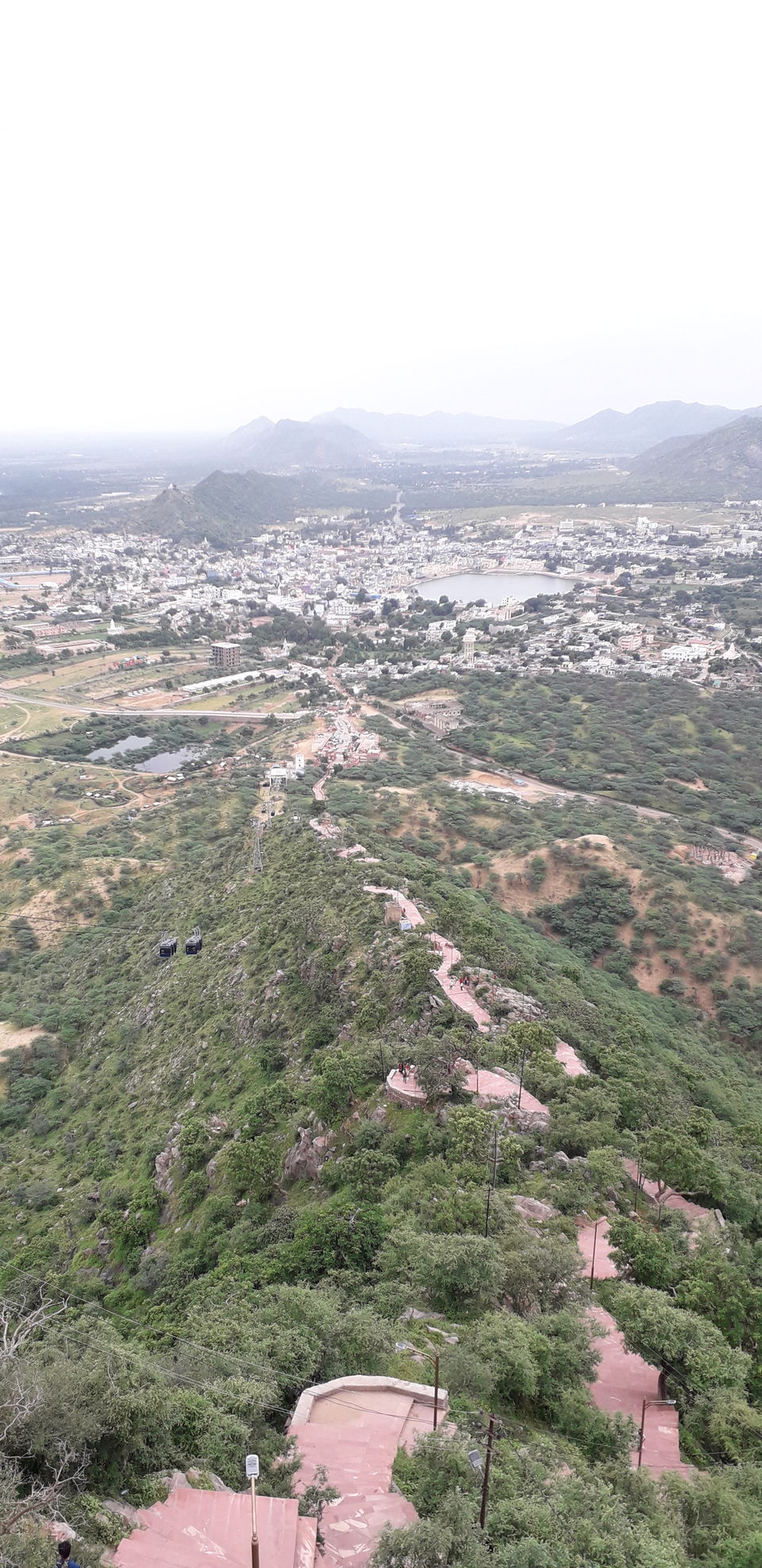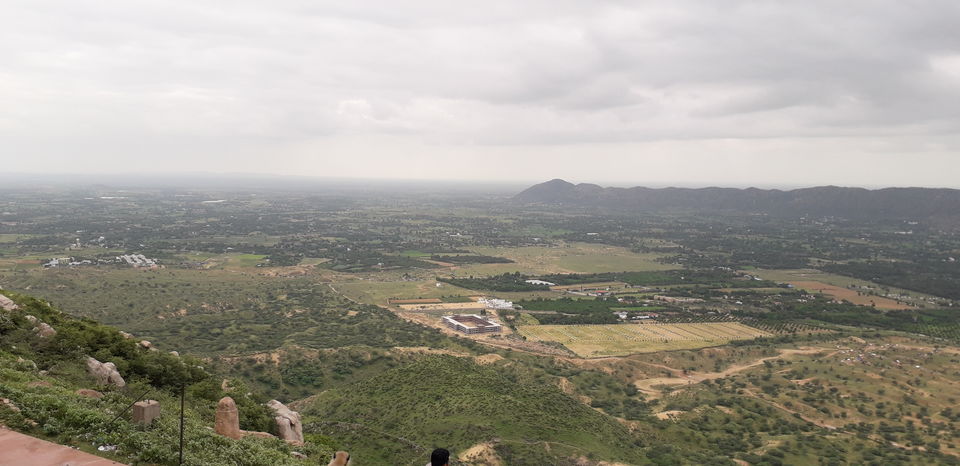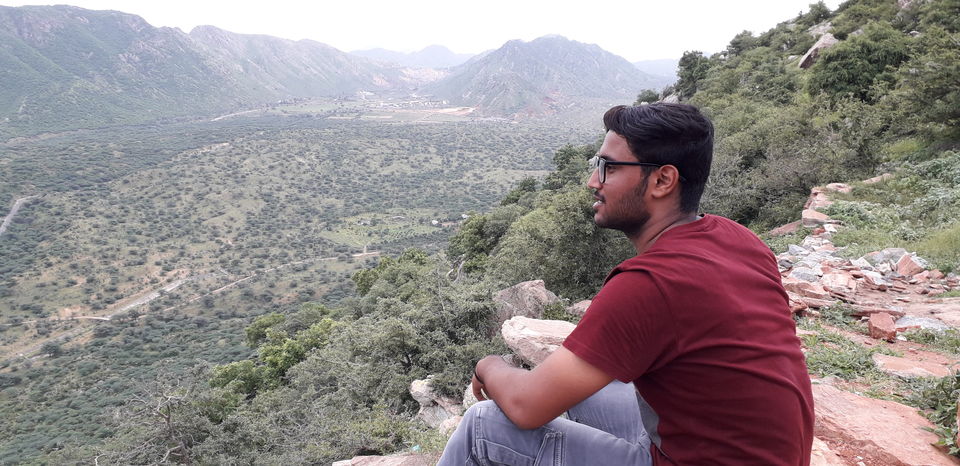 One warning though, as there are a-lot of monkeys so protect your gadgets and be careful while clicking photos.
After spending some 1 hour, we took our ride down hill.
So this way we have not just explored Pushkar like never before but we also got to know some fantastic facts about this holy town.
1. Every year the biggest camel fare in the world is being organised at Pushkar.
2. One can also enjoy the Desert safari here.
3. Pushkar is also famous as 'The King of Sacred Places of Hindus'.
and last but not the least,
4. Initially there was no such place as 'Hanuman gali' here as shown in the famous Indian TV serial 'Diya aur Bati hum', but later a lane is named after it.
So this all from Pushkar. For queries comment. Thanks for reading!!