An exotic hill station in the Nilgiri Hills, Ooty is where you should plan your next weekend getaway. It is the perfect destination to go away from the hustle and bustle of the city life. So gear up and plan your next trip to this fantastic place according to this 2-day itinerary for Ooty. Let the beauty of this alluring and misty hills delight your soul to the core. The place is also a favorite among honeymooners and nature lovers.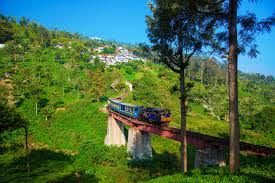 Here is the itinerary for Day One:
Start your 1st day in Ooty a little early so that you can cover maximum places. Approximately 9 km away from Ooty, your 1st destination should be the Doddabetta Peak. The gorgeous panoramic view from the top of this place will surely take your breath away. The main highlight of the peak is to see the mesmerizing sunrise. Once you are done appreciating the beauty of mother nature, go to your next location which is the famous Ooty Lake. It is approximately 10 km from Doddabetta Peak. The beautiful lake has striking eucalyptus trees all around it. You can spend a lazy afternoon here with your loved ones or opt for boat rides. Have your lunch and head to the Government Botanical Garden. Home to some rare exotic plants and flowers, you will be delighted to explore this place. The next is the Wax World Museum. This impressive museum has many wax statues of famous personalities like Mother Teresa, Mahatma Gandhi and much more. After you are done with the sightseeing, go for shopping at Main Bazar. Known for its handmade chocolates and aromatic oils, this will end your first eventful day in Ooty blissfully. Before retiring for the night, don't forget to grab some South Indian Food. Also now with cheap air tickets, you can plan a trip to Ooty anytime.
Here is the itinerary for Day Two:
Your 2nd day in Ooty should start with a joyful journey and what better than a ride with Nilgiri Mountain Railway. To grab yourself a seat, you have to reach the place before 8 AM. Once the soulful journey starts, you will come across beautiful scenic hills, colourful houses, tea & coffee plantations and more. After this great voyage, travel 19 km away from Ooty and go to the Pykara Lake. Explore the location on foot and gorge on some local delicacies. After you return from the lake, head to the St. Stephen's Church. This old piece of vintage beauty has gorgeous tall trees and alluring mountains surrounding it. End your last day in Ooty by having some mouth-watering dinner near the church. If you still have some energy left, go for shopping.
Once you come back to your hotel, start packing your bags and store all the Ooty-licious memories of the place inside your mind. This picturesque destination will surely be your favourite after this trip. Also not to forget, when you have cheap flights to Bangalore, you can easily travel to Ooty because it will hardly take 6 hours from Bangalore. So now with no excuses left, gear up for your next adventure. Hope you liked our 2-day itinerary for Ooty. Don't forget to share your experiences in ooty with us. Happy travels!