EXPLORE THE LEGEND MARBLE MOUNTAIN
Ngu Hanh Son- Marble mountain is a general name of grove of tourist attraction places which rise up in Danang firmament. Lie in hidden of marble and limestones are the fascinating caves and supernatural power pagodas. Come to Danang, do not forget to pause for a while to visit an unique beauty spot named as 5 basic elements orential philosophy : metal, wood, water, fire and earth.
Marble mountain is about 8km in the Southeast from the central of city, in a yellow sand bank close to the beach. It belongs to Hoa Hai ward, Ngu Hanh Son district. Marble mountain is in a way from old capital- Hue city to Hoi An old town.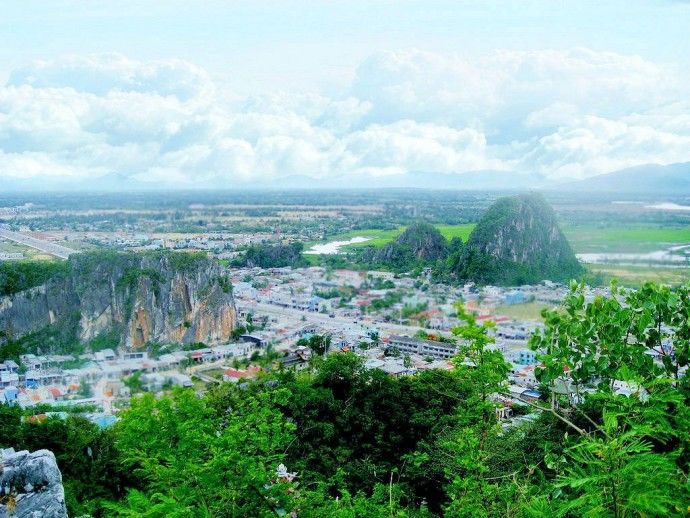 Marble Mountain
What to explore in Marble mountain?
Here the cultural and historical mark still print in each construction, pagoda, towers in the early of 19th century, Cham sculture in 14th and 15th. An autograph engraved on stone wall in the caves since Le, Tran dynastry still keep to now.
Am Phu cave- cave of the hell
Cave system in Ngu Hanh Son community is all the mysterious world. With the unique tectonics of the nature, Am Phu cave known as one of the biggest and the most peculiar in this cave community.
Am Phu cave has discovered in the Minh Mang king period ( early of 19th century), when he visited this mountain. As theory of Yin and Yang, the human life and all things have 2 opposite sides: have day and have night, have birth have die. Therefore on the top of Thuy mountain has the road to the heaven, has the road to the hell also.
Strangely, although this is a natural cave, having a lot of nooks and alleys go deeply inside of the layers. So, visitors always imagine many doors to the hell. Guests here can see Dai Anh Linh, Phan Quy palace, Ming Vuong palace, Avici Hell, Giai Oan springs and so on.
The entrance to Am Phu cave- cave of the hell
Huyen Khong cave
Lie in Marble mountain community, Huyen Khong cave is one of the most beautiful caves and has a big spirit value. This is an open- cast cave with round shape arch. There are 5 big holes in the arch make the light overflow into the cave that creat glistening beauty in cave.
After a steep climb, you go down a semi-hidden flight of stairs to enter the cave and suddenly you're flanked by two pairs of administrative and military Mandarin statues there to protect the entry. Once you enter, the high gallery is illuminated by natural light coming through vents in the ceiling. The cave was a refuge for Vietnamese revolutionaries during wartime. It was bombed repeatedly which lead to the openings in the ceiling.
Non Nuoc Stone Carving Village
There ís no doubt that everyone set foot on Marble Mountains also spend time to the Non Nuoc Stone Sculpture Village, where the cosmetic and foreign famous marble handicrafts and sculptures are made.
There are a lot of things that you can take photos and buy as souvenirs which made of marble stone, from small one like earrings, necklaces, vases to the huge sculptures of Buddha.
Thuy Son and Vong Giang
Thuy Mountain is not only famous for its height and width but also for the romantic beauty it brings to. It is 106 m of the height, about 15ha , there are 3 peaks and the local people call them as: Thuong Thai, Trung Thai and Ha Thai like 3 stars so-called Tam Thai. Moreover, There are al lot of Buddish temples and caves in Thuy Mountain( Linh Ung pagoda, Tam Thai pagoda), brings us back to the years of 17st century
Thuy Son Moutain
Starting climbing up at the foot of Thuy mountain for a bout 150 stone steps, we will reaach the Riverview Tower or Vong Giang Tower where we can have the most beautiful scene around this area. This tower gives us a specticular and amazing view to Kim Son or the mountain of metal, Truong Giang and Cam Le rivers and blue beaches or coastal area ahead.
Obviously, Taking tour toThuy mountain and monkey mountain coudn'tt be better especially with motorbike tour from Hoi An .
How to visit Marble mountain
Tourists have many ways to get to the mountain. The mountain tour will be great for you especially Hue to Hoi An by private car and Hue to Hoi An motorbike tour.