From perfectly created and outlined castle to the fine craftsmanship, Rajasthan is most likely for excellent havelis. Brilliant, great and stupendous havelis in Rajasthan bring the appeal and glory of the past Rajput period. These intricate havelis in Rajasthan once belonged to merchants, rulers, and Jagirdars who have added a social legacy in Rajasthan.

These Havelis, once the private royal residences of the Maharajas, are now taking the hearts of tourists from all over the world. Each Haveli unequivocally shows the class and greatness of its owner. These are palatial manors which make Rajasthan a standout amongst the most intriguing destinations for the travellers. Decorated with wall paintings, unpredictable fine art, canvases, these havelis are mostly the museum for classic articles of the medieval period. These havelis demonstrate that Rajasthani rulers have a true sense of architecture and they can implement a unique style of engineering. These royal palaces,Havelis and forts complemented the excellence of Rajasthan. Stone carvings, delicate pavilions, artistic windows, intricate balconies and beautiful structure of havelis are enough to be mad about Rajasthan. From Bikaner to Jodhpur and from Jaipur to Jaisalmer these beautiful Havelis in Rajasthan help us to remember the grandness and wonder of the medieval age.
With Palace on Wheels, guests are able to visit Salem Singh ki Haveli, Patwon ki Haveli and Nathmal ki Haveli. Let's take a tour to these intricate havelis.
1) Nathmal ki Haveli
Rajasthan is famous for its forts and palaces. If we turn around in the city area, you will find intricate havelis, smaller than palaces but worth to visit. Palace on Wheels train gives such an immense pleasure to visit some havelis of Jaisalmer, 'Nathmalji Ki Haveli' is one of them.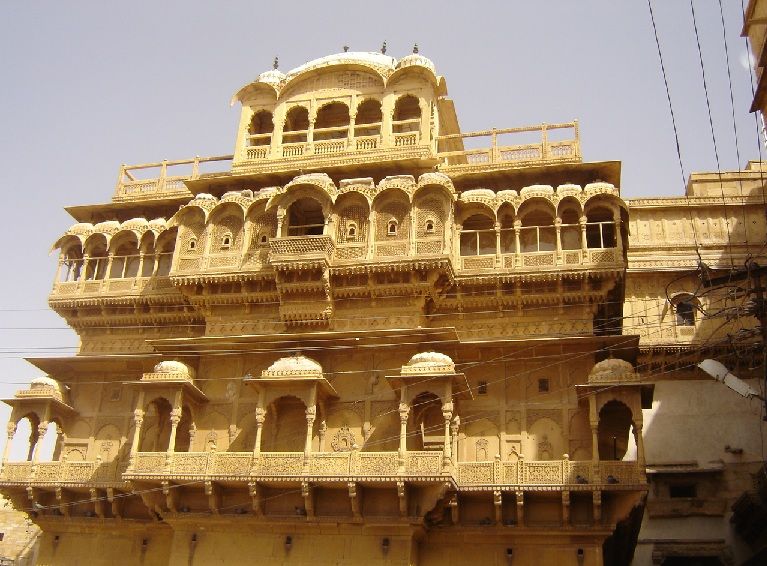 Just a walk away distance from Jaisalmer Railway station, this haveli is located in the heart of the city. The exquisite carving surely mesmerises the guests. One must see the stone carving beauty looks like jeweller's art.
This late-nineteenth-century haveli, once utilised as the prime administrator's home, is still somewhat occupied. It has two identical portions right and left wings, which are apparently united by a common facade but built by two brothers.
The entrance door has impressively designed elephants made of yellow stones. It looks like they are welcoming the guests. Extraordinary interior and exterior, beautiful carvings, and paintings give the Rajasthani touch to the haveli. Another sculpture such as cattle and horses also enhance the beauty of haveli.
2) Patwon ki Haveli
Just 2.5 km from Jaisalmer railway station, Patwon ki Haveli has the bright history in Rajasthan. It is one of the biggest havelis in Rajasthan, it is a group of five little havelis. Established by Guman Chand Patwa, Patwon ki Haveli was started to be established by Guman Chand Patwa and was finished by his children. It took right around 55 years to be completed.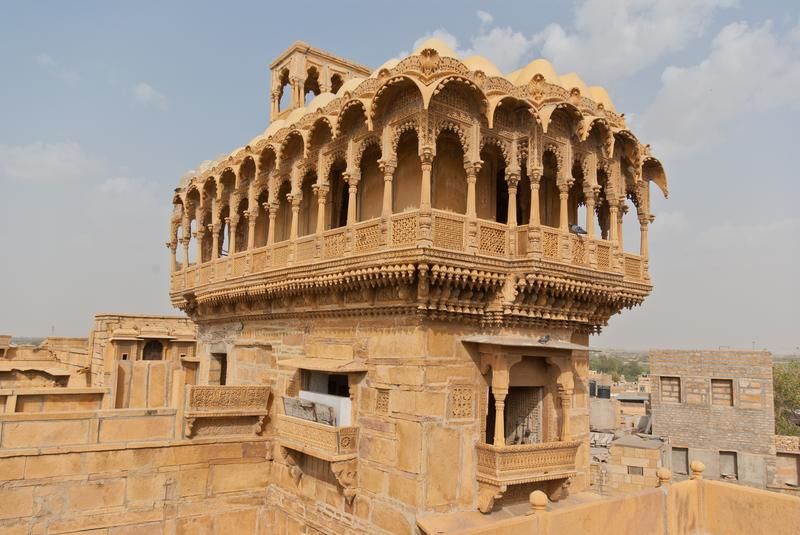 Situated in the centre of the city, it is genuinely a remarkable bit of design. Worked in red sandstone in the period of 1800 and 1860 AD, it is outstanding for its delightful latticework on stone and wood.
The haveli is plunged in a captivating shade of gold which attracts to the multifaceted nature of its engineering. It is well-known for its walls, wall paintings, and excellent jharokhas. Its walls are painted with amazing murals. Patwon Ki haveli is prestigious for its lavish artistic creations, yellow sandstone jharokhas, entry doors and gateways. Despite the fact that the building itself is produced using yellow sandstone, the main gate is made with brown.
One of the interesting fact about this haveli is that it is not a single haveli but a cluster of five exterior havelis on one compound. A stroll through the haveli do not take over 60 minutes, and this can without much of a stretch be covered in a city visit.
3) Salim Singh ki Haveli
Salim Singh ki Haveli has located at the eastern end of the city Jaisalmer and close to the railway station.
This 300 years old Haveli structure is named after Salim Singh Mahato who was Prime Minister of Jaisalmer. The haveli is arranged next to the slopes close to the Jaisalmer Fort and has a distinctive engineering.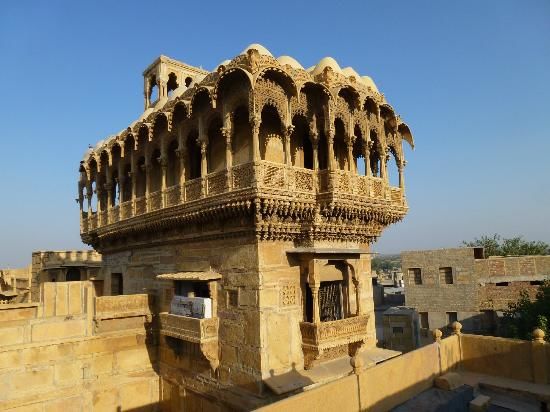 The haveli is the best example of both styles and design. It shows the harmony exist in the ancient times between different religions of Rajasthani and Mughals.
Conclusion:
Situated in the dry zones of the Aravallis, these castles, fortifications and Havelis emphasised the excellence of the betrayed city of Rajasthan. Be a part of haveli by strolling along the cobbled stone pathways to achieve the most intricate and grand of all the havelis. To know more about the fares of Palace on Wheels train, you can call us at +91 9810071704 or Email us at info@palaceonwheelstrain.org