So it was a long weekend and I had plans to go to Kinnaur on a road trip. But it rained continuously for two days and we were not sure about the road conditions so we had to cancel plans for Kinnaur. We decided to hit the road without knowing the destination and we will go whatever routes we will find open.
We hit the road on Saturday post noon and as soon as we were out of Delhi it started to rain. We put on our raincoats and continued riding on the NH1 till Karnal and took the road towards Yamuna Nagar. Only taking one stop during the journey, we reached Poanta Sahib late at night.
Next morning we went to the Poanta Sahib, explored the small town a little and went ahead on the road towards Shillai (which is in Himachal Pradesh). The road was really smooth and there was hardly any tourist on that road. We stopped at small intervals to click pictures of the scenic route. As soon as the height was increased a bit we were covered in the dense clouds, it was scary and fascinating the same time. The road was smooth for the first fifty kilometers and there on it was just poorly maintained roads. Although the views were magnificent but the bumpy ride made us to stop after short intervals.
We reached Shillai at around 1 in the noon and it seemed like it was 7 in the evening because of the clouds. We checked into the PWD rest house there for rs.500 per day. After resting for a while we went out to explore the place and clicked pictures. We ate at Rana Dhaba, which served excellent food. Considering this place is not of the tourist map, we were not expecting good food anywhere but this place blown over expectations. It kept drizzling the whole day and we called it a day at Shillai.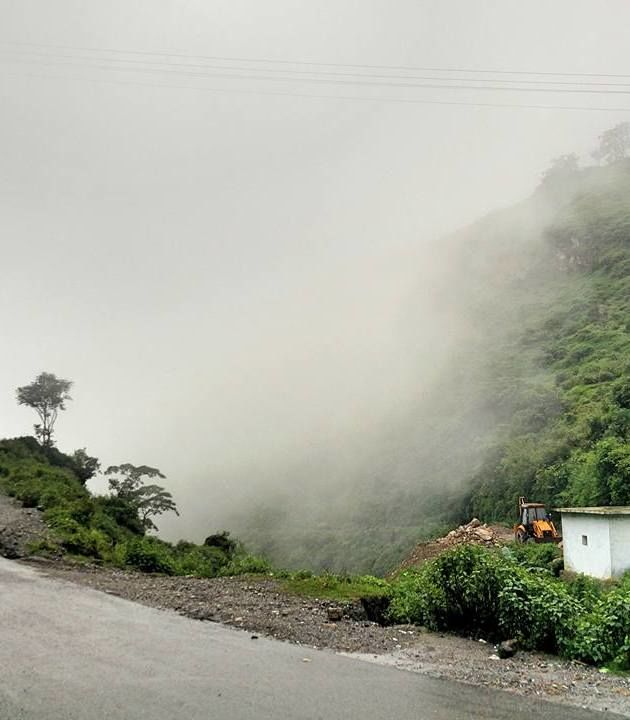 Next morning we thought of leaving early but it was still drizzling and the clouds had reduced the visibility to barely 10 mtrs. We decided to wait for the weather to be clear and it was all clear in another 1 hour, the sun was out and shinning. We started the journey towards Rohru. The road was still pathetic, but somehow the magnificent views made it all bearable. We were riding through clouds and waterfalls the whole way, after two hours we crossed into Uttrakhand, the road conditions were a little better but we could see signs of landlsides all along the way.
After another 3-4 hours of riding we reached Tuini, this was an equally beautiful place as we have been to last night. Upon reaching Tuini, we were told that the roads to Rohru are closed from last 2 days and we should have taken the Shimla route.
Since the forwards journey was impossible, we decided to head back via the Chakrata route. So we started the return journey the same day after taking a break at Tuini. The roads on this route were smooth as butter, but there was debris from landslides along the road. One thing we notice that while in Himachal we didn't see any landslides but as soon as we entered Uttrakhand, we started witnessing landslides.
We reached Chakrata by the time it was dark and decided to call it a day here. The temp was cold here but it didn't rain. Although we were again in the clouds but it didn't rain since morning and we were glad about it. It was pleasant next morning, clouds were all gone, except for a few scattered clouds. After spending half a day in Chakrata, we started our return journey towards Delhi via Poanta Sahib.
If you want to Visit Rohru there are three routes: Delhi -Shimla- Rohru, Delhi-Paonta Sahib-Shillai-Tiuni-Rohru and Delhi-Poanta Sahib-Chakrata-Tiuni-Rohru.
The Shillai route is completely unexplored and isolated. If you want to do some serious riding on your bike and want to experience untouched pristine beauty of nature this route is preferred for you. Although the condition of roads is poor on this route.
Also you will find mechanics only at Shillai, Tiuni and Rohru on this route. There are no petrol pumps, but petrol is available at shops, you have to ask around the locals. Keeping a jerrycan is advisable.
This blog was originally published on 'travelbeings'