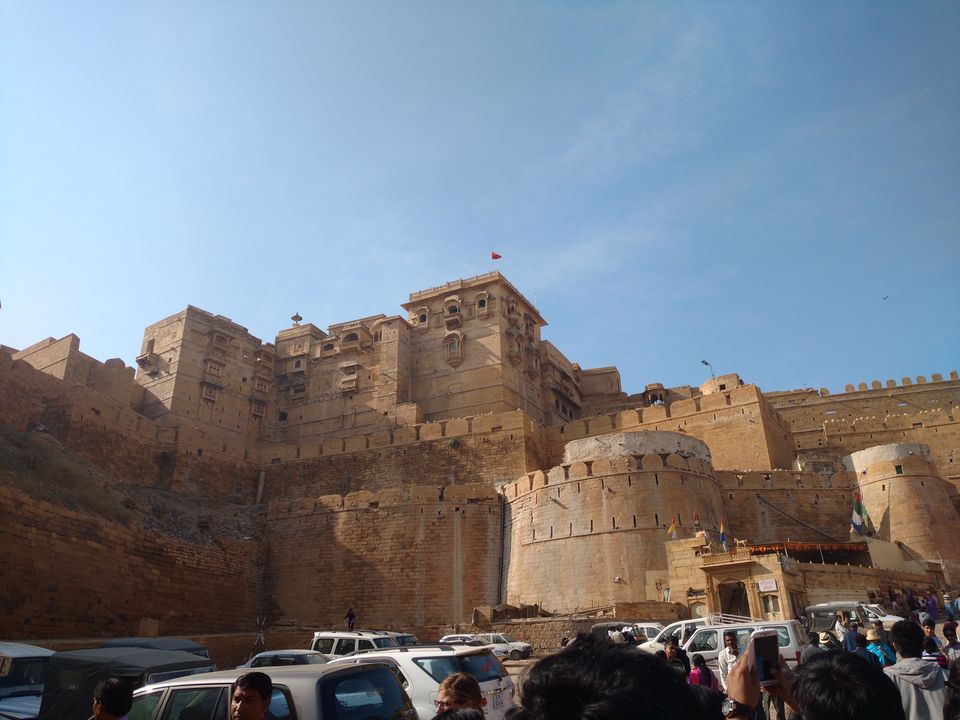 My visit to Jaisalmer was impromptu. I was staying in Gandhinagar (Gujarat) and was on training for 3 months. A long weekend was approaching around christmas,so my batchmates decided to go for trip and Jaisalmer was one of them on the list along with Diu, Somanath Temple and Gir forest.
I didn't have much clue about the itinerary. I was just content, knowing the fact that I was going out to explore and few new places but this trip turned out to be lifelong experience for me.We started out on 24th December night from Gandhinagar. It was an overnight journey by bus. The entire bus was booked and we contacted travel agency to plan our whole trip.
Day trip to Jaisalmer
We reached Jaisalmer at around 7 am, got refreshments and left for the city tour. The first place of our visit was Patwa Haveli, it was a beautiful fort and many stuff used by the king were kept on display inside the fort.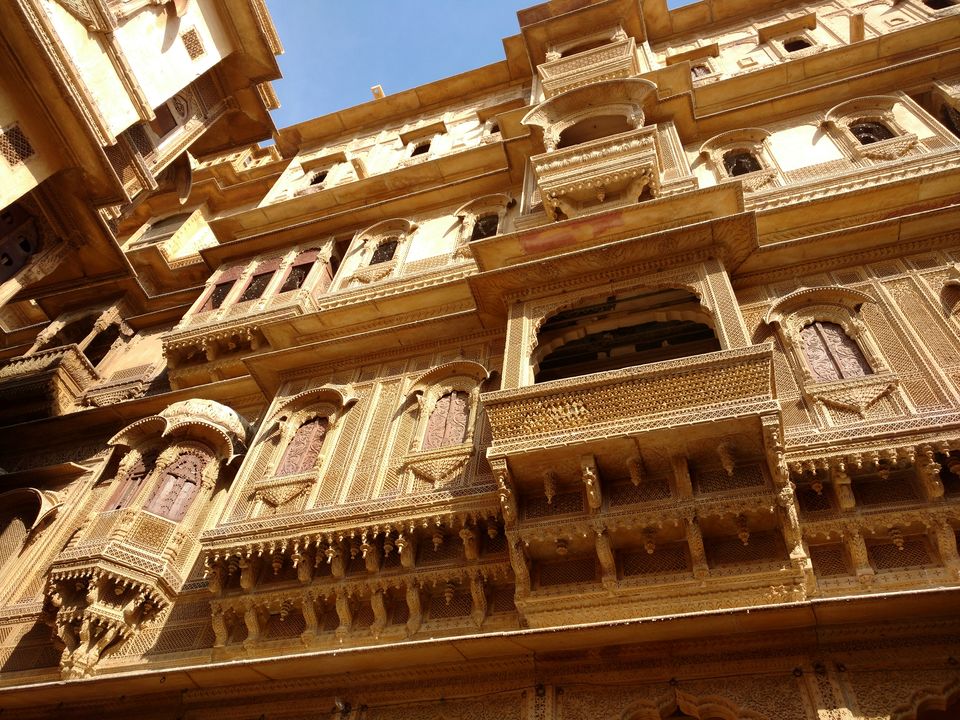 Then next, we visited Sonar Kella Fort. I was very excited to see this one because I did watch this fort in one of the Feluda Series (Bengali movie). While we were on our way to sonar kella, we got to see a market place and where many offbeat stuffs were being sold and many junk jewellery as well. I am very fond of junk jewellery but couldn't shop much as we had a tight schedule and couldn't waste time here and there.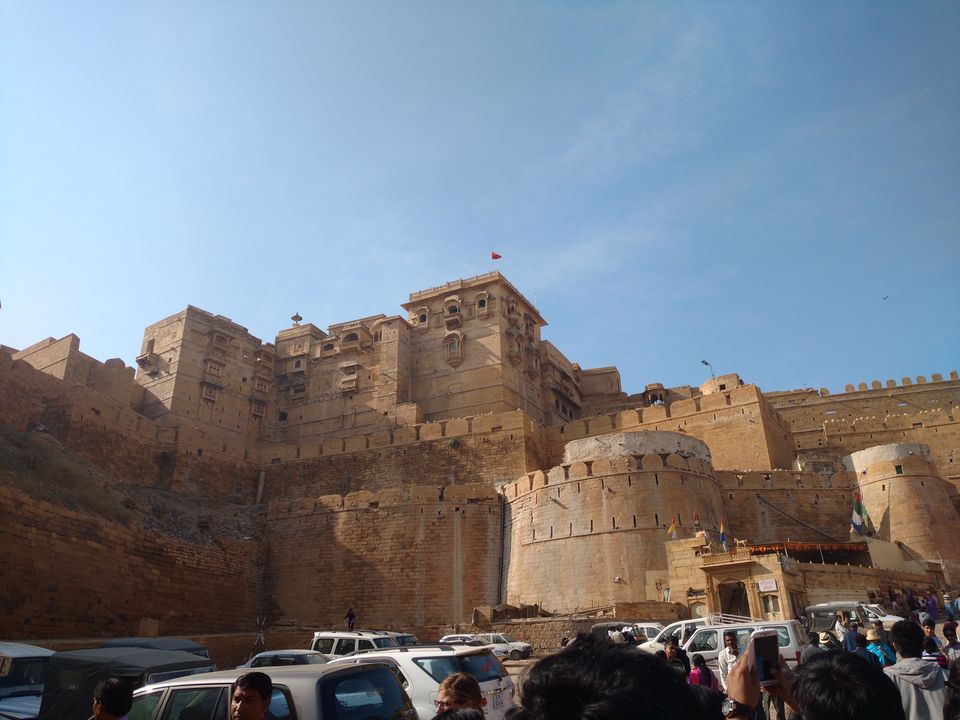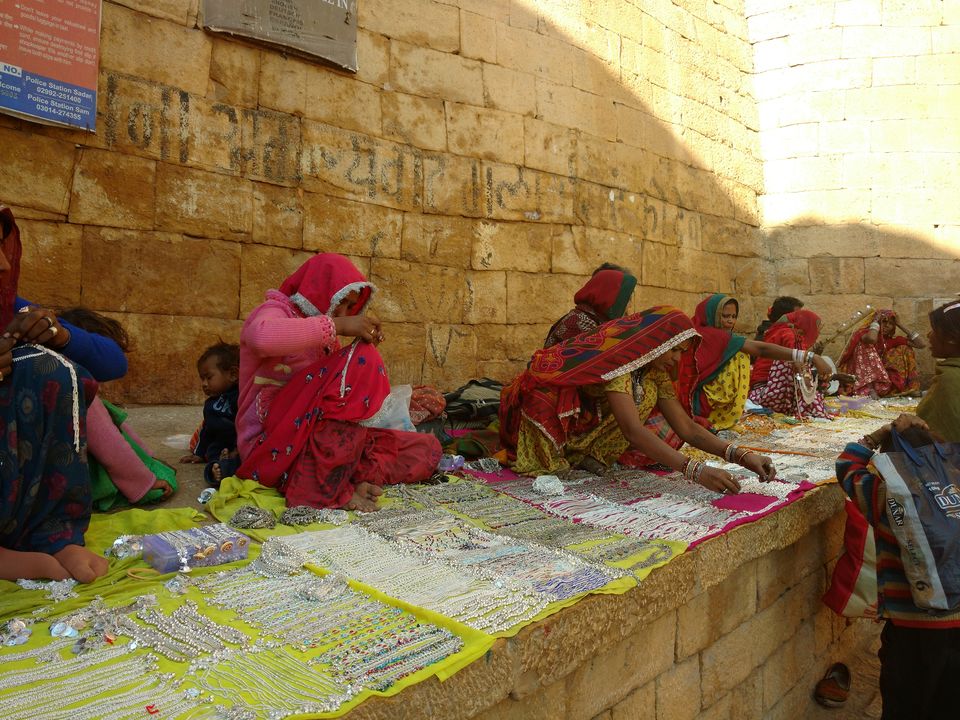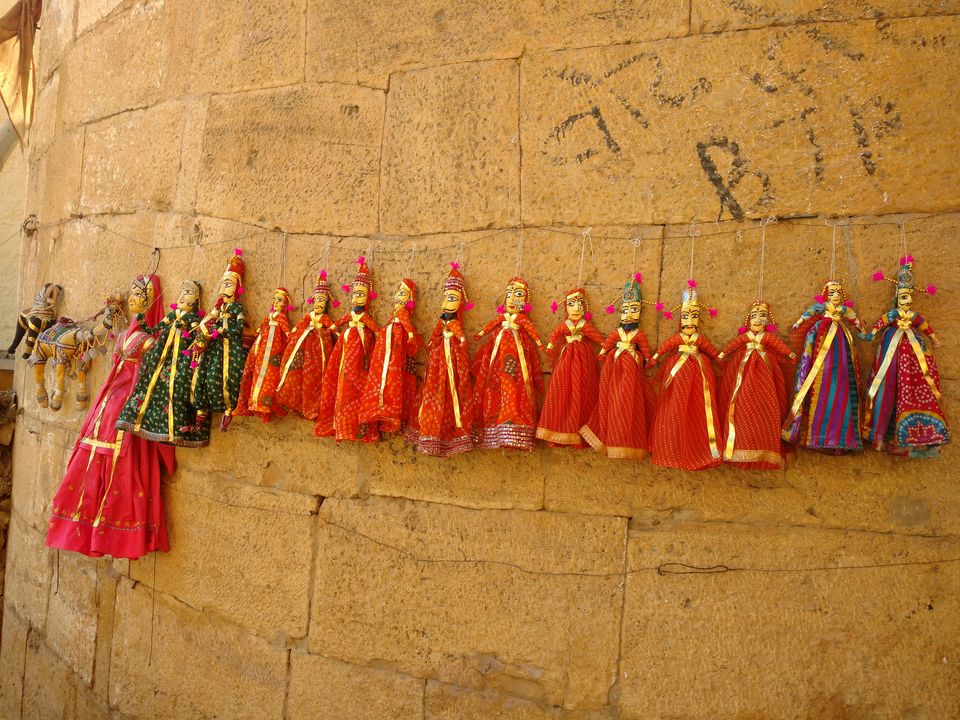 Sonar Kella didn't had much on display but the top view from the fort was mesmerising. I was simply awestruck with the view and could completely relate to why this city is called 'Golden city'.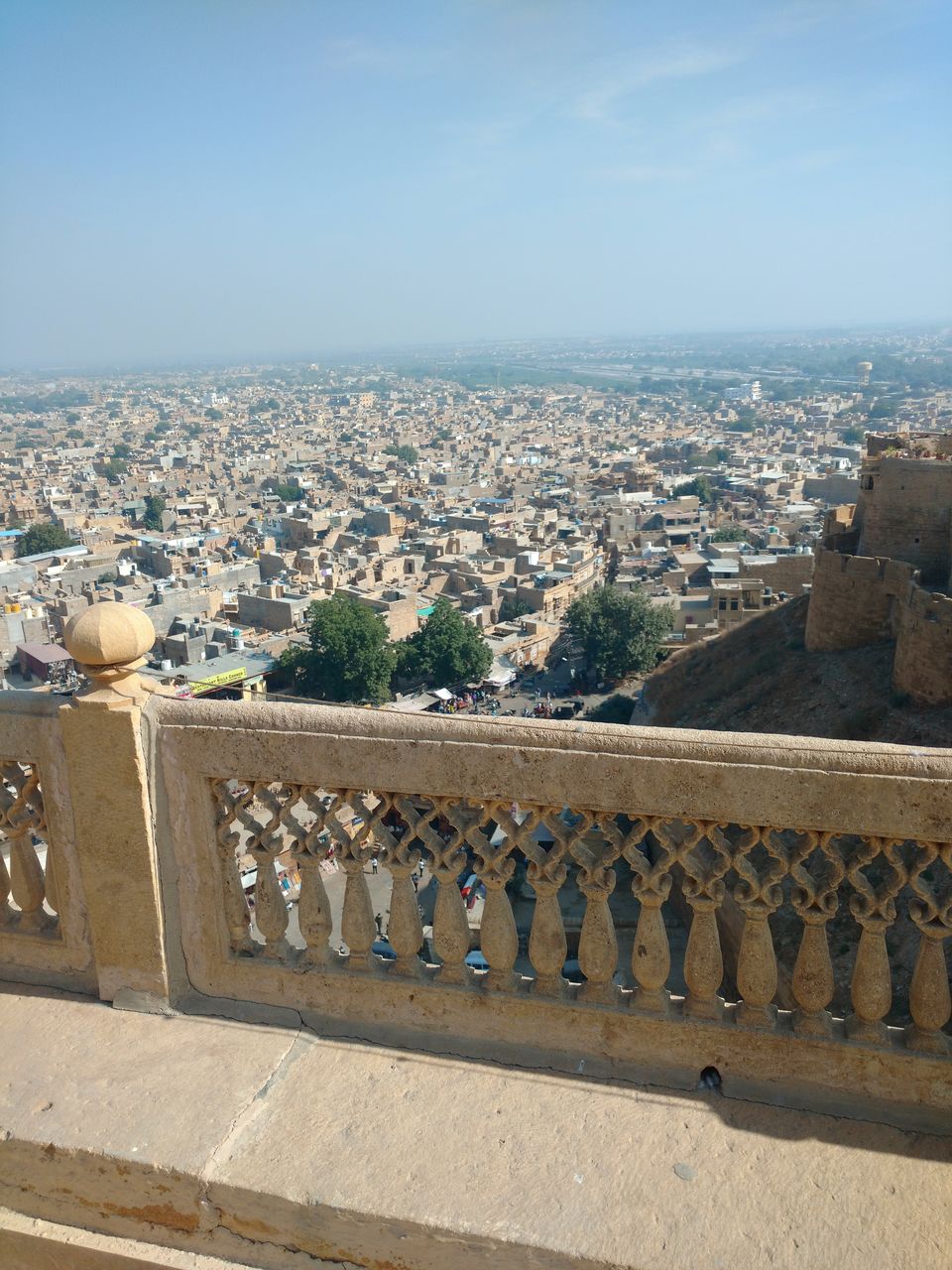 Spending night at Desert Camp
At around 3 pm, we left for the desert. As soon as the bus left Jaisalmer city, the dusty landscape started and we could spot giant windmills rotating in the backdrop of a clear sky. It took around an hour by bus to reach our resort in the desert. I was overexcited with the idea that we were going to spend the entire night in a desert and that too in a little tent.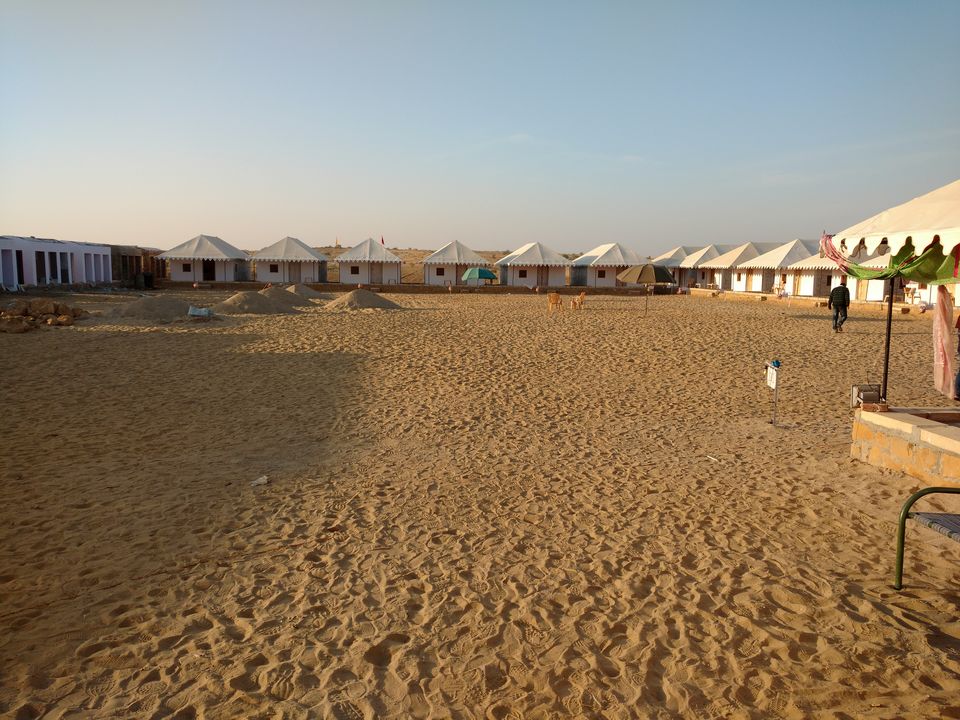 At evening, we went for Jeep safari. The jeep took us to an area full of huge dunes and almost untouched. It was a pure adrenaline rush as the four-wheel drive climbed and dived over the steep dunes. The sunset in the desert completely enthralled me.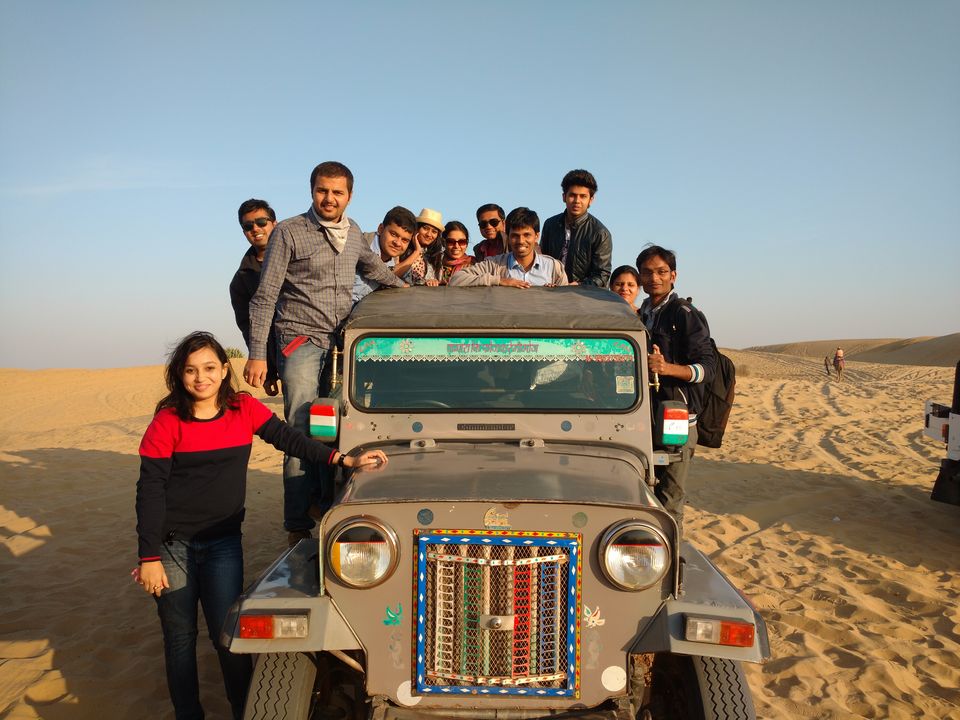 We returned to our resort at around 7 p.m and then enjoyed few performances which were performed by locals and heard few rajasthani folks including 'padharo mhare desh' . The temperature started dipping by that time. We sat closer to each other in a circular manner, were served some lip smacking snacks followed by DJ.
Next day early morning at we went for Camel safari. It was one of the experiences I'll cherish forever. Riding a camel and sinking into the vastness of the desert along with enjoying sunrise just took my heart away. The landscape was barren with sand dunes, throny bushes and sparse vegetation. After riding for sometime we took a break and enjoyed bonfire in the middle of the desert and then returned to our resort and left for our next destination.