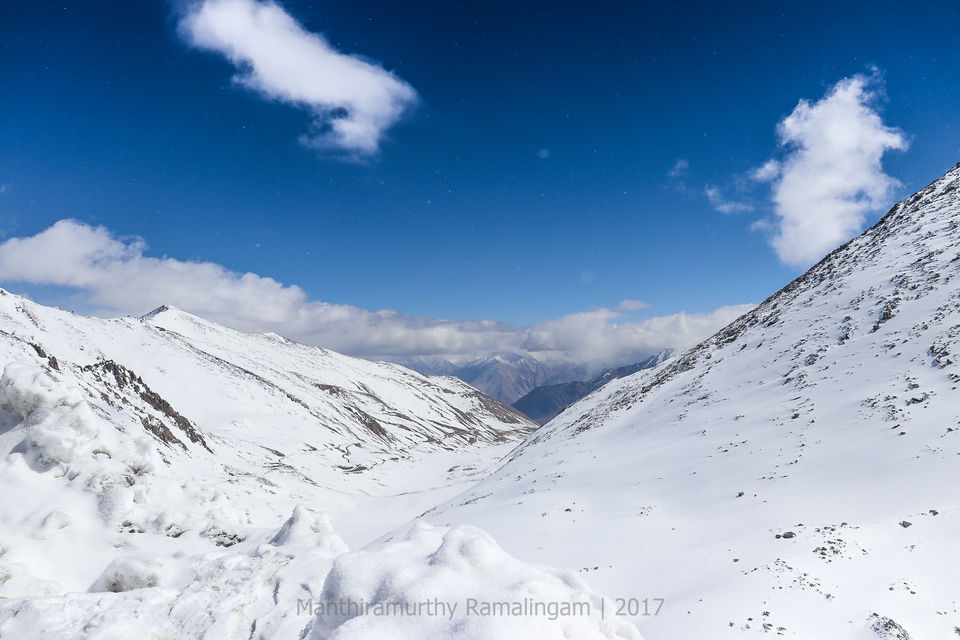 Leave aside the Goa trip with friends, which most times ends just in planning state for many gangs. Leh-ladakh - something that demands real grit was one of our bucket listed items for so long. Six of us, decided to explore the valley's most exquisite beauty during summer. We were particular in making this a frugal and also a memorable trip of our lifetime. This post will be both a travelogue as well as a guideline for you to plan your trip.
Planning the Trip
Since both the budget and the effort needed are huge, it involves enormous planning. We, a gang of five people from Chennai and one guy from Mumbai, had multiple rounds of discussions for the trip. This blog post is fully based on our experiences and lessons learnt. Tried to make this like a travelogue as well as a small guide to customize and plan your leh ladakh trip.
A. Destination
Be sure what you really want to visit or do in ladakh region. It could be anything from visiting the Pangong Lake for a cool selfie or a royal Enfield ride along the ladakh region, or even rafting in the zanskar river. Consider everyone's wish as to what they really want to do in ladakh. Once and only after you set your priorities, you can start the actual planning.
We were mainly focused in riding bike and visiting two major places - Pangong/Chang la and Khardung La/ Nubra Valley.
B Cost
Of course, cost was one of the key factors for our trip. We were particular about visiting the region right immediately after the start of the season to enjoy the off season discounts risking the hostility of the changing temperatures. We sat one fine night to check the rates via every vendor (goibibo paytm yatra mmt etc) offering every possible coupon code. It's advisable to maintain an excel sheet first and compare and book. Consider the amount per booking. For example booking 3 tickets twice with a coupon code might offer a better deal than using the code for all 6 tickets in a single shot. This works out especially when there is a ceiling on a cash back amount. Websites like sky scanner might find a better flight deal for you.
C season
Visiting leh involves so much of consideration for the time to visit. While visiting in June /July gives you freedom to explore all the places using the bike while visiting in April end like us, gives a chance to live the extremes with limited biking options.
Having considered above factors, chalk out a temporary plan at a high level. Always ensure that your itinerary is highly flexible.
Day 1 Depart from Chennai

We reached home after a busy work day and had a power nap. With an unexpected traffic outside the Chennai Airport, we somehow managed to barge in just in time. Adding insult to injury was the terminal change. Ours was an Air India flight to Delhi for which we needed to go to the international terminal. We rushed from one end to other carrying our backpacks, praying Gods not to miss the flight. After so much of drama, we finally caught the flight. Three hours since then, we reached Delhi Airport. We had some five midnight hours in Delhi.
Delhi night!!
We stopped in front of the India gate, to click some pics. We drove along the famous rajghat. After few facebook check-ins and few more pics in the same region, we headed towards airport. Visiting monuments from outside at midnight was something really memorable.
One more particular thing to catch our attention was the SUVs and luxury sedans in the streets of Delhi during the wee hours. I was able to spot so many jaguars, BMWs, a Porsche and even a Rolls-Royce (not fully sure of it because we saw that from back).
Having reached Delhi Airport back for our early morning flight to leh, we just grabbed subs at the subway at Delhi Airport (probably the most value for money food, considering the airport costs). We boarded the leh flight finally bidding a temporary Bye to the Delhi skies.
Day 2 - AccLEHmatize
We made an instant plan to have a midnight roaming around Delhi. Having managed to book a Zoomcar, we took a Mahindra Scorpio. The nearest Zoomcar point was in Mahipalpur, a place near to the airport. We drove from there to the India gate, Rajpath. Driving a car via teen murthy marg, Akbar Road, Shanti path and kautilya marg at that midnight and finding the residences of all superstars of Indian politics was something really good. Having grown up watching news channels panning their camera over entrances of famous locations like "24, Akbar Road" or the residence of ministers, I felt as if we are cruising across the core of the Indian politics and news world. One needs to take a drive across these streets to realize, how big, diverse and majestic, the capital city looks like.
Early morning flight between Delhi to leh was a pure bliss. You can gradually feel the increasing attitude of the aircraft. I was observing my flight with high turbulence easily cracking the various layers of atmosphere. We really loved the sight just outside the window. You can gradually feel the entry into the himachal and Jammu region. Yes, of course, you would observe snow covered peaks from your flight. But then, most of the small ranges around the ladakh region at reasonably lesser altitude, has a brown (sand color) cover than a pure white color. All myths and illusions i had about the Kashmir valley got broken just like that.
Visuals of Kashmir, which I had seen in movies were resonating in my mind then. First was Roja, which dealt just with Srinagar according to the story. Dil se, again was giving some limited gyaan about the leh ladakh region.
Thanks to "3 idiots" final scene, I got to know Pangong. And again in movies like lakshya, jab tak hai jaan, fitoor, Haider... I had observed the beauty of the land.
Not to forget, I still remember the way Nargis fakri and Ranbir kapoor roam around the region in
"Rockstar"...
Leh Airport or Aerodome??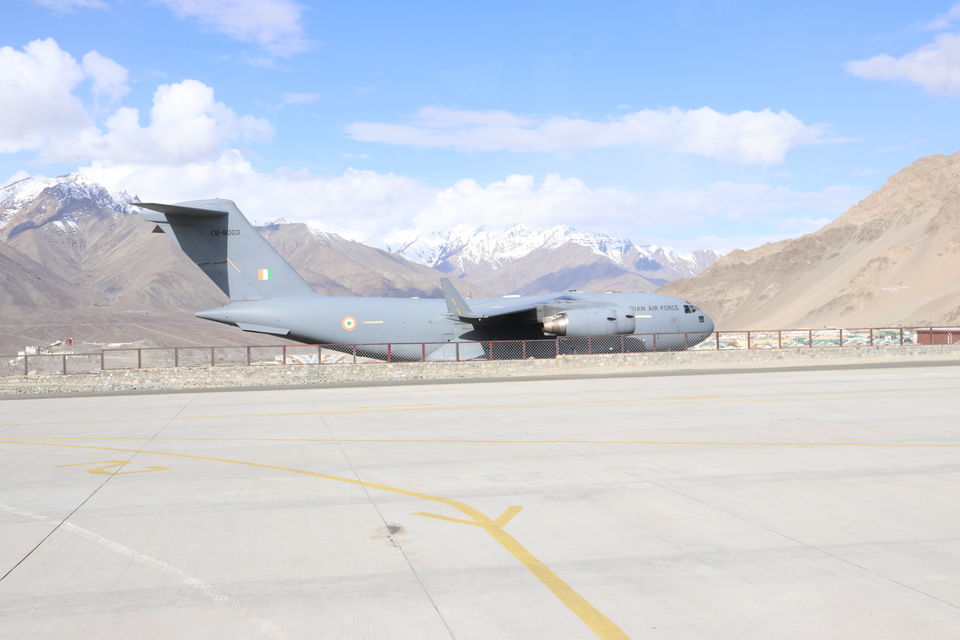 Arrive at the leh airport and you have another big surprise. If at all you have imagined airport, runway and terminals as something related to magnificent and huge structures which are usually built across acres of lands, well, here is leh Airport for you. It's just a small building (which we think is fitted with a asbestos sheet in the roof). A very small arrival and departure terminal, limited staffed functioning, a small runway and more importantly, lesser flights. Though I have been to small cities and their airports, this one was really surprising.
First thing which struck us while arriving at the leh airport, was the cold winds welcoming us. We had to immediately put on our gloves and sweaters. The chilling winds had sent a strong warning message about the weather there. Little we knew that, 8°C leh morning was just the trailer.
We had booked a small hostel where we checked in and the day just got started. It is important here to mention that, your phones might not work here unless they are having an Airtel postpaid connection. Luckily one guy had such connection in our crew. Else, we might have bought a local SIM card. Expecting mobile Internet to work seamlessly here is surely a luxury. Leh bazaar Street, or the Fort Road has all important shops.
We had read so many blogs and articles on this relating to the first day at leh. It is highly advisable to stay at leh for the initial 24-36 hours and get acclimatized to the conditions. We wanted to respect that and just realized that it is highly necessary to take it up seriously.
We went around booking bikes and taking up ILP only to realize that roads were not suitable yet for biking for few areas. We booked a Toyota Innova for next three days and we also paid few extra bucks for the agency to get us ILP.
I took a nap around mid-noon. We then headed for a town walk across the market areas, finding restaurants. Just as we finished our evening tea, we just realized that it was a mild snowfall. To kill time, we managed to have tasty momos.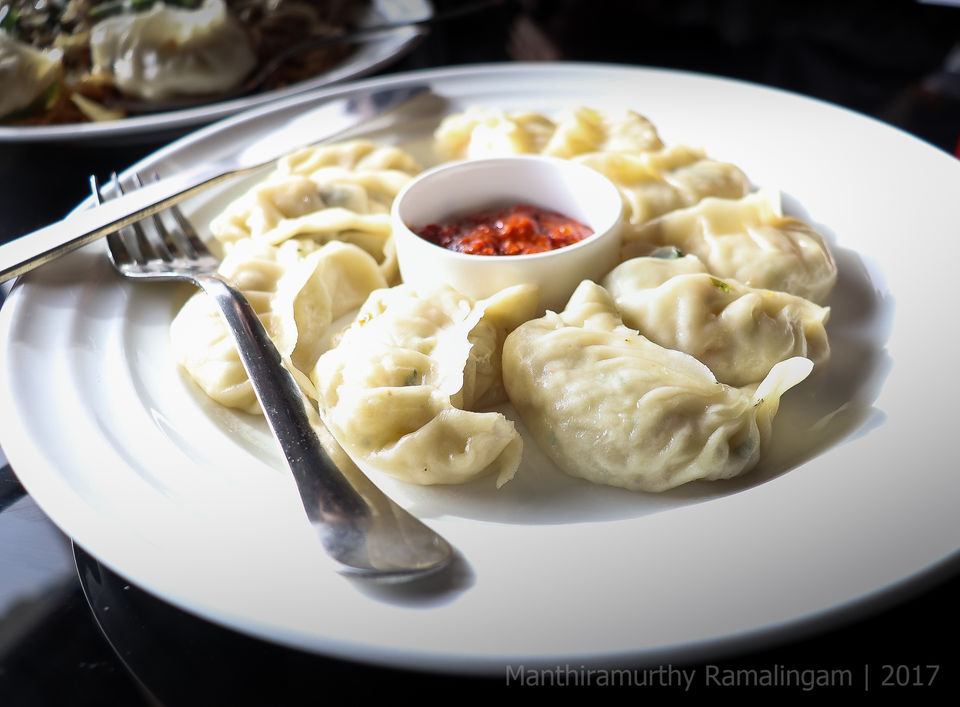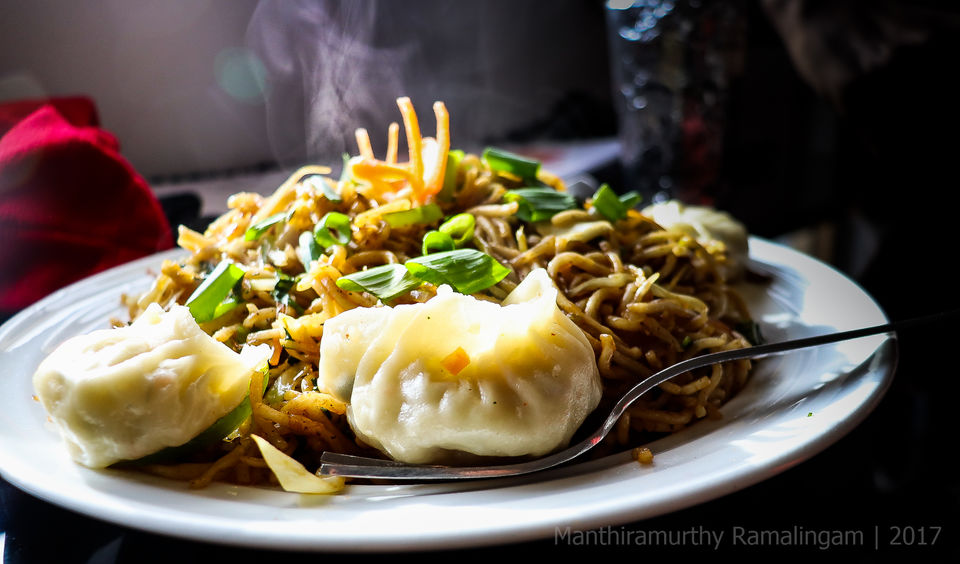 I couldn't bare the chilled winds already. I bought a leather jacket and a pair of rubber gloves trusting that, those things would save me from the cold.
And thus, we rented a toyota innova and we were all set to explore the beauty of ladakh further..