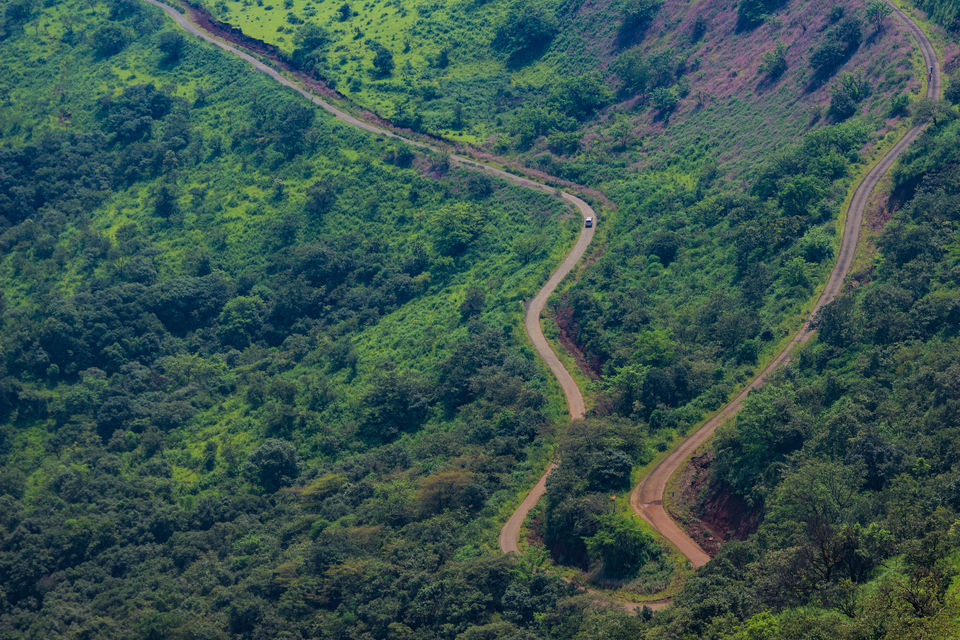 So, welcome to another blog I am very excited to write about this trip because it went better than what I was expecting! Ok if you do remember I posted Kenjalgad and Raireshwar trek video before this one.
I went there exactly a month ago where I equally surprised by the beauty of Raireshwar plateau and when my cousin asked me a bike ride destination I immediately said Raireshwar.
Raireshwar looked like this during this trip
Initially I was thinking of Kaas plateau but it is further away and we were not looking for a ride over 100km. We also thought of going to Saswad or Madhe Ghat but I wasn't sure of the road condition.
So the plan was fixed but we started late and I wanted to reach there as early as possible because the morning light is great for photography. We left Pune 7 am ish and were at Menwali ghat near Wai around 9 am. I have a detailed video showing Menwali ghat Dhom dam and Pandavgad below
After Menwali and Nana Phadnavis Wada we went to Dhom dam where I start my vlog. My cousin tells me he has some call he has to attend so he needed to leave early but I wasn't ready to leave so I said they can carry on and I would go further to Raireshwar. So here is the vlog below
While I was driving there I could already feel like I made the right decision, earlier if you watch the video I saw Cosmos flowers all the way on the highway and as I was going towards Raireshwar from Dhom I could see Mumbai Senecio and Garden Balsam flowers all along the road. The flowers look like this, Pink is Balsam and Yellow is Senecio
I have clicked all of these photos on my Canon 80D and I have most of the pics in the video and on my Instagram which you'll find below
The Garden Balsam had covered most of the hill but I could also see Senecio covering small patches in between. The Mumbai Senecio looks very attractive in a bunch. Bright yellow colour against the green and pink gets highlighted perfectly.
Okay, so back to the post I was certain that I wanted to go through Khambatki ghat and I think people who have been through Khambatki will agree with me that it is an absolute pleasure driving in Khambatki especially on a bike.
When Googled Pune to Raireshwar we get the Bhor road option which is 20 km shorter in distance than the one we took from Wai. I can't stress enough but Please don't take the Bhor route I agree it's shorter but it is the worst road that I have ever driven on!! I am writing this every where I can just so that somebody would read it and do something about it! I don't know why the people of Bhor haven't done anything about it.
The Raireshwar plateau is a short but exhausting climb I must say and the harsh heat of October Sun didn't help. On the plateau itself it is a flat and straight walk towards the village where you can get food and accomodation options. The route is paved and easy to walk with scenic views of the plateau itself covered in a variety of flowers. I at least learned about 10 new species of flowers. The locals are very friendly and there is always a kid or two around to offer you refreshments like buttermilk and lemon water.
If you see the video I had only buttermilk for breakfast. I wasn't carrying any snacks or even water with me. The village is pretty small and the temple is the first thing you see as you approach the village. The Lord Shiva temple is the main attraction of Raireshwar. It is said that Shivaji Maharaj took his oath to establish 'Swarajya' in this temple.
I clicked some Landscape photos and some Macro which I have added in the video and also on my Insta. I made a mistake of coming back from Bhor which I regretted a lot. The Sun got harsher and the road got bumpier but I managed to get home by 4 pm. It is definitely a trip everyone should take.
I'll try to post every week so Please follow me on Tripoto | Wordpress | Instagram and Subscribe to my YouTube channel for more awesome travel content!
Thanks