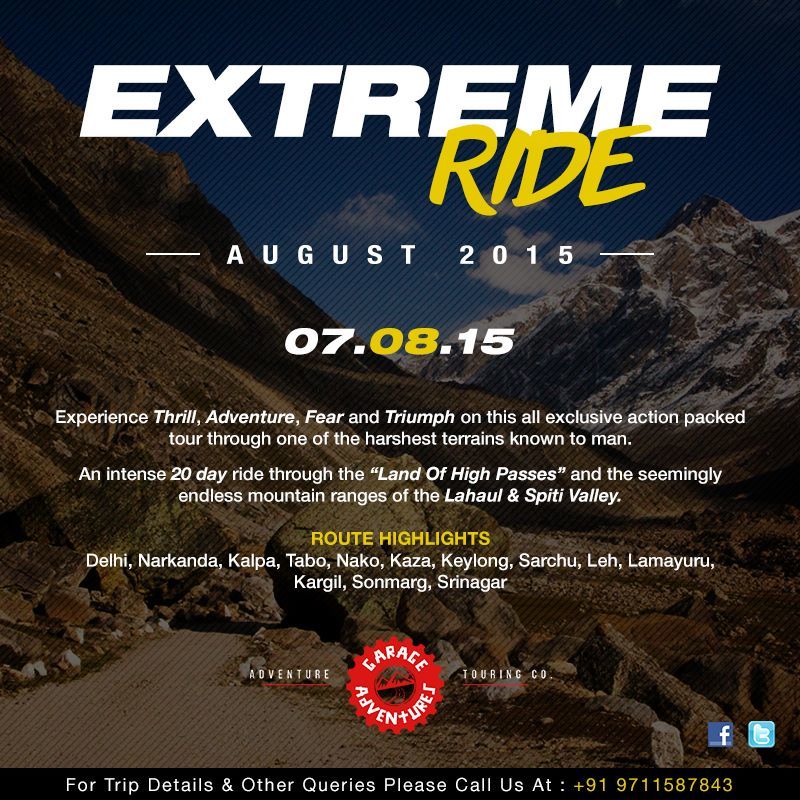 Day 1 -  Delhi – Shimla – Narkanda  ( 426 kms )
Start early in the morning to avoid city traffic on your ride to Shimla. En-route, stop for lunch between Kalka to Shimla. Continue your drive to Narkanda. On arrival overnight stay at homestay followed by dinner.


Day 2  Narkanda – Nako ( 250 kms )
We start early from narkanda to nako .The route takes you from beautiful snow mountains to Nako. Nako is a village in the Himalayas of northern India. It is located in Kinnaur district in Himachal Pradesh. The area is known for its lake, Nako Lake which forms part of the border of the village. Nako Monastery is located in the village as well as several other Buddhist temples. Located high on a hillside (about 3600m above sea level.


Day 3  Nako – Tabo – Kaza ( 110 kms )
Ride starts at 6 a.m . it will take nearly 9 hours to reach Kaza. Here Sutlej river will be at your right side and the road passes through Stiff Mountains. After traveling 8 KM you will get a hot spring and after 15 KM you will cross Sutlej river. Before this bridge there is a restaurant.. After crossing the river valley will be at your left side.
Day 4 Kaza ( Rest day )
Today will a rest day. We will enjoy the local sights of Kaza. Bikes will be checked. The town of Kaza is the subdivisional headquarters of the remote Spiti Valley in the Lahaul and Spiti district of the state of Himachal Pradesh in the Western Himalayas of India. Spiti, which is a part of the Lahaul and Spiti district of Himachal, is a high altitude or cold desert having close similarities to the neighbouring Tibet and Ladakh regions in terms of terrain, climate and the Buddhist culture. Kaza, situated along the Spiti River river at an elevation of 3,650 metres (11,980 ft) above mean sea level, is the largest township and commercial center of the valley.
Day 5 Kaza to sarchu ( 300 kms )


This ride from Kaza to sarchu can test ones skills of riding .It will a tiring ride as we will be connecting to Manali – Leh highway . Sarchu is on the border between Himachal Pradesh and Jammu & Kashmir. Here you can see the nomadic Gaddi people and an army outpost. On our way we stop at Barchala Pass (4891 m). At Barchala, which means  "a pass with cross roads," the roads from Ladakh, Zanskar, Lahaul and Spiti intersect here. Stay at Sarchu camps.
Day 6 Sarchu to Leh ( 272 kms)
This day, we start for our best and the longest ride of the tour. We start our day with an early ride to Leh, the capital city of Ladakh. En-route, we cross the famous Gata Loops – a succession of 21-hair pin bends lifting you 1,500 feet higher. And soon after, the Lachlung-La and Naki-la passes follow before one reaches Pang.
The road after Pang rises onto the More Plains, 42 kms of well-tarred road, which is a welcome relief. After More Plains we climb for Tanglang-La, the second highest motor able pass at 17,582 feet starts. . Ride in the plateau area for next 30 Km with a good speed but be cautious of the bad patches en-route. Ascend the road bends of Gata Loops early in the morning to beat the uphill traffic and scale the height of Takh (3,950m) and then it is a downhill. Cross over the low-lying road in the stream and ascend uphill again to the height of Lachung La Pass (5,060m) about 54 km from Sarchu. Then, drive downhill for 25 km till you hit the base of bridge before Pang (4,630m). Ensure to cross over Pang before 12.00 noon as traffic is not allowed in afternoon. Later, cross Tanglang La (75km from Pang) and another 30 km to Rumtse. Thereafter, proceed further to Leh, the saddle of Buddhist Culture. Dinner and overnight in the hotel in Leh.
Day 7  Leh ( rest day )
Day at leisure for own personal activities. Bike Maintenance. Leave the bike with the mechanic and explore the delights of Leh on your own. Visit the 16th Leh Century Palace (once the seat of power), the splendid World Peace Pagoda and the busy marketplace.
Day 8 leh ( local sights )
Day 9 leh – Pangong Lake ( 140 ) kms /Stay )
The 140-km trip to Pangong Lake from Leh is an experience of its own. The first stop on the way is Thiksey village famous for its huge monasteries, which cover an entire mountain ridge. Beyond this remote village, there is nothing but the extreme mountain ranges for company. The second stop is the Changla Pass (17,350 ft.), which could test ones lungs, for the lack of oxygen. Upon arrival, we settle in our camps, followed to a visit to the lake.
Evenings are at leisure, followed by a Bar-be-Que and campfire at Pangong .
Day 10 pangong lake – leh ( 140 kms )
Day 11 leh ( local sights )
Day 12 leh – sonmarg ( 362 kms )
The journey from Srinagar to Sonamarg takes you through some of the magnificent vistas Kashmir is renowned for. Even though there is heavy army presence and there are soldiers posted every few hundred meters, it is relatively safe and security forces are there to help you out. Apart from this the journey is pretty straight forward .Take a breather here and marvel at the beaut.
Day 13 sonmarg – leh ( 362 kms )
Day 14 leh ( rest day )
Day 15 leh – zing zing bar ( 300 kms )
Day 16 zing zing bar – manali ( 250 kms )
This is the final leg of our long road trip. We start our day early and our ride from zing zing bar to Manali. Enroute we cover water streams . Snow mountains . beautiful view of Jispa and Keylong . Mud slush at rohtang will add more andenvture to ur ride .
Day 17 manali ( rest day )
Manali is a beautiful town situated in between the mighty Himalayas. Manali is a hill station nestled in the mountains of the indian state of himachal Pradesh near the northern end of the Kullu Valley, at an altitude of 2,050 m (6,726 ft) in the beas river valley . It is located in the kullu  district, about 270 km (168 mi) north of the state capital Shimla .
Day 18 manali – delhi (600 kms )
TRIP ENDS - -               
For more info - www.garageadventures.in