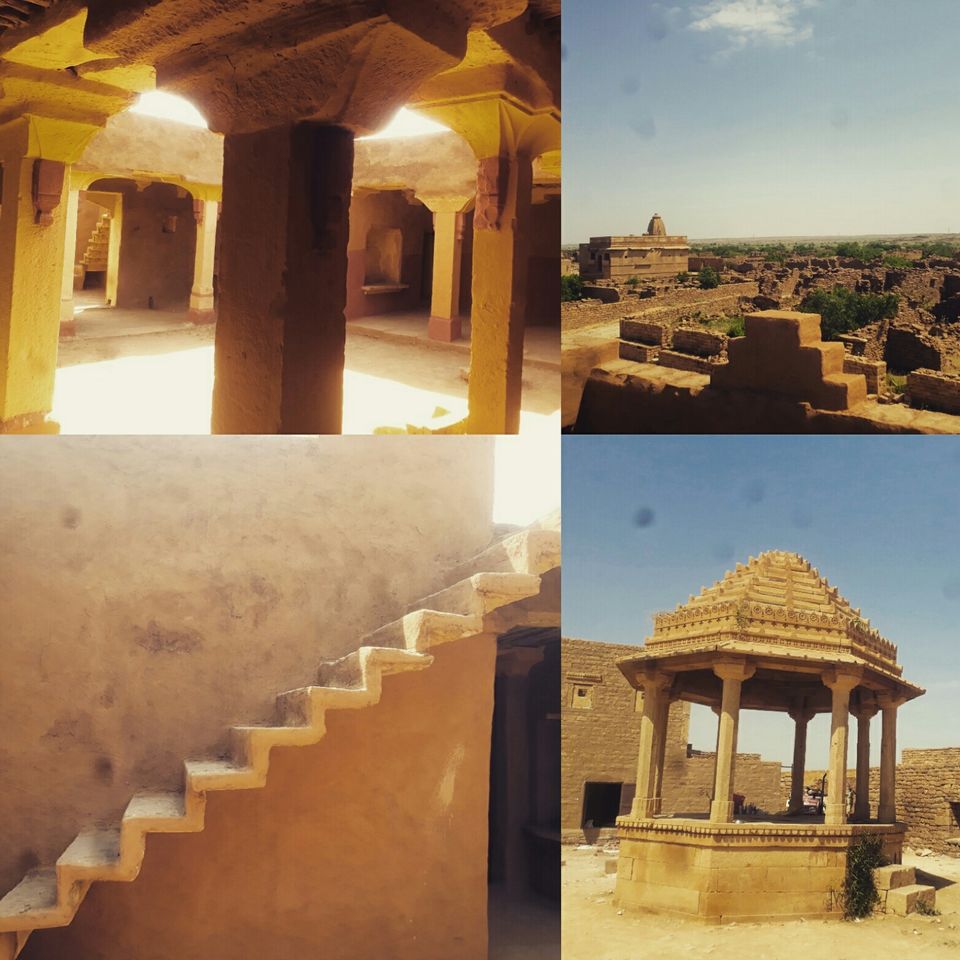 Touted to be a haunted destination of India, this village in ruins has nothing haunted in it, but is an example of melancholy. The locals dislike it if some tourist mentions this as a haunted place. Atleast our driver does . There might be some guides who may like to brand this to be a haunted place to gain attraction.
I am not much of a prolific photographer, but the ruins has multiple subjects for professional photographers. Not critiquing any photographer in my list of readers, but this place is strictly a misfit for pre-wedding photography. I saw some insane craze for pre wedding photoshoots happening in the tourist places of Jaipur. Hence, the disclaimer.
Kuldhara is an abandoned village some 18 kms outskirts of Jaisalmer city. Established around 13th century, it was once a prosperous village inhabited by Paliwal Brahmins. It was abandoned by the early 19th century for unknown reasons, possibly because of dwindling water supply, or as a local legend claims, because of persecution by the Jaisalmer State's minister Salim Singh.
As per Govt.records, Kuldhara & surrounding villages were abandoned due to an earthquake.
The fable as per our driver was that in an era of powerful kings and ministers, about 200 years ago, Kuldhara was home to the Paliwal Brahmins. It was during this time that Salim Singh, the Diwan of Jaisalmer, known for his debauchery and unscrupulous tax-collecting methods, set his eyes on the beautiful daughter of the village chief. The Diwan was absolutely hell bent on having the girl and he told the villagers if they came in his way he would levy huge taxes on them.
Fearing the wrath of the Diwan, the residents of the entire village fled one dark night, leaving behind their homes and everything within them. Kuldhara was abandoned by its very own people. No one saw the thousand-odd members of the village leave. For generations now, no one knows where the Paliwals have resettled. All that is known is they cursed the town when they left – that no one would ever be able to settle down in Kuldhara again. However, our driver who claimed that he had driven some tv show people who came to capture the haunted town in night to prove the supernatural theory also found nothing. He doesn't believe that there is anything supernatural about this place.
The local legend claims that while deserting the village, the Paliwals imposed a curse that no one would be able to re-occupy the village. Those who tried to re-populate the village experienced paranormal activities, and therefore, the village remains uninhabited.
Quite a few movies like Agent Vinod, Kacche Dhaage were shot here. Many reality TV shows are still trying to prove this place as a site of supernatural powers. However, since Government has taken over the reclamation work, they don't permit much shooting to happen here.
I was intrigued at the settlement planning & remains of certain houses which probably haven't heard of an architect, but are neatly built. The Temple lies without a diety as believed that GòD also went away with the inhabitants who were believers of Him.
There are many stories, theories, etc. But this place is a historic ruin, quite a sight for desolation & an abstract beauty of the arrid region.
Rajasthan, Jaane Kya dikh jaaye..