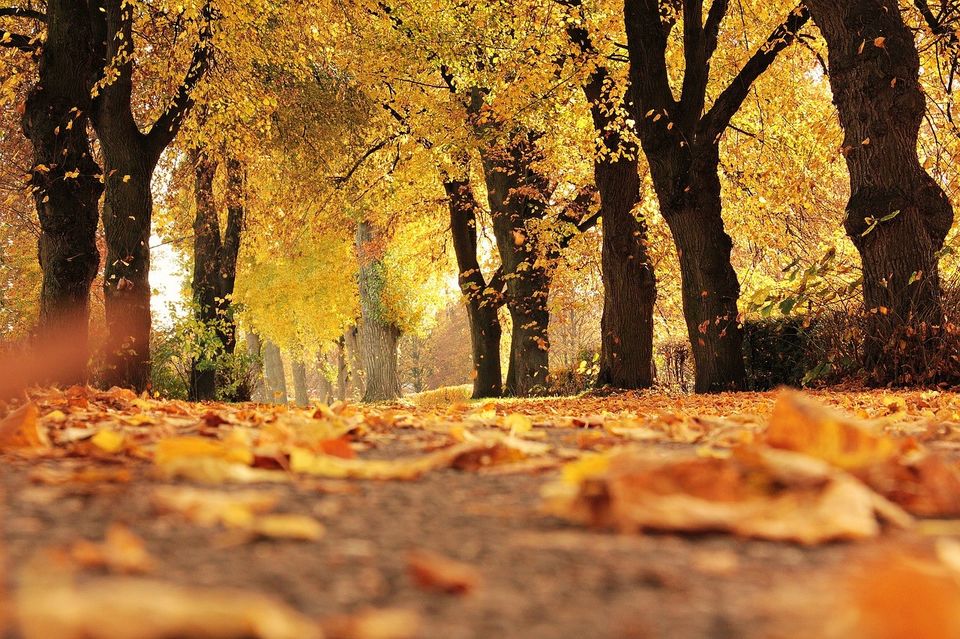 If you're thinking of traveling for a relaxing fall getaway, there's a good chance that fall foliage in New England is the first thing that comes to mind. The thing is, unless you're in Vermont or upstate New York – or even northern Michigan – before early to mid-October, you'll miss the peak season for those vibrant autumn colors against a picture-perfect blue sky. Fortunately, the seasonal colors come later in more southern regions, and the tourism pros in the Smoky Mountains put together a smart, use-friendly map for 2017 that will help you find the perfect destination for a splash of scenery and sight-seeing.
Whether coming north from Charlotte or southwest from the Washington D.C. area, a road trip along the Blue Ridge Parkway on October 15 puts visitors right in the midst of Virginia's peak viewing season. This part of the country is rich in American history, too, so there are plenty of museums and attractions. At Humpback Rocks, not far from Charlottesville on the northern end of the parkway, there's a farm museum surrounded by 3,000 acres of forest with hiking opportunities that include a 2-mile stretch of the Appalachian Trail. The rock outcroppings provide a perfect platform for stunning autumn views.
From there, Bluefield, West Virginia is roughly two hours by car on Interstate 81. It's a hidden gem of a town, tucked in the mountains right on the Virginia border and perfect for an overnight stay. The award-winning Bluefield Inn bed and breakfast, a recipient of the HotelsCombined Recognition of Excellence award, offers a historic setting for guests within walking distance of downtown attractions. It's also a great jumping-off point to begin a later fall foliage tour, too, since most of beautiful West Virginia's autumn color, to the north and west, doesn't peak until the following week.
But what if your spur-of-the-moment decision means taking a weekend that's even later than that? Not to worry! The fall foliage peak doesn't come until late October or early November in parts of the Upper Plains and the mid-South, and that includes Georgia. The Chattahoochie National Forest along the state's northern border spans some 26 counties, with 850 miles of hiking trails and other amenities, and from the southern end of the Blue Ridge Parkway in North Carolina's Appalachian tip, it's just a few winding country roads away. It's only about an hour's drive – all through protected forest – until one reaches Tallulah Falls in eastern Georgia. It's a Victorian-era resort town sometimes called the "Niagara of the South" because of a series of five waterfalls coursing powerfully through a 1000-foot deep gorge.
Guests in Tallulah Falls can't go wrong with the Glen-Ella Springs Inn, a historic 16-room B&B that's more than 100 years old and a home to Southern hospitality. The sweeping veranda offers panoramic views of forest color, with plenty of gardens to wander. The inn, named one of the best small-city hotels in Georgia, also offers packages for touring the falls, horseback riding, or fly fishing on the Soque River. It's also just 100 miles from Atlanta, for tourists planning to fly into the area before retreating to the woods.
The southern Appalachian Mountains make for prime late-season fall foliage tours, but farther west, the leaves are still changing colors across Missouri too. The northern part of the state peaks at the end of October, making that a perfect time to visit the river town of Hannibal made famous by Mark Twain.
Hannibal calls itself America's hometown, and it is something of a cross-section between the historic Mississippi River town that Samuel Clemens, aka Twain, grew up in, and the more upscale wineries and modern amenities that Missouri has become known for. The small city of about 18,000 people has its share of Twain museums and dinner theaters – all of which are a sightseeing must – but it's also nestled along the river bluffs and surrounding woods. A paddle-wheel riverboat cruise offers a different view of fall foliage from the water, or head south for a drive to the Cave Hollow West Winery. It's located near the Mark Twain Cave, open for guided tours since the late 19th century and one of two caves on site.
In southern Missouri, fall foliage is at its peak on November 5, which also is true for northern Arkansas and western Tennessee – so there are still plenty of options for leaf-viewing latecomers! The lake region in and around Eureka Springs is about 50 miles from the popular tourist destination of Branson, and both offer attractions and entertainment. The Eureka Springs historic district isn't as famous as Branson, but it's known for its preserved Victorian architecture including the Palace Hotel & Bath House Spa and it's well suited as a relaxing base for a drive through the woods to Branson or to nearby Beaver Lake. Even Memphis, with its Beale Street nightlife and Music culture, makes a great destination to tie into a fall foliage tour – but not forever. By mid-November, they'll all be trips to plan for next season instead.