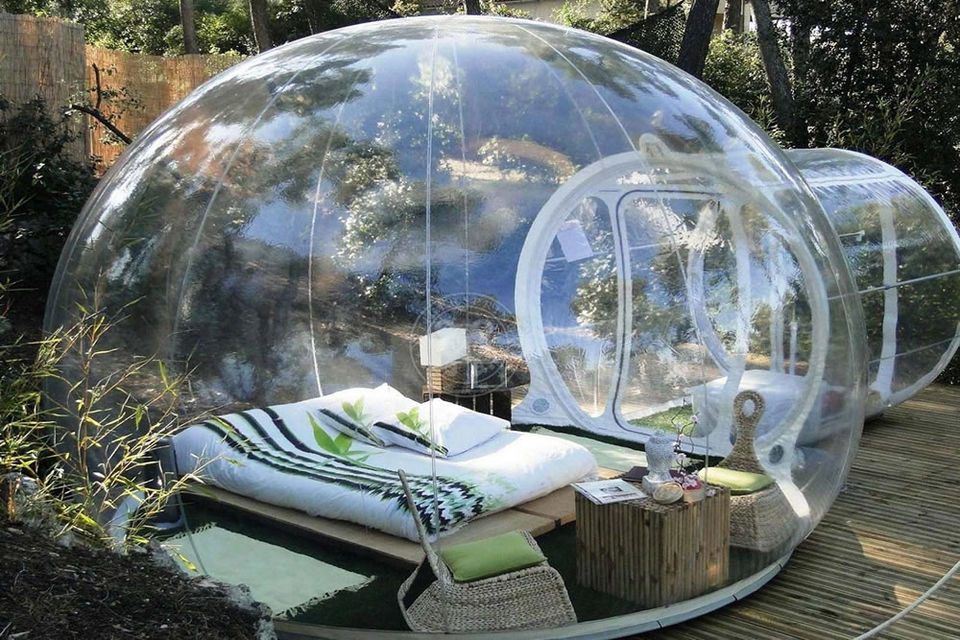 It was a freezing night at the Kheerganga campsite where I laid down on my back and watched the milky way and some distant stars uninterrupted. And within these still yet glittering stars, I could also spot the artificial satellites moving at full thrust.
That night underneath the stars with the company of two close friends, I made some great memories. And once you experience a night where you feel the connection with the universe, you will always be left wanting.
So I started looking for places close to Mumbai, where I can get an uninterrupted view of the stars. I found many campsites but the one that really caught my attention was the one in Ooty.
Located amidst the dense forest in Ooty is this unique campsite where you get to stay in an Igloo shape transparent balloon tent.
Yup...Igloo and transparent! Exciting isn't it? Come let's find more about this campsite.
Crest Valley
To admire the beauty of Ooty's sprawling forest and mesmerizing hills, one has to live within it. And Crest Valley is the perfect destination to experience that wilderness.
Amidst the dense forest and folding hills, you will be leaving in a tent that is transparent and that ensure maximum contact with nature. Since all the tents are placed at a secluded location individually, you don't have to worry about your privacy.
In the case of nature's call, you can use the clean restrooms available inside the property.
Things to do
While for me the main highlight is the Igloo shaped tent, there is a whole range of activities you can enjoy at the destination.
Apart from camping, Crest Valley also organises trekking, cycling, hiking, archery, and many more activities.
Cost
INR 4,500 for the transparent balloon tent.
What's around the property?
Ooty is one of the most popular destinations in South India, there are a lot of things to here.
Enjoy boating at the lake surrounded by Eucalyptus plant and lush green meadows. This lake is the largest in the Nilgiri mountain region.
This beautiful botanical garden cum park is an absolute delight to all of those who love to see different plants and flowers. The biggest attraction of this place is the botanical collection from different regions of the world.
Getting there
By road: The nearest city to Ooty is Coimbatore, which is at a distance of only 3 hours by road.
By rail: Coimbatore & Mettupalayam are the nearest railway stations with weekly trains arriving here from major cities.
By air: The nearest domestic airport to Ooty is the Coimbatore airport, which is at a distance of 3 hours from Ooty
Now that you know of where to go this summer, plan in advance and get going!
Would you like to share you travel stories with us? Go on...we are all ears.
Why should English readers have all the fun? Tripoto is now available in Hindi: https://www.facebook.com/TripotoHindi/