If you have been looking for that one place in the maddening city of New Delhi where you can spend some time with your friends and family, then farmhouses and villas in the city have you covered. These places are just right for when you need a break, but are too lazy to get out of the city.
Check out this list of gorgeous villas and farmhouses in Delhi where you can have a comfortable staycation.
The villa is perfect for a small gathering of friends at Sainik Farms in Delhi. With aesthetically-designed interiors and all essential amenities, the villa could also be a great staycation option for Delhites. The venue manager and the staff remain accessible round the clock during the stay. The venue is also available for small social gatherings and functions.
Space: Accommodation for 10 in 5 rooms
Where: Sainik Farms
Amenities: Free WiFi, RO water, airport transfer, taxi rental assistance, a venue manager, housekeeping staff for immediate assistance and a chauffeur-driven car can be arranged at a nominal cost
Tariff: ₹25,024 per night
This gorgeous pink sandstone villa is a delightful leisure retreat and is just good to host a party for a large group of friends and family. The place is pet-friendly and music is allowed to be played on the in-house speakers at regulated volume. Enjoy a beer by the poolside or get busy playing cricket, football or volleyball on the garden surrounding the property. During a relaxing staycation, enjoy waking up to therapeutic lush greenery around the villa.
Space: Accommodates 16+ people.
Where: Chattarpur
Amenities: TV, in-house speakers, wireless internet, breakfast, air conditioning, a swimming pool, indoor fireplace, colonial-style dining hall and a private terrace garden
Tariff: ₹51,013 per night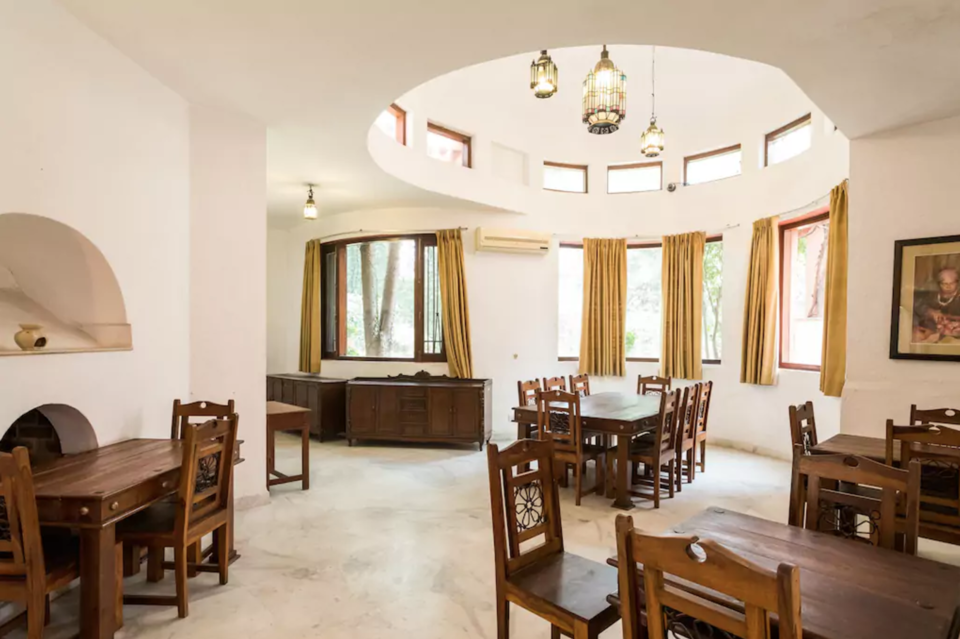 This three-bedroom farmhouse in Dwarka Sector 21 is available for weekend retreats for Delhiites. You can plan events or parties at this farmhouse in Delhi. The five bedrooms are equipped with the latest amenities and surrounded with lush green lawns. The farm house is located at a distance of 15 minutes from the airport and a 2-minute drive away from the nearest metro station.
Space: Accommodation for 16+ in three bedrooms
Where: Dwarka Sector 21
Amenities: Television, Wi-Fi dongle, CCTV secured compound with guards
Tariff: ₹29,977 per night
Click here to check out the property.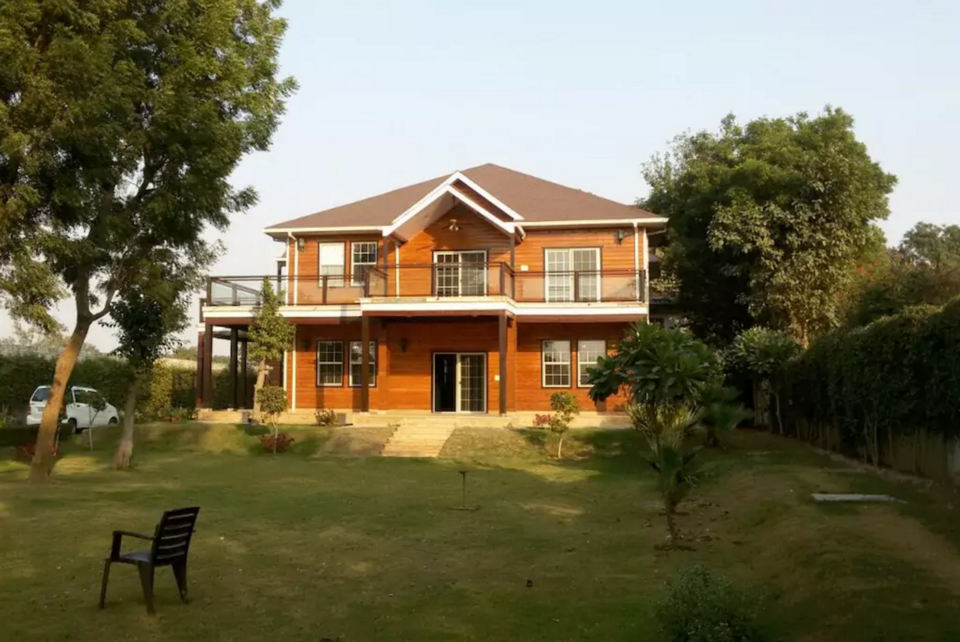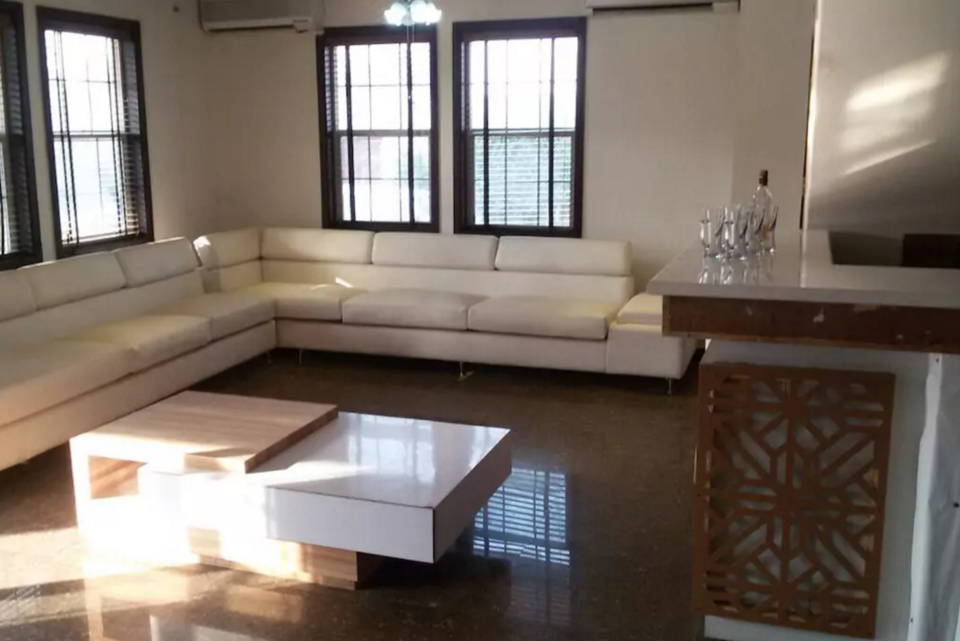 This penthouse in Delhi is a great venue for hosting parties for friends or organising a family-friendly function. The balcony opens to the view of a Buddhist pagoda and a residential colony. The sun-lit rooms, ample outdoor space and staff available for immediate help make your stay here an extremely comfortable experience.
Space: Accommodation for 16+ people in 4 bedrooms
Where: Vishwas Nagar, Shahadra
Amenities: Kitchen, internet, TV, wheelchair accessible, indoor fireplace, gym, free parking on premises, buzzer/wireless intercom, children's books and toys and babysitter recommendations
Tariff: ₹7,977 per night
Click here to check out the property.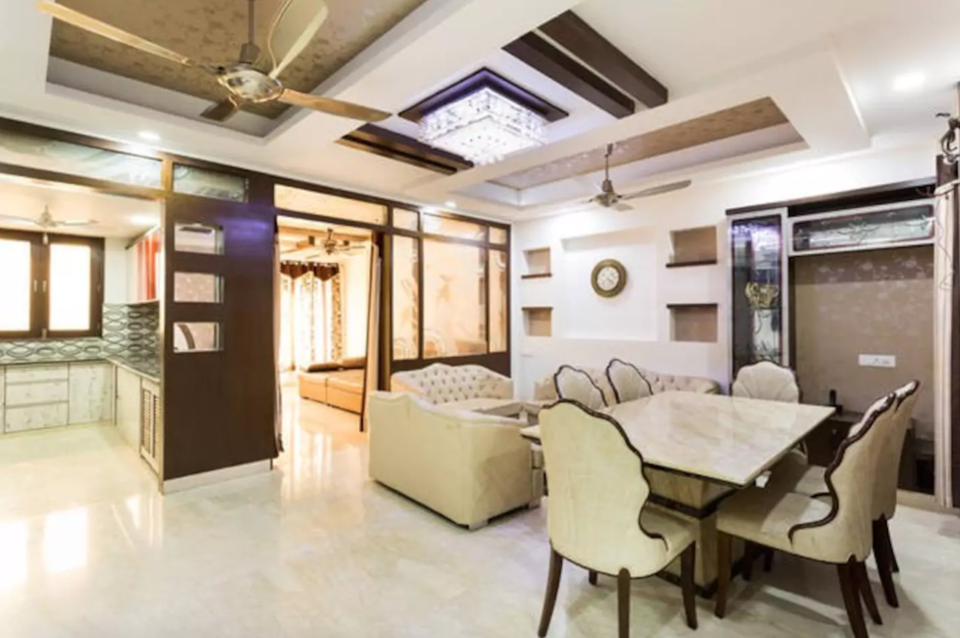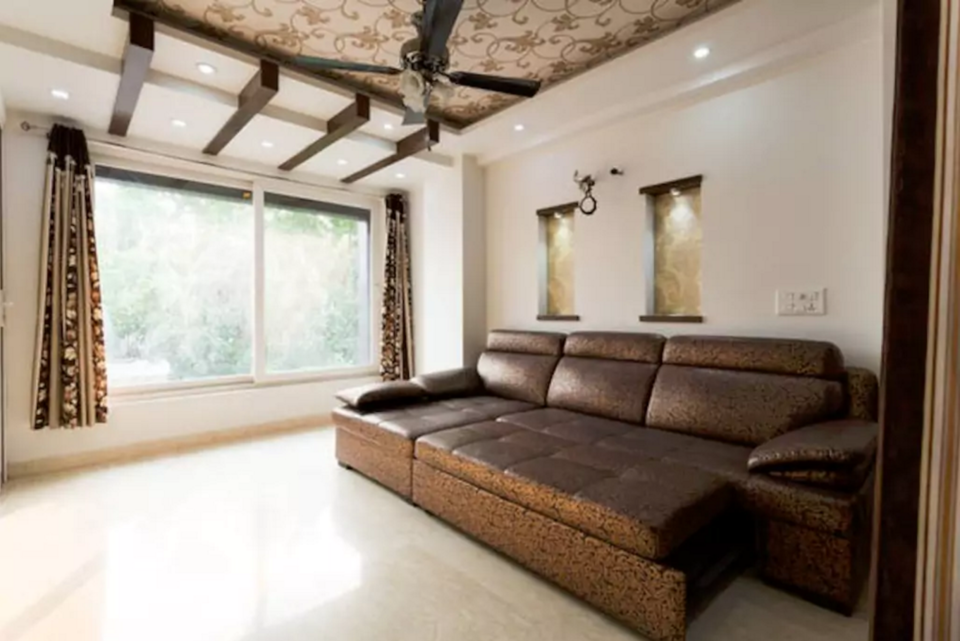 This 5BHK farm villa in Gurgaon is located near Mandi Farms in a protected forest reserve. The property spreads across 2 acres of lush green garden and features beautifully-decorated suites. The villa is great for a staycation with friends at a spot in Delhi where you wake up to blooming flowers in the garden, dancing squirrels and a fresh environment.
Space: 5 bedrooms accommodate 16+ people
Where: Near Mandi Farms, Gurugram
Amenities: Kitchen, internet, TV, indoor fireplace, air conditioning, hot tub, free parking on premises and private entrance
Tariff: ₹19,942 per night
Click here to check out the property.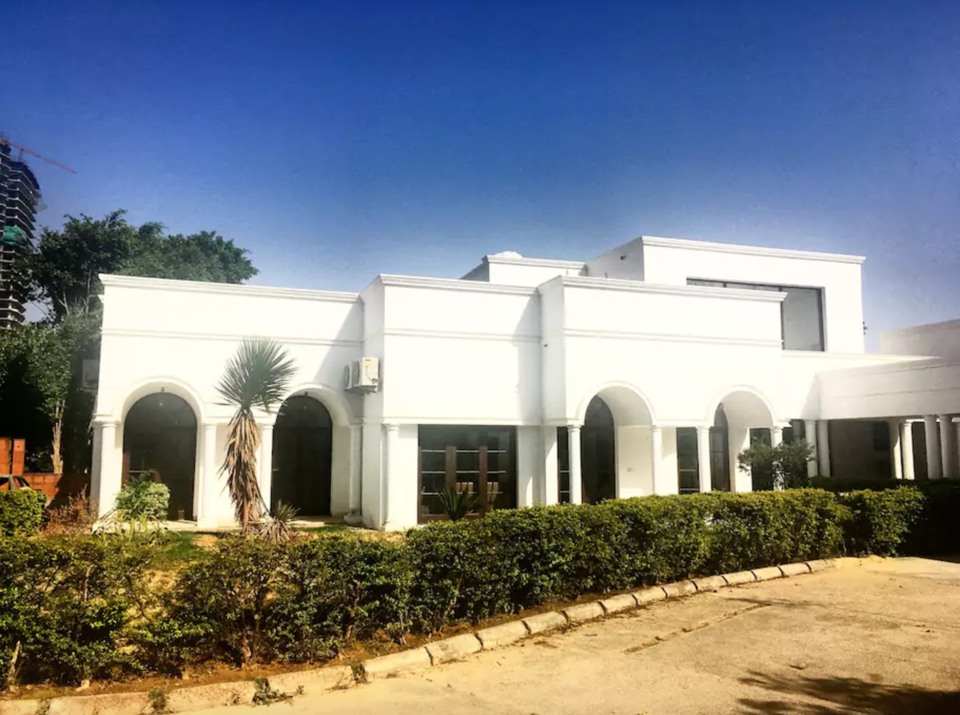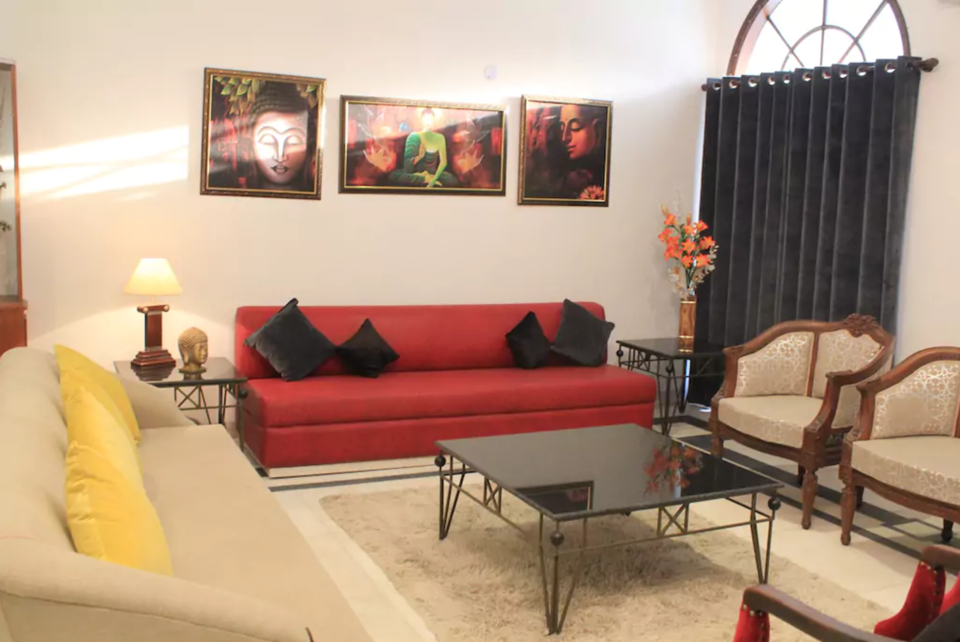 This 4-bedroom farmhouse in Gurgaon features a 2 acre lush green garden, a 24 ft resort sized pool and a beautiful terrace that gives a bird's eye view of the nearby Golden Greens Golf Course. For the party gang, the home theatre system at the villa is loud enough.
Space: Accommodates 16 guests at 4 ensuite bedrooms and 3 large living areas located across 3 floors.
Where: Near Golden Greens golf course in Gurgaon
Amenities: Wireless internet, Sony 4.1 Ch home theatre system, LED TV, Olympic-sized TT table, foosball table, a carom board, an assortment of books to read, 24-foot swimming pool and a karaoke machine.
Tariff: ₹20,006 per night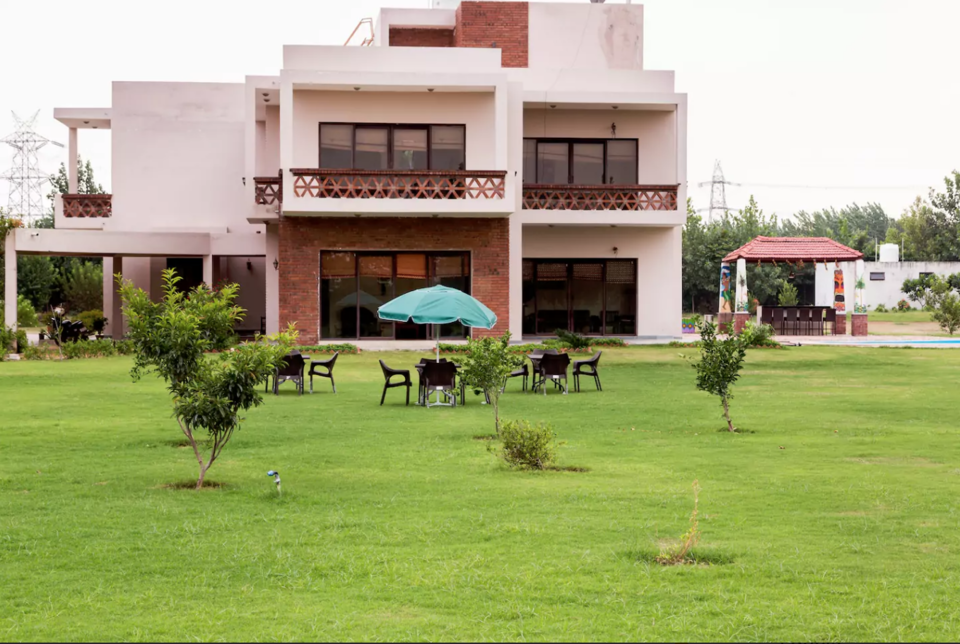 Have you discovered an offbeat spot in Delhi where you can spend a peaceful weekend with family and friends? Write about it and help the party lovers on Tripoto. Got any queries about travelling In India or abroad, ask the community of travellers on Tripoto.