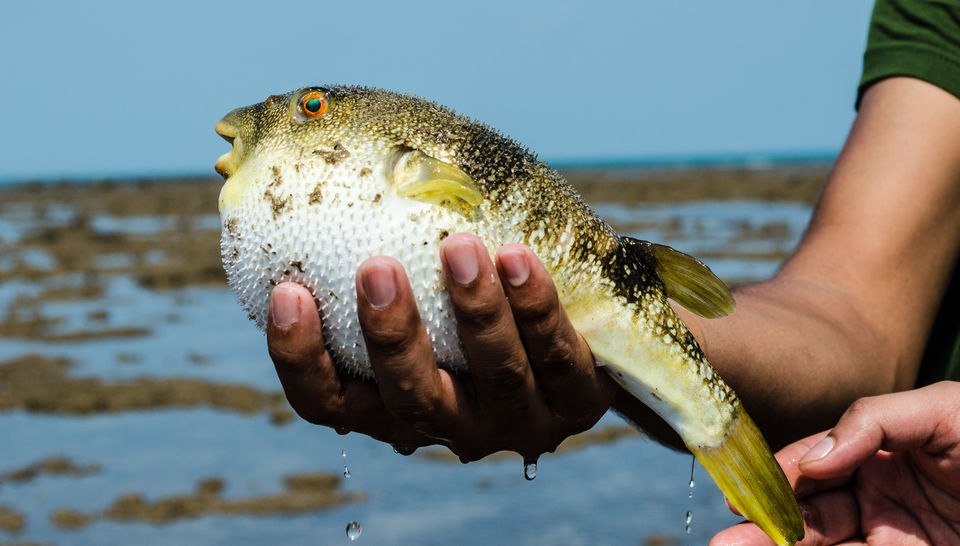 The most surprising and unplanned visit to India's first marine national park was really fascinating and a lifetime experience. I was on official trip to Jamnagar, where we got half day off due to Ganesh Chaturthi festival. Since we didn't have much time to travel, we decided to visit the fascinating world of corals at The Narara Marine National Park in the Gulf of Kutch. It was a 60km drive from Jamnagar city and we reached there by 8:00 AM. Park was officially closed at that time. But on our request the park authorities allowed us to visit it with guide. Since park was officially closed in September and there were only 5 of us, it seemed to be a No man's land. The exotic view of sandy land and mangrove swamps was truly amazing.
Narara national park is one of the rare places in the world where one can look at corals without diving down into the water. We walked in about 1 to 2 feet of water for 3-4 hours and explored the underwater world of corals. There are 4 tides in a day at Narara. High tides occurs every 12 hours and the best time to do coral walk is in the dry spell between 2 high tides. Then you can have chance to spot Puffer fish, sea anemones, octopus, star fish, crabs, ray fish, colorful corals, sea turtles etc.
Since we reached park at appropriate time so we were lucky to spot most of them. It was a great feeling to see the world of colorful corals. Our guide was very knowledgeable and he helped us to pick many species of crabs, octopus, puffer fish, star fish etc in our hands. We played with sea anemones and watched them disappear as soon as we touched them. Puffer fishes were so adorable yet poisonous. They acted like dead whenever we were around them. Sea became visible after two hours of walk. We spent some quiet time at shore line. Then we headed back towards our parked car.
Photos from this enigmatic experience are here...