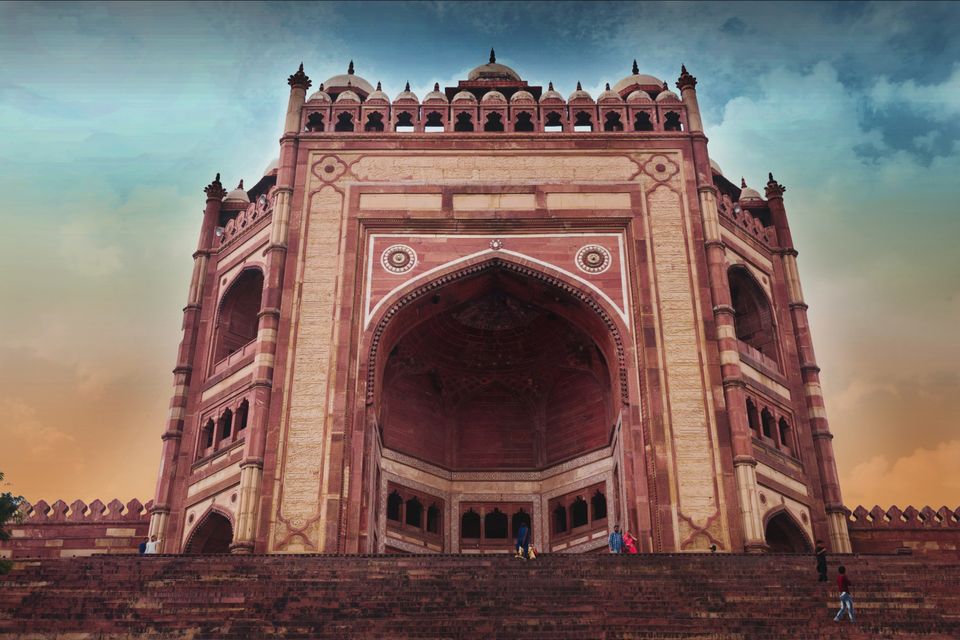 Well again after revisiting the Taj Mahal early in the morning, as I was looking for some better shots, we headed to Idgah Bus stop. From there we took a bus to Fatehpur Sikri, which was around 35km away from Idgah Bus stand. It took around 1 hour until we crossed a giant wall which made the boundary of Abu'l-Fath Jalal-ud-din Muhammad Akbar's dream city named Fatehpur Sikri. When you cross that giant wall, literally you will go back in time inside your head and not for once, but for many times you would image Muhammad Akbar having a walk around the boudary walls with his minister. The engineering and the plan of every tiny structure inside that small city was so beautiful that we can hardly think of building something like that even with the high technology machines that we have. For a moment I pushed hard enough to break the barrier of time and tried to break into the place when it was really alive. But sadly, it happened only in my imagination. These were the feelings, when I just crossed the boundary of the place. The main part of the city was still hald a km far. We got off the bus from where we had to walk for around 0.5-0.8km untill we reached something......  Yeah, that was reaction when I saw it, the Buland Darwaja. I still have no words to explain it. It was around 7-8 years after which I did that muxh of neck exercise to see rhe top of the Buland Darwaja. The steps led to the glorious Gian Gate ( Buland Darawaja). It kept around 10mins before we left the gate and entered into the place actually. Well the gate was the main highlight while inside there were more structures and stories left behind. There were halls, rooms, jailrooms, that again pushed me to imagine the history.  It was spread over a large area actually and it took around 2-3 hours to roam around the whole place.
Fatehpur Sikhri which was the dream city of Muhammad Akbar  sadly remained a dream for him, because of scarcity of water at the place and his bad health. Well I sill was thinking how more such majestic cities and structures he would have built if he would have been alive.
Again it was time to leave the place,but it kept a part of me there only. Even now while explaining everything I could see the fire lights all over the boundaries lighting up the whole place. How beautiful it would have been to see it in night, when once it was alive.
Arghh, I wish time travel was possible by now, and also in a safe way.