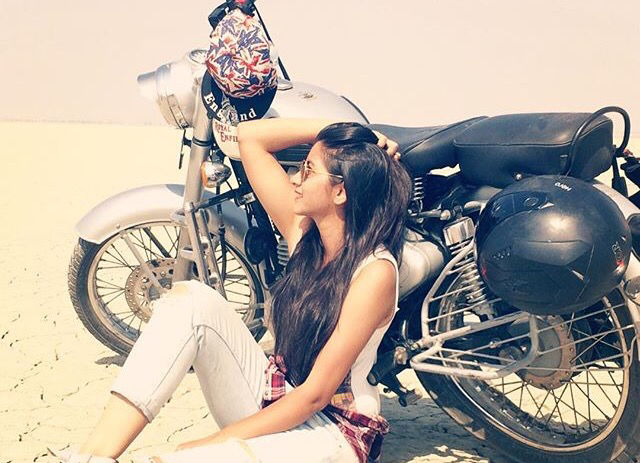 When we hear about pink city, all the places which come to our minds are Hawa Mahal,Amer fort,City palace, jaigarh and nahargarh fort. There are many places which are more beautiful and perfect for day trips.

Mansagar Lake, Amer
ONE OF THE BEST KEPT SECRETS of city of Amer is a 17th century lake 'Sagar', which was the primary source of water for the adjoining forts of Amer and Jaigarh as well as the city of Amer and its people. Tucked away beyond Kheri Gate and anokhi mueseum. Surrounded by the Nahargarh hills, Sagar lake is a beautiful and peaceful place for one day trip. If you are visiting Amer or the Anokhi Museum in the evening, do stop by. The sunset turns the mud plastered walls of Amer into a golden labyrinth waiting to be explored.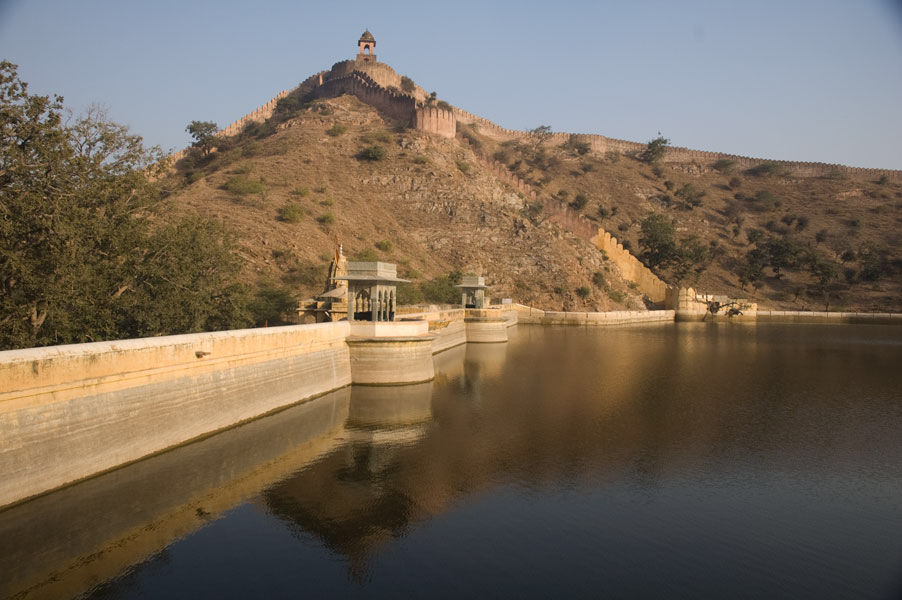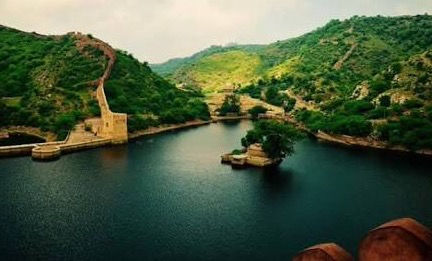 Sargah suli
Maharaja Ishwari Singh built it in AD 1749 to commemorate a grand victory. There is another popular story attached to this structure. It is said that Ishwari Singh made it with the sole purpose of looking at the beautiful daughter of his Prime Minister Hargobind Natani who lived in a haveli opposite the Swarga Suli. Protocol did not allow him to go to her house and he was so enamoured with her that he would spend hours looking at her secretly from the tower.
Situated on the other side of Tripolia bazar. Further ahead on the left is the impressive Tripolia Gate. This gate overlooks one of the busiest streets of the walled city called Chaura Rasta. The market on either side of the Gate is known as Tripolia Bazar.
Visiting hours:- 9.30am-4.30p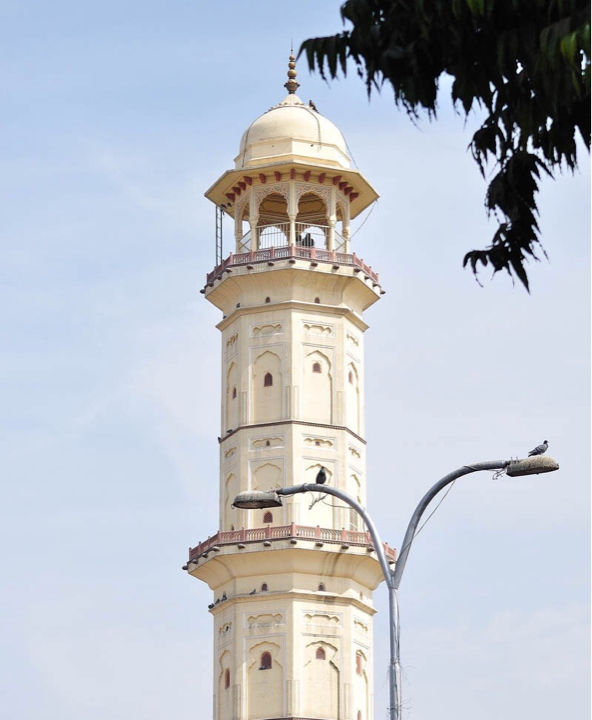 Nevta Dam

Nevta (Neota) is an small village (Gram Panchayat) which comes under Tehsil Sanganer, Jaipur capital of Rajasthan.
Nevta dam is hidden beauty which is 17 kilometers from Muhana and 7 kms from Mansarovar.
Open all the time.
Sunset & Sunrise are suitable for photography.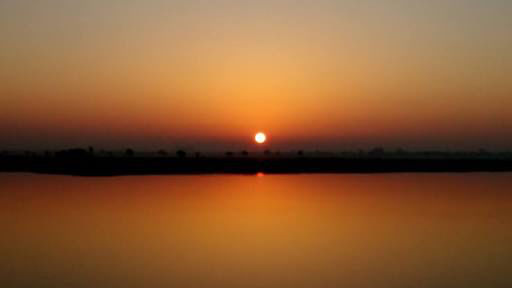 JANTAR MANTAR
Majaraja Sawai Jai Singh, the ruler of Jaipur was one of the best theorists of ancient India. After achieving the milestones of constructing the planned city Jaipur, the Maharaja also built five astronomical instruments to study space. These instruments were called Jantar Mantar, which means Calculating Instrument. The largest of these instruments is located in Jaipur and has been declared as a WORLD HERITAGE SITE by UNESCO.
Situated in pink city, near city palace,Jantar Mantar consists of fourteen geometric devices that measure time, predict eclipses, track the location of stars and the Earth's movement around the sun. Samrat Yantra is the largest instrument in this observatory and it was used to forecast time. Plotting the shadow of Samrat Yantra, the time for eclipses and the arrival of monsoons can be calculated. Samrat Yantra is also the largest sundial in the world.
Visiting Hours: 9:30 a.m. to 4:30 p.m.
Photography Permitted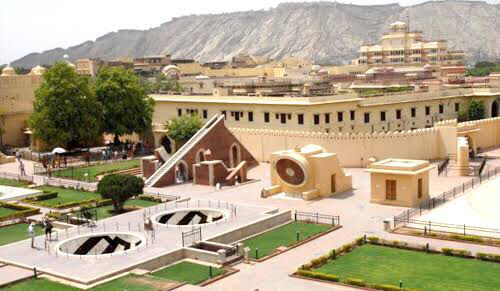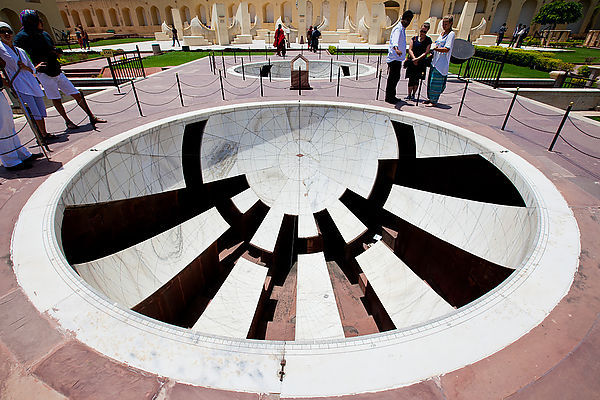 TREK TO NAHARGARH

Every jaipurite for once must make a trek to nahargarh CLIMBING ARAVALI HILLS from bottom to top.When you reach at the top of the fort, the view of pink city is more impressive.Located on the rocky ridge of Aravalli Hills, Nahargarh Fort offers the most striking view of Jaipur's scenic landscape. During the night, when the entire Jaipur city gets lit up, Nahargarh Fort offers THE MOST SPARKLING VIEW of the entire city.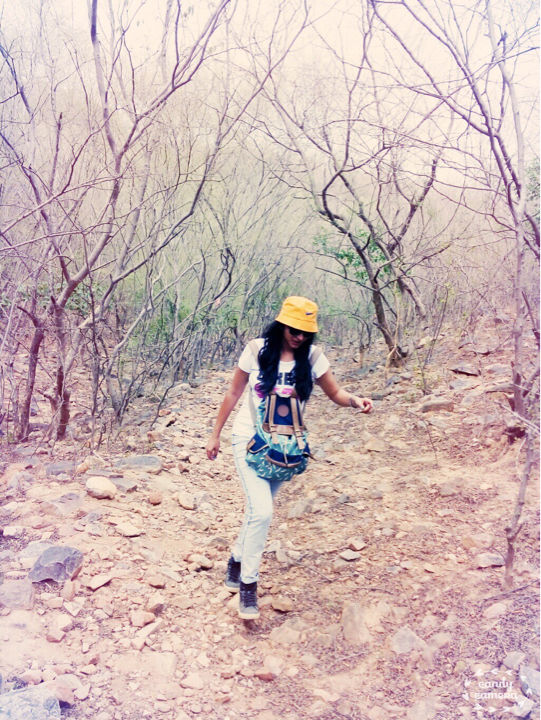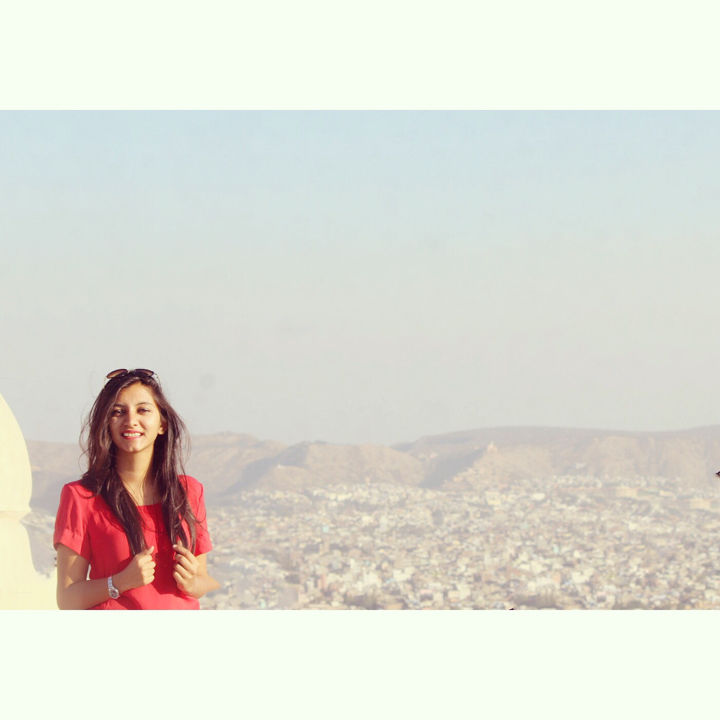 Galtaji temple(monkey temple)

Built during the 18th century by Diwan Rao Kriparam, this temple is located 10 km away from Jaipur. Scenic Aravalli Hills surround this temple, Lao the dense forest helps to keep the temperature moderate.
According to mythology, Saint Galav, a true believer of god used to meditate inthis region. After Completion of 100 significant years of galav's tapasya (penance), the Gods blessed this region with abundance of water. As an honour to Galav (holy devotee of god), a temple with seven holy kunds (ponds) was constructed at the site. Galta Kund is the most sacred among these seven kunds and it never gets dry. Galtaji also has temples dedicated to Lord Ram, Krishna and Hanuman.
Visiting hours:- morning to evening
Photography allowed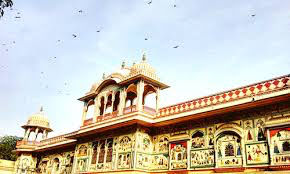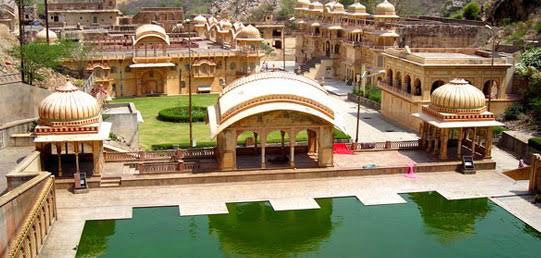 SISODIYA RANI GARDEN
Sisodia Rani Garden is considered as the SYMBOL OF ETERNAL LOVE between Maharaja Sawai Jai Singh and his second queen, Rani Sisodia Jai Singh. Located on the Jaipur-Agra Highway, around 10 km from Jaipur, this garden was built in 1728 and is entitled as the popular getaway for the queen.
Visiting Hours: 9:30 a.m. to 4:30 p.m
Photography Permitted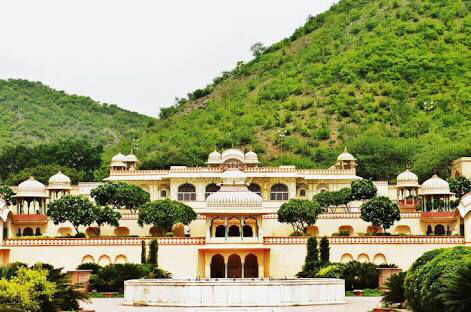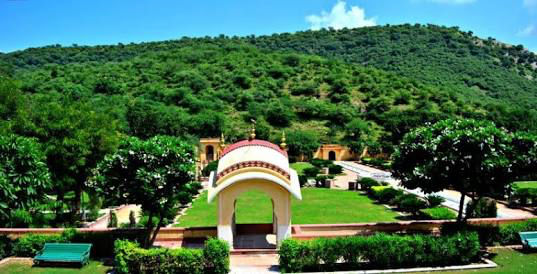 Sambhar lake

Sambhar, situated in the Indian state of Rajasthan, is a municipality of Jaipur and is also popularly known as the Salt Lake City.
The best time to visit Sambhar Wildlife Sanctuary and the lake is from October to March. Avoid travelling to Sambhar from June to September, as this is the monsoon season and neither would you find much wildlife then, nor would you be able to witness much of salt production.
Sambhar is well connected by road with all nearby towns. The NH-8 connects Sambhar to Malhan, which is directly connected to Jaipur.