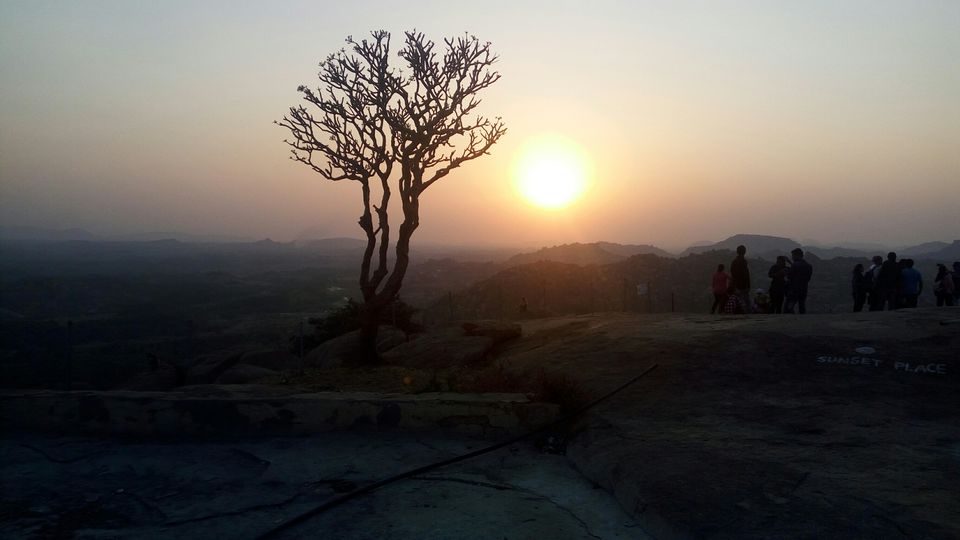 OK! Finally I write down my first travel blog,but as they say late than never..  So here I am penning my first travel blog..  The Hampi Heritage!!
So one fine day I came up with the idea of a weekend getaway to Hampi as several trip pages and sites had hinted Hampi to be one of the 'in demand'  destinations of 16-17 and surprisingly, all the 10 (the most hassle free, drama free group) agreed at an instant!
It began there on..
Prebookings : To and from journey tickets from Pune to Hospet (We had booked SRE travels, they were comfortable plus they gave free tapioca chips and haldiram peanuts in the journey Whoa! )
Stay : Shanti Resort, Virupur Gadde, Hampi!
It costed approx. 1500 for twin sharing at this beautiful and serene place. I say it's nothing!(photos attached)
Day1:
We reached Hospet around 8 and then took a state government bus to Hampi (costing Rs 14 per head) We reached Hampi in about 20 and then we had to cross the river as our resort was to the other side..
Now they have a short ferry system which cost around rs 10 after 10 a.m and rs 50 before that! Eh! Strange.. But as pakka Indians we managed rs 300 for 10! Win win..
We reached this serene place and after freshening  up, mandatory chai and heavy breakfast and uno sessions, we left around 2
We got an auto just in front of the resort, these auto that you book for the entire day take you to all the places in the city, they follow a map and show you all the places so you don't  really have to worry about the must see places! And again after bargaining it costed us 200 per head..
1. Whirl in Lake :
The boat ride was fun, the boat guy seemed to have achieved expertise in gol ghumao ppl, I mean boat! I wish I could upload the video (photo attached)
2. Temples :
Hampi clearly has dozens of temples. We went to see the Shabri gufa yeah remember the jhuthe ber story? , Shri Ram paduka and Laxmi mandir
And then we went climbing those odd 575 stairs to hanuman mandir to see most beautiful view of the setting sun  and kilos n dozens of foreigners as well!
Everything there shuts down after sun set. Day1 ended with the most terrible dinner which dint even qualify as food as we decided to take a chance and try places other than our resort, yes and we badly regret it.
Day 2 :
We had to checkout  by  9 am from shanti,
So we left early, had idli, dosa and chocolate banana dosa (it was the yummiest version of pancake) at a thela owned by marathi speaking couple!!! Ankhon me aansu when I accidently spoke kiti jhale and she replied in marathi! They were from Davangiri.
We crossed the river today 10 rs as it was after 10 am yay!
We hired 2 autos for 1300 for the day I can't really recall all the names of places we saw but my top favourites were I have attached all the photos below
1. Vithala mandir: It is the biggest and most beautiful one
2. Virupaksha mandir
3. Lotus mahal
We left for hospet, we took our travels from hospet to Pune and reached Chandani chowk by 5 am..
Must have foods:
1. Naivedyam hotel at hospet
2. The yumm soothing chonkewali with smokey flavour chaas that you get in Hampi
3. Banana chocolate dosa
4. Fluffiest and spongy idlis with tomato chutney
Finally the blog ends! I hope it helps you plan your 'hampiness'