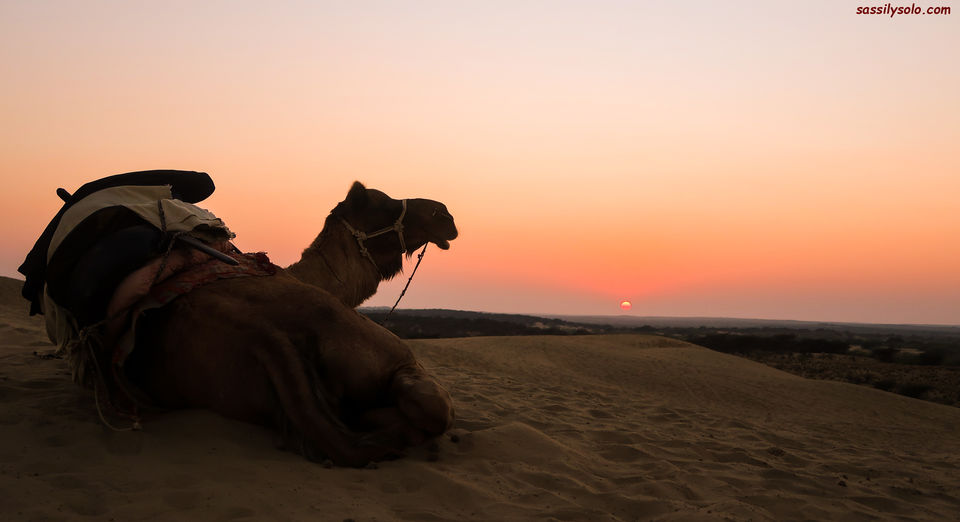 However, that was not my only reason to visit the place. In fact, it wouldn't be wrong to say that I had no reason or dedicated destinations in mind before reaching Jaisalmer which made the visit all the more fun.
In times, when you have no itinerary planned, asking around helps. I was at first directed to the Jaisalmer Fort (of course, there's a fort! In fact, there's always a fort, because its Rajasthan) which was right in front, but not exactly near the place where I had put up.
It is the only 'living fort' in India (perhaps even in the world), home to the common populace of Jaisalmer who not only lives but also rents its lanes to earn a livelihood.
There is life thriving both inside and outside the walls of Jaisalmer Fort and some corners of the fort are witnesses to this fact.
A little ahead of the Jaisalmer fort is Gadisar Lake, a man-made structure and once, the only source of water to the arid city of Jaisalmer.
Jaisalmer is famous for its Desert Festival organised each year on its sand dunes in Sam, fifty-kilometers (30 miles) from the city of Jaisalmer.
Before leaving for Khuri village, the next morning, I made a final stop at Patwon ki haveli, right in the middle of Jaisalmer.
The largest haveli in Jaisalmer is actually a cluster of five small havelis, known to be the home of Patwa family that traded in threads of gold and silver.
Some corners of the haveli don't make it look like a thing of the past; I felt it was still inhabited.
Jaisalmer is known as the Golden City because of the yellow sandstone used to design nearly all the structures.
Khuri village doesn't attract a lot of tourists but a lot of explorers. It is literally a village and if you are looking to experience the Great Indian Desert, the sand dunes of Khuri are just what you need.
After a small walk through the village, I reached the desert and was surprised and elated to find only a traveller or two around.
At times, you might find it hard to get a cell phone signal at some places, but then you should know where to look.
The picture was taken by the house-owner's ten-year old son who ran around doing the chores despite getting bugged by travellers like me asking for pictures.
I did not find the "comforts" of a luxurious stay here but I did find a lovely place to put up at, an immensely hospitable family, some really amazing fellow travellers who became friends and food that I once ate before the market of packaged-foods took over.
In a gist,
Jaisalmer and Khuri are tourist-friendly destinations. So, solo female travellers too needn't worry. While Jaisalmer attracts a lot of tourists, Khuri is an off-beat desitanation. It is a must-visit when in Rajasthan. The desert-experience is as real as it can get. There are two buses that ply from Jaisalmer, with Khuri village as one of their stops. One runs early in the morning, the other in afternoon. I could reserve a seat on the spot. You might miss out on the comforts of a luxury travel when in Khuri but you will not regret it. The accommodations, both in Jaisalmer and Khuri, were reasonably priced so I could stay well within the budget.