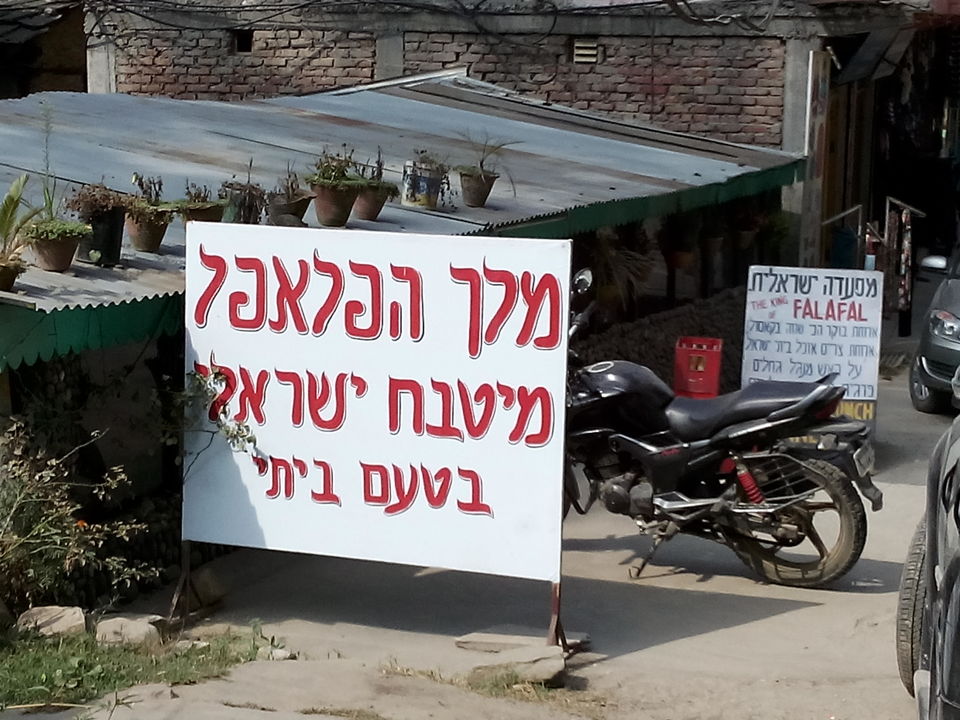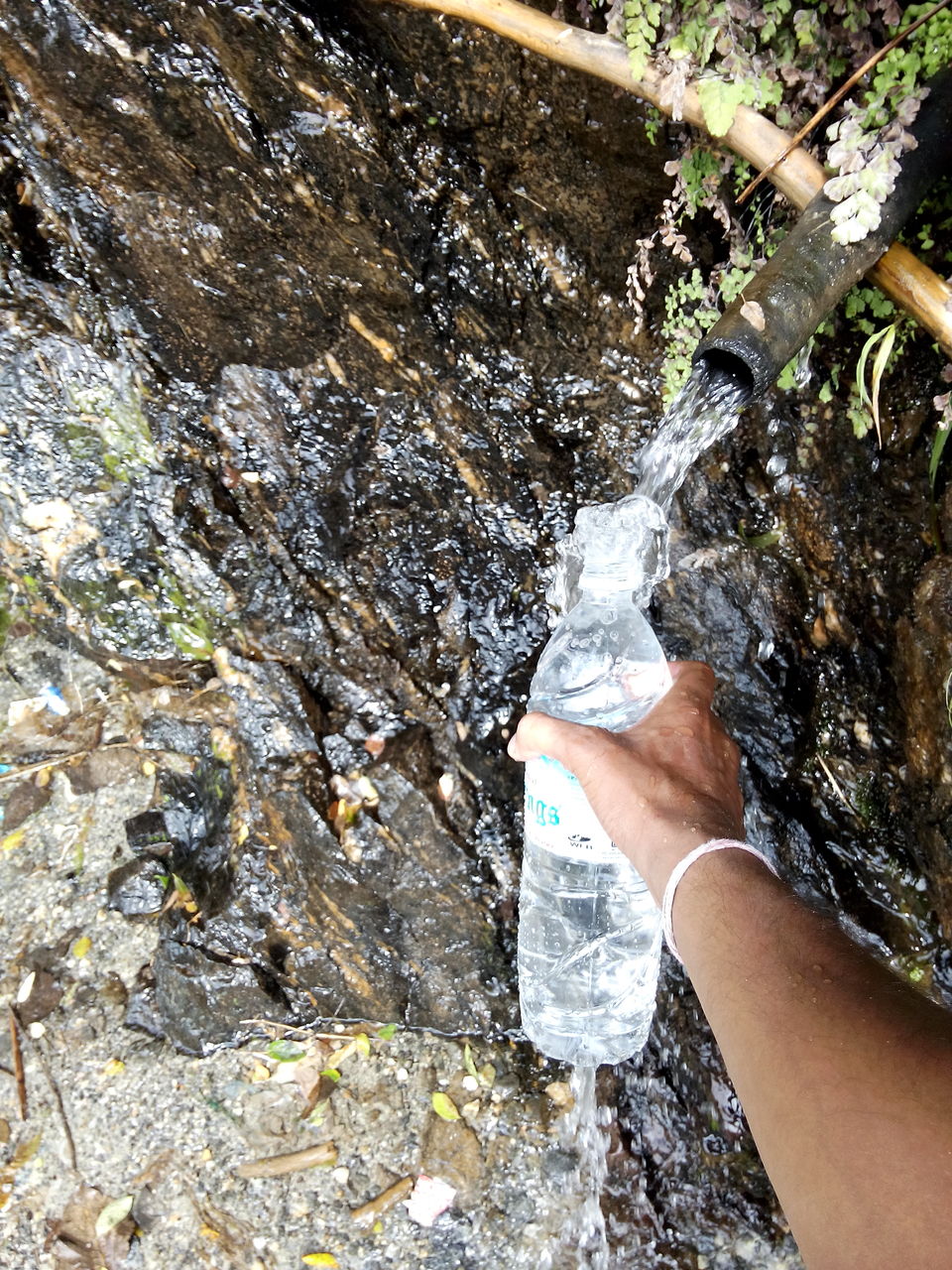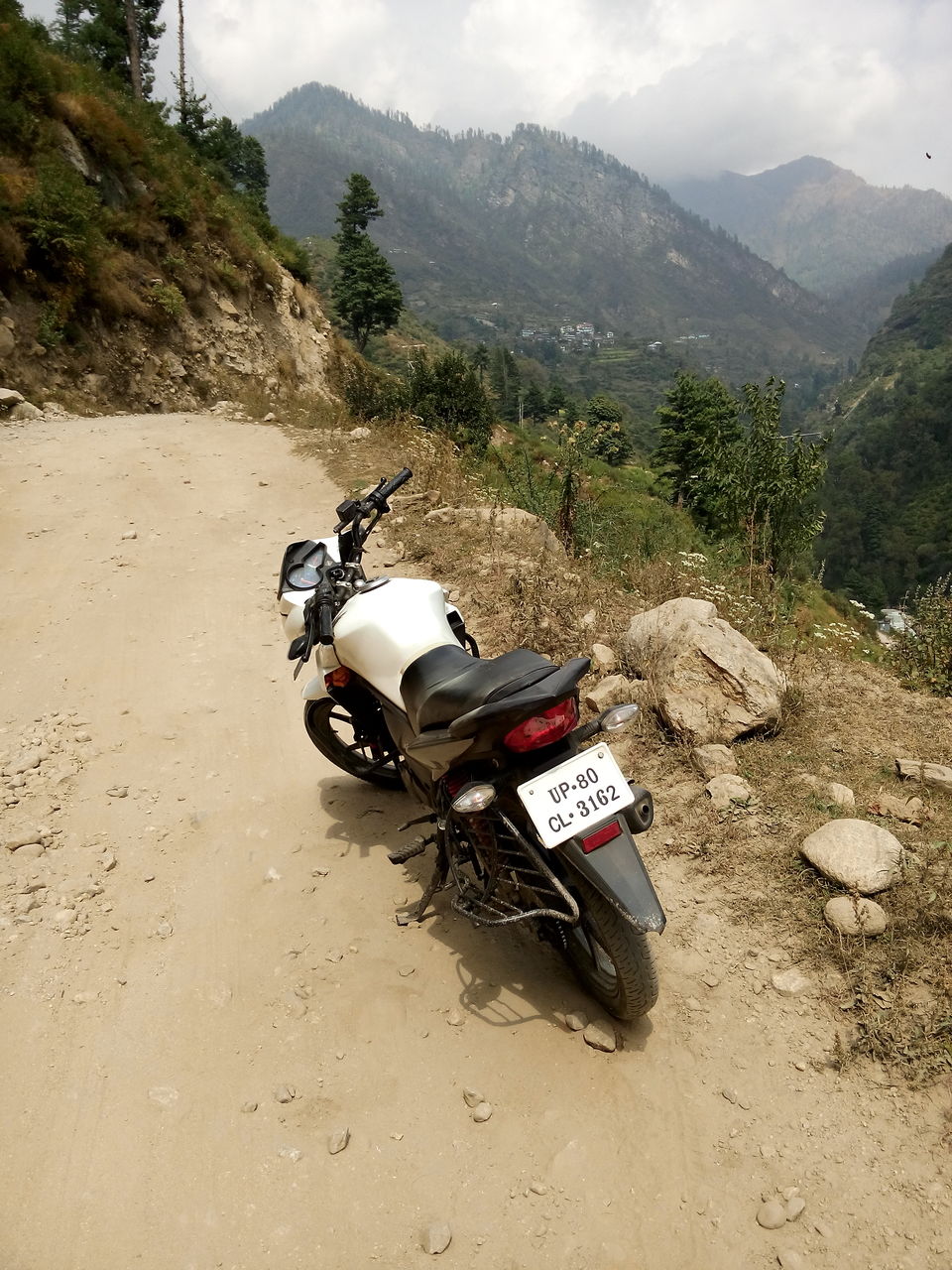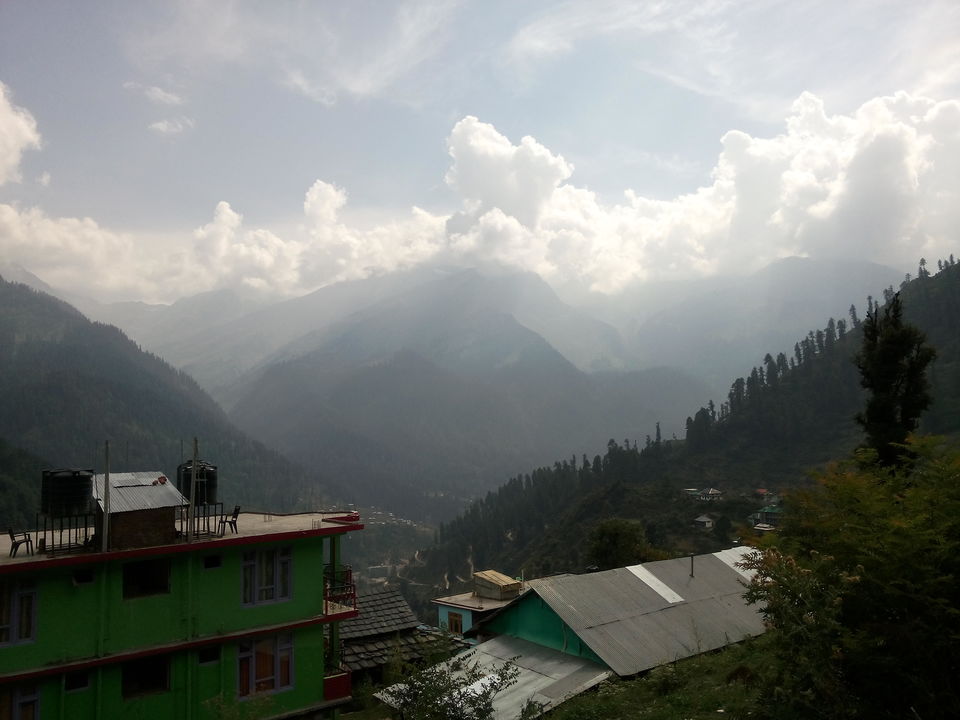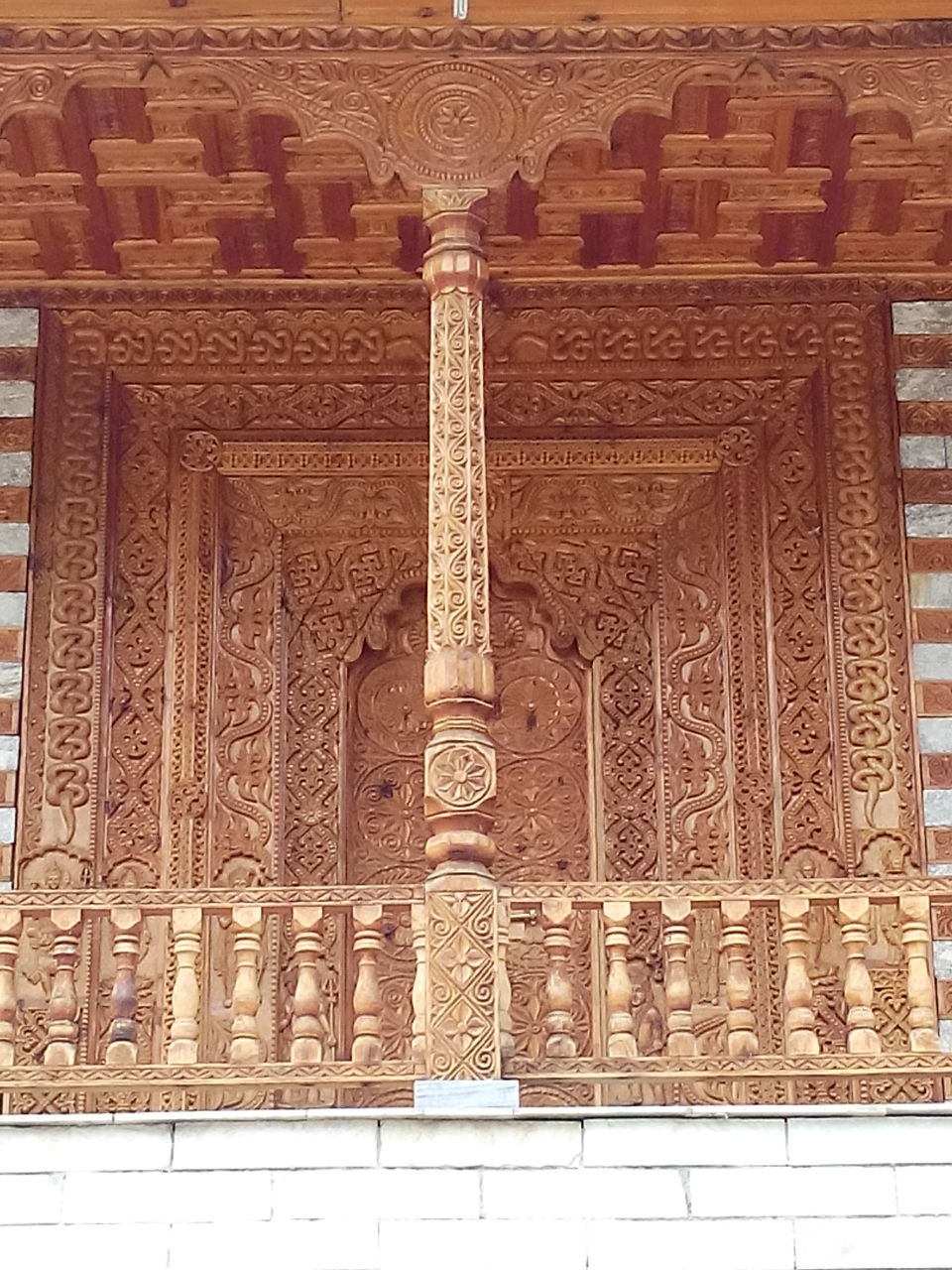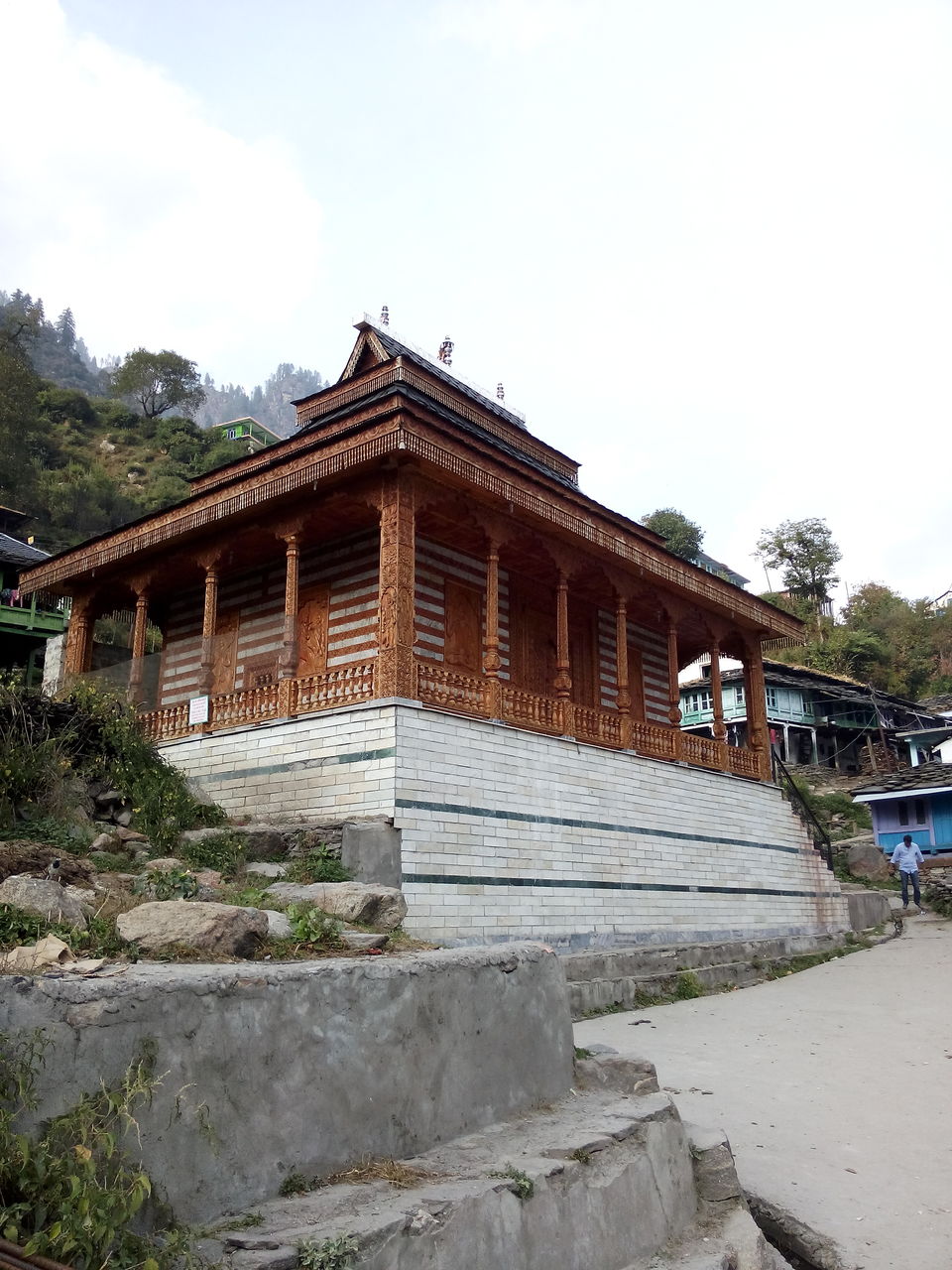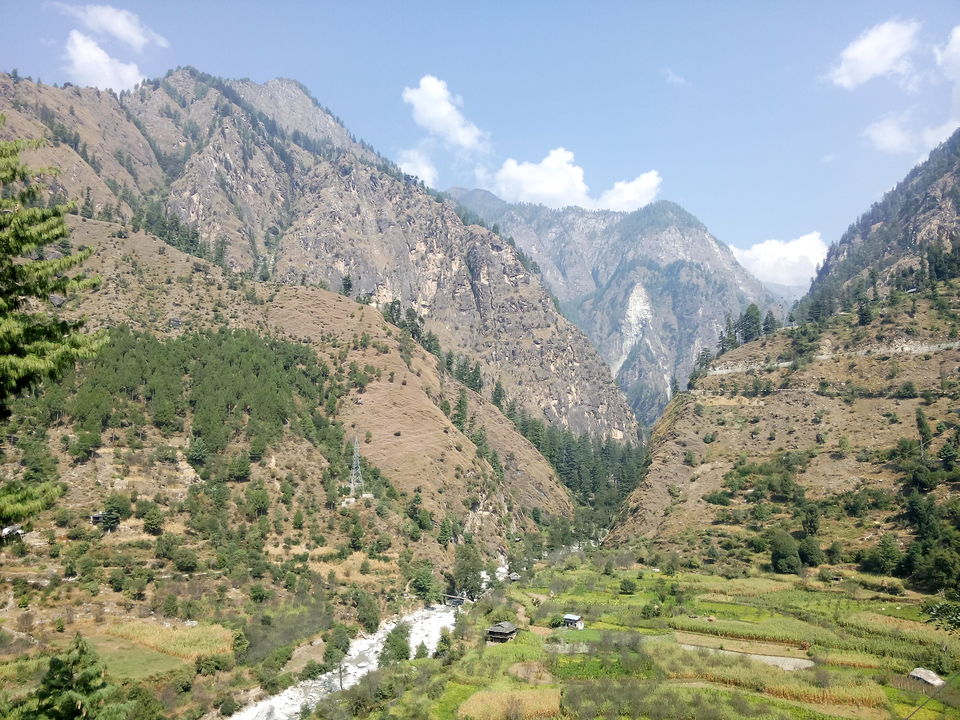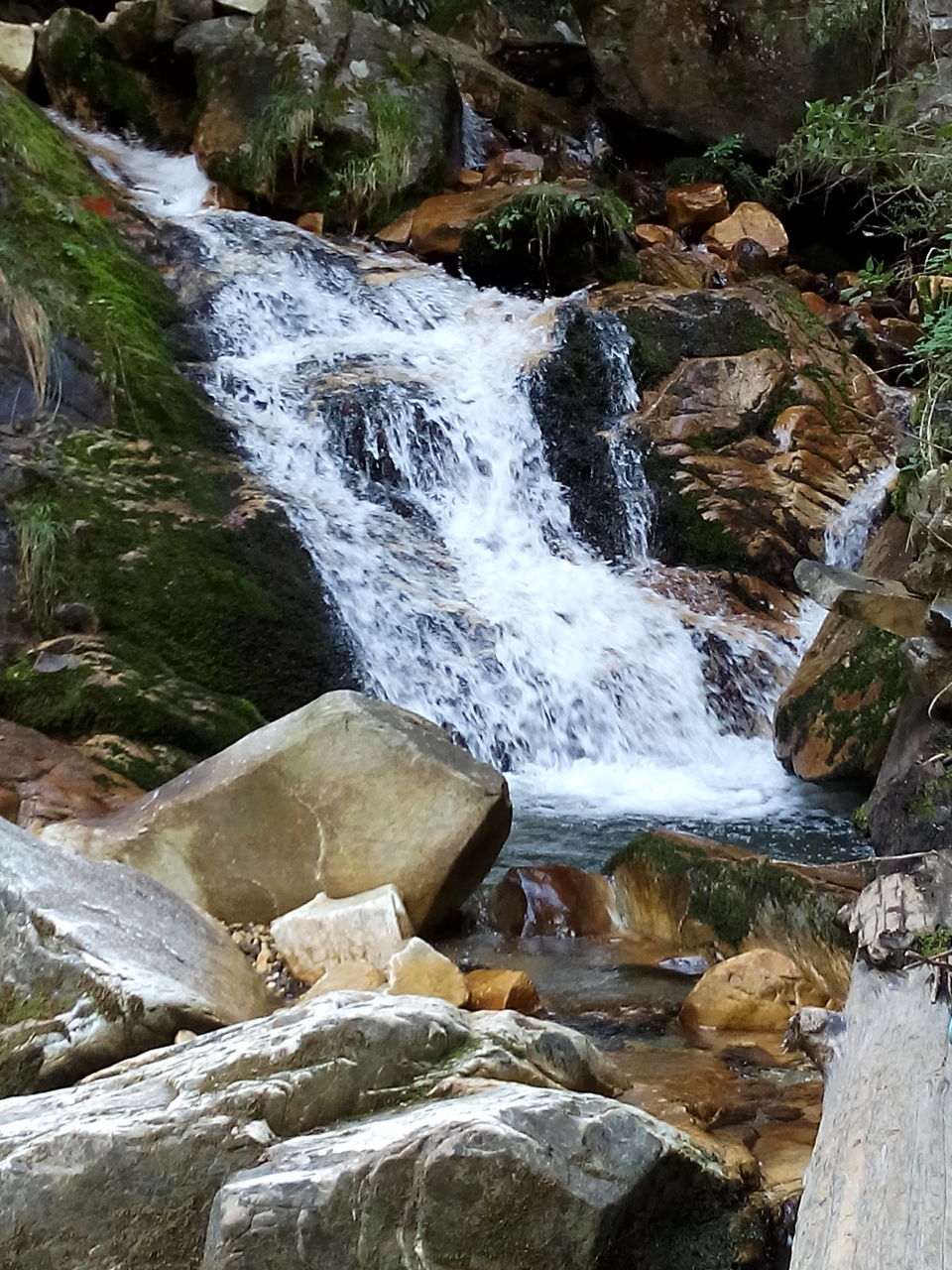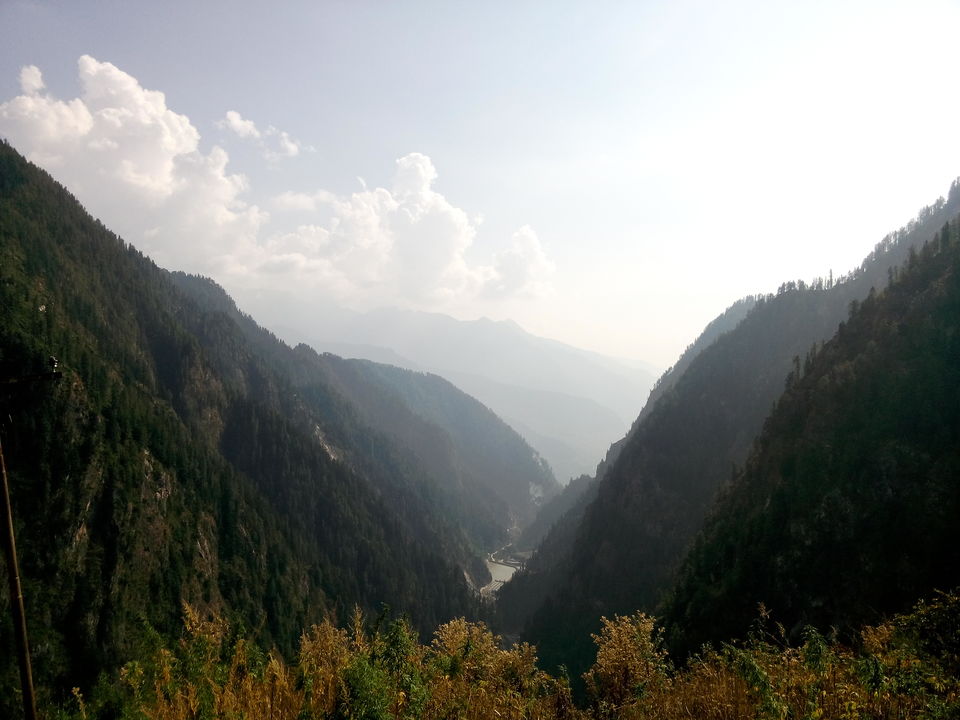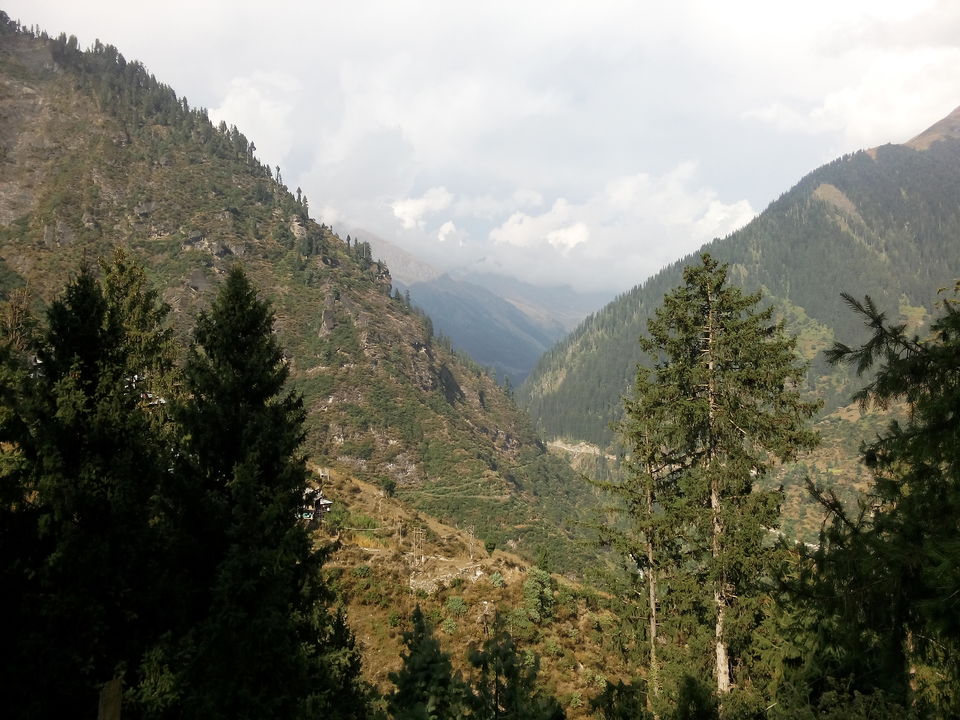 This is my first Solo Motorcycle trip which I did back in 2014 and the trip was completely unplanned.
That day I came back from office at 4 A.M. in the Morning and my office timing is from 8:30 A.M. in the morning to 6 P.M. in the evening. So I worked for 19 hours straight. I had this long weekend in front of me as Thursday to Sunday were Holidays.
I got up at around 8:30 in Morning and thought Lets go somewhere.
I decided to go to Kasol(Himachal Pradesh) as I had heard a lot about the place and I decided to go there all alone.
So I packed all my stuff in a bag and left for Kasol which was about 554 kms. from my place.
And it was a trip I'll remember throughout my life!
I am a Biker but never rode 554 kms. in one go and I realised that you need to have an enduring body for that kind of riding especially if you ride in the mountains. I realised that its not your arms or back that needs to be strong but for such rides the strongest thing should be your ass!
Your Butts pain like anything and you have to lift them off the seat to keep the blood flowing while riding. I got sores on my bums at the end of the trip!
My hands after 550 kms. of non-stop Riding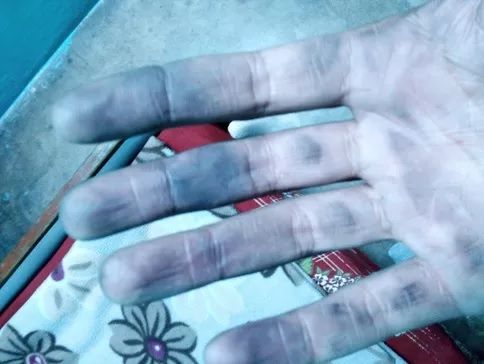 But when I looked at them I was smiling. Damn I made it this Far!
You realise that why your Father is the Boss.
I told my Mom that I am in Kasol all alone and my father heard this and he asked for the Phone and I was so shit scared that I hung up!
I laugh at this now. :)
Someone has rightly said that in some cases the Route matters more than the Destination and so true it is in my Case. It was an amazing experience to ride these "Mountain Roads". You are all alone so you sing your favorite song when you ride. You look at the mountains and feel as if they are welcoming you. The snake like road entices you to ride with passion and you Ride.
Simply Beautiful!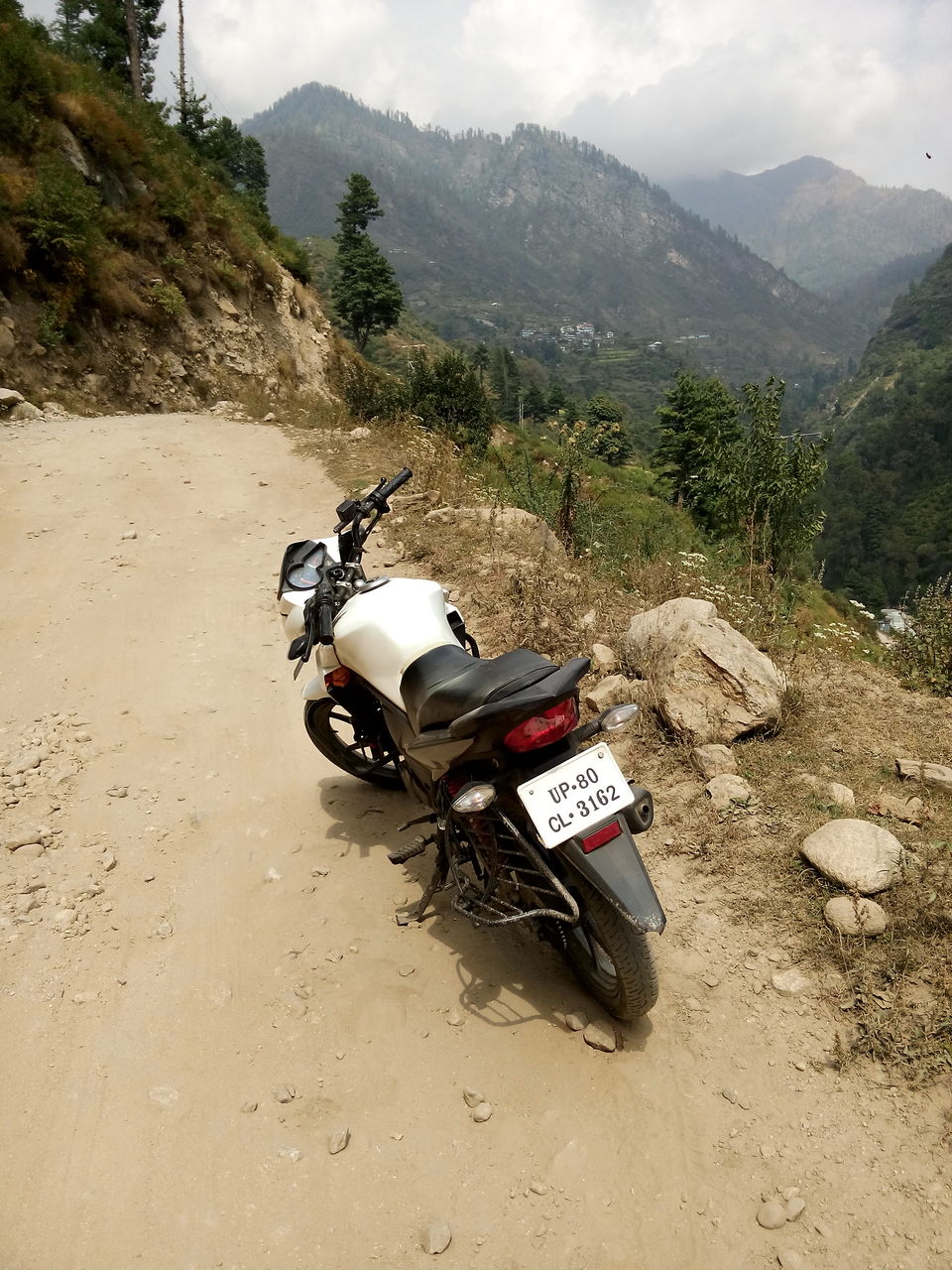 Kasol is called "Mini Israel" as it populated with Israelis and there are lots of them, even the shops have their names in Hebrew. When I saw this I said to myself "Man that is cool".
Shops and Restaurants in Hebrew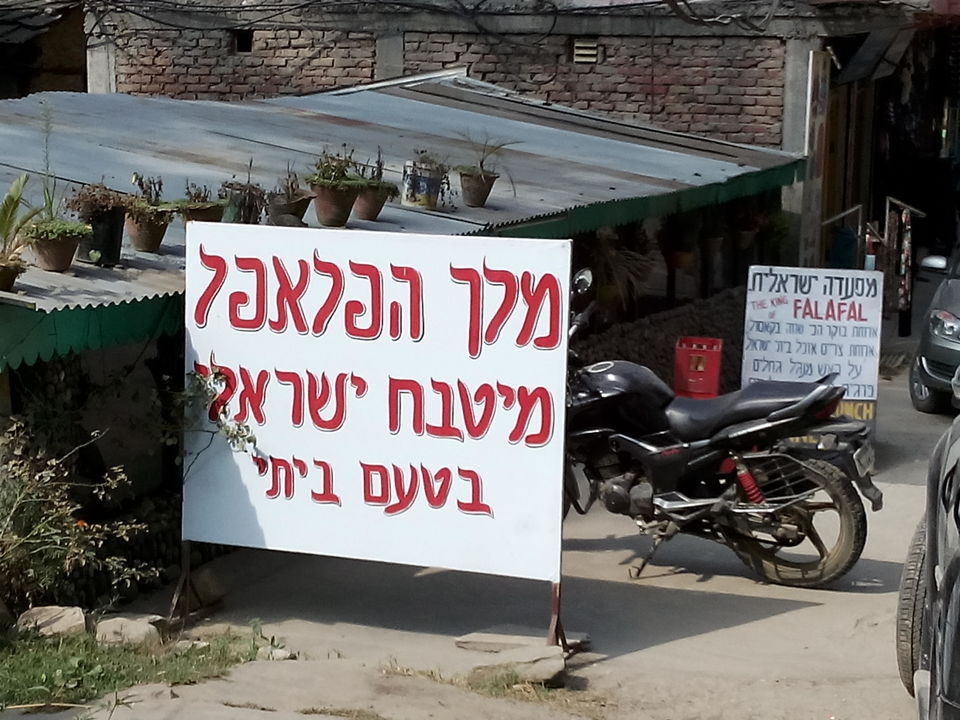 The beauty of the mountains is mesmerising and the Fresh air and the Tall Fir trees and the Small streams gushing out of everywhere soothes your mind. It induces this Peace inside you as if extinguishing a fire burning inside. When you look at the mountain top with the clouds kissing its peak you feel as if somebody is up there who wants to give you company and who wants to talk to and you just keep looking up as hypnotised. You don't have to care for anyone as you are alone. Sit and simply watch till you fill your eyes with the beauty of Mother Nature. You feel so small in front of Mother Nature it simply fuses you inside of it.
Food for your Eyes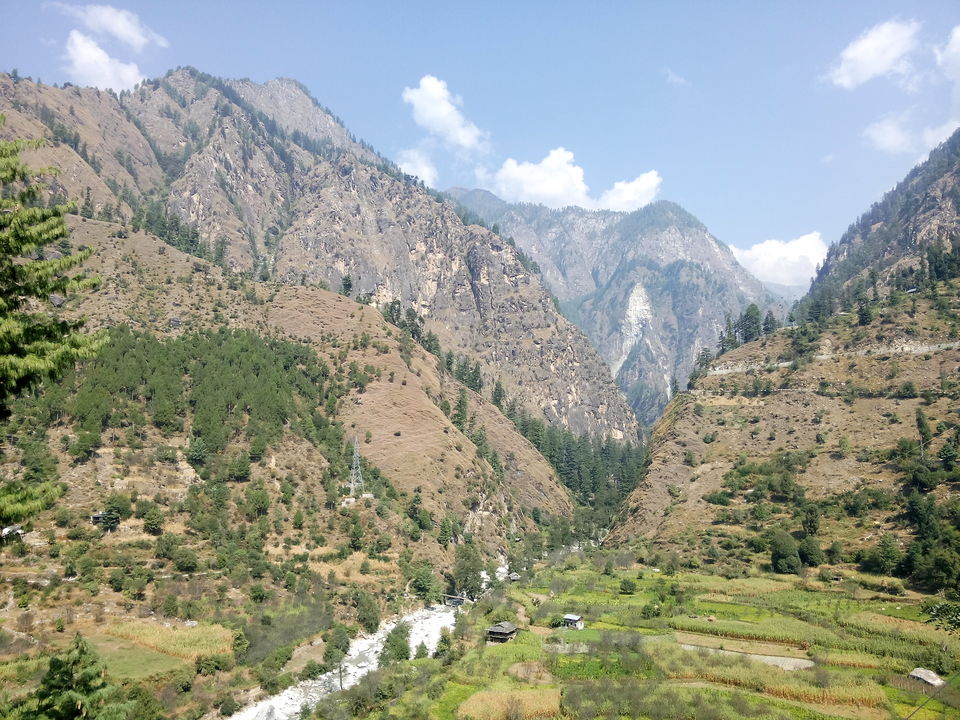 Peace for your Mind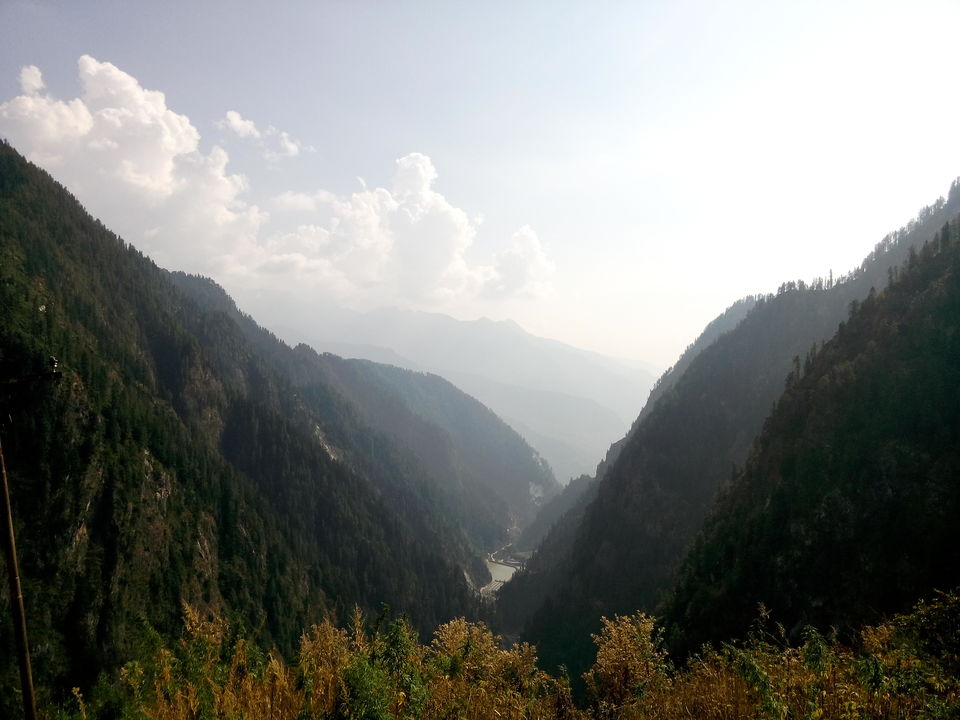 Love for your Heart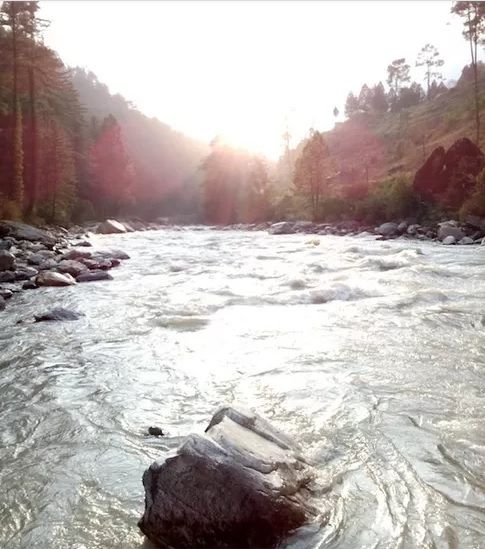 And what can be better than to sip on your Favorite drink at about 7000 Feet and looking into the vast expanse.
Chai at 7000 feet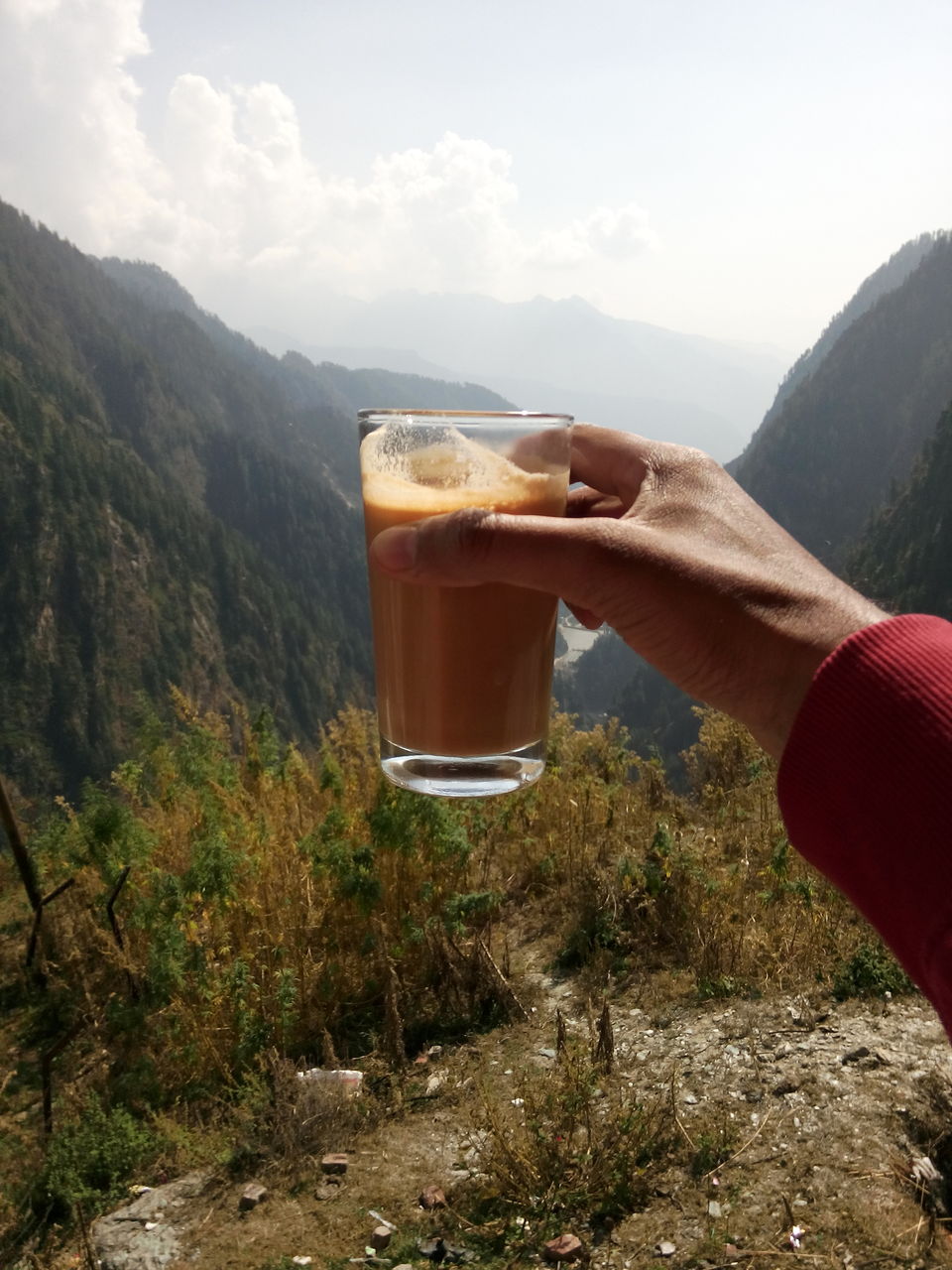 And you discover a completely new thing when you are all alone with no one around you that even taking selfie is a huge talent in itself. There was no one around so I was taking pics of myself and they were horrible. I was not able to find the camera button on my phone and that pissed me off badly. I was making all kind of stupid faces and screamed ones or twice out of frustration.
So my salutes to all the awesome selfie takers!
Weird Expressions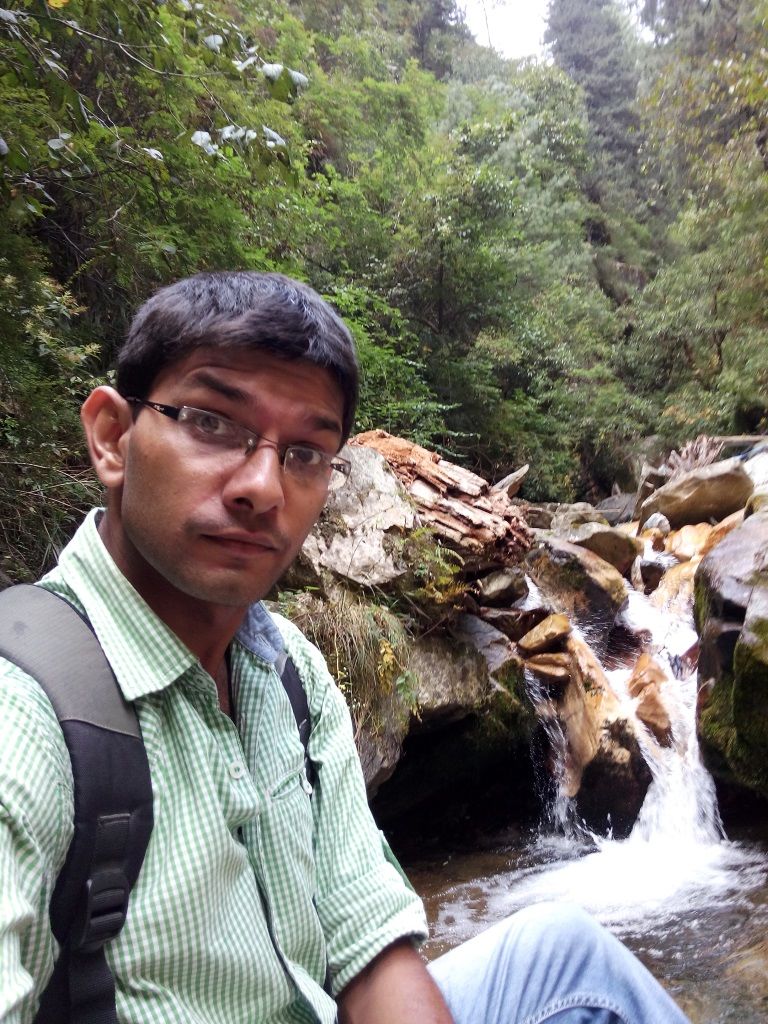 On the way to Malana Village I met a guy named Kevin and we had little chat so he asked me where I was from and I told him I am from Agra and then I said "Are you from Australia?" and he was Baffled as he actually was from Australia. He shook himself from top to bottom and only when I said "I made that out from your accent" he came back to his senses. We Indians are so good you know but he was a nice man to talk to.
In a Nation of 1.2 Billion it is a miracle when no one is around of you. I did a trek to Malana and in two hours of climbing I did not find a single soul. It was just me and mother nature and that felt great. All I could hear was my breath and heartbeat and I was looking down and felt like I have conquered something. I was talking to myself as if sort of mending the differences with my soul and mind. It is so good when there is not even a single thought left in your head and that is actually what peace is.
Who cares about the destination when the path leading to it is so good.
The waters flowing through your feet from the stream takes away all the negative energy. You can simply concentrate on the feeling as there is nothing else to concentrate upon.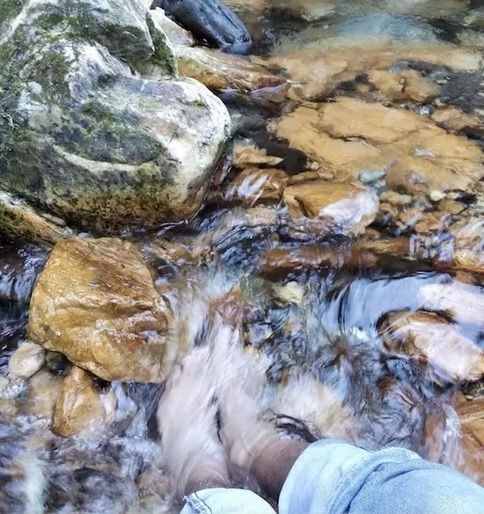 You also discover that Jerks remain Jerks everywhere they go!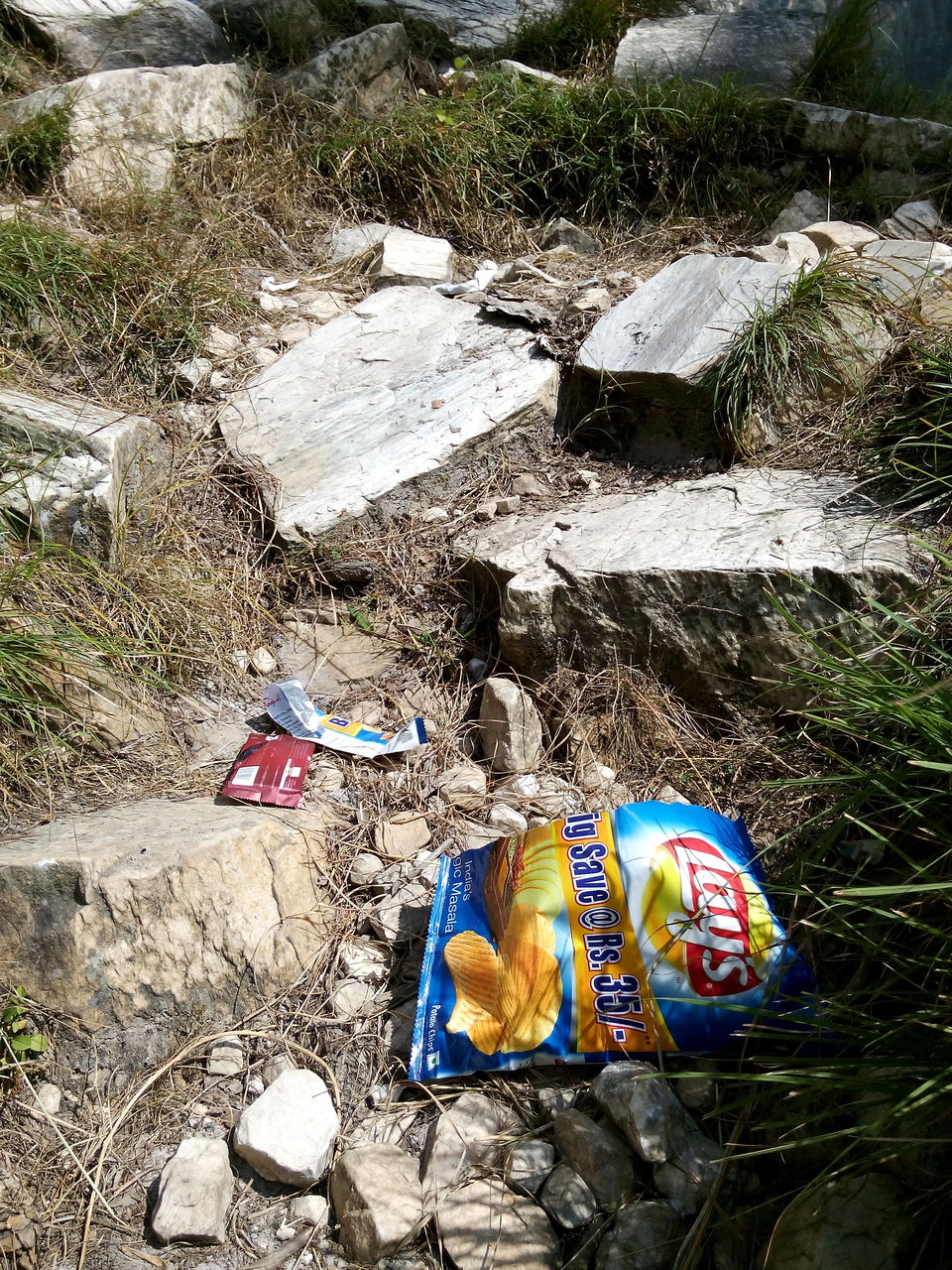 If you can litter a place like this you don't deserve to be here. I promised to myself that on such treks I'll carry a garbage bag with me to clean a place like this.
You must have read water is Tasteless, Colourless and Odourless but in my 26 years of life I never came across such water until Mother Nature provided me with such water. It was a great experience to sip the water coming straight out of Mountains Cracks and It was the freshest water I ever had.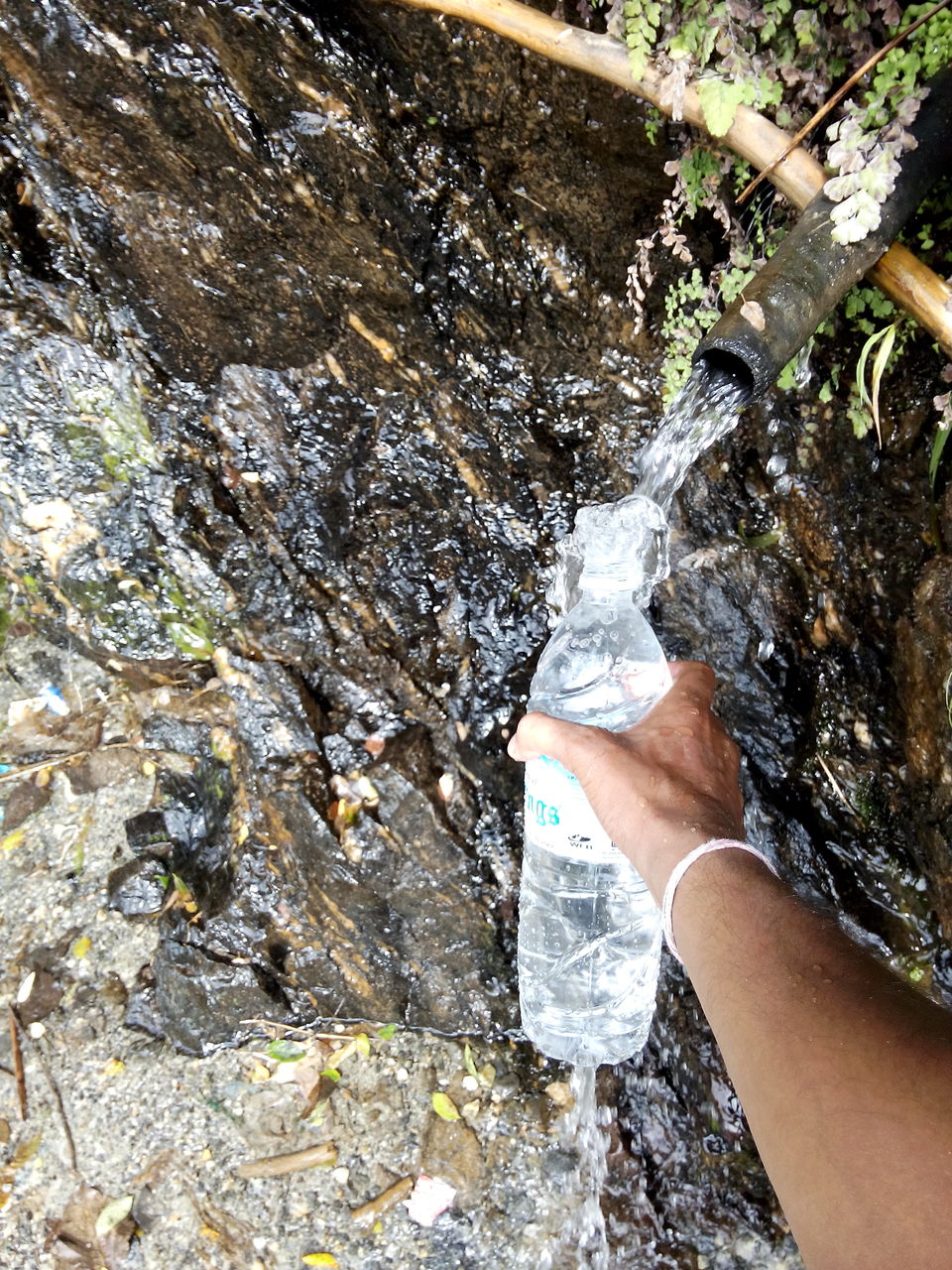 Among the creations of mother nature even man made creations can stun you by their elegance as I discovered in this temple at Tosh Village. The entire carving is on wood.
A temple in Tosh Village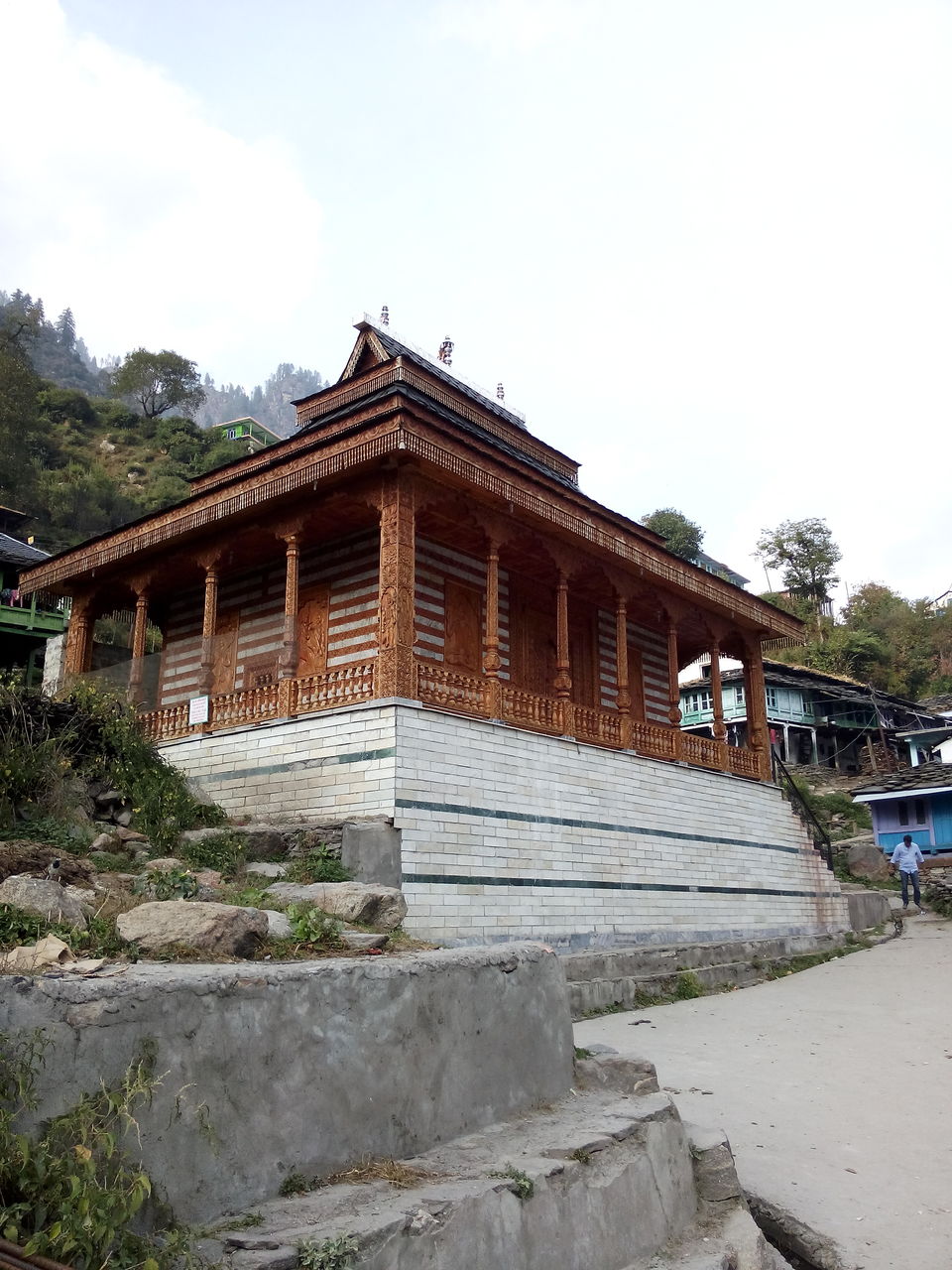 The very intricate carving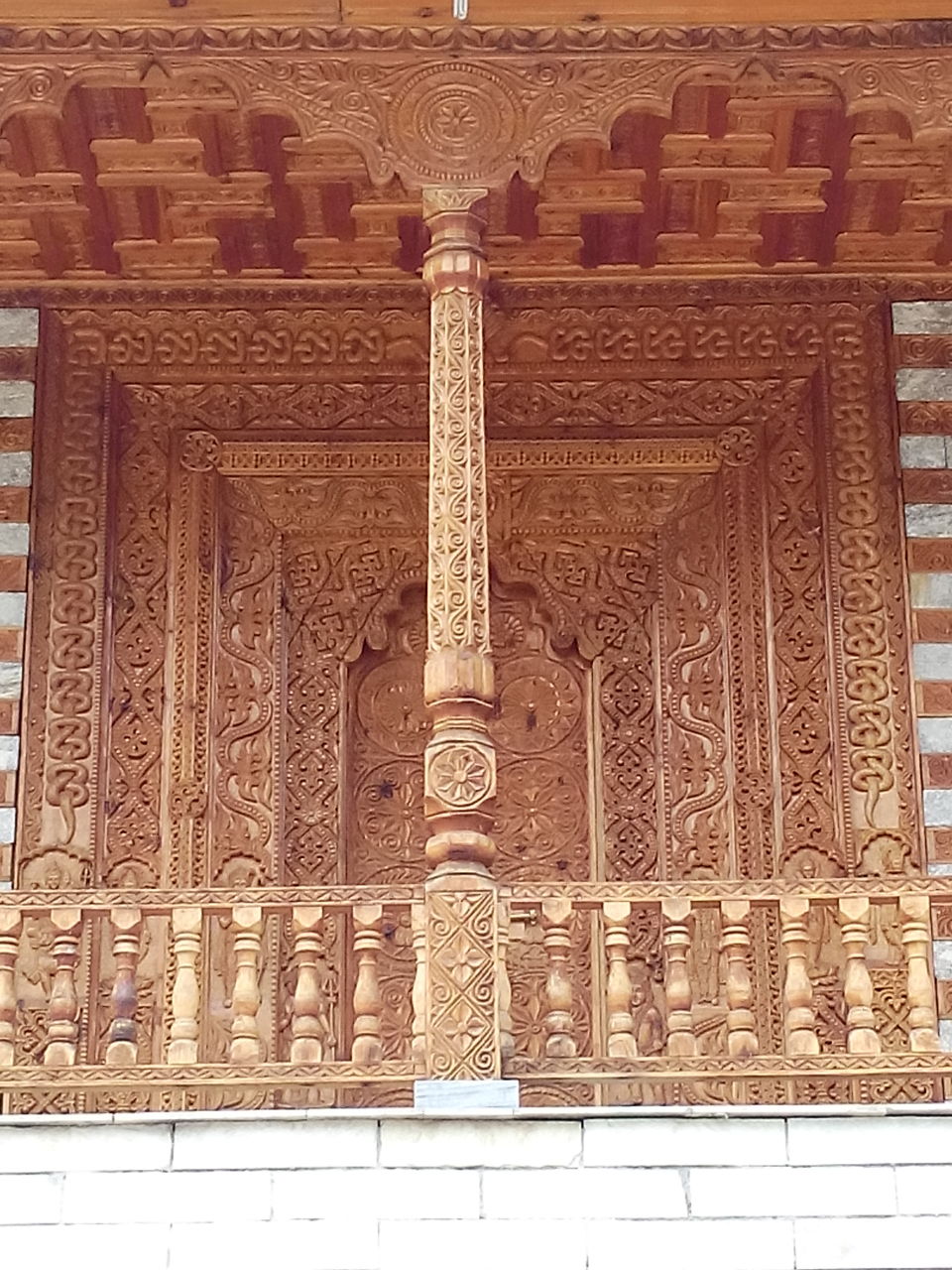 When I told My Friends and Family about this Trip they said I was crazy and this and that and were laughing on me. But:
They don't know is how it feels when you talk to yourself.They don't know how it feels when you make friends with yourself.They don't know how it feels when you become your best friend.They don't know how it feels sitting on the riverside and just listening to the gushing of water.They don't know how it feels looking at the cloud kissed mountains for hours.
You feel a new confidence building up inside of you and you feel you can win off anything.
They ask me was it worth it?
And I say in my heart Yes! It was worth every goddamn Kilometre and worth every Goddamn second!
I know in the coming years when I'll look back I'll have a reason to smile and that smile will make it worth it.
There are lots of fences I still have to mend and I will in the trips to come.