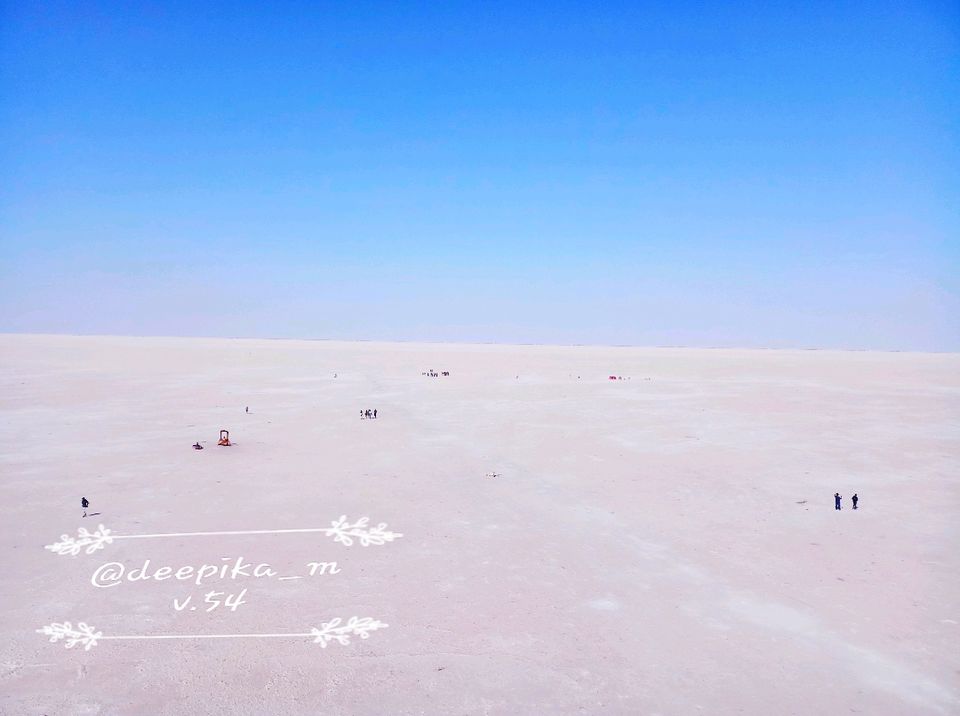 RANN OF KUTCH- THE WHITE DESERT
It was an unplanned trip, as my best friend wedding was in Nadiad so I decided to travel by train with my friend and her family to the wedding, there started the idea of exploring places.
       After the wedding I reached Ahmedabad with my friend's relatives. At Ahmedabad bus stop I was waiting for Bhuj bus and they planned a trip to Mount Abu. I told them I would be joining my friends in Bhuj (but I was on solo trip). Somehow felt uncomfortable to say so told I will go alone till bhuj and meet my friends.
       I was waiting for Bhuj bus and started thinking how things will go as this was my first solo trip. I already booked a room in Bhuj on Airbnb and this was my first experience on airbnb too.
       Bhuj bus arrived at approx. 1.15pm I got in and took window seat with fear. I was informing my whereabout and taking route guidance from the airbnb host.
       On the way there were beautiful greenery farms also seen amazing sunset view from the window. Finally reached Madhapar (village in Bhuj) at 8.00pm it was so tired journey. Informed my host then his relative came and picked me up from bus stop. At last reached the room where host's mom and everyone were so welcoming. First I was a bit tensed then later felt much comfortable.
      
As I am an early riser got up at 5am, weather was so cool (12°c temperature). From my stay which was on first floor saw a beautiful view of fields, sunrise view and Bhuj hill. Then aunty(host mom) made poha for breakfast and started my day at 7.00am as till 7 you won't see the sunlight.
       Took a sharing auto from Madhapar to Jubliee ground again from Jubliee ground took a bus at 9.10am till Bhirandiyara Char Rasta. Actually there is no direct bus from Madhapar to Rann of Kutch. I thought it is safe to go in bus only instead of taking cab or hired vehicle so asked details near jubliee ground itself.
       Reached Bhirandiyara by 10.30am and there i met a foreigner who came from London, she was going back to the airport. It was a casual talk with her I asked about the Rann of Kutch and her journey. Also met a solo traveller who was from kerala, he was going to white desert so asked me he would also join.
       Then started my journey from Bhirandiyara to Rann of Kutch in a Tempo type vehicle. Slowly started enjoying my solo trip and was excited to see white desert.
       Finally reached Rann of Kutch after one and half hour. To enter the white desert first we need to register where ID proof is required. Registered myself and taken horse ride till white desert as that was the only option if we don't have own vehicles.
       Entered the white desert which was really an amazing view of entire pure white salt. For a second I felt blank and was thinking that I made it hurray. Kerala guy who was with me clicked my pics and i collected few salt from there as my memory.
       After spending sometime in white desert went for shopping near tent city in Rann of kutch where we can find many varieties of kutch items.
       Thought of going to Kalo Dungar but due to time constraints skipped it as I need to return madhapar before 6pm. While my return me and kerala traveller were waited for the vehicle but as there were no tempos decided to go in truck. So myself and kerala person started return journey in truck which was really a different experience.
       Finally I reached madhapar safely at 6pm. Then reached my stay and had tasty dinner made by aunty. This was my solo trip experience of White Desert.
Kutch Nehi Dekha Tho Kuch Nahi Dekha.
Today October 5th is my birthday decided to start my travel blog. Next post i will be sharing the information about places which I explored in Bhuj.