As a traveler, and pet lover, traveling with Fido can seem daunting but for the dog it can be scary. Being informed is key to traveling with a dog, so brushing up on airline policies can be helpful since each airline is different. Seeking out dog friendly airlines will help ease the trouble of taking a dog on a plane, which makes finding flights for dogs a lot simpler.
Being Prepared
When taking my dog on a plane, there were a few things that need to be done in order to be as prepared as possible.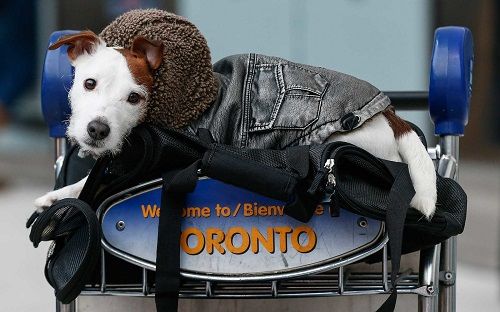 And make the entire experience as smooth as possible.
1. Booking the flight as early as possible should be done in order to book your dog's travel and yours. Find a dog friendly airline and call them to make sure there will be space for your travel companion. It is best to get both tickets at once in this case. Also, flying direct instead of having layovers makes it easier for everyone, including the dog because of the length of the flight and the possible change in temperature outside.
2. A trip to the vet was necessary to ensure my dog's health and to get the health certificate needed for the pup to fly, which needs to be dated within 10 days of the flight. If you are traveling internationally, be sure to contact the foreign offices of the country to obtain more travel info.
3. Taking a trip to the pet store was next on the list, so that I could grab a crate for the dog and a blanket for his comfort. Once the items were obtained, I labeled the crate with the dog's name and my own information. The one rule about this is that airlines want the dog to be able to stand up and turn around in the crate, so make sure it is big enough for the dog to do so. Also, I took my dog around town while riding in the truck with the crate and he adapted to the crate well.
4. Before leaving for the airport, make sure your dog is well fed, but not super full, and uses the outdoors to do his business. Exercising my dog worked wonders before leaving, as he was tired and thus more likely to relax during the flight. Arriving early is important and checking in must be done at the counter with the dog. Do not give your dog any tranquilizers or sedatives before the flight because it can put them at risk for breathing and heart problems.
The Rules of Flying with Fido
Not wanting to leave my pet behind, I had to be sure to find an airline that would be suitable to my needs and my dog's. I had to do research to find out the policies in airports as well, so that my travel experience would go as smoothly as possible. I found out there were three ways in order to fly with my dog, which were in the passenger cabin with me, as cargo, or they could go as checked baggage. This is based on weight and preference, but dogs over 20 pounds are generally not allowed as a passenger in the cabin area.
For example, American Airlines will allow you travel with your pet as cargo, checked baggage or in the passenger cabin but for no longer than 12 hours to or from the destination. They have various rules for flying in the United States versus flying to South American or Australia. If flying to a foreign country, special restrictions may apply from that country, so be sure to check with your destination country to see if your pet can travel there with you.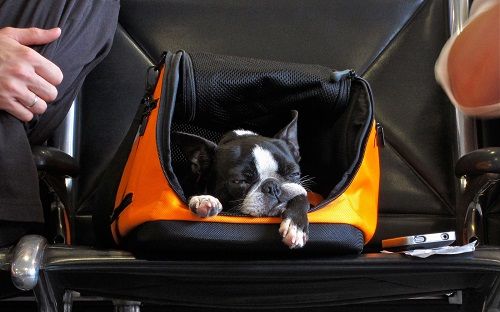 After researching the best airline for myself, I researched information on the Federal Aviation Administration, which said that dogs need to be in their crates at all times in the airport except when going through security checks. Many airports will also ask to see the dog's recent health certificate and their boarding pass before the dog can board. If your dog needs to use the restroom before boarding, most airports have a pet area that you can be directed to. Big airports like Denver and Dallas, for example, have pet areas.
Keep in mind that under the best of circumstances, if your dog is cargo, they can get misplaced or lost. This is why flying directly to your destination is important. Keep all of your dog's important information close to you in case it is needed.
Considering The Dog
My dog is a calm, relaxed kind of pup so I did not have to worry about his demeanor while flying. If your dog is prone to high anxiety and stress levels, flying with them may be more trouble for the dog than its worth, even if he has his favorite toy and blanket during the flight.
Your dog's health is very important and stressing them on a flight for several hours, both ways, can be bad for their health. Another thing is, some airlines require your dog to be very well trained and be overall quiet during the trip and dogs that bark a lot may not be able to fly. If you are unsure how your dog will do, take them for an extended ride in the car inside of their crate. If you know your dog can not handle a flight, you can find very nice doggy day cares or boarding places that have web cams so that you can check on your pooch at any time to see what they are doing.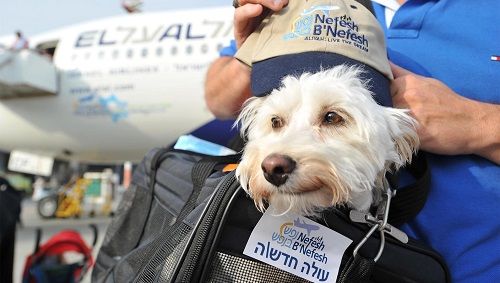 Going on vacation with your dog can be a fun experience, but being prepared for the travel will help keep everything going smoothly. If your dog would be under too much stress or anxiety, traveling may not be worth the time and effort. However, if your dog can meet all of the restrictions and guidelines, then flying can be a breeze overall and you will come back with some great vacation photos of the dog and you!