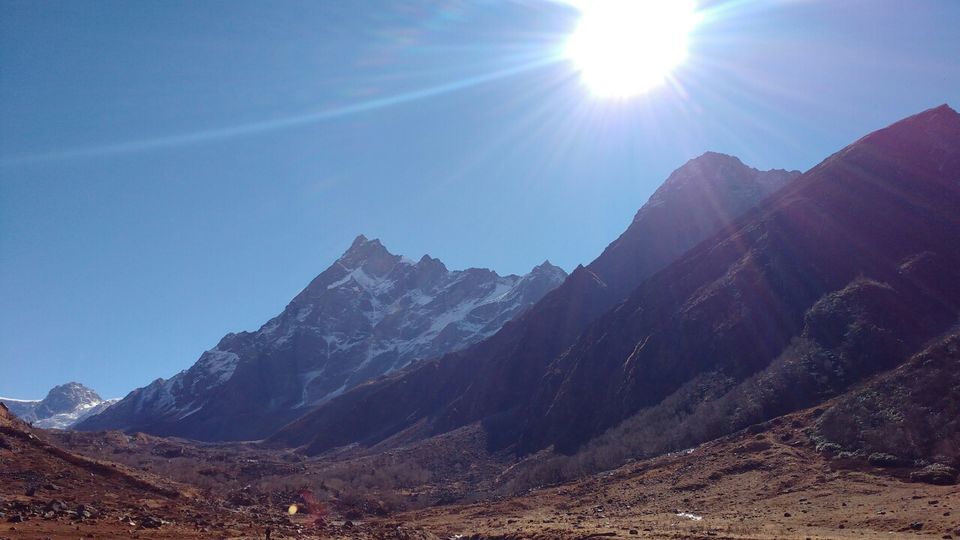 #TripotoTakeMeToSandakphu
"I never give up a person that is terrified,
nor one that is devoted to me,
nor one that seeks my protection,
nor one who is afflicted or destitute,
nor one that is weak in protecting oneself,
I shall never give up such a one till my own life is at an end."
— Yudhishthira, Mahaprasthanika Parva, Mahabharata Book xvii.3[7]
It all started when Aaina and I decided to test our mettle and endurance. Determined were we despite parental polarity to sign up for our first high altitude trek with India Hikes. But somewhere I was vexed at the thought of putting myself in the battle of sinus pain in the mountains. Nevertheless, we trained  and readied ourselves both physically and mentally as we had a common purpose in that sense.
At 12pm on 4th November we started from New Delhi leaving behind all the pollution brought by Diwali to the remotest part of Garhwal Himalayas. We reached Dehradun on 5th and headed to Sankri via roads cut out of mountains. We rested at Sankri that day followed by briefing on the trek by our very own trek leader Jude Rayen!
We began our ascent to Puani Garaat the next day which was our first camping site. We were stationed there to get acclimatised to the upcoming altitude followed by good food and a good night's sleep.
The next day we started our ascent to Kalkathiyar, trekking through unpredictable trails. It was a good 13 kms trek. The gulaab jamuns that night definitely brought smiles.
On the morning of 8th we started gaining altitude. The crisp air and the warmth of the sun in addition to the 27 member team kept our spirits up and all geared for the days trail. I noticed team work and the help given to each other though we started off as strangers. We reached the camp site in the afternoon and were on a gaming spree until dusk followed by dinner to being a jihadi in mafia and health checks each day. That was when our curiosity levels rose competing with each other over higher oxygen levels and considering ourselves fit.
The most exciting part comes on a buffer day accompanied with a 3 hour trek in the Valley of Shiva to the Jaundhar Glacier fascinated by the Himalayan birch(bhojpatra) on which epics were written and the privilege of a cheat day(cake baked at 11700ft).
Our descent began from the next day passing each trail with Supin river flowing beside and the kathkuni architecture of Osla village and locating the only Duryodhan temple in India. Not to forget, the bid for toffees by the village kids!
We were contended after challenging our bodies. The opportunity to stand 11700 ft above sea level at Har-ki-dun was worth all the contemplation. The satisfaction of following the trails of Pandavas who went in search of heaven to Swargrohini was so unreal!