INDIA- A country comprising of 29 states, countless religions and languages, and myriad forms of cuisines, India is undoubtedly a paradise for the food explorers. For the foodistas like me who don't mind to go Slurp and Burp while gulping the best food anywhere in the world. I pen down this blog with utmost care to tell about the best getaways in India for food lovers.
1: DELHI
Best known for: Chaat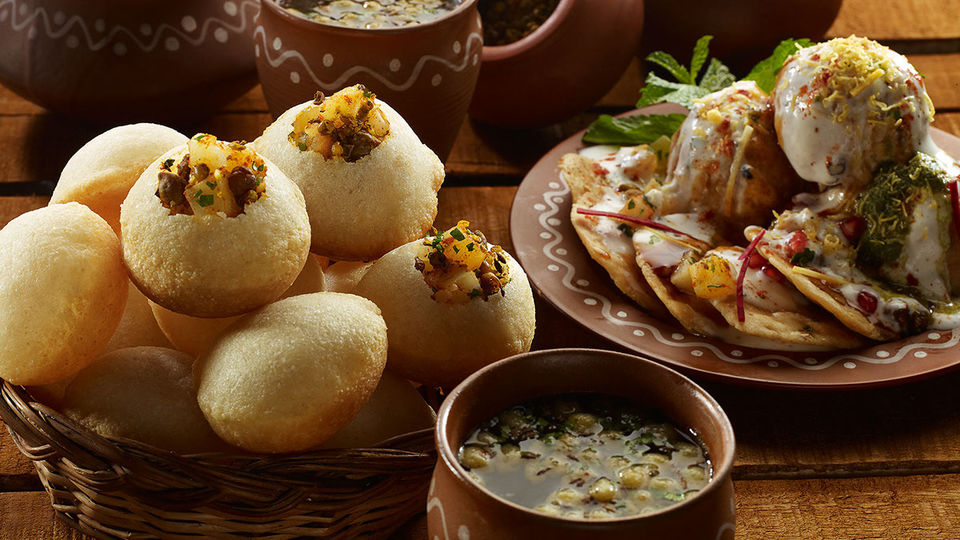 The capital city of India takes the top spot when it comes to being a foodie destination. If talking about the Indian variety of street food, I would never miss out on Delhi- the Alu-Tikki, Chaat, Gol Gappe, or may be the different types of rolls, the aloo parathas from Chandni Chowk, then the butter chicken from the vintage Moti Mahal to the jalebis and gajar ka halwa from all the halwai shops to the dahi bhalle, golgappe and papdi chaat, not to mention a visit to the Daulat ki Chaat outlet to the chhola bhatura, parathas and tandoori chicken that Delhi has to offer are scrumptious! Do try the varieties of Parantha in famous Paranthe Wale Gali of Chandni Chowk, also explore the Jama Masjid locality and you would be spoilt for options of non-veg.
2: MUMBAI
Best known for: Vada Pav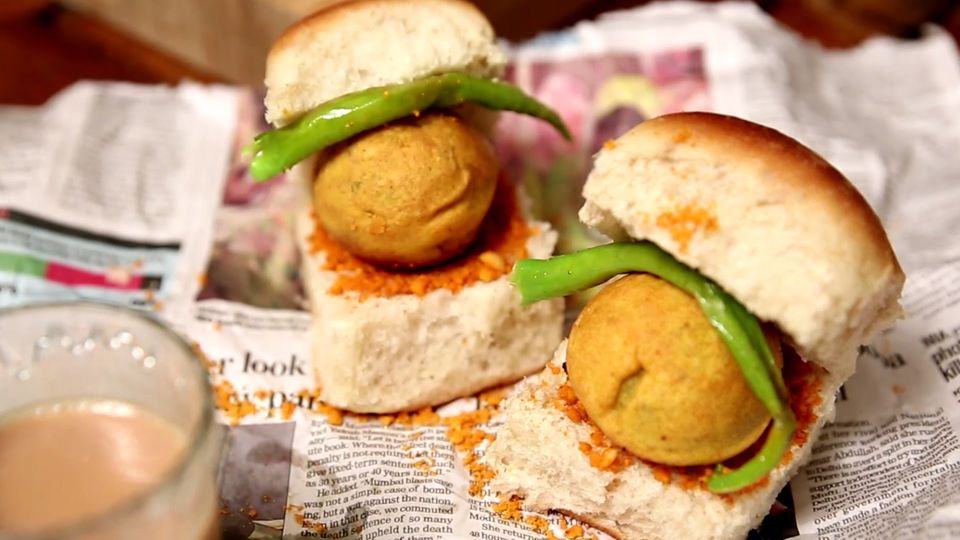 And Mumbai has gone down in the pages of foodie history as the place for the best street food in the country. The place for the best vada pavs, panipuri, dahipuri, bhelpuri, dabeli, batata wada and kande pohe, the list of all the lip-smacking street food that Mumbai has to offer is endless. Anand, a famous stall in Gulmohar Road, Vile Parle West is the best place to try VADAPAVS and delicious snacks. If you are a gastronomic traveller, do not miss to try the Chicken tikka rolls at Bademiya, Keema Pav at Olympia Coffee House, or Crab at Mahesh Lunch Home and Take a stroll down the Juhu Beach for its plethora of food vendors, or eat Japanese food at Wasabi, and you will know what I'm talking about.
3: GOA
Best known for: Seafood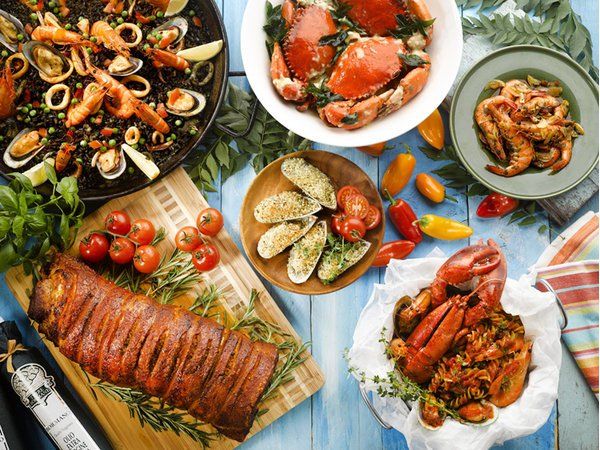 The seafood destination of India- Seafood lovers may find a delectable spread of prawns, mussels, crabs, lobsters, mackerel, tuna, authentic fish curry and rice, Goan sausage and pao, vindaloo and sorpoteland salmon and the prawn curry are highly recommended when you want to embark upon a Goan food journey. Don't forget to taste the smacking feni – a fermented drink made from cashew fruit with the prawn curries, the seafood platters, the king crab fries, and so much more sets the mood for the perfect Goan dinner.
4: KOLKATA
Best known for: Deserts and Seafood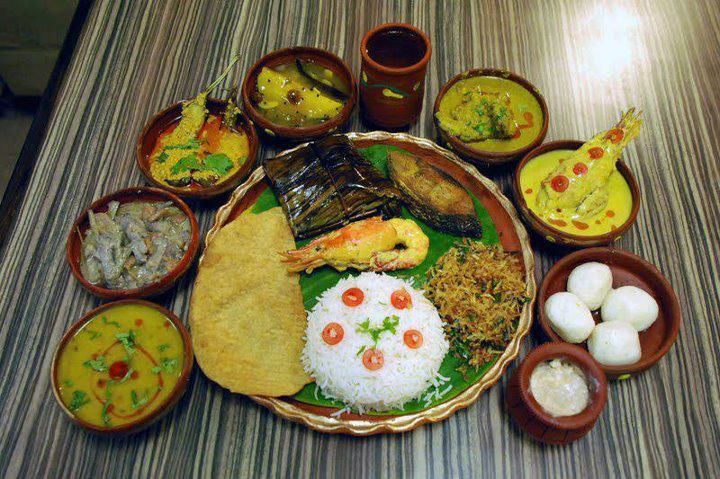 If sweets like Rasgullas and Sandesh are what comes to your mind on hearing Bengal, Kolkata offers you a list of never ending culinary delights. The fiery jhaalmuri, puchkas will set your tongue on fire and the unforgettable taste of Hilsa will leave you entranced. Starting from serving the most unique fish curries in the country to mishti doi – Kolkata has won in cooking up a storm of the best Bengali dishes in the country. Do not miss trying different varieties of Chops and Cutlets (veg, chicken,egg). Alu Posto, Sorshe Ilish (Mustard paste with Ilish fish), Bhetki Macher Paturi and Kosha Mangsho and egg rolls.
5: PONDICHERRY
Best known for: French Cuisine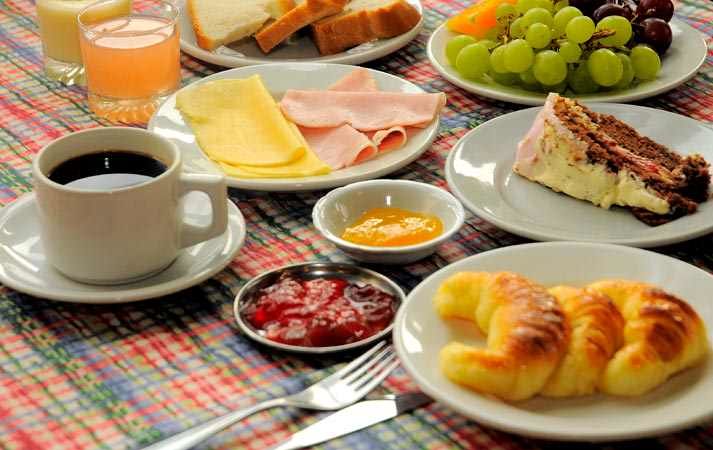 French cuisine lies at the heart of Pondicherry. The mingling of France and South India in this territory makes it a wonderful place for all who love food and serenity. Freshly baked baguettes and crisp croissants with a steaming cup of coffee is the famous breakfast followed by Coconut Curry, Tandoori Potato, Soya Dosa, Podanlangkai, Assad, Kadugu Yerra, Curried Vegetables, Stuffed Cabbage, Palpayasam (Sweet Milk). Kadugu Yerra is another incredible curry made with prawns cooked in a spicy tomato sauce with potatoes, vinegar, fenugreek and mustard paste and creamy coconut milk. The organic food served at the Auroville Ashram is especially to-die-for. Amazing South Indian as well as French cuisine mark the food goodness of this beautiful town. Food in the Auroville Cafeteria is simple, yet saliva-tingly good, so make sure you give it a try!
6: LUCKNOW
Best known for: Kebabs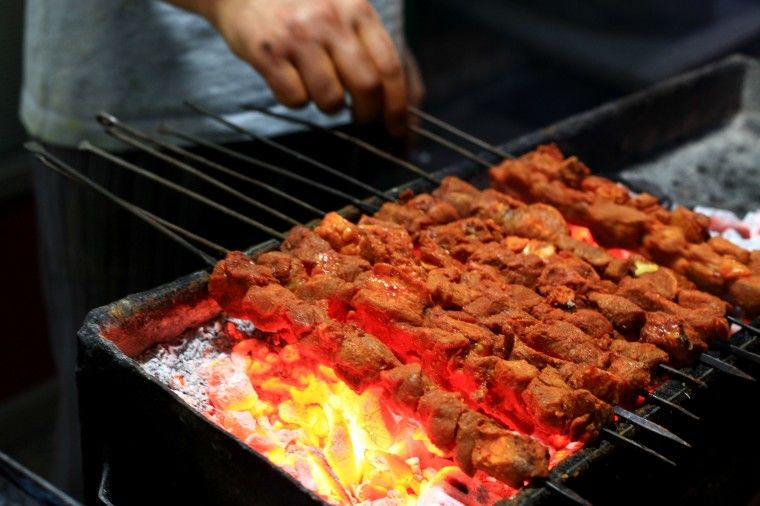 The city of kebabs and Nawabs, Lucknow is a must-visit for all of you who want to taste some of the best authentic Mughlai and Awadhi food. Lucknow is a great city to explore for cheap, street food. A paradise for non-veggies, the city offers scrumptious Galauti-Kabab and Nahari Kulcha, Tunde ke kebab. Chai-samosa is another favourite, as are the sweet lassi, rabri and kulfi. People especially stopover in Lucknow to devour the kormas, parathas and the sheermaal. To add more variety into your menu of extended holidays, try Kabab-Paratha, Biryani, or Tandoori Chicken. If you have a sweet-tooth like me, you should not miss to taste Kulfi, Ghazak, Rewri and special Meetha Pan.
7: HYDERABAD
Best known for: Biryani & Pathar -ka-Gosh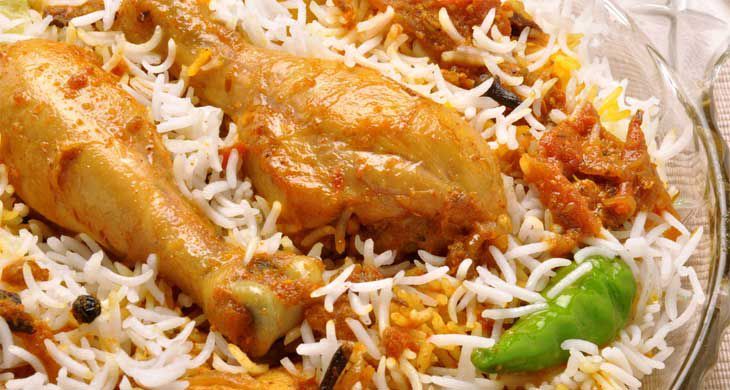 Being a Hyderabadi I am falling short of words to describe the varieties of food this place has to offer. The Hyderabadi biriyani will set fire to your tastebuds with its naturally spicy flavours. That's why they say that in India, biryani is synonymous to Hyderabad. Idli, Dosa ( all kinds ) Haleem, chakhna, and seekh kebabs, Pathar -ka-Gosh and Qubani-ka-Meetha is the best this city can offer. The famous Hyderabadi style mirchi bajjis is a common snack or appetizer, stuffed green chili fritters. DO TRY!
8: JAIPUR
Best known for: Dal Bati Churma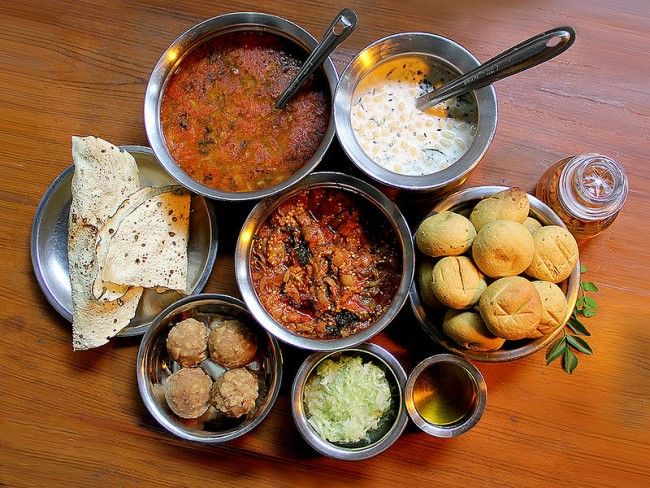 The pink city's cuisine is well known for it's spices. If you would love to try some spicy and crunchy delicacies deep fried in ghee, you should plan for a culinary vacation to Jaipur. The first thing you should try for a spicy and crispy flavour is Dal bati churma, the flagship dish of Rajasthani cuisine Jaipur's most famous street offering is the hot and spicy pyaaz ki kachori, which is available at most mithai and namkeen shops. Make daddy taste yummy kathi rolls and tandoori tikkas as well as creamy lassi, yummy gatte, laal maas or kadhi, Jalebis and kulfis. Want to try some lip-smacking desserts? Try Ghewar !
9: AMRITSAR
Best known for: Parathe & Lassi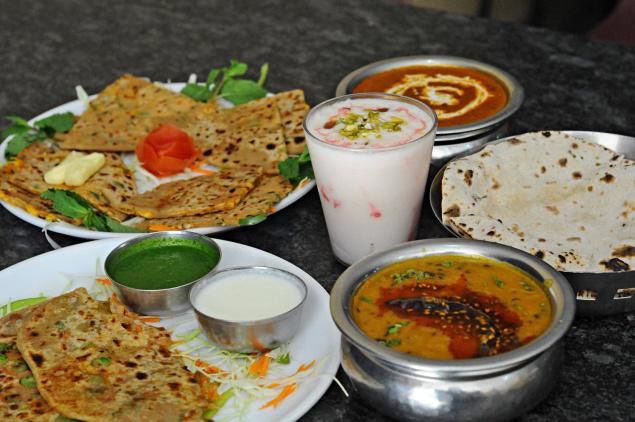 Did you know The Dhaba Culture originated form here ? The kulchas, the satpudas, the moong dal laddoos, or the lassi despite all being mindbogglingly delicious, can't even come close to the culinary delights of some hot aloo ke parathe with ample servings of cream on top. Make sure dad doesn't miss the piping hot jalebis from Gurdas Ram or thick lassi with cream on top at Kesar. One just doesn't leave the city without sitting for a langar, eating at Bharawan da Dhabha. Be prepared to come back a few kilos heavier from Amritsar!
10: AHMEDABAD
Best known for: Dhokla, Theplas and Khandwis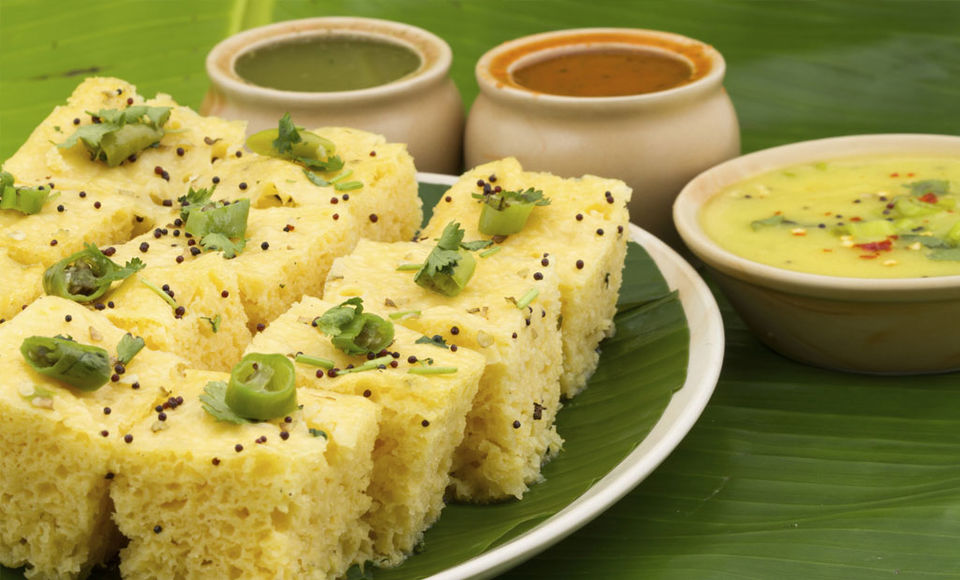 Vegetarian babies, rejoice! You will find a wide variety of absolutely delicious fare in Ahmedabad – vada pav, daal vada, chole pur, Dhoklas, Khakhras, Khandwis, Theplas and ghughra are our mantra of inner peace and contentment. Head to Manek Chowk or Khau Gali, where Jasuben's Old Pizza is a legend. Off springs of Meat-lover, just walk up to Bhatiyar Gully for chicken kebabs and mutton samosas.
11: BIHAR
Best known for: Litti Choka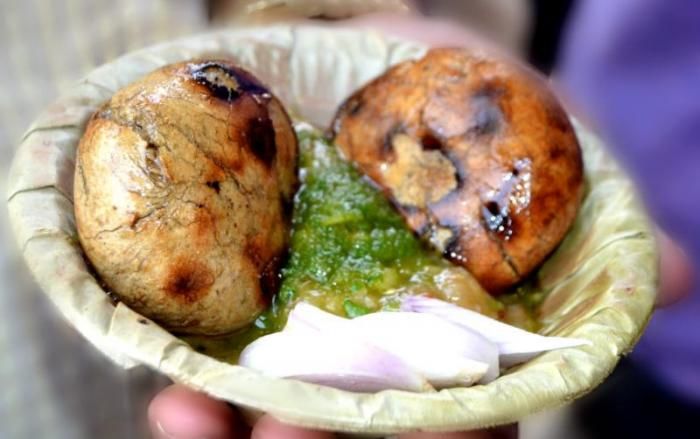 Litti Choka, The most famous dish and the soul food for people of Bihar, Jharkhand and eastern Utter Pradesh. The traditional dish of Bihar is made with sattu, grinded gram nut or chana served with chokha made out of potato, brinjal and tomato and a bowl of melted pure desi ghee. And guess what, they also throw in all time favorites like Samosas, Kachori, Aalu Kachaalu, Bhooja, Ghughni Choora, Dahi Choora, Jhaal Moodhi etc, spicy enough to let you to skip to popular desserts like Peda and Kalakand.
12: SIKKIM
Best known for: Momo-Thukpa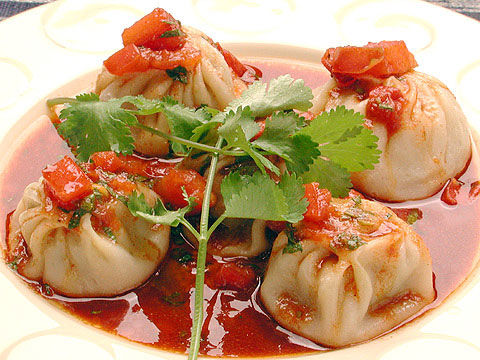 Do you love alcohol? Yes, then you must try Tongba, the Sikkimese variety of beverage. A must head city for the foodies, Gangtok offers varieties like- Momo, Thukpa ( It is noodle soup with vegetable ), Phagshapa, Sael Roti, Niguru with Churpi, Gundruk, Chang (Thomba- A local beer ).
13: MADHYA PRADESH
Best known for: Poha-Jalebi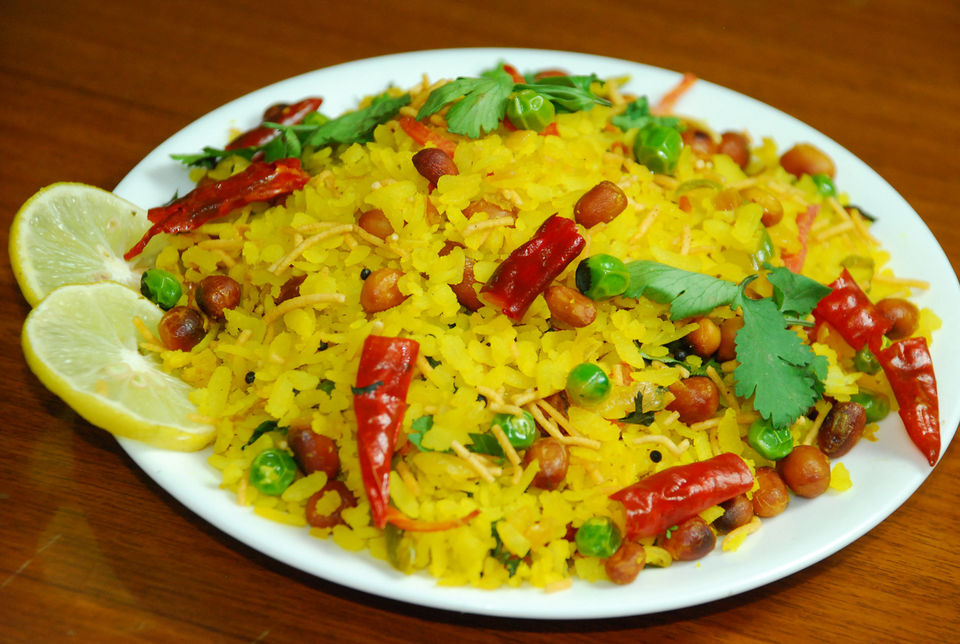 Indore is most popular for its culinary rang and well known for wide range of namkeens, samosa, chaats, lapsi and the best one bafla. Poha-Jalebi is the best street food and the specialty of Indore served with sev & nukti and with jalebi. Indore felt proud of the poha and jalebi being the best in the world. To start with, I would suggest you to explore Chatori Gali. Everything meaty is your pick here. To be very specific, Bade ka Kabab, Kabab Pao, Mutton Seekh Kabab and even the Paya Soup. Crispy, crunchy and tangy varieties are must haves. Also try the Bhopal special Biryani.
14: DARJEELING
Best known for: English Breakfast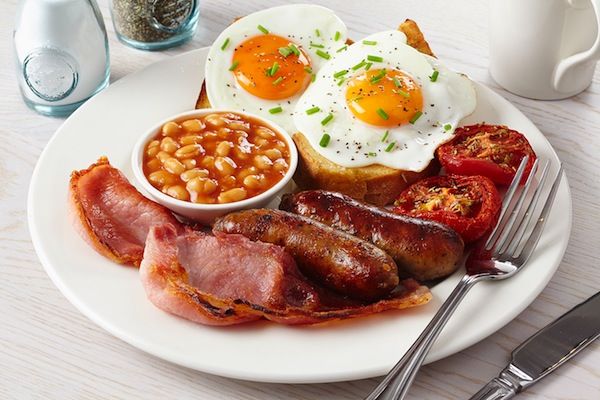 This place has adopted the British breakfast totally and It should not surprise you that even a simple meal here will transport you back to the colonial days. Minus the oppression of our native people of course. Indulge in some of the best breakfast waffles, pancakes, momos, thukpa or have fish delicacies prepared to beat the cold or bacon from across the country, while sipping on a steaming hot cup of Darjeeling tea. Also try Traditional Nepali Thali, Aloo dum ( ask any local of Darjeeling about Alu Dum and you will notice a smile on the face ). Also, if you love tea, look no further! Darjeeling not only owns acres of tea gardens, but also loves connoisseurs of good tea!
15: KERALA
Best known for: Sadya Meal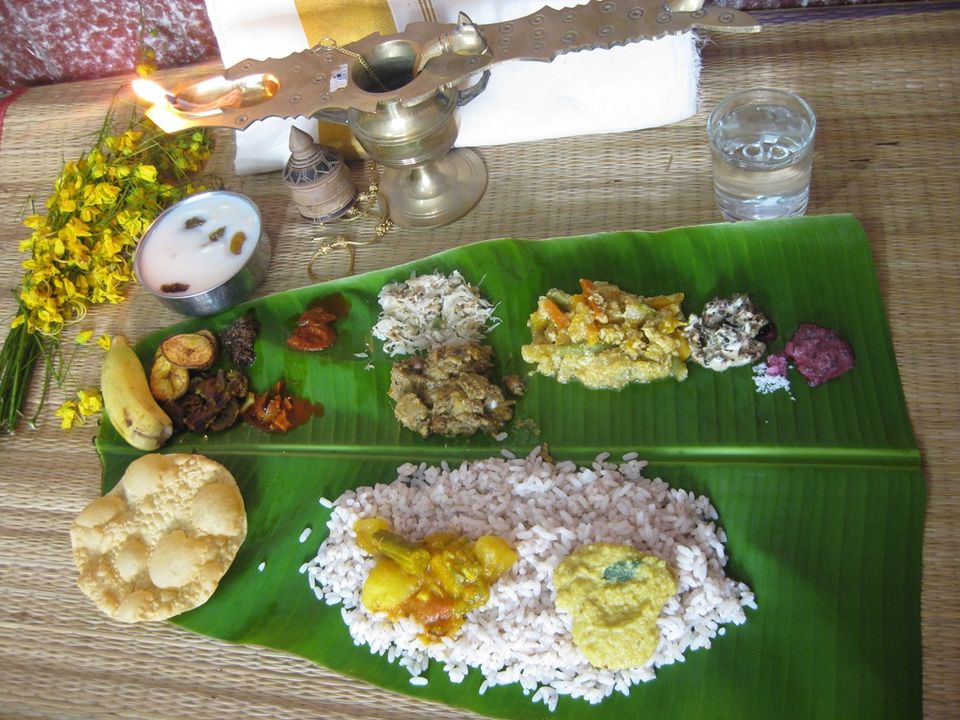 Kerala is known as the "land of Spices". It offers a multitude of both vegetarian and non-vegetarian dishes prepared using fish, poultry and red meat with rice a typical accompaniment. Chillies, curry leaves, mustard seeds, tamarind and asafoetida are all frequently used. Malabar, one of the best food trails in India where you can taste here is a range of dishes like Appam, Sadya, The Tangy Rasam, Avial, Puttu, Banana chips, Tapioca And Fish Curry, Beef Kurumulakittathu, or scrumptious duck preparations. If you want to try the dishes made of rice, Malabar has no substitute. Well, travellers do suggest tasting the special Kerala Coffee which is an aromatic beverage in Kerala.
16: KARNATAKA
Best known for: Bisi bele bath, Mysore & Udipi Cusine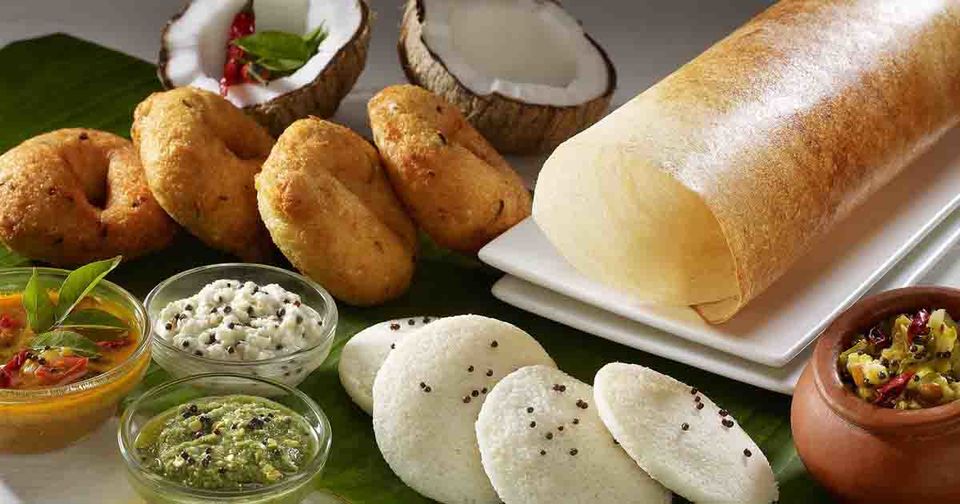 Karnataka has long been neglected even though the cuisine that originated here has made millions fall in love with food. Udupi offers rasam, a variety of dosas and idlis topped with sambhar, which makes up the wholesome South Indian food admired by many. The specialty of state is Akki roti and Bisi bele bath. Also the Mysore flavours of this state has a lot to offer like, Mysore dosa, Mysore bonda, Mysore masala dosa, Pongal, puri palya, uthapam, vada sambar. The city offers delicious Konkoni varieties of food such as Daali thoy, bibbe-upkari (cashew based), avnas ambe sasam, val val, Kadgi chakko, paagila podi, and chane gashi. Also try the cuisine of Coorg, the cuisine is highly influenced by vegetables and fruits naturally grown in the dense forests of Western Ghats. Ingredients like bamboo shoots, raw jackfruit, turmeric leaves and colocasia leaves, which are available in the forests, are some of the origins of the Malnad cuisine. Another speciality from Coorg is the Crab chutney made with freshwater crabs usually found in the paddy fields during monsoon. Do try Khali, country liquor prepared from coconut flower sap.
17: NAGALAND
Best known for: Pork and Worms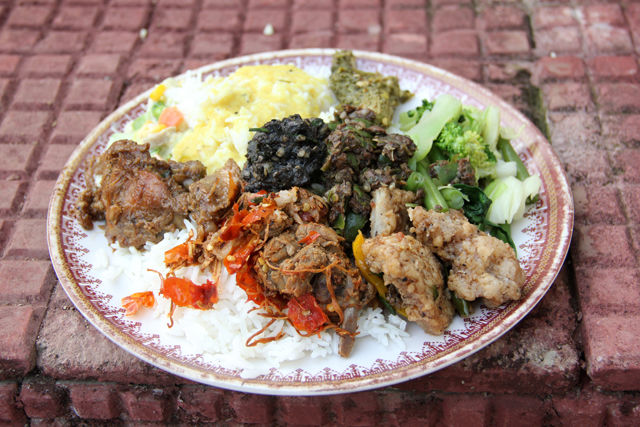 What all you can taste in Nagaland will surprise you but before that be assured that you are a non-vegetarian. Perhaps Nagaland can offer you the best varieties of dishes prepared with Rice, chicken, dog, pork, insects and worms, vegetables, and famous chilli sauces are inseparable part of the Naga diet. A trip to Nagaland brings you the chance to taste Nagaland special Bamboo steamed fish, Nagaland Pork w/Dry Bamboo Shoots and Chicken Glutinous Rice Soup. The luscious, hot food brings out the real flavour of the ingredients used.
18: ARUNACHAL PRADESH
Best known for: Rice and Boiled Fish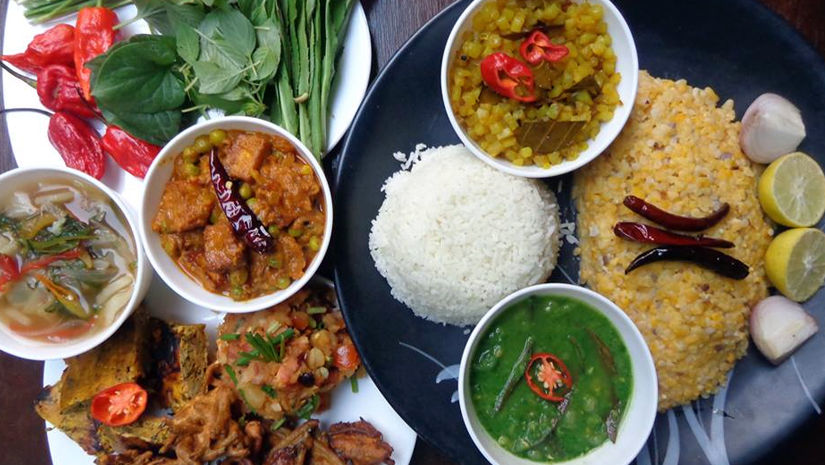 The staple food of Arunachal is rice along with fish, meat and many green vegetables. Different varieties of rice are available. Lettuce is the most common and preferred vegetable of all, prepared by boiling it with ginger, coriander and green chillies and pinch of salt. Boiled rice cakes wrapped in leaves is a famous snack. This is another one of those places in India which you should visit if you have a tongue for a different kind of cuisine. Different areas of the state have different preferences when it comes to food, but overall, apang - a rice beer prepared from fermented rice is a favourite beverage here. Rice, meat and fish form the centre of the food system here and none of the dishes will ever disappoint! Thukpa is another Tibetan dish that is amazing, in Arunachal!
19: ODISHA
Best known for: Dalma, Pakhal Bhat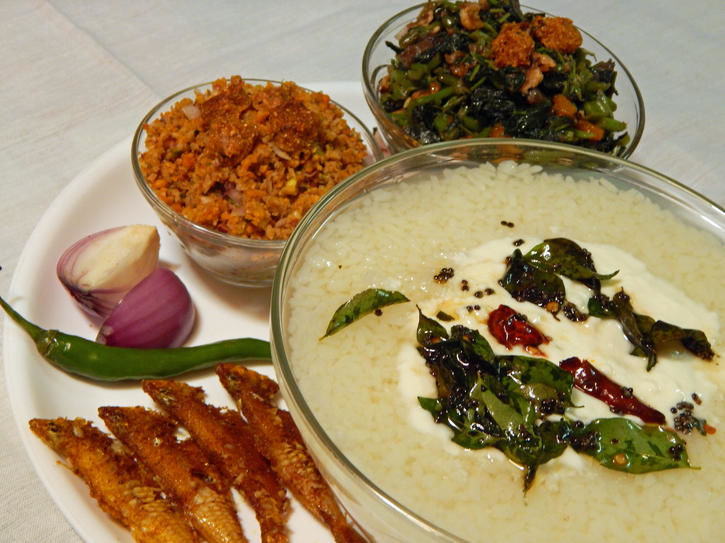 Odisha has a culinary tradition spanning centuries. Majority of the people from Odisha are non-vegetarians and fish forms an integral part of their traditional cuisine. Want to taste the typical Oriya flavour, Khechadi, Dalma, Chungdi Malai, Pithas, Pakhal Bhat and Palau. Every seafood lover's paradise, this one. At Puri, you will find yourself indulging in a variety of seafood – fish, crabs, lobsters, you name it! Malpua is a mouth-watering dish, also served to Lord Jagannath in his Sakala Dhupa (Morning Food). Finish your dinner or lunch grabbing a bite of Chhenna (a form of cottage cheese), Poda Pitha, Enduri Pitha or Chittau Pitha. Make sure you get a good taste of the khaaja. This is something you'll go back there for!
20: VIZAG
Best known for: Bamboo Chicken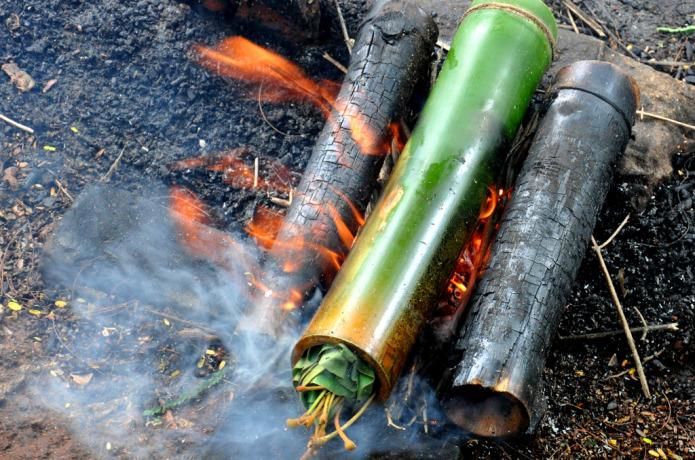 This beautiful town has a lot to offer, food-wise. Try the awesome bamboo chicken (chicken cooked inside bamboo shoots) at the Tribal Museum and other non vegetarian delights on the way up to Araku Valley. Dosas and uttapams here are worth a shot!
21: BANARAS
Best known for: Bhang Thandai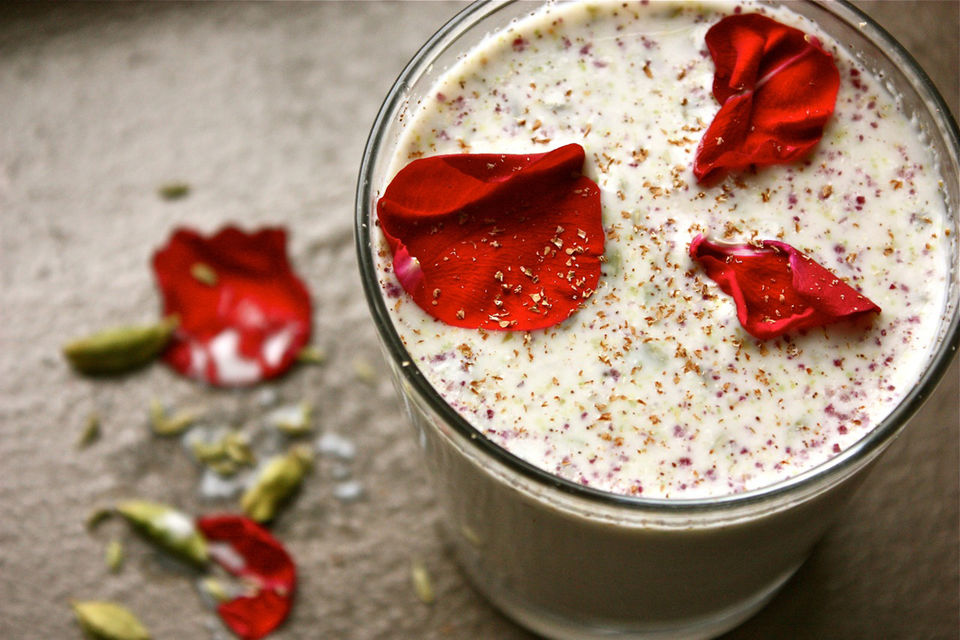 Heard of " Banaras ka pan " ? One must never miss on pan, if you are in Banaras. Food here blends with religion and culture. Varanasi is famous for its kachoris, chaat, lassi and, of course, paan. The Malaiyo, a winter speciality of Banaras, is prepared by leaving flavoured milk out for being tempered by the morning dew. Chowk, Godowlia, is your destination for this rich, Subah-e-Banaras experience. For the non-veg enthusiast out there, do not miss the Chicken Tikka and Achari Murgh at Hotel Lallan, Madanpura. Do not miss on Bhang Thandai, an affair to remember.
22: KASHMIR
Best known for: Phirni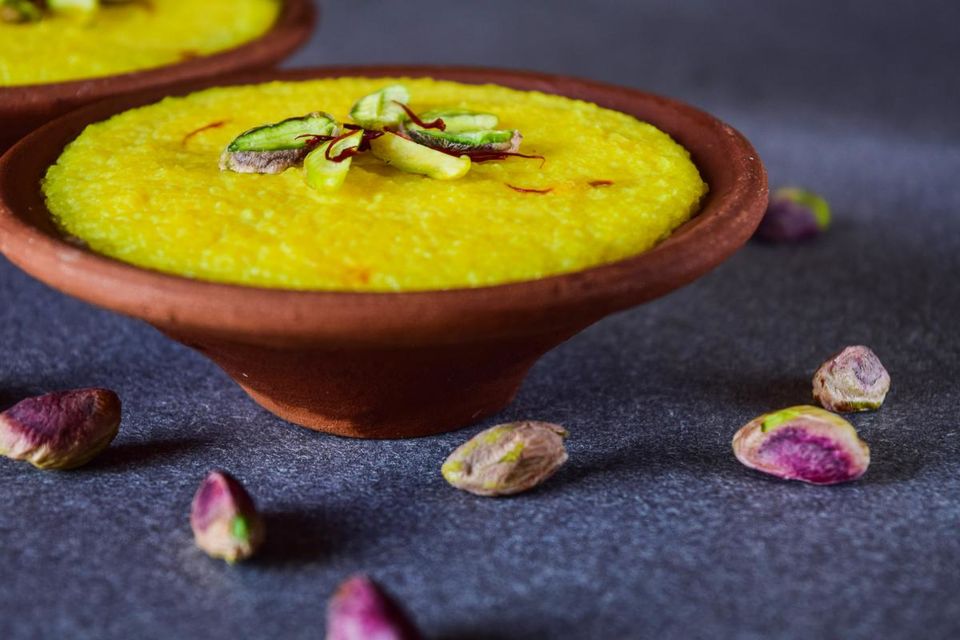 Kashmir offers a wide variety of vegetarian as well as non-vegetarian delicacies. The vegetarian foodies must try Kashmir special Dum Aloo, Gogji Nadir, Al-Yakhni, Chokh Vangun and Haakh. But to be honest Kashmir is a heaven for non-veggies as they can slurp an assortment of mouth-watering chicken and mutton items. Don't forget to try the succulent Rogan Josh, Yakhni or Yoghurt Lamb Curry, Dum Olav, Matschgand, Kashmiri Muji Gaad, gravy enriched Gushtaba, hot and lip-smacking Rista. If you want to enjoy the royal Kashmiri dine, try Wazwan, the most popular multi-course meal in Kashmiri cuisine. Don't miss to have a sip of Sheer Chai (salted tea) Butter tea and Kawa. A fan of desserts must taste the delicacies like Kong Phirni or Khubani ka halwa.
COME FALL IN LOVE WITH INDIA !