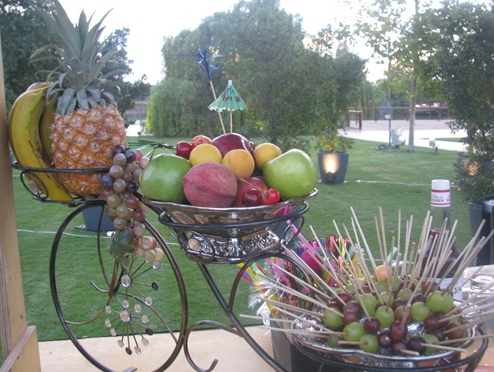 Tasty street food in Thailand is a national culinary treasure in a fraction of the purchase price of fancier restaurants. While there are so many expensive white tablecloth spots around Bangkok serving refined Thai fare, the long lines at outside food carts allow you in on the local's secret: Street food is equally tasty in a fraction of restaurant's prices. Vendors sell popular dishes familiar to westerners like Pad Thai as well as unusual side dishes and local delicacies. You never know exactly what you may find, and you may fill your belly for only a few dollars, or baht. Food stalls are scattered through the city and a few are clustered together in outdoor markets.

While many food carts and markets will be open all day, catering to office workers searching for of a bite at breakfast and lunch, some are open only during the night. While it is perfectly acceptable to grab street food to go, most institutions have some outdoor seating where you may enjoy your meal and do some people watching. Types of food- noodles are the kings of Thai street food and come in all shapes and sizes. Pad Thai, stir fried rice noodles served with egg, fish sauce and a choice of bean sprouts, poultry, shrimp or tofu, is familiar to many westerners.
Nevertheless, the traditional street version of this popular dish is dry, unlike the heavier saucy versions frequently served in the United States. Pad Khee Mao, or drunken noodles, is another popular noodle dish. Wide rice noodles will be stir fried with soybean sauce, fish sauce, chili, basil, garlic and sometimes tofu or meat. Rice is another staple and several food carts enable you to select your toppings. Diners can select from a wide range of curry and vegetables. The purchase price is calculated based on the number of toppings you choose. Rice served with steamed poultry, known as Kaao Mun Kai, is a classic inexpensive choice.
Tom Yum soup is a hot and sour soup which depends on many Thai staples because of its distinctive taste. The soup is flavored with lemongrass, kaffir lime leaves, galangal, fish sauce, lime juice and spicy chili peppers. The soup is frequently made with shrimp, fish or mushrooms and topped with vibrant cilantro. A variation on this dish is made with coconut milk. Do not expect to find any lettuce or creamy salad dressings in a classic Thai salad. Som Tam is a spicy salad made from crushed green papaya. Palm sugar adds some sweetness to balance out the tart lime, spicy chili and salty fish sauce. Many street food vendors serve another popular salad called Larb made of fish sauce, kaffir lime leaves and ground meat. If you are feeling adventurous, round out your meal with a snack for desert.
Image source:
http://www.girafi.co.il/