Moonlight, sea breeze, sounds of gentle waves, some white wine and delicious food - that's what our first night at Fort Tiracol was all about. There is this smart young lad (I think his name is Carousel), who took ordinary patio furniture and set up this gorgeous looking table for our wine and food on the balcony of our suite, and it looked straight out of a glossy magazine! And sitting there, we just couldn't help but be drawn into that eerily ecstatic feel, that where you are sitting is exactly the same place used to keep a watch on the sea hundreds of years ago!
We had chosen this place on a whim, as heritage properties intrigue us a lot, and Fort Tiracol lived up to expectations and then some! We had stayed at the 'Sunday' suite, a marvelous room with antique furniture, beautifully lit up spaces, and an uber luxe bathroom. The fort seems to be a favorite sightseeing spot too, and the restaurant a popular pitstop for these non-residents. Speaking of the restaurant, the decor is colorful, eclectic, and offers you fantastic sea views while you enjoy Goan, Portuguese and Indian delicacies. The property has old photos hung all over, so you get to know a lot of Fort Tiracol's history from those displays.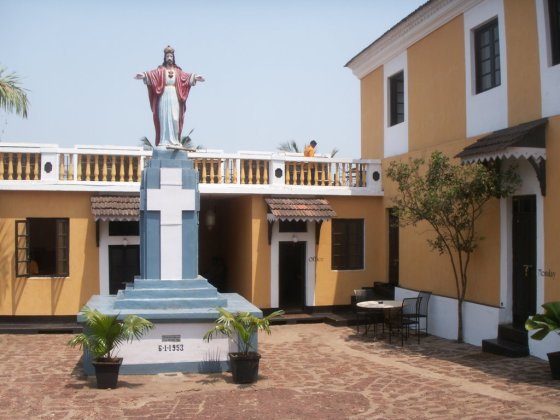 With just two days to make the most of our time, we had quite a choc-o-bloc itinerary, but it was very interestingly planned. The highlights were a rickshaw ride through the village to see some lesser known (but very pretty) beaches, typical Goan lunch at a local restaurant (the owner is the retired 'sarpanch' of the village, and over a glass of beer with my husband, he shared many interesting stories about local life), and finally a walk through all kinds of terrain that ended with some tea and pakodas served by our guide's wife.
Fort Tiracol is the kind of place where you can feel the presence of 400-year-old history, that's for sure. How they have kept that old-world charm intact and yet infused a feel of modern day luxuries is what makes the place so beautiful. The place also has an 'inclusive' feel, and by that I mean how the village people are involved with the business of running this place. One moment they are serving you in your room, and then when you are taking in the sights and sounds of Tiracol village, they'll pass you by with warm 'hellos'. Truly a delightful and different Goan experience.
This blog was originally published on 'wordsncolors'