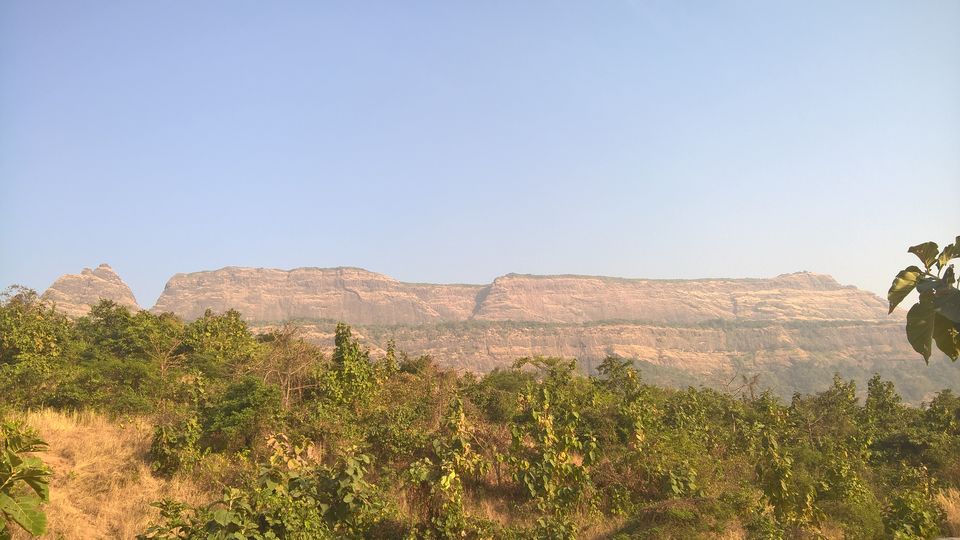 Durg Naad ...
It is a Marathi word. Every fort in Maharashtra will end with the word "Durg" or "Gadh". The word "Gadh" is also Hindi word which translates to "Fort".
Anytime my first preference to spend my week offs are going for treks. Not because I like capturing it or conquering something. But, the aura the mountain carries which I get connected too easily.
I am a Mountain person. Which clearly I understood a long time ago.
Mountains always intrigued me.
And one such mountain I am going to take you through, in this article.
Whenever I passed through Panvel , Khalapur for going towards Lonavala. These two mountains always caught my eyes. These twin mountains sticking to each other is a sight I still cherish.
Specially during monsoon, when clouds covered the area. And suddenly when they moved, the pinnacle emerges out of no where. Like in the Tales and Cartoon Movies ...
So I decided to do some research and to find the way to reach the top.
The best way is to speak to the people. They are the encyclopedia and the Atlas in such situations.
I spoke to few people at Panvel Phalaspha Fata (Bikers Den) Go there to find out why I call it Bikers Den.
Locals gave a brief description about the fort.
How important it was during the medieval period. Specially, the period when our country saw the birth of "Maharaj" : Chhatrapati Shivaji Maharaj. When our country was under Islamic invasion.
I am talking about Kalavantin Durg and Prabhalmachi ...
1) Kalavantin Durg : It is considered to be the most difficult trek in Maharashtra, because of its steepness and the challenging terrain.
At first it is clearly visible that this fort would have been used as a Watch Tower. Once you reach on the top, the first thing that catches your eyes would be "Matheran" : The most famous getaway for Mumbaikars. It has steps built in the ancient period, may be Buddhist.
2) Prabhalmachi : It is like any another fortification. A Strong hold. With battalions of Infantry and Archers keeping an eye on the region from a top.
Some interesting history, before I share the pictures of the trek.
The fort were under Muslim rule of Adilshah. It was under the command of "Kesar Singh".
Maharaj wanted to bring this two fortification under "Swarajya" because of its strategic location.
He attacked the fort. Kesar Singh was about to lose the battle. Fearing defeat, the women inside the fort decided to self immolate themselves. This became a common practice among Hindu women to self immolate rather than falling in to the hands of the enemy.
The Muslims rulers always took the wives and family memers of the deceased Hindu kings as sex slaves and every women in their kingdom. Hence, Hindu women self immolated themselves to avoid such insult and also in honor of their deceased men.
It is called as "Jauhar".
Rajamata Maharani Padmavati was the first queen I guess to self immolate herself and became Immortal. This Brave Act has inspired others not to bow down before enemy.
However they misunderstood Shivaji.
The mother and the grandchild of "Kesar Singh" hid themselves somewhere on the mountain.
Maharaj, our Chhatrapati when found them, decided to release them with respect. The Maratha forces allowed them a free passage.
So this part attached to this mountains I am love with. This what makes these mountains so special to me.
So I share now how to reach here.
Ride further few kilometers from the Panvel Phalasphata. Take a Left turns towards "Shedungphata" and stop at "Thakurwadi" village. "Thakurwadi" is the base village.
You can avail the ST bus service from Panvel ST bus stand and reach Thakurwadi or Shedungphata.
The trek is enduring but scenic.
A local family has done a great job of creating accommodation facility at the foot hill. I don't remember their name. However you can find them on Internet . They have grown huge by now. I am hearing a lot about the family. They also provide tents to spend nights at the mountains.
No idea about the charges ...
It is challenging. Go Slow and Be careful. Specially, the steps.
The things to carry would be basic trekking gears such as a good shoe, lots of water etc etc. You can find stall operated by the villagers selling you juices and water.
Don't burden yourself ... The place is populated and you will find necessary items on your way.
To reach the pinnacle it is better you carry a rope. Lucky, if a group of trekkers arrive on the same day with you. As they would carry ropes with them. So it would be less burden for you.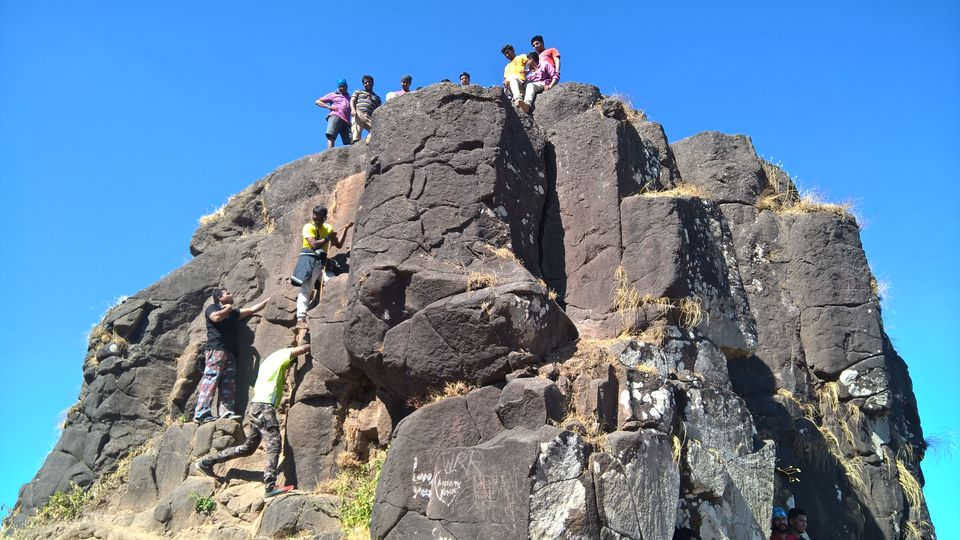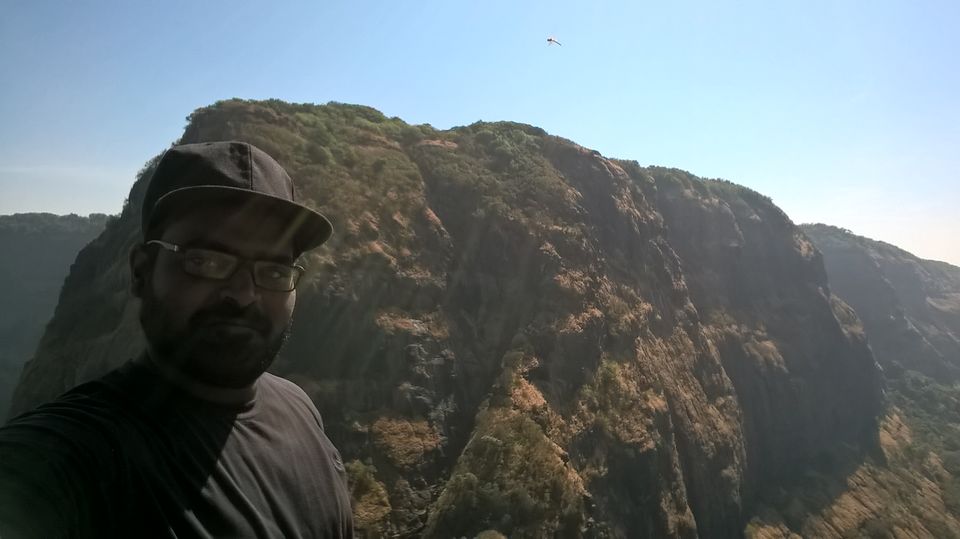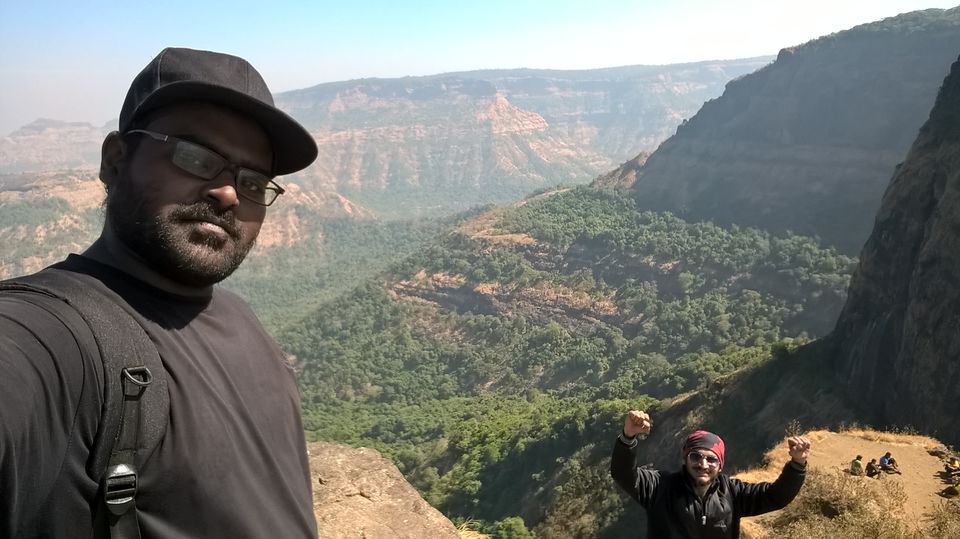 The mountain far behind is "Matheran" hill station.
Finally, Time to Pay Respect to Maharaj ...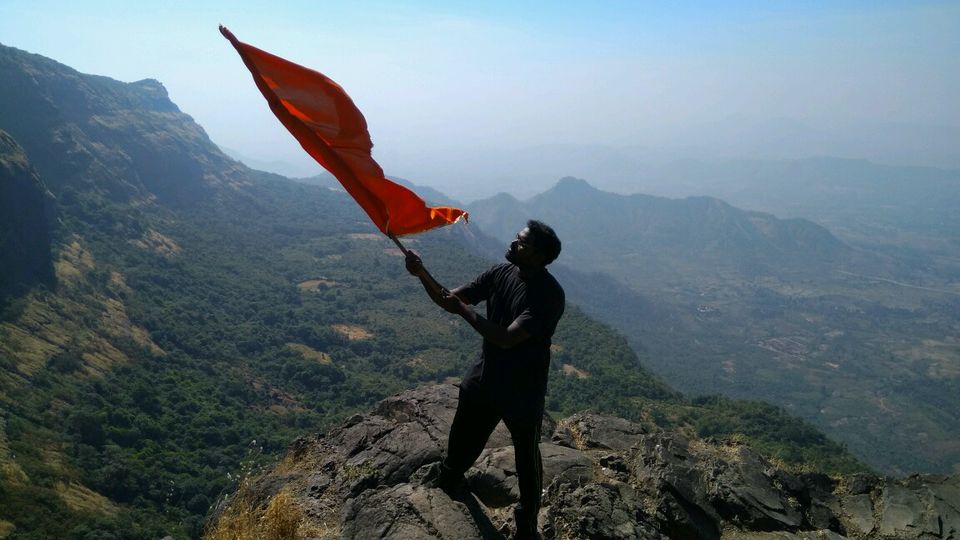 महाराज ...
गजपति ... गढ़पति ... अश्वापति ...
सुवर्णरत्न ... श्रीपती ..
प्रौद प्रताप पुरन्दर ...
क्षत्रयाकुलवतौंस
सिंहासनदीश्वर
महाराजा धी राज
राजा शिव छत्रपति की ...
ज़य ...
Thats all Folk ...
Regards,
Punter !!!