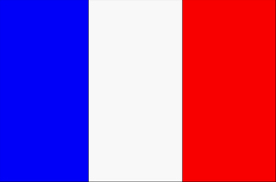 France :
A stubborn conviction that they live in the best place on the planet is what makes the French tick - which accounts for an awful lot of those zesty stereotypes showered on this Gallic Goliath : arrogant, snooty, officious, opinionated, sexy and super stylish are accolades and insults bestowed upon this cultured set who have some of the world's greatest philosophers, artists, musicians and literati in their gene pool. No surprise then to find France is a timeless land of deep rooted tradition and modern innovation, a fabled feast of fine food and wine, a place which has unfaltering romance woven into every second footstep, a cinematic trip from opulent Renaissance chateau to Persian jazz bar to electric-blue seascape.

Capital: Paris
Official Language: French

Trademarks: Baguettes; cheese; café society; red wine; designer fashion; cabaret; Tour de France.

Best time to visit: April to June, September.

Top Things To See:
* The mind blowing glacial panorama atop Aiguille du Midi (3842m), a cable car ride from the mountaineering mecca of Chamonix in the French Alps.
* How French kings and queens lived at France's grandest chateau in Versailles.
* Capital arts in Paris: Mona Lisa at the Louvre, The Kiss at Musée du Rodin, and cutting-edge contemporary at the Pompidou.
* The garden Monet painted at his home in Giverny.
* Europe's highest sand dune (Dune du Pilat) overlooking views of amazing surf.

Top Things To Do:
* Taste champagne in ancient cellars in Reigns and Épernay.
* Walk barefoot across kilometres of wave rippled sand to Mont St-Michel.
* Pedal through vineyards, cherry orchards and lavender fields in rural Provence.
* Tuck into French gastronomic art de vivre in gourmet Bordeaux.
* Motor the mythical cornices (coast roads) on the French Riviera.

Getting Under The Skin:
* Read Sixty Million Frenchman Can't be Wrong: What Makes the French so French by Jean-Benoit Nadeau and Julie Barlow for a witty insight into the French
* Listen to Serge Gainbourgh's breathless Je t'aime...moi non plus and feel your soul turn Francophile.
* Watch La Fabulex Destin d'Amélie Populain and feel like a Parisian in Montmartre.
* Eat Breton crêpes in a traditional long house encircled by a cromlech (prehistoric megalith) in Brittany.
* Drink cider in Normandy, pastis in Provence and well-aged red in Burgundy.