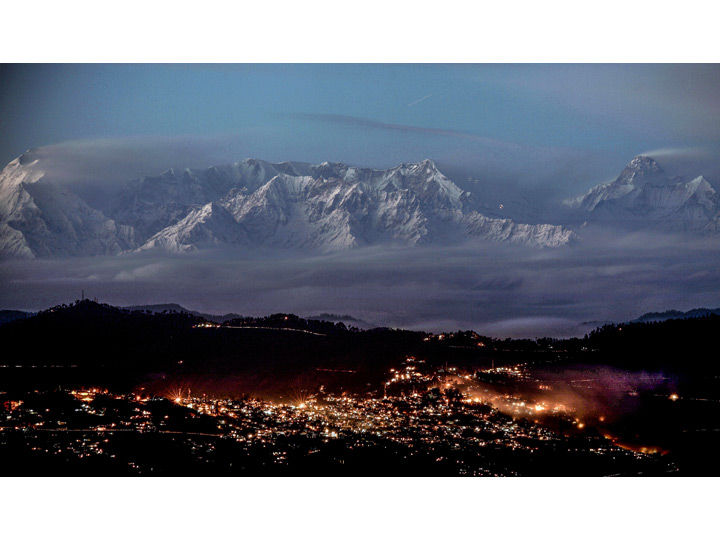 There's something about mountain air. Being urban-bred, I've always found that being in the mountains gives me more zeal and a sense of being in a happier space. I sleep better and interestingly, I think, I eat a lot better too. If you enjoy sumptuous food coupled with long walks on pretty trails to rid you of your guilt, along with friendly banter, music, stories, great company and a lot of warmth thrown in, then this festival in Uttarakhand may be the perfect reason for you to head to the hills.
What is it?
Food Adda @Sonapani is an informal three- day get-together set in a scenic village in Uttarkhand. It promises access to interesting people, lively conversations, story-telling, and music.
What to expect?
Meet a multi talented writer/columnist, a photographer and a railway officer who come together bound by their passion for food. Gouri Dange, a writer of fiction and non-fiction, with 6 published books is a keen and experimental cook. For the Sonapani festival, she will do a dramatized reading of her short story 'Patali Pannacotta', set in a palm-gur making village and in the Vishwa Bharati University at Shanti Niketan. The dessert will also be served at this time. Her second reading is an excerpt from her novel 'Three-Dog Night' featuring the Gujarati dish, Daal-Dhokli, which will also be served.
Tasneem Kausar who works with the Central Government in Delhi, learnt to cook from her mother. She will cook up a feast of traditional Lucknowi dishes using secret family recipes and will also present songs for different occasions that she learnt from women in her household. Javed Sultan, a self-taught photographer, whose work has been published in leading Indian and international publications, will bring to the table delicacies from his hometown in Bijnore (Western Uttar Pradesh). The dishes will be cooked live and the author/chefs will let you join in to be a part of their culinary stories.
Where?
Sonapani is a small private estate located in a village called Satoli, in the Nainital district of Uttarakhand. It is a serene, pretty and quaint place to relax, far away from the urban crowds. I can't think of a better place to unwind without a television set and with no WiFi connectivity. The warmth that the hosts Ashish and Deepa bring to the space makes it the kind of experience you want to write home about. The little paradise is nestled among fruit trees and vegetable gardens where 12 independent single bedroom cottages serve as your accommodation during the festival. Each cottage has one bedroom, a small dressing area and a private sit out.
When?
From April 5 at 3pm to April 7 at 9pm
Other things to do
You can choose to do nothing at all and that seems to work absolutely fine. It's the kind of place I'd want to go to when I want to finish reading a book, write something new or paint, maybe. I'd probably just sit around with a cup of chai and enjoy the snow clad Himalayan peaks. Evenings are to chat, star gaze, sing and sip a malt sitting around a bonfire.
Remember that I was saying you eat better? Apart from the festival too, Sonapani keeps up that promise. Most of the food is grown on their farm and is free of chemicals. The breads, cookies and cakes are all freshly baked, the preserves are made from fruit plucked from their own orchard. So eating is a good thing to do. (PS: Ask for the chocolate salami).
You can go on short walks or day long hikes. There are some lovely trails around and your host Ashish is the best guide to show you around. You can pluck fruit and wild berries (during season), climb trees, or take a picnic basket to a stream that is a 30-minute walk from your stay. There are a few traditional Kumaoni villages around Sonapani that you can walk to.
There's also Jageshwar, a cluster of 104 ancient stone carved temples and the Binsar wildlife sanctuary, both 2.5 hours away and the Mukteshwar temple about 40 minutes away from the property.
How much will it cost?
The cost of the 3 nights festival is ₹9,000 per per person if two people are sharing a cottage and ₹7,500 per person if 3 people share a cottage.
How to get there?
By air: The nearest airport to Sonapani is Pantnagar. Alliance Airways operates a flight 4 days a week between Delhi and Pantnagar. The one hour flights operate on Saturday, Sunday, Wednesday & Friday. The drive from Pantnagar to Sonapani takes about 3.5 hours (95 KM). Cabs can be organised for pick up/drop.
By train: You can take the NDLS- KGM Shatabdi Express or the Ranikhet Express to Kathgodam. The journey from there to Sonapani takes 2.5 hours. Cabs can be organised for pick up/drop.
By road: From Delhi the driving distance to Sonapani is of about 350 KM and takes anything between 8 to 10 hours. The route is: Hapur- Gajraula- Moradabad-Rampur-Bilaspur-Rudrapur-Haldwani-Kathgodam-Bhimtal-Bhowali-Malla Ramgarh-Talla Ramgarh-Nathuakhan-Satkhol Ashram-Sonapani.
If you've been to any interesting food festivals or have fond memories of Sonapani, write to us and share your experience. To watch exciting travel videos, check out our YouTube channel. If you enjoy what you see, hit like and subscribe.