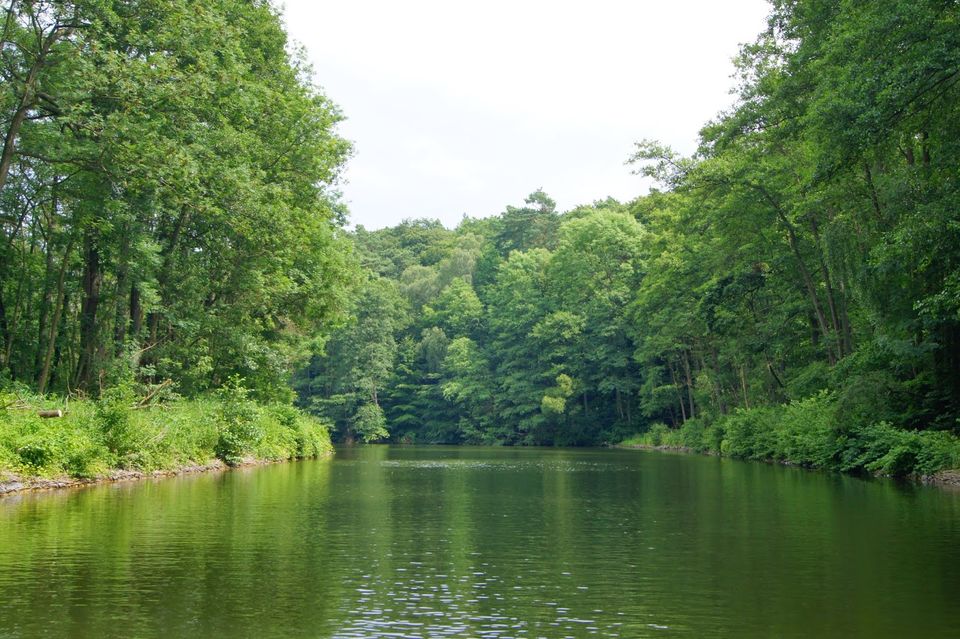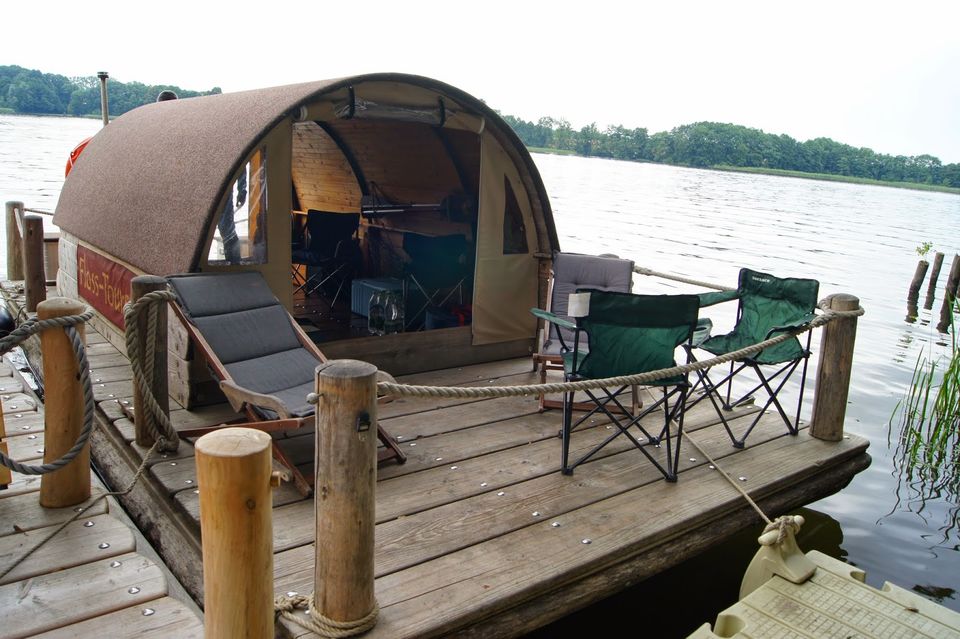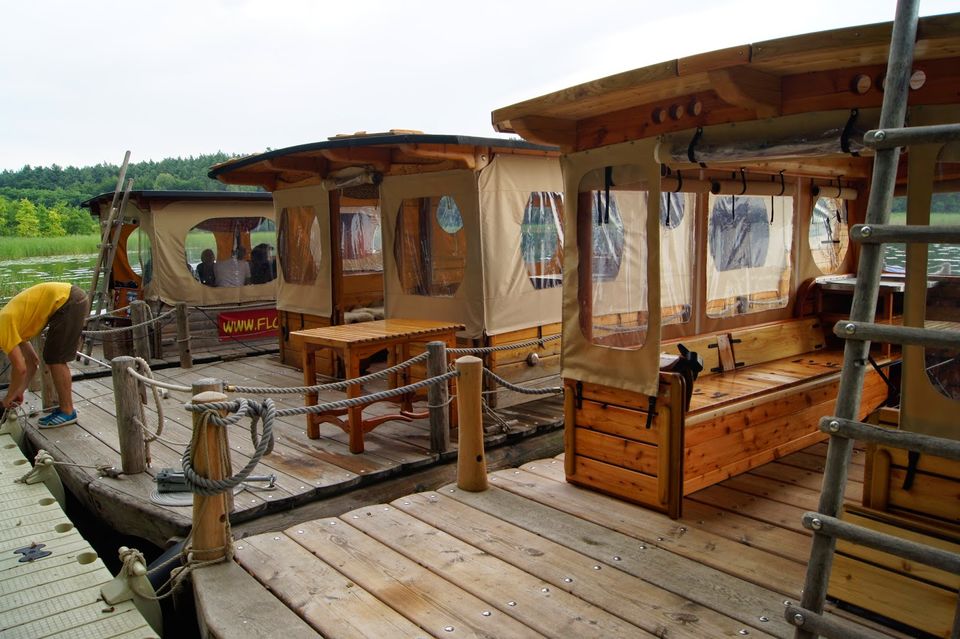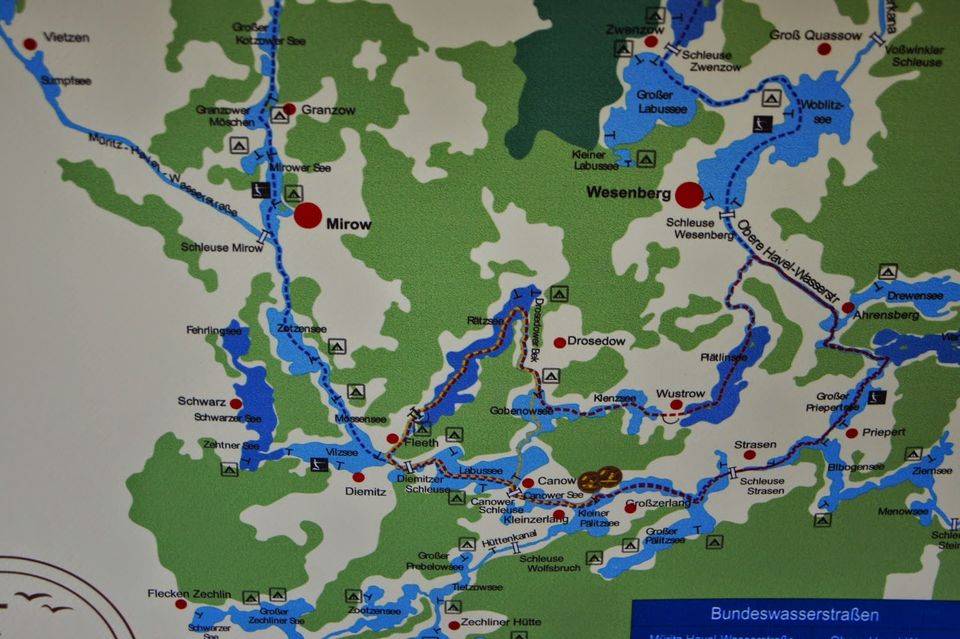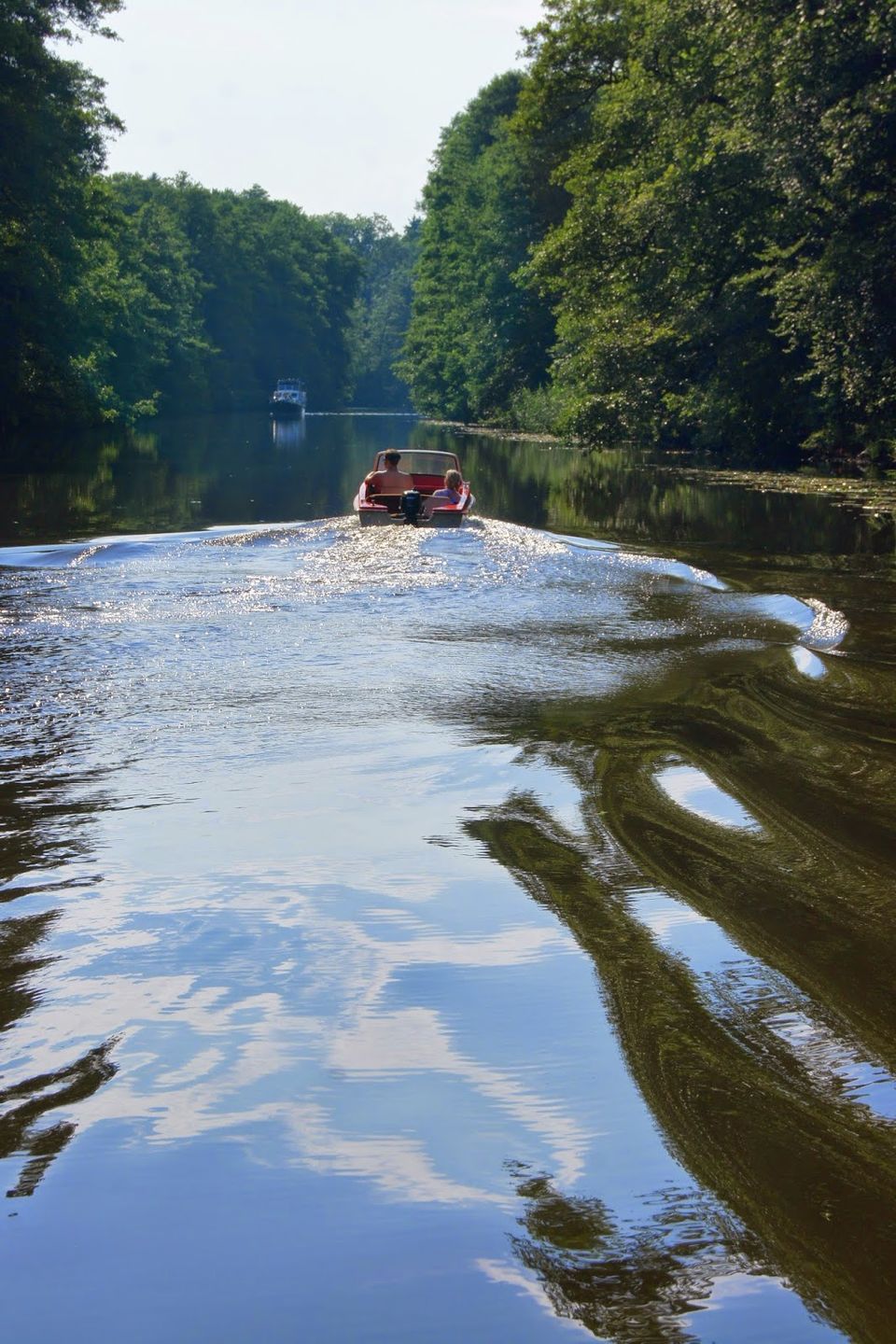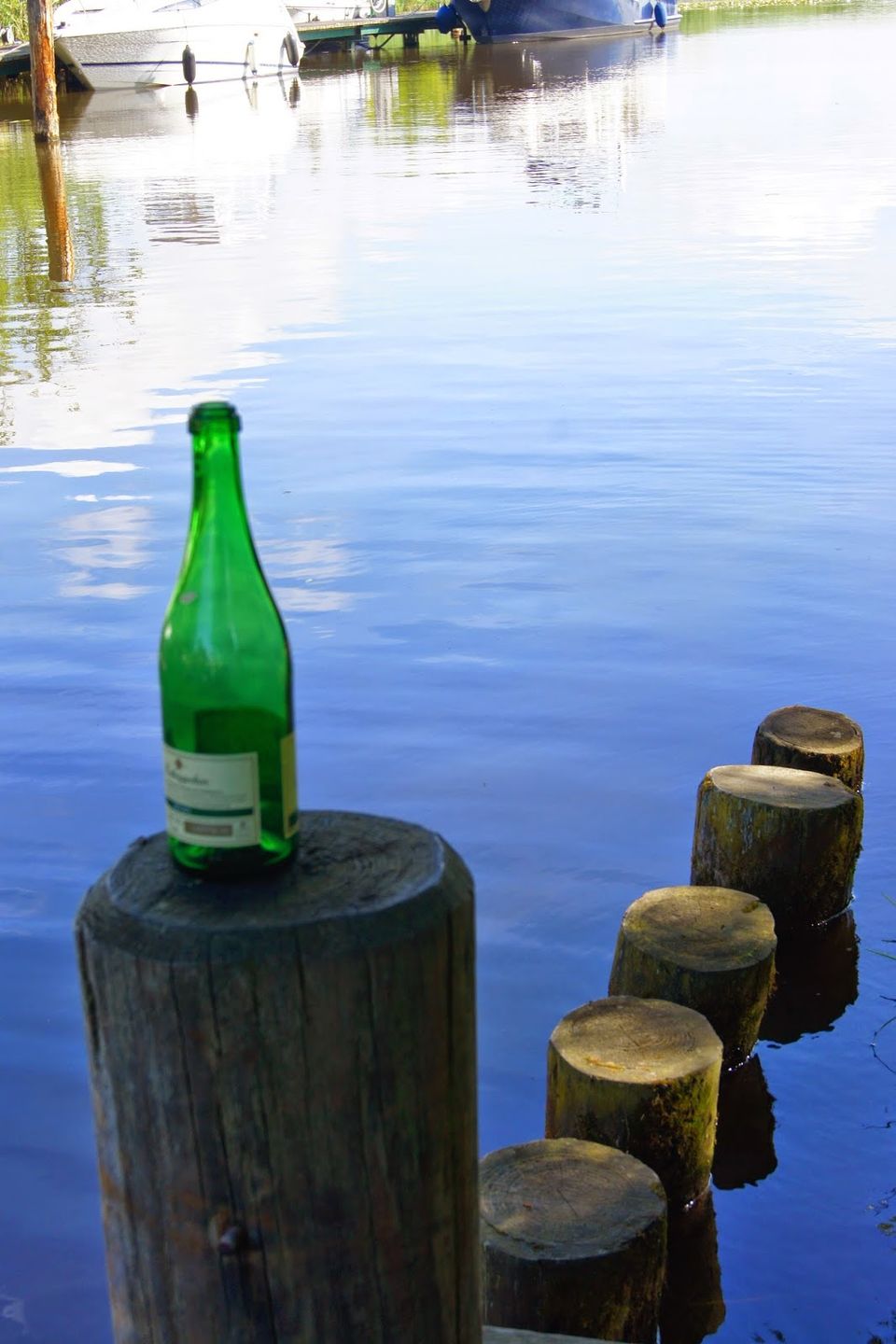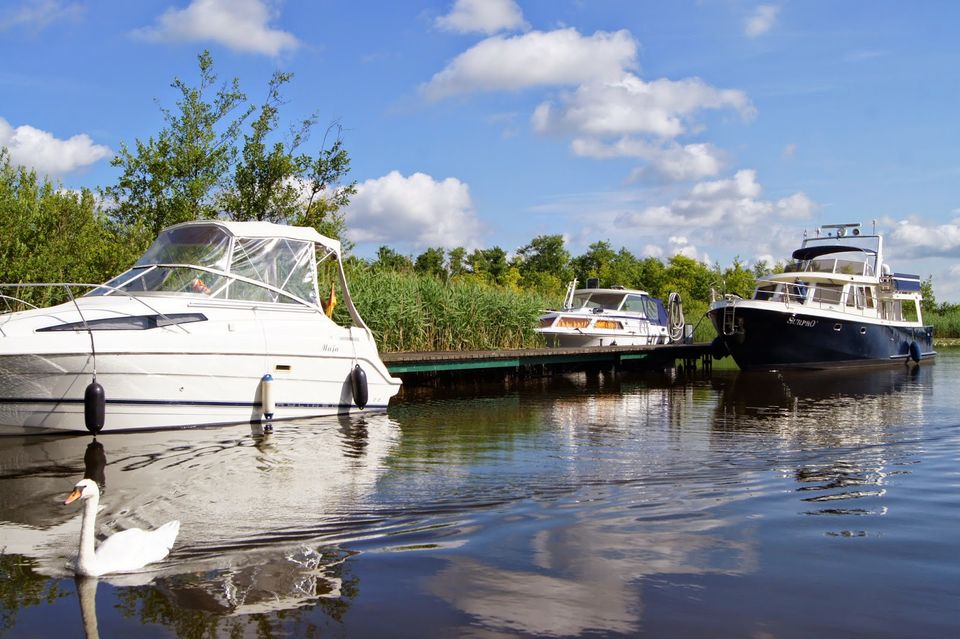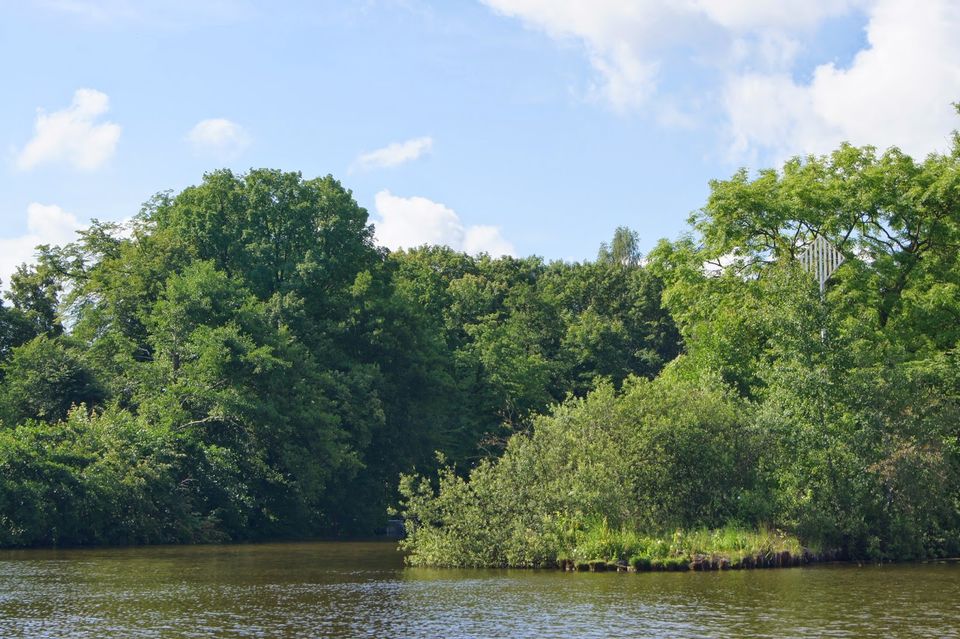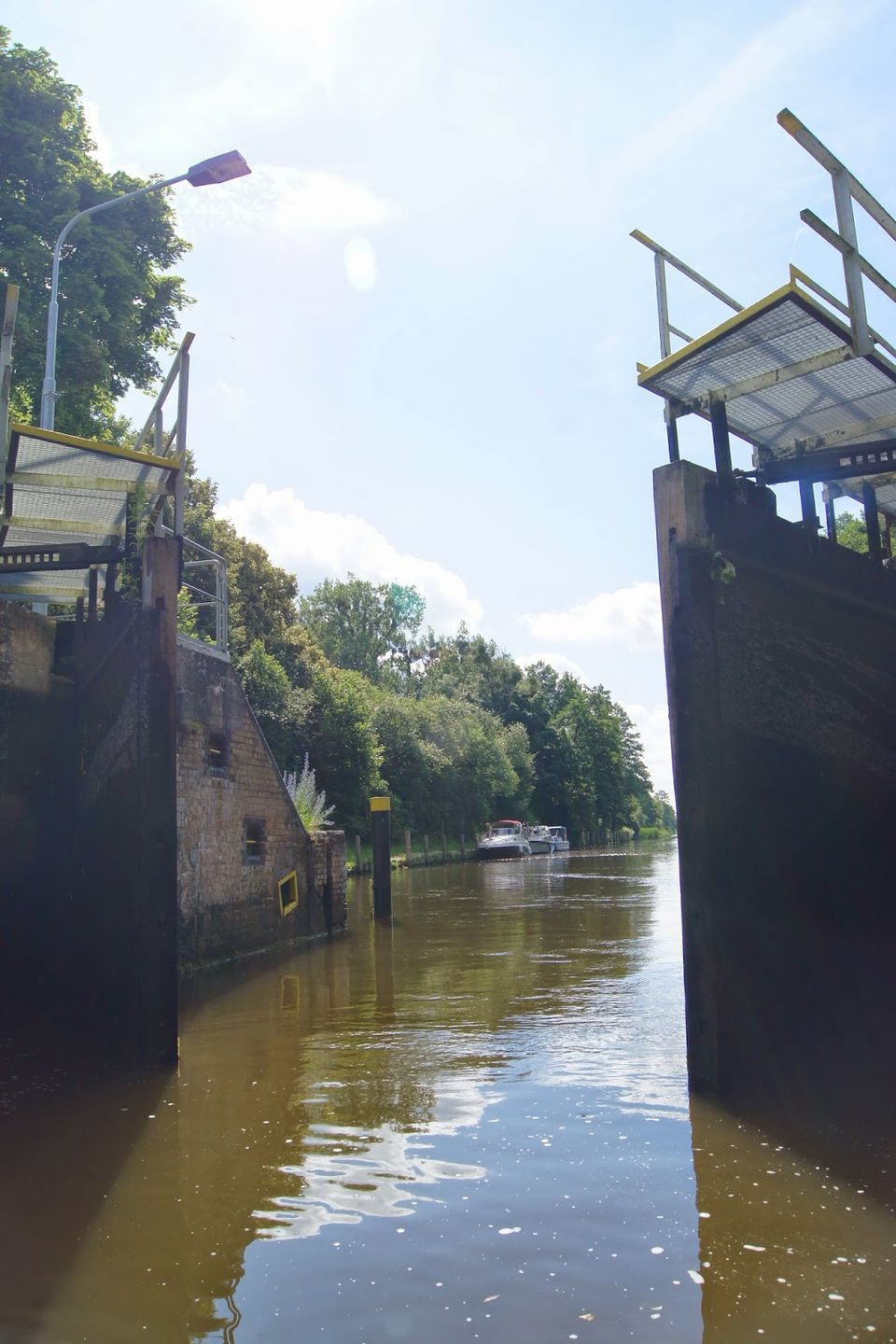 The day before I'm scheduled to go rafting in northern Germany, I have a fever of 102, body aches and a migraine. I had a tick vaccination, which carried with it some pretty hefty added bonuses. I certainly hope the vaccination was worth the side-effects. If I don't see at least one tick this summer while hiking in Austria, I will be peeved to no end. Hear that, ticks? I'm talking to you. Do ticks have ears?
We leave Munich for Mecklenburg Vorpommern at 3:00 a.m. and arrive at the campground where the rafting company docks its beautifully crafted rafts--the flat kind good for parties and lounging, not the rubber kind right for white water and drowning--at 9:30 a.m. Six lovely hours in the car.
According to the I Must Be Off! distance meter, that's 165 pop songs, 12 news reports (all reporting the exact same news, which can drive a person bonkers) and 3 talk radio programs on various topics ranging from job openings in Thuringen to the NSA/CIA spying scandal in Germany--or, according to the simplified I Must Be Off! distance meter, 226 pop songs.
"You never stop singing," says Wilhelm the Water Lily Enthusiast. He sighs. His eyes are crossed. "Isn't it grand?" I say.
"No. It's not," he says.
"Something like grand?" I ask. I know all the words to all pop songs, and I sing loudly. "I am going crazy." Wilhelm the Water Lily Enthusiast has this adorable look on his face, like the tortured to the torturer. "I hope someone's brought a radio, so we can sing on the raft," I say.
As it turns out, though, no one has thought to bring a radio. But there's plenty of wine and food. We've brought along 12 salads from our new salad company for our fellow lakefarers to try. We're all set. And as usual I have no idea what we're doing or where we're going. I actually thought we were going to raft down a river, but here we are on a lake--the Mecklenburgische Kleinseenplatte to be precise(ly German). It's an enormous network of little lakes and canals with locks and floating refreshment stands, lots of ducks and more water lilies than I have ever seen in one place. "Yay," says Wilhelm the Water Lily Enthusiast. He's already popped the top on a beer, and it's only 10:30 a.m. I guess the 226-pop-song drive from Munich was stressful. One man's concert is another man's strappado, I suppose. That's life. 
"Does anyone know how to operate a motor?" Don't ask me what kind of motor this thing has. There's a very long stick thing that you're supposed to turn this way and that with a propeller thing in the water. All of this makes the raft go apparently. "Anyone? Anyone?"
Thank God there's a 12-year-old travelling with us. My advice for the day: always bring a 12-year-old. They can do just about anything. We make the mistake of letting Wilhelm the Water Lily Enthusiast take over the helm--and not just because the word "helm" happens to be in his name--as we're nearing a lock. Luckily, just before we crash into the bank before the lock--"Your other left! Your other left!"--our 12-year-old captain saves us. I couldn't be more grateful. 
Maneuvering through the locks--if you're 12-year-oldless--might cause a tiny bit of stress. You'll need to know the opening times. We were quite lucky to reach the last lock a few ticks before Wesenberg before the lock closed at 8:00 p.m. We were cutting it really close at 7:30 p.m. Click here to find out more about the lock opening times. It's in German, but it's not hard to figure out even if you don't speak German. If you're travelling through the locks in a canoe, you'll need to wait until all the bigger boats are in the lock before you enter. Otherwise, you'll be crushed to death, which will probably ruin your weekend. 
Wesenberg. Goodness. What can one say about Wesenberg? It's a little town with a little dock for boats. We arrive in the rain to discover the Wesenberg Burgfest gearing up for a night of music and drunken frivolity. Sadly, a brief storm has caused quite a mess that no one seems interested in cleaning up. Although the rain stops and never starts again, all the benches and tables remain wet and cluttered with soggy trash. If I were in charge of the Wesenberg Burgfest, I'd have someone drying off these tables and cleaning up the place. Crack the whip, as you do. Entrance to this sad little wet "festival" is 3 euros.
The festivities rock on until the wee hours, and the drunken festival-goers make their way home loudly between 3:00 and 4:00 a.m. At 9:00 a.m. we pull away from the Wesenberg dock, littered with empty wine bottles and trash, bidding farewell to a place we unanimously dislike.
The second day on the lakes is relaxing. We put ourselves in the hands of our capable captain and lean back to enjoy the sun, the waterfowl, water lilies and getting lost. Yes, we get lost a few times. Sue us. The signs for the canals are rather hidden in the trees (Find Waldo/Signo below), which brings up a valid question: Should signs be subtle? I don't think so, but you may disagree. Thoughts?
Some Interesting Facts about the Mecklenburgische Kleinseenplatte:
More than 800 species of plants thrive here, including many orchids, rare mosses and ferns.
More than 200 species of birds make their home here (and a lot of them are ducks, just my observation).
You might see otters and wild pigs, deer and bats in the late afternoon.
In the Müritz National park just north of the lakes there are a whopping 2,600 species of birds, 800 species of butterflies, and some 1,500 species of beetles.
On the weekends, there is one species of humans here, but they number in their thousands. 
The Mecklenburgische Kleinseenplatte is truly worth a visit, and the variety of wacky rafts is impressive. But all kinds of boats are about and afloat here--from quirky rafts like ours to canoes, not-so-small yachts and speedboats with skiiers, although skiing is allowed only in special areas. Even with all this water traffic, the area seems serene.