The holy shrine of Mata Vaishno Devi is located at an altitude of 5,300 feet amidst the beautiful Trikuta Mountains in Reasi district of the state Jammu and Kashmir. The shrine is admired by many and is visited by millions of pilgrims every year for having strong belief that Goddess will fulfill what her devotee's wish from her. And, because of that without a doubt, Vaishno Devi temple in India is the second most visited temple after Tirupati Balaji temple at Tirumala.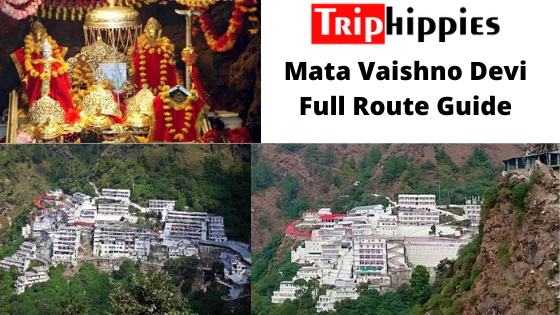 Pilgrims generally visit the temple with a group of friends and family and from those who visited the temple once; they knew that many people couldn't do 'Darshan' properly because of the rush of pilgrims. Therefore, before visiting or planning to visit the temple, it is necessary that you've a proper guide about "Mata VaishnoDevi Trip" in advance so that you can reach the temple easily and have 'Darshan' without any inconvenience. So, let's get started with the "Vaishno Devi Journey Guide":
"Chalo bulawaa aaya hai, Mata ne bulayaa hai"
Whether you're rich, poor, young or old! Everyone in India is aware of this chant. It's a belief that if you hear this call of Mata Vaishno, then only you'll be able to have darshan of Mata Vaisjno Devi after making the arduous trek to the holy shrine. Basically it's a call to take a spiritual journey to the holiest shrine i.e., "Mata Vaishno Devi Shrine".
The holy Shrine is located in Katra town of the state Jammu and Kashmir which is connected with rest of the India strongly, that means pilgrims who have their Vaishno Devi tour planned; they can reach there by various means of transport such as:
By Road: Either private or public, both accessible.
By Train: Katra Station which is just 1.4 km away
By Air: Jammu Airport lies at a distance of 49km; you can take bus from there easily.
And, once you reached to Katra, there are number of budget hotels, government accommodations and dharamshalas available for the ease of the pilgrims. Even, Shri Mata Vaishno Devi Shrine Board also provides free accommodations, rented dormitories and rented rooms; so that pilgrims will not face any kind of difficulty.
After that the first and formost thing what you have to do is, get yourself registered for the Vaishno Devi Yatra and for that visit the Yatri Registration counter near the railway station or bus stand.
Then, take a bath and heads towards the Mata Vaishno Devi trek and for that you have to decide one route for the available option of routes.
Earlier there was only one route to Bhawan with having a trek of around 13km but with time and advancement, new routes have been opened up for the ease of pilgrims as the routes cut short the distance to the Bhawan and in a way make the journey hassle-free. However, as each route has something special for the pilgrims, so one can choose any route. Also, the trekking becomes easy with pilgrims chanting "Jai Mata Di Jayakaras again and again".
While trekking pilgrims will see so many attractions before finally reaching the Bhawan, such as:
Darshani Darwaza
Ban Ganga
Charan Paduka
Ardhkuwari Darshan
Hathi Matha
Himkoti
Sanji Chhat
Bhawan: This Cave of the Goddess is the ultimate destination of the VaishnoDevi Yatra. There the Goddess beautifully adorned waiting for her bhakts and childrens to meet her in order to fulfil their wishes.
And, not to forget the "Bhairon Ghati" which people visit only after having darshan of Mata Vaishno Devi. It's a must to visit Bhairon Bhawan tocomplte Vaishno Yatra!