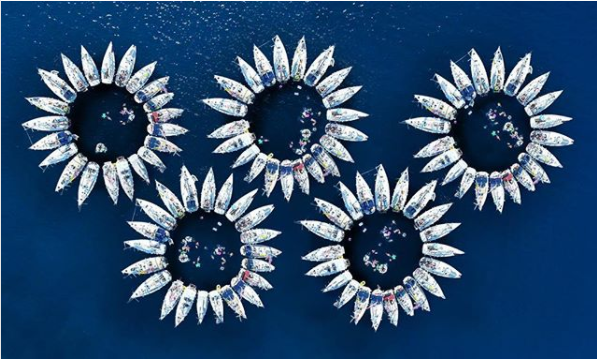 Have you ever dreamed of having a thrilling holiday on a yacht with a group of young people filled with excitement, adventure and zeal to make the most of the life. If yes then here is a chance to make this dream come true. Get ready to discover secret coves, dance all night under the stars and indulge in wonderful water sports with The Yacht Week! If endless ocean, blue skies and soothing winds are not enough of a reason to convince you then here are some more reasons why The Yacht Week needs to be on top of your bucket list.
It's ultimate squad goals
If you have been looking to go on holiday with your lifelines then this is the perfect option. You can plan your tour with 12 friends and book your own yacht. Or if you choose to go with your BFF then you may just book a cabin in a yacht. Choose from a wide range of routes available as per your preference and get ready to leave the mundane life behind. Also, it's a perfect chance to make more friends as people from across the world will join you in for a lifetime experience.
No planning worries
Planning, perhaps, is the most annoying part of any holiday where you have to take complete headache of your itinerary, bookings, hotels and what not. But The Yacht Week takes all your planning stress as they do the planning for you. All you have to do is make the bookings and you are sorted for a week. That means all you have to do is have fun.
Catch your match!
No matter how cheesy it may sound but most of us are looking for a perfect match to spend our lives, or at least a few years, with! In your everyday corporate life, you get to meet a handful of people only and that too with a blocked mind. Here, during The Yacht Week holiday, you get to meet the most free spirited people who are at their best and so are you. No need to swipe left or right on Tinder, just go with the flow. You don't believe us? Well, the majority of yachts are made up of singles aged between 25 to 30, and a 50/50 gender ratio is a must. According to research from the team, apparently there have been 86 references to The Yacht Week in wedding speeches since it started. Ready to be the 87th?
Set your social media on fire
Well, not literally of course! But imagine the number of likes that these outstanding pictures will pull. It's your chance to make those travel bloggers jealous on Instagram. The fun and food at The Yacht Week will make your Insta feed go on a roll.
The glamorous festive spirit
With people dancing to the beat of music till dawn, every yacht feels like a pub. Get ready to drench in festive spirit. The best moments is when all the yachts are moored together in a star formation to create one giant swimming pool in the middle of the sea. In between you float like a water baby while enjoying your favourite drink surrounded by beautiful views and lovely people.
Beyond the booze
Besides, daytime drinking, lots of party, music, offshore rides and food there is a lot more that a week at this yacht offers. Discover secret caves in Montenegro, enjoy a session of yoga on sea side in Croatia and indulge in water sports.
That's not all about the amazing and fun filled Yacht Week so you have to experience it yourself to feel the thrill. And here is a short video for a quick rush of adrenaline!
To know more about the dates and prices of this fantastical vacation, click here.
What's your favourite memory of a beach trip? Share with the Tripoto wanderers here.