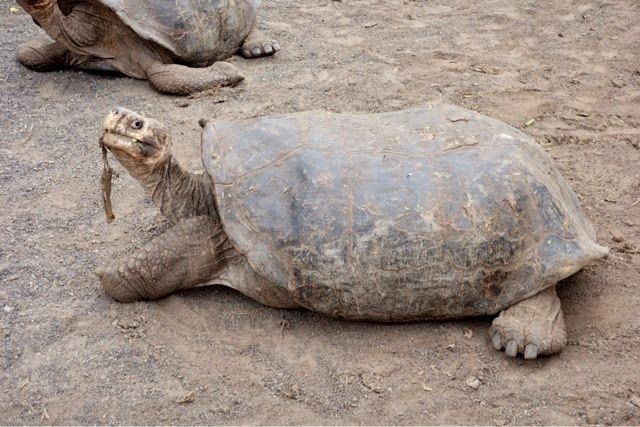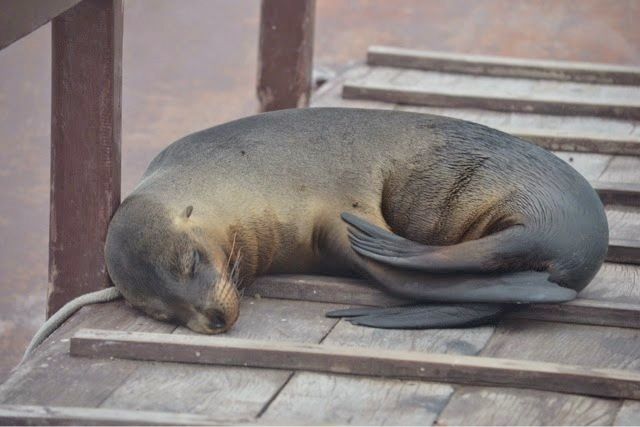 If you know one thing about the Galapagos (aside from the fact there's a tonne of cool animals) it's probably that it's really, really expensive. Well, what if I told you it didn't have to cost you an arm, a leg, three fingers and a toe? Galapagos Island cruises cost upwards of £2000, but more realistically £3000/$4980 (and that's for a "cheap" one), which meant when I thought about going to the Galapagos as part of my South American adventures, I ruled the cruise option out straight away.
Instead I opted for a land based viewing of these magnificent islands. I was going to do it on my own, no big tour companies telling me what to do and where to go – that's not for me. I spent 8 nights on the Galapagos Islands, using Puerto Ayora on the island of Santa Cruise as my base. A 6 day tour with the company Galakiwi costs about three times as much as I spent, and for a shorter duration. An 8 day land based tour with Raw Adventures costs even more! As far as I'm concerned these tours didn't do anything I didn't do, and they probably didn't see any cooler animals either. So, how much did my 8 day budget trip cost and what did I do?
Unavoidable Costs:
Flights: £278.58/$462.53
This was at the end of July (high season) for return tickets, including all the taxes and extra bits airline companies add.
National Park Entry & Visas: $110 (£66.27)
There's no avoiding these charges either. Before you leave Quito or Guaiyaquil make sure you've had your check-in bags scanned and that you've paid $10 for a form you have to fill in: your visa. You also must take $100 in cash to pay once you've landed on the Galapagos Islands. There are no cash machines at the airports and you cannot pay by card. The staff will be quite rude to you and tell you you have to leave your passport with them until you can come back with the money. Yes,we found this out the hard way.
Taxi/Bus from the airport: $16/$2 respectively + $1 for the boat (£10.24 or £1.81)
If you're flying to the island of Baltra you have a bit of a journey until you actually get to a town. First you take the free shuttle bus to the small port where you take a 2 minute ferry boat across to Santa Cruz ($1 each). When you arrive you then have the choice of taking a taxi ($16 per taxi), or hanging about until one of the buses go ($2 each). The taxi drivers will try and tell you that there's no buses into Puerto Ayora; that's a lie. There's no timetable for the buses though, they work on a "we'll go when we're full" policy.
Accommodation: £70/$116.20 for 8 nights
I travelled with my boyfriend and the two of us paid £70 each for eight nights (£140 total) in this Airbnb  rental. It was about a 15-20 minute walk from the port in Puerto Ayora which caused us no problems. The rental has three bedrooms and the owners live upstairs. The room was also cleaned everyday with fresh towels and linen provided every other day. All in all a fantastic deal!
Food: Roughly $7/£4.22 a day
Obviously it depends what you want to do for food and if you eat out at touristy restaurants the cost will be a lot higher. We ate out along a small street of restaurants in Puerto Ayora. I'm not sure there's a road name but if you walk up Avenue Baltra, away from the port, you'll see the street on your left hand side. At night it comes alive with tables outside and lots of hungry tourists and locals. You can find a two course dinner, with drink for less than $3. Compared to the more toursity restaurants where one main course will set you back about $15, this is a way to keep costs down and eat traditional Ecuadorian food at the same time.
If you opt to stay in a hostel, or Airbnb then you'll probably also have access to a kitchen. The biggest supermarket is right by the port and cooking for yourselves keeps costs even lower!
Things to do:
There's actually quite a lot of free things to do on the island of Santa Cruz, and it's a great place to use as your base for day trips and activities. There's a full post with things to do on Santa Cruz and prices here. Below is what we got up to during our 8 days.
Taxis: You can expect to pay about $40/£24.10 for a taxi to the highlands (price per car) which includes paying for the taxi to wait while you explore. All rides within the town of Puerto Ayora cost $1. Some taxi driver may try and charge $2 as a "night rate", don't pay the extra.
Santa Cruz Bay Tour $35/£21.08: The Santa Cruz bay tour is well worth doing. You can read more about it here.
Santa Fé Snorkelling Tour $60/£36.15 (If I remember correctly): This full day trip takes you over to Santa Fé island and is great for snorkelling with sea lions. You also get to visit "Hidden Beach" which very few tours, and no cruises, have access to. Lunch is included along with full snorkelling equipment. Wetsuit hire is $10 extra.
Bike rental $15/£9.04: We hire a bike for an entire day which came with helmets, maps and a tool kit (just in case!). The bikes were extremely well looked after and we had no problems at all. You can read where we went here.
Day Trip to Isabela $60/£36.15: Day tours to Isabela Island cost upwards of $90 and include transport, lunch and a couple of activities. We went to Isabela on our own so paid $30 each way for the two hour boat journey. We spent $3 on a set-menu lunch and visited the tortoise breeding centre (free). I also swam with penguins in the sea (free). You can read more about the day here.
Free: Days on the beach, Darwin Research centre, exploring the town, visiting the port, Las Ninfas..
Scuba Diving: If you're looking to Scuba dive then the best recommended company Tiptop diving charge around $150 for a full day, all equipment, 2 tanks and lunch (not included in totals as we didn't scuba dive).
Totals:
£569.06/$944.73 – This is based on getting a taxi to and from the port for the airport on Baltra.
On top of the fact that doing it yourself is clearly loads cheaper, you also get the freedom to decide what you want to do and when. Want to cook for yourselves? You can. Have you been to the Galapagos before? How did you do it?