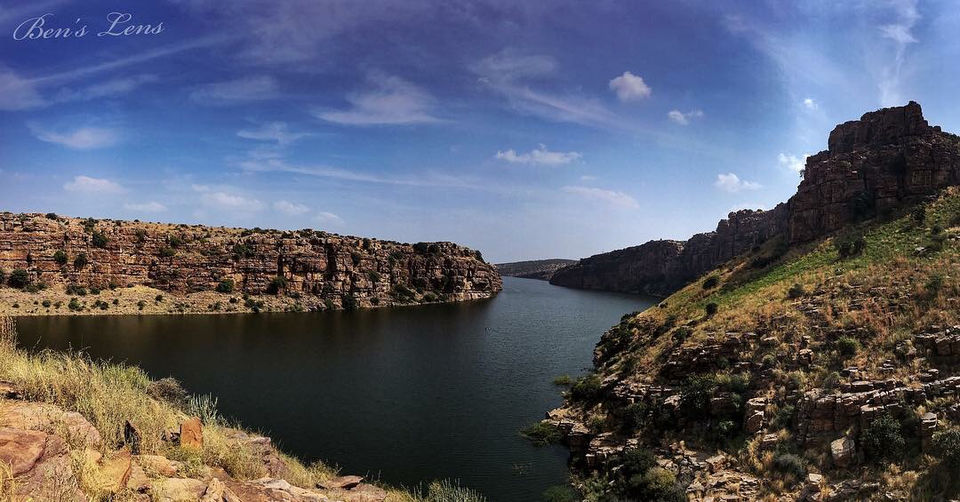 It all started when we decided to end 2017 with an adventure to Gandikot. Friday night we started from Hyderabad and reached Our destination early next day. We checked-in to Haritha resort which is the only option for accomodation and food near the fort. One can book the rooms Online and they get booked well in advance. Fortunately, we got the room for a duration of 6hours.
Without any delay, we started to the fort as we didn't want to miss the sunrise(Sunrise is a must watch) After a few meters walk we could see the fort which was built in late 12th centuary. The clock struck 6 40 and we could see the sun rise. We were spellbound watching the pennar river flowing amidst the gandikota hills with the reflection of sun rays. It was a spectacular view. After exploring the place for about two hours and capturing few DSLR shots, we started back to resort with contentment.
After breakfast, it was time for some real adventure. We got to know from Resort management that kayaking in pennar river is available. We started trekking to the foot of gandikota hills amidst the forest and a localite guided us throughout. The path had thorny bushes and the rocks were little tricky. It was calm and pleasant at the foot of the hills with few fishermen. We could hear the river flow while kayaking and it was an amazing experience altogether. We trekked uphill and started for lunch.(Jammalamadugu is the nearest town 15kms away)
After a delicious meal, we started to Belum Caves, second largest caves in India. It took us one and half hour to reach the caves. Some part of the caves were damaged due to heavy rains and entry was restricted there. But with help of a guide we could reach inside and explore few paths which weren't illuminated. After checking the caves, we came out and could see the orange colored sun ready to set. We enjoyed riding swings near the caves till the light faded and started to catch our train back to hyderabad.