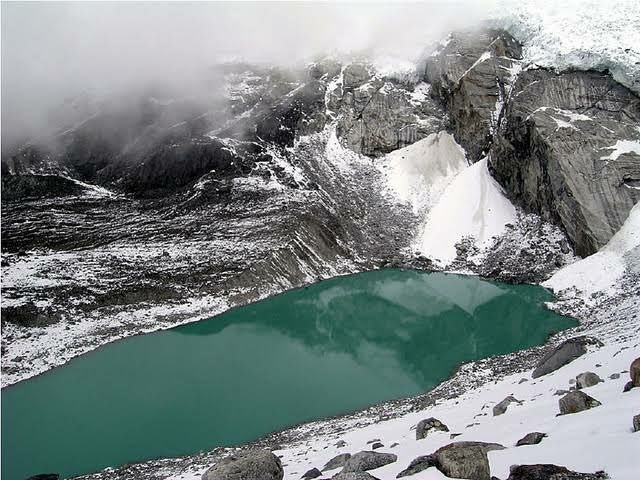 Well, before heading towards North East trip, i had heard lot about North-East. And all the things heard about scenic beauty of place was so damn true.
As soon you reach baldogra airport ( nearest airport to gangtok, sikkim ), you need to reach gangtok via road. So, we took cab from airport till our accommodation ( hotel ).  And as soon you start journey you will start exploring the astonishing beauty of north east. The startling greenery will capture your heart and route is followed by breathtaking hilly roads. you will feel the refreshing air and goosebumps during crossing one mountains to another on zig zag road.
Day 1 – Left delhi from morning flight (11.30 ) and reached baldogra by afternoon ( by 1.30 ). then headed towards gangtok via road which is approx 4-5 hours journey. Reached gangtok by 6.30 evening. so further day was rest. Just went for walk on mall road post dinner which was awesome way to end the day.
Day 2 – Early morning, by 7.30 left for the major higlight of gangtok ie.
Nathula Pass ( china border ) :- It is located above at approx 14,000 feets. The day started quite early as you cannot pass from departure point after 9 or 10 amfor nathula pass. and road trip to Nathula Pass was just exceptional. Place is amazing through out. the steep mountains journey along with spectacular views through out way was mesmerising.
After reaching Nathula Pass, you will naturally feel drop in oxygen. It takes few minutes to adapt to the low oxygen level. There are medical facilities also available in case required.
Once you settles there, you get to experience amazing mountain view. China & bhutan mountains are visible from the point and china police ( bit strict ) is located there to ensure safety. Photography is strictly prohibited. The indian military people located there will earn respect to provide us safety while living at such a height in such weather conditions.
After the Nathula pass visit, we covered two more points during return to gantok which were on the route ie .
– Tsomgo Lake – It is a beautiful lake which is frozen during winters. You can spend time during enjoying its beauty, photo sessions and yak ride.
– Baba Mandir – Baba Harbhajan Singh was an Indian Army who died near Nathula Pass. There are lots of stories & beliefs associated with it. According to army folklore was a stickler for discipline and is known to admonish those who do not toe this line. A camp bed is kept for him and his boots are polished and uniform kept ready every night. The sheets are reportedly crumpled every morning and boots muddy by evening. Legend also has it that in the event of a war between India and China, Baba would warn the Indian soldiers three days in advance. Every year on September 14, a jeep departs with his personal belongings to the nearest railway station, New Jalpaiguri, where it is then sent by train to the village of Kuka, in Kapurthala district in Punjab. As per train rule the train reserved seat never left blank, but for Baba reservation is done to travel him at his home town every year with soldiers to drop Baba at his home town.
It it recommended to leave for gangtok before it gets to dark ( i.e before 4 pm as sun sets early there).We managed to reach back hotel at gangtok by evening 6.30.
Day 2 – The next day started in bit relaxing way. The day was dedicated for local sight seeing in gangtok for first half of the day. The second half was for shopping and exploring market – Lal bazaar and MG Road.
Later in evening, went to mall road again to feel the buzz during evening. City looks so alive in evening with so many shopping outlets, food outlets, restro bars. The feel & crowd is electrifying and you feel like roaming, eating & shopping there for long.
Day 3- The day was to leave from gangtok and to head towards Darjeeling. The plan was to reach darjelling and then to have local sight seeing there. But plan got twisting on the way. While journey, cab driver suggested to cover South Sikkim.
– Tea Garden – It is amazing view of of tea garden with local tea shops. Have lots of photo sessions in greenery and enjoy cup of tea at such ambiance.
– Namchi – 8 kms from Gangtok, Namchi, literally translating as 'top of the sky' is the South district headquarters and fast emerging as a tourist destination. Set in a picturesque location, Namchi offers an unmatched view of the Khangchendzonga range and the Rangit valley. Here you can visit the Sherdup Choeling Monastery and the Dichen Choeling monastery. Around two kms from Namchi is the old Ngadak monastery which is now being renovated. Situated on a hill just above Ngadak monastery is the very attractive Rock Garden, which is full of rare flowers and plants and also offers breathtakingly beautiful views
Chaardham – It is recognised place where you get replica of chaar dhaam temples at one single place – Jagannath Puri temple, Rameshwaram Temple, Dwarka and Badrinath along with 12 jyotilingas and sai mandir.
The profile of the hill suggested that the main Shiva complex with the main statue be placed at the highest commanding point in the west direction and facing east. The entire complex is divided into four main elements, namely (1) Shiva Statue with 12 Jyotirlingas, (2) Four Dhams, (3) Sai Baba Temple and (4) Kirateshwar statue besides Nandi bull, Sai dwar, Sai Temple, Kirat dwar, Kirateshwar Statue, Shiv Dwar,Other facilities include: Main entrance gate, Car parking, Drivers room, kiosks, 96 bedded Yatri Niwas, VIP Guest house, security building- cum- auditorium and cafeteria, main prayer hall, viewing pavilion, viewing chattri, dormitory, water bodies and musical fountain.
Sri Shirdi Sai Baba Mandir – Small but beautiful Sikkim is blessed with an outstanding Sri Shridi Sai Baba Temple situated is Assanthang, a couple of kilometers away from the district headquarters of Namchi. The temple is a religious and pilgrimage center dedicated to the people of Sikkim by the honorable Chief Minister, Dr. Pawan Chamling.
After the day trip, we left for Darjeeling, which got quite late in evening which is not recommended as the route from Namchi to darjelling is thrilling and at same time bit risky. So it is favourable to reach darjelling before dark.
Day 4 – The day started too early as the first point was –
Tiger Hills Sunrise Point – To reach there, you to leave at 3 am in morning, as sun rises early there. You will reach there by 4 and mostly there is lot of rush of cars there so reaching as much early is favourable.
At 5 or 5.30 sun begins to rise which is sparkling view, Its rays falls on opposite mountain top and flashes golden rays just before rising. During sunrise you will witness spectacular view of rising sun which you can capture in your memory for lifetime.
Then during return to hotel, covered one more point –
– Peace Pagoda – The morning time plus peace of the place will make you calm and relaxed from within.
Other points covered in Darjeeling –
– Knchenjunga Mountain – The feeling to witness the mountain is awesome and worth visiting north east India. The height of mountain will make you forget every worries.
– Padmaja Naidu Himalyan Zoological Park – This is an amzing Zoo and ideal place to spend time for nature and animal lovers. Variety of so many animals and birds will make you fall in love.
Himalyan Mountaineering institute is also located inside which is famous for its mountain climbing training along with Meseum in honour of Tenzing Norgay and Edmund Hillary.
Darjelling Himalyan Railway – We planned to travel via darjelling just for one station just to have feel of it. During journey there will be lot of mountain view and Batasia Loop will be visible during the train and worth.
Tea Garden – It is the heart of Darjelling. The beauty of tea garden is umatched and superb.
After all the points it is followed by – Shopping at main market of Darjeeling, special tea Purchasing ( Speciality of Darjeeling ).
Day 5 – Left the hotel early morning as we had to catch flight in afternoon and before that we covered two points –
– Mirik Lake :- Mirik is a small and sleepy hill town in Darjeeling district and 49 kms (i.e. 30 miles) away from Darjeeling town. It takes about two and half hours by car to reach Mirik from Darjeeling. From Ghoom there is a scenic road that goes to Sukhiapokhri, a hilly locality 11 kms from Ghoom. The road continues to Mirik. So what do you experience during this day trip? It's a wonderful scenic drive through tea gardens on hill slopes. You will pass by the famous Thurbo tea estate of Goodricke as well as several others like Gopaldhara Tea Estate. On the way you will also see a lot of orange orchards.
– Nepal Border :- It comes on the route towards airport from Darjeeling. You can just visit inside, shop and spend some time there.
Also after crossing siliguri, there is town in between which were earlier Naxalite affected. The stories shared were bit scary as the route is surrounded silent , less crowded jungle area.
We finally reached Airport by 12.30 for our 1.45 pm flight.
And like this one more  memorable journey came to an end with lots of captured beautiful memories inside.