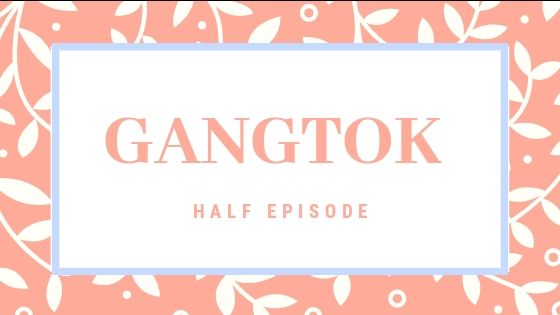 I was planning to visit Gangtok from a long time. And finally in the month of March just before my birthday it happened. Gangtok surprised me in so many ways. Met the friendliest people, explored the local sight seeing, had one of the best momos and enjoyed there local cheap beer and wine.
Hello people THIS IS GANGTOK THROUGH MY EYES.
BEST TIME TO VISIT GANGTOK        
Many tourist visits Gangtok during the months of the September to June. But the ideal time during autumn is the months of the September- October and during spring and summers that is from March to June.
HOW TO REACH GANGTOK –                
First option, You can take a train to NEW JALPAIGURI or to SILLIGURI. From there you can hire a taxi or sumo to Gangtok which will cost you ₹300 per head. Second option, you can take a flight to BAGDOGRA and from there you can book a cab to Gangtok. Either you travel from Bagdogra or New Jalpaiguri, it will take 5-6 hours to reach Gangtok. If you have a car sickness then you can book a private helicopter from Bagdogra to Gangtok, it will take only half an hour to reach Gangtok and it'll cost 3500 bucks per head.
WHERE TO STAY?                                               There is no scarcity of hotels in Gangtok. If you are traveling solo, you can also opt for hostels. We stayed at HOTEL VAJRAKILA. Located at Sichey, away from hustle bustle of town. A bit away from town but it just takes 100-150 bucks to go to MG market which is absolutely fine. You don't need to pre book a taxi. The owner can provide you a taxi at very reasonable rate. The staff was courteous, rooms were neat and spacious, food was simple, but indeed fresh. A beautiful place to relax and enjoy your holidays. The view from balcony was beautiful. We stayed there for 3 nights and enjoyed  every moment.
DAY 1:  LOCAL SIGHTSEEING                
First day we went for local sightseeing. Places we visited:
BANJHAKRI FALLS
A beautiful waterfall situated in a lush green valley. It is one of the famous touristy spot in Sikkim. It is an energy park and a shamanistic theme park. The complex is adorned by a park with beautiful sitting places, ethnic sculptures and figurines and models exhibiting the local life. Local food and handicrafts are available for sale. I somehow feel that this place gets too crowded for my comfort. Hence, remember to plan your itinerary in such a way that you visit this place during the non-travel or touristy season.
GANGTOK ROPEWAY-                    
This is one of the greatest attractions in Gangtok and should not be missed. It's a double-cable zig back ropeway. This awesome ride takes hardly 15 to 20 minutes. You can see the whole of Gangtok township. You can also get amazing views of Kanchenjunga snow peaks and the valleys.
NAMGYAL INSTITUTE OF TIBETOLOGY –                                        The institute is six minutes' walk from Deorali Bazaar Ropeway Station. To enter the Namgyal Institute of Tibetology, the admission fee payable is ₹10 per person. It is a tradition to take off the shoes before entering the place. Photography is not allowed inside the museum. It preserves the glorious past of the country, the religion and its precious culture with utmost dedication and that shows in the excellent collection in the museum and the library. 
GONJANG MONASTERY-                    
The monastery is a dip in the rich history of Tibetan culture and Buddhism. The monastery is on way to Tashi View Point, The monastery looks impressive from outside with a massive Buddha figure inside. The setting is beautiful surrounded by hills. There is a huge open space in front that faces the mountains. If you would like to spend a few moments of peace and quiet on your trip to Sikkim, then a visit to this monastery would be ideal.
LOCAL THALI-                                         
After visiting Ganjong Monastery, we had a scrumptious local thali as suggested by our driver bhaiya in a restaurant which is near the Monastery. 
TASHI VIEWPOINT-                                
It is one of the major attractions of Gangtok. The place is a must visit for nature lovers as it offers great views of the imposing Himalayan mountains, specifically Mount Kanchenjunga. If you are looking for a place to refresh and rejuvenate yourself, then you must visit Tashi View Point. The place offers you a pleasant ambience where you can enjoy the cool breeze and have a look at the beautiful scenery. The view point is one of the best places in to enjoy beautiful views of Gangtok.
PLANT CONSERVATORY-                      
You will be enchanted by the lush greenery and the colourful flowers. More than 50 different species of trees are present inside the garden. The garden also has a greenhouse, where different types of orchids are grown, and a small recreational centre.
DAY 2:  EXPLORE GANGTOK                      
On second day, we planned to visit Nathula but bad weather  ruined our plan. But instead we explore more of Gangtok. There's nothing that Gangtok does not have – fine dining restaurants, busy market and malls – you'll find it all here! Here are few things we would definitely recommend:
1. Visit the busy MG Marg and pick up souvenirs for friends, family, and for yourself. There are many small gift shops at MG Marg where you'll get really cool stuff at cheap rates.
2. Sip some wine and enjoy delicious meal at OSM RESTRO AND LOUNGE, located at MG MARG.
3. Visit BAKER'S CAFE to sip some coffee and had some waffles or you can enjoy a mocktail with a corn and pepper crostini.
4. If you are a Biryani lover just like us then you should definitely visit KHAN UNCLE'S BIRYANI HOUSE. It is located at New Market. It's worth trying. Apart from tasty biryani, you need to also visit this place for the innovative Bollywood posters they have.
5. If you want to taste the best momos then you should visit TUMMY YUMMY. They serve one of the best momos.
DAY 3:  SIGNING OUT                                  
Our Gangtok trip ends here. But if you have a few more days on you, we highly recommend visiting North Sikkim. We were unable to visit North Sikkim and Nathula due to paucity of time and bad weather. But will definitely re-visit Gangtok to explore Nathula and the entire North Sikkim.