Ganpati Gadad is an easy trek located near Murbad in Maharashtra. The trek was planned on 31st July 2016. It was just me and my friend Kashyap who had turned up for the event. All other's who didn't join us missed being a part of this beautiful trip.
HOW WE REACHED
We started early in the morning. First we reached Dadar and boarded 6:30 AM local train to reach Kalyan. We alighted exactly at 7:40 AM and quickly shifted to the ST bus depot which is just a few meters away from the railway station. Our transit route was: Kalyan – Murbad – Dhasai – Sonavale.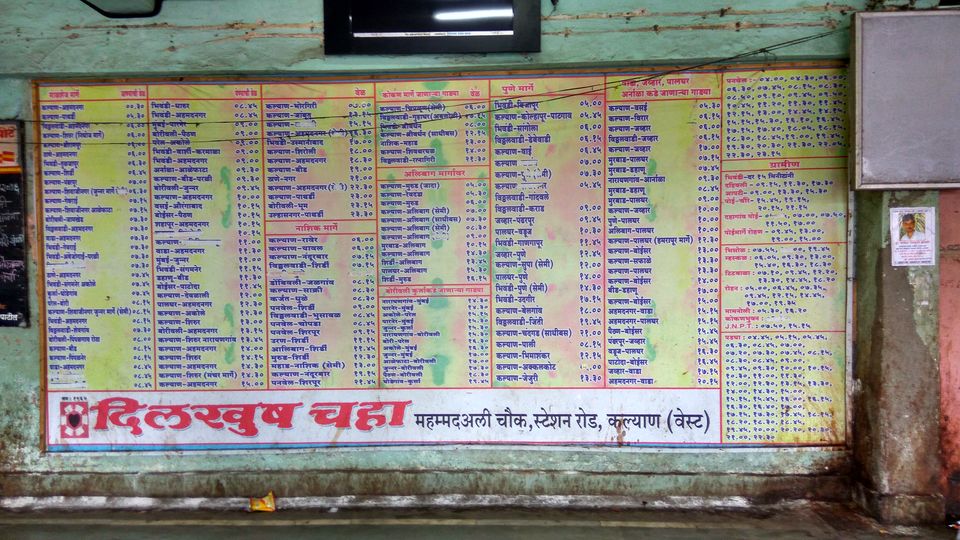 We inquired for a direct bus to Dhasai or Sonavale but there wasn't any, so the only convenient way was to reach Murbad first, for which buses ply at regular intervals. We boarded a bus at 8 AM which was just about to leave for Murbad.
The bus journey was comfortable and less crowded. I don't exactly remember the cost of the tickets but it must have been less than Rs. 50 for the two of us. It was a 40 minute ride which covered around 30 km. On reaching Murbad bus depot we asked for any buses going towards Dhasai or Sonavale. We would have to wait for around an hour for the bus. So we searched for other options. There is a tum-tum stand just opposite to the bus depot.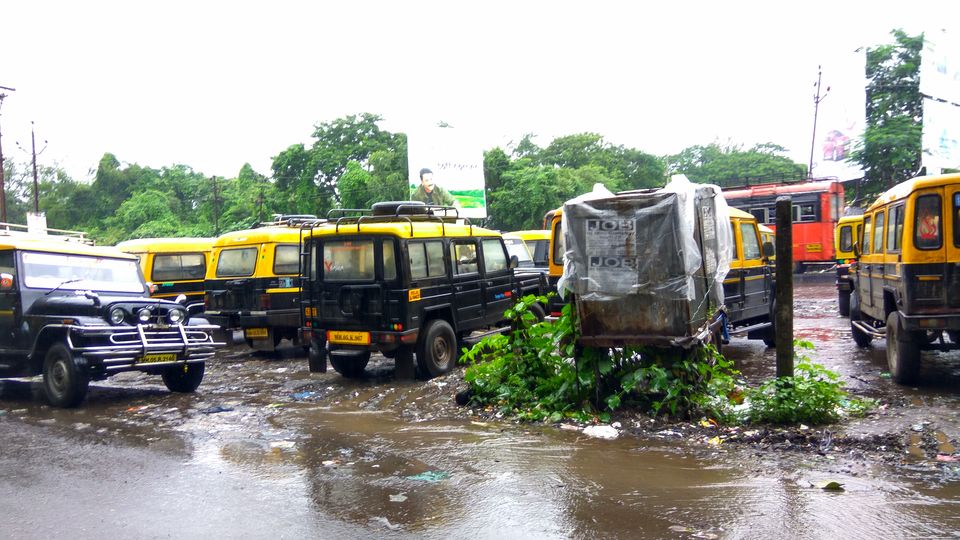 We had some waiting time until the tum-tum got full with passengers because they work on sharing basis. After refreshing, we left at 9:15 AM for Dhasai which was around 25 km from Murbad. It cost us around Rs. 20 per head.
The 45 minute tum-tum ride to Dhasai was enjoyable as we acquired the front seat besides driver. It was raining throughout as we passed via lush green fields making us feel fresh and lively. We reached Dhasai at around 10 AM and we had to change another vehicle from here to reach Sonavale.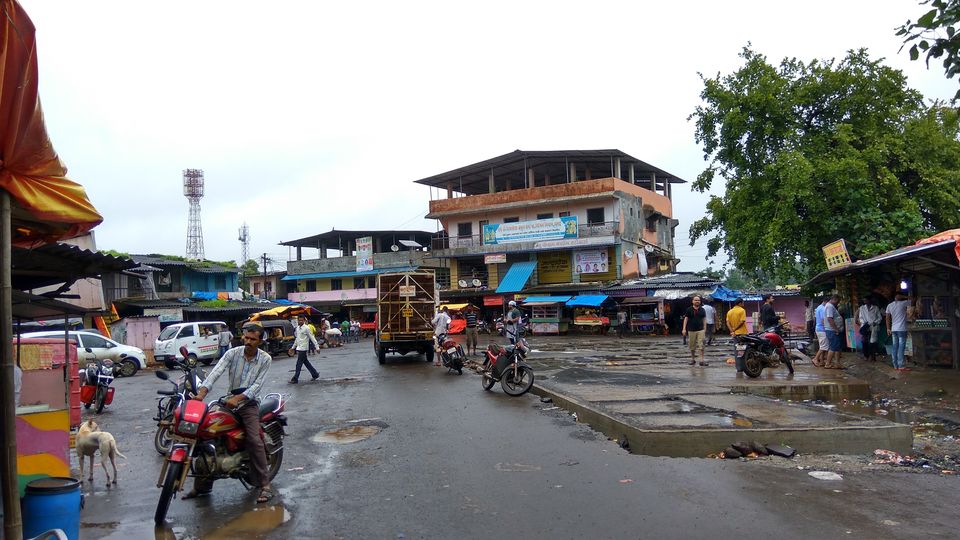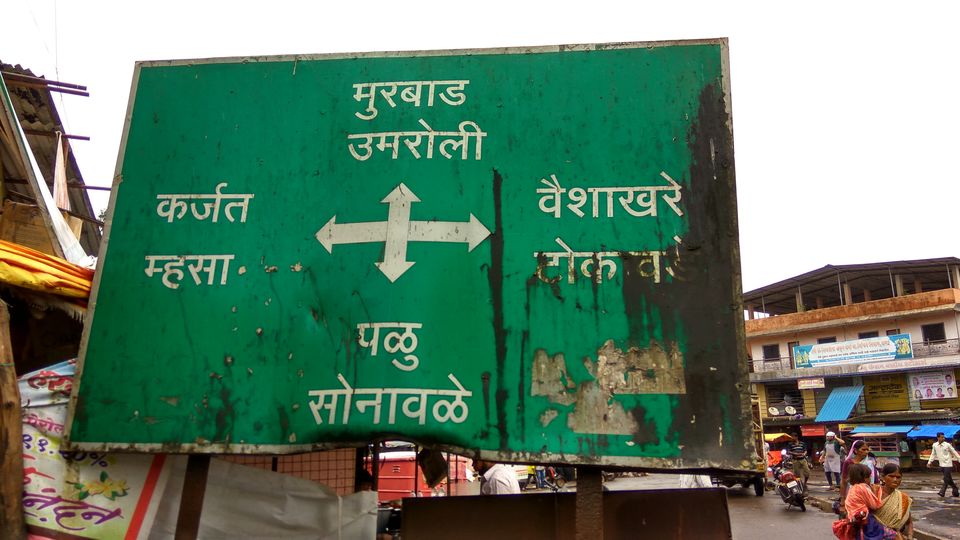 We located a sumo which would drop us for Rs. 15 per person but again we had to wait for the passengers. So we decided to fill our empty stomachs. Later, we moved to Sonavale which was just 8 km and took us 20 minutes to reach. We were dropped at 10:50 AM directly at the starting point of the trek.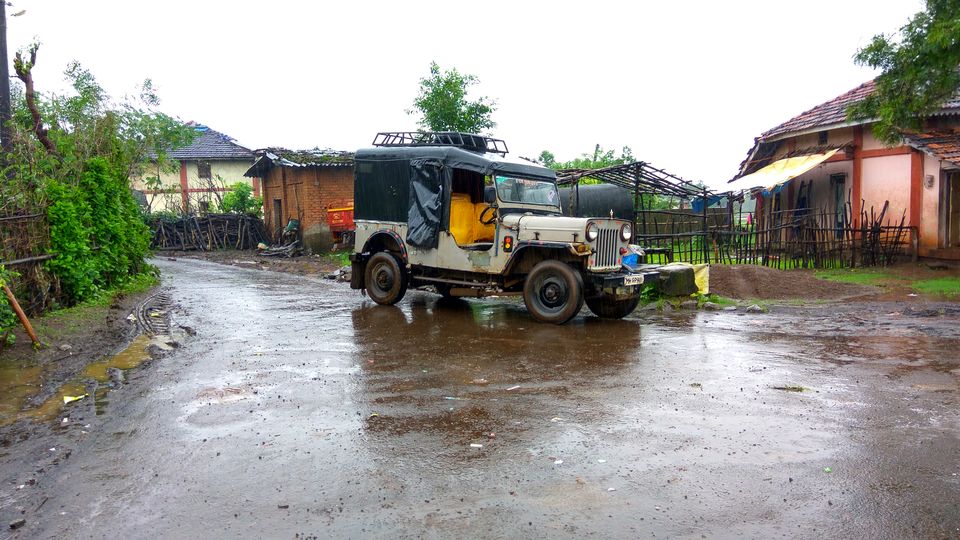 THE TREK
We met a guy named Amol who traveled with us in the sumo. When we got down he immediately approached us and asked if we wanted a guide. He was insisting for Rs. 500 for which we were not even ready to negotiate. Eventually he agreed for Rs. 100. We started at 11:10 AM from this small village called as Palu or Sonavale. It is a beautiful village with well built houses and solar panel electrification. We entered into rice fields as we moved forward. There is no such route indication. One has to traverse through farms to join the main trail. Surely, it would have been tricky for the two of us to locate the path as it was raining continuously and the route was flooded. Apparently, Amol kept taunting us for the same; most certainly because we didn't agree to pay him a decent fee. The trek seemed easy. We crossed multiple water streams on the way which was fun and joyful. Just when we were entering into forest I saw a small kid descending. It feels so good to see parents motivating children into adventure activities. At 12 PM we had our first view of Ganpati Gadad and had completed half of the trek. We clicked some pictures and gazed at the heavenly landscape in front of us.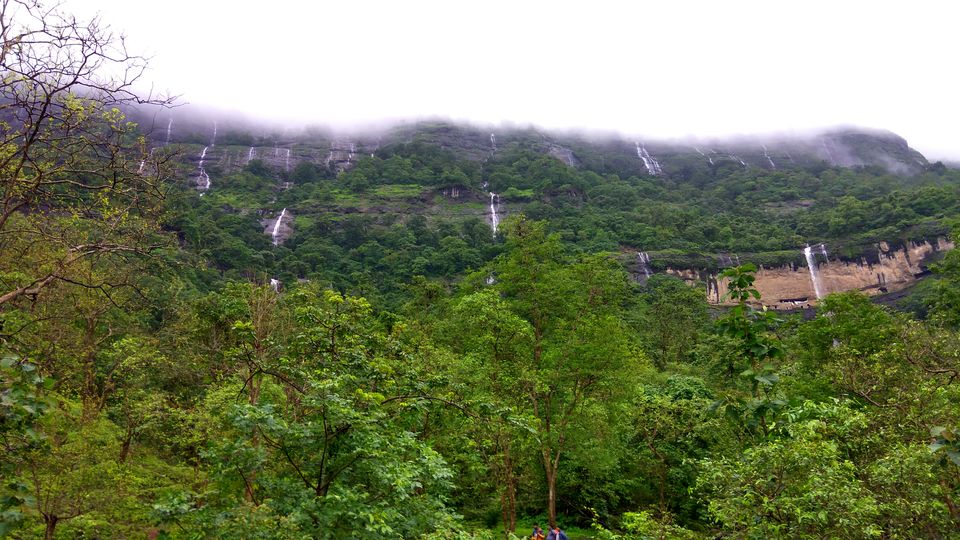 It was still drizzling. After resuming we reached a huge waterfall where many people had accumulated; some were trekkers while others were locals. As we moved ahead, the trail started gaining elevation. There was a stall of a villager on the way. We had a cup of tea and refreshed ourselves. The final section of the trek is steep but easy as there is a lot of vegetation. We also walked through a small waterfall before reaching the caves. At 12:45 PM we were at our destination.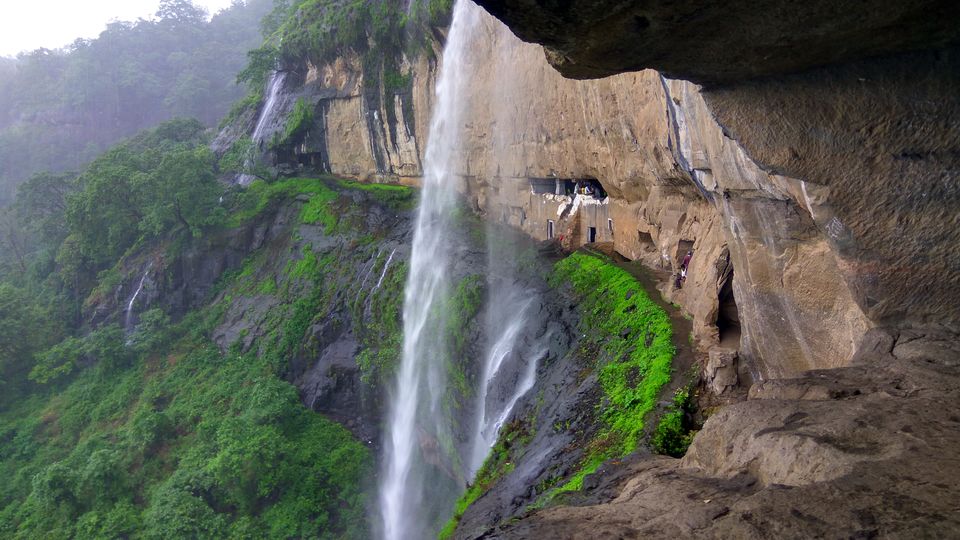 There were around 5-6 caves and a couple of water tanks which were empty. The cave which is in the middle has idols of Hindu deities Ganesh, Hanuman, Ram, Lakshman & Sita. Amol said that the place is fairly crowded during Ganesh Chaturthi festival. We went to the last cave and relaxed ourselves. The view was mesmerizing. Amol's friends were already there; they had lit up a camp fire so that we could dry ourselves. After a long photo session we had our lunch together. Amol gave us a lot of information throughout the trek. He was happy with our friendliness and invited us for night camping. As we exchanged phone numbers, Amol said he would arrange everything for us if we wished to visit again in winter.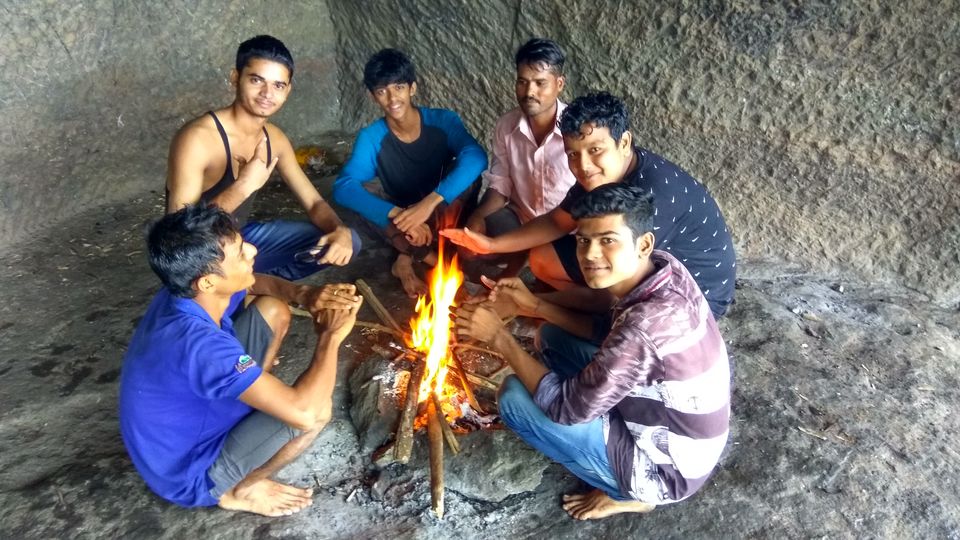 We started descending at 2:30 PM. Climbing down was very easy. Amol asked us to hurry as there was a bus at 3:30 PM which would directly take us to Murbad. Getting other transport was very difficult as it was a Sunday. We followed his advice and rushed ourselves but eventually didn't make it on time. We encountered a giant skeleton of a snake on the way. Amol also showed us a couple of hill forts in the distance. He also said the location is frequently visited by Tigers and shared his stories with us.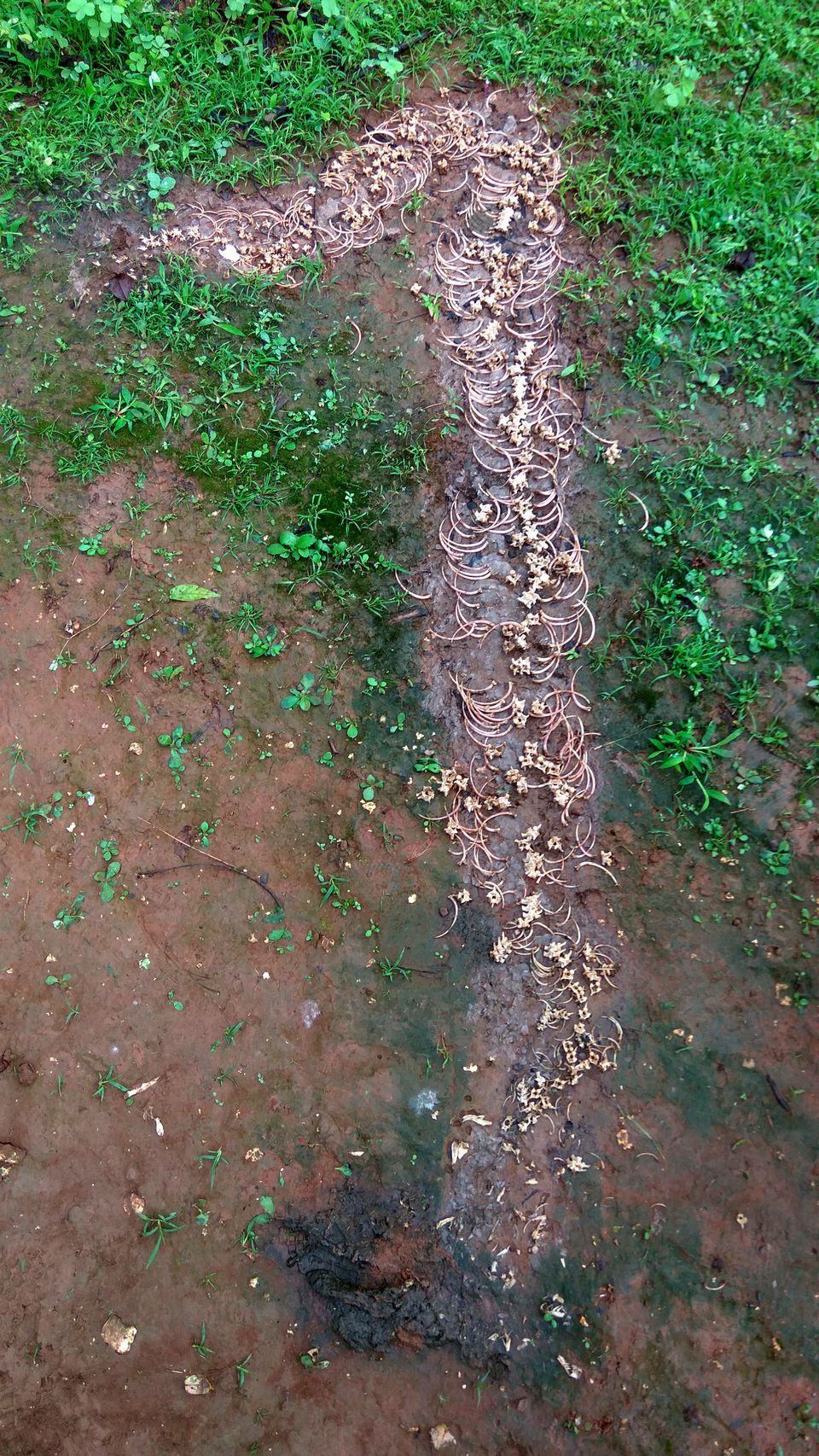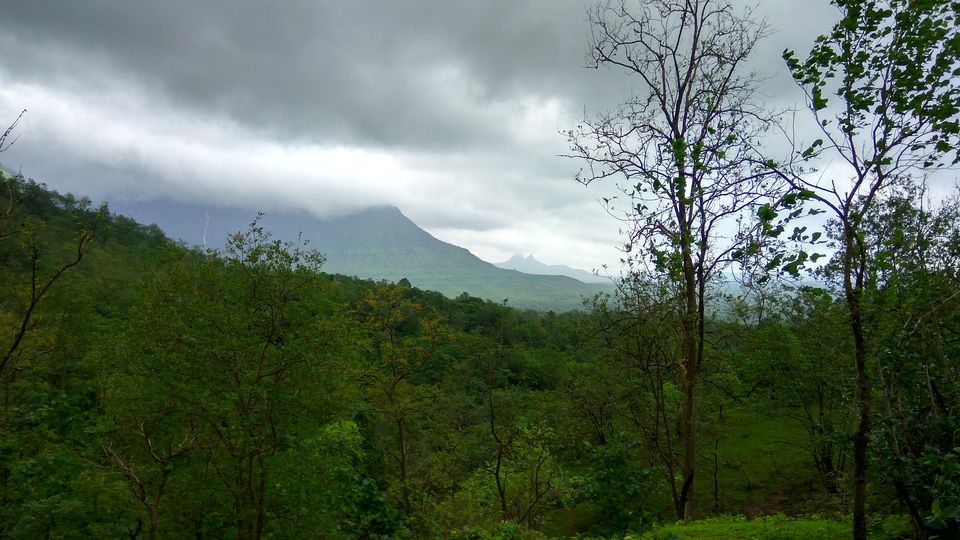 We reached base by almost 4:00 PM and paid Amol 200 bucks for his valuable information and hospitality. He told us to call him if we didn't find any transport. In some time Amol turned up with his bike and decided to drop us till Dhasai. We felt so relived and thankful as we were stranded. From Dhasai we moved via tum-tum to Murbad and from there to Kalyan. We reached home on time and I had already started planning for night camping at Ganpati Gadad.