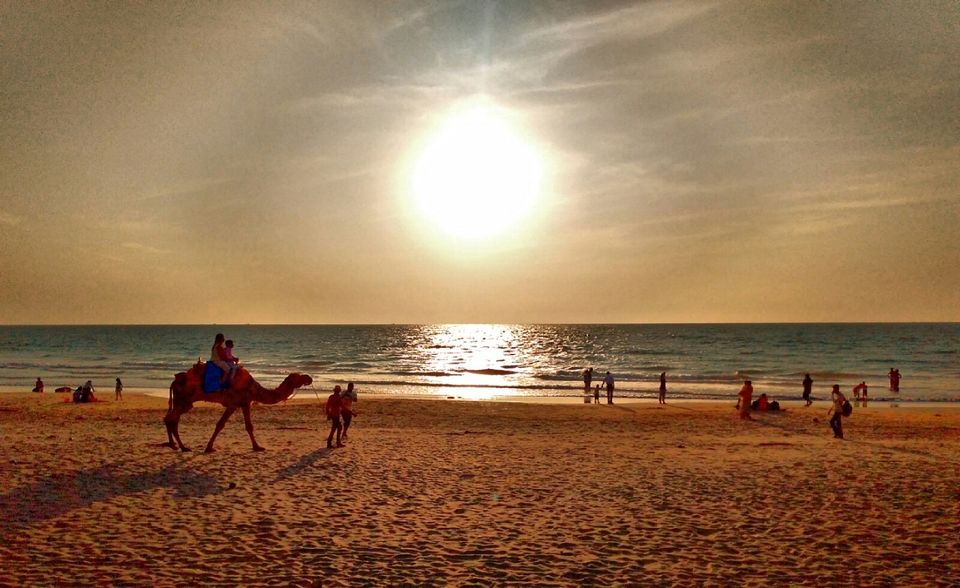 At an hour's distance from Ratnagiri is a place called Ganpatipule, that gives a very serene view and experience of the Konkan Belt.
Transport:
I am trying out rails this time and not the roads to travel.
I am writing this in middle of the trip and the best part till now has been the train Journey from Mumbai to Ratnagiri.
We booked seats in the Tejas train through IRCTC site. For me, this happened to be the most sorted experience touring indian trains.
The train provides comfort seatings, food, beverages just like any another flight does. The highlight of all is a small personal screen with cool User interface fitted on each seat that has mix of music, movies and others.
You can enjoy them with the pair of your own headsets or they provide you for a charge of RS 20. A port to charge your electronic devices is also available on each seat. This is - the most equipped distance train of Indian Rails.
I can add a five star to this experience. Check the gadget in the below pic.
The train runs to and fro from CST to Karmali (north Goa). We got into the train at 6.30 am at Panvel and we reached Ratnagiri by 11 am. 4 hours - that's it!
Ratnagiri to Ganpatiphule:
We did our booking beforehand and therefore we avoided any last moment negotiation on transport and hotel booking. This cool rickshaw driver took us to Ganpatiphule for 500rs. The fare is comparatively ok for a 41 km ride. We halted on the way to capture the beauty that welcomed us.
ShreeSagar Hotel: The location is at walkable distance from the beach and close to the Mtdc resort. Hotel has been good till now and we had a decent Veg lunch at this hotel itself. ( This hotel serves only veg). The climate here is so chilled and you will always have a chilled wind blowing even during day time. We would have the fans too switched off and air conditioning was not required at all in this season.
With the pleasant climate still to our company, we planned to catch up some rest and go for a sunset view at the beach which is 7 min walking distance from this hotel.
First we visited the Ganpatipule Ganesh Temple, we were touched by its simplicity and busy but silent ambience. The temple holds it is very own uniqueness - the idol is a self emerged structure.
As the sun was still up there, we took a chance to break for chai and snacks. There are lot of shacks to treat with snacks and coconut water for refreshment.
We held our ground viewing the sun till dusk and enjoying this leisure time.
It is an amazing view if you get a jet skie ride during this time with sun closing down on the sea. (Other Water sports are also available if you are interested).
After we had spent some amazing time at the beach, the next stop was dinner. We decided on the MTdC restaurant Tarang to treat us with the coastal delight. And they didn't disappoint us. The food was too class, because we were so close to the sea, we were sure of getting fresh and awesome seafood. The food took time to come but was worth of wait.
Few recommendation in starters which are my personal favourite are, Surmai and pomfret tawa fry, prawns Koliwada, and Solkadi (refreshment drink).
The main course too was delightful, the fish curry and steamed rice happens to be the best combination. We also ordered for a single seafood thali that allows us to decide on the fish we want. Our stomach was full but the taste buds were marinated with the Malvan masala and already were asking for more.
And the hogging Continued....
Day two was planned well as we had only come here for the weekend. We started with a dip in the sea. The water was cold but the sun was bright and helped us keep warm. We wandered across the beach like there is no end to this time... A rather unknowing friend met us at the beach, this was a conconut vendor, he treated us with his warm welcome and gave us super cool coconuts to drink. He not treated us but also made a small souvenir for us. This was something unusual and very skilful we saw. He made cricket bats out of coconut scraps. He kept the crowd pulling to his stall by this and welcomed them warm heartedly. Cool stuff.
As we enjoyed the tender cocunut and moved along, and after a refreshing breakfast, we planned to go the museum which was also in a walkable distance 10 min from the Hotel.
The prachin Konkan guide gave us a brief description of the various professions and botanical benefits of the plants in the arena. It was a nicely made and restaurants served the giant Modaks for which we were craving for.
It was layered with mouth watering shudh Ghee.. "You need a silver fork to enjoy good food."
We ventured through the area spending more time on various stalls.
It was then time for lunch, and then we had our train scheduled for Mumbai. Not thinking much, the best option was again the MTDC restaurant, Tarang. The appetite was there, and we enjoyed the most beautiful weekend enjoying the sea view and eating sea food.
I would never mind going here often. If you can manage a stay in MTDC, it would be the most amazing weekend spend. It offers you everything from view to food.
As all good things come to an end, we had to say good bye to this place and take off for Mumbai. This place is definately a destress zone and way away from the hush bush of the city. It gives you cleaner air and gives a smile for your lungs. With good people all around giving you warm welcome, and with beautiful landscape to make you Awww and then food that makes your trip endlessly delicious ..... I rate it as one of best travel experience I ever had ... :):):):):) (Five smiles)