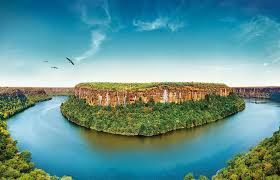 The place is picture perfect like a painting made by god himself. It is a natural hidden gem situated near a kota. At an altitude of 500 feet from sea level. There is a huge u turn loop made by a great chambal river which increases its beauty between gigantic cliff. It is just 40 km away from kota city and there is a great natural scenario. There is a temple of lord shiva which makes it as a pilgrimage destination.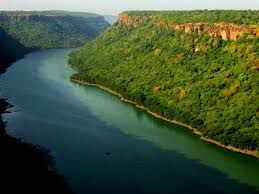 river view
It is covered by a Aravali mountain range and there is a dense forest which felt sometimes scary. Due to a forest-covered area there is sight seeing of wild animals just like leopard, bear, deer, and it is also famous for its bird sight-seeing there is around hundred of species of bird found there. Sitting on cliff you may catch a glimpse of the crocodiles, turtles etc. This is famous attractive destination for wildlife lovers and naturalists.
It is maintained by a forest department of Rajasthan. nowadays it comes in mukundra hill tiger reserve which is reserved area for wild animals specially for tigers so you take permission for entry with a certain nominal monetary charges with a parking lot and you enjoy the glimpses of nature.
How to reach …
Address: garadiya mahadev road, Daulatganj, dabi, rajasthan 323022
Nearest railway station: Kota junction
Nearest airport : Kota airport
It is just 40 km away from Kota city Centre , by a taxi easily you reached here it is situated on Kota- Udaipur highway.
PUBLISHED BY
mayank12sharma
"to move , to breathe, to fly , to float, to gain all while you give to roam the roads of lands remove...... to travel is to live" keep travelling ....keep exploring