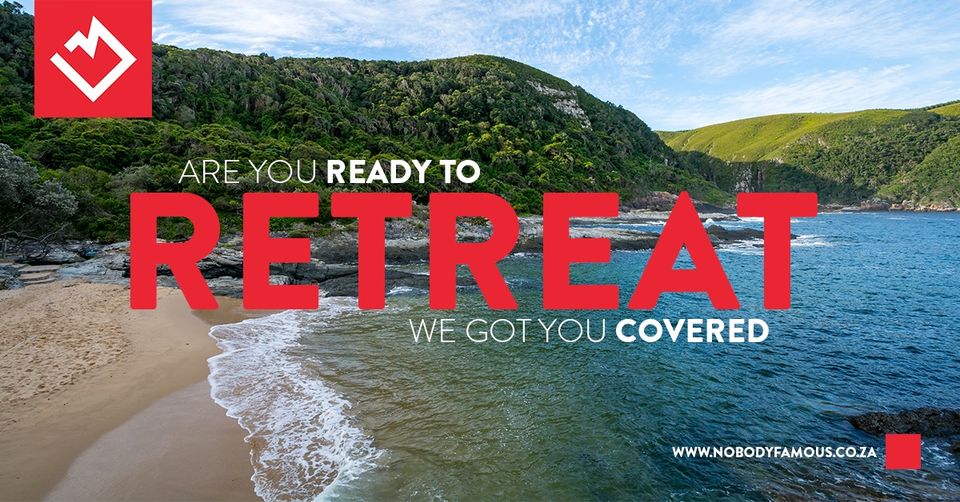 INTRODUCTION

The Garden Route needs little introduction, an area of superb natural beauty flanked to the south by the Indian Ocean and to the north by high mountain ranges, carpeted with the splendours of the Cape Floral Kingdom. Our small group guided adventure, journeys along little known roads and will not only visit the known highlights, but will also take us across spectacular mountain passes, through hidden valleys and into towns and villages forgotten in time.
This route has been chosen specifically to show off the natural beauty and epic adventure options of the region and to avoid busy roads almost entirely. Travelling is a breeze and the daily distances are easily achievable with multiple stops for adventure and sightseeing. The emphasis of the retreat is on enjoying the unknown adventures, the culture, the history, the culinary delights, the journey and the unique scenery the Garden route supply's each day.
Overnight accommodations are quirky and comfortable – each chosen to best show off the unique surroundings. So if you're a hard-core, adventurous, outdoor, excitable enthusiast this retreat is for you. Note that the retreat iternary may change while on retreat as our guides will opt for additional or interesting stops along the way.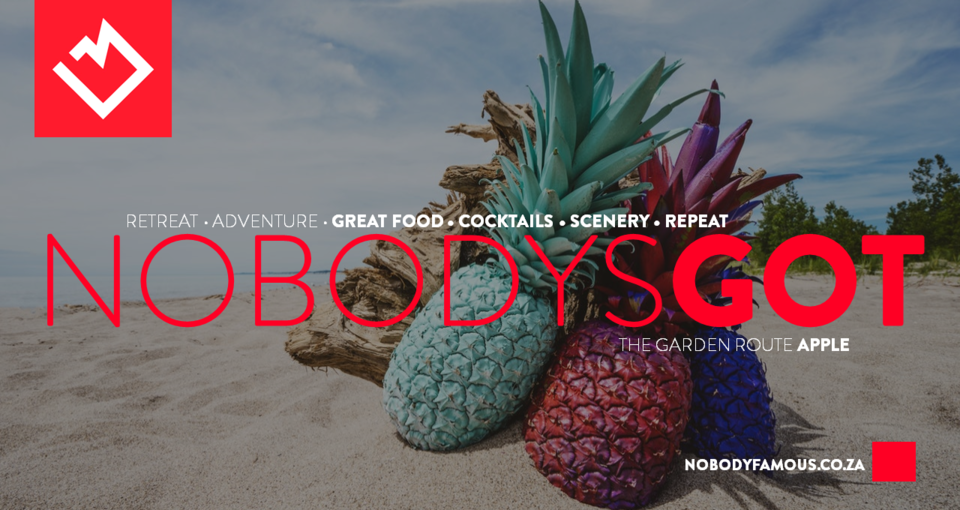 TOUR PROGRAM
CAPE TOWN – SEDGEFIELD
Early morning pickup from your accommodation in and around Cape Town. Travel to Wilderness. 18km of beaches cooled by sea spray, five lakes, five rivers and two estuaries, Wilderness is one of nature's jewels in the crown and a protected National Park. Canoe on the Wilderness lagoon and watch the bird life while gliding over the water in a pure encounter with nature. Myoli Beach is an undiscovered beach paradise, perfect for swim or surf in the warmer Indian Ocean. Overnight at Sedgefield area.
Included meals: Dinner
Included activities: Canoeing & Sun-downers on Wilderness Beach
Overnight: Sedgefield, Lake Pleasant
SEDGEFIELD – JEFFREY'S BAY
In Knysna, nestled between forested mountains, sea and curving around a big lagoon, we visit THE HEADS- where the sea crashes through these two massive sandstone cliffs. The eight slides, of which the longest is 211m, zigzag along cables across the river gorge, as high as 50m above the water in some places. If you don't want to do the zipline experience, then you can go for a walk in the forest.
Spend time in Tsitsikamma National Park (paradise) as we explore the marine reserve with its unique combination of dramatic coastal and forest landscape. Face your fear and jump from the world's highest bungy jump (Bloukrans Bungy Jump) or watch the adrenaline junkies as they scream through the air. Overnight in Jeffrey's Bay area.
Included meals: Breakfast, lunch & dinner
Included activities: Bungy jump and zip-line tour
Overnight: Jeffrey's Bay
JEFFREY'S BAY - TSITSIKAMMA
Tsitsikamma and Storms River offers what we believe some of the most exciting adventurous activities and most scenic outdoor pursuits available in Southern Africa, we give our guests an experience well worth coming back for, and we do this by treating you with true South African hospitality and humor.
For the next two days we will indulge into some activities and tours such as: Black Water Tubing down the Mighty Storms River, Speed Boating on the sea and hiking through the gorgeous Tsitsikamma Jungle…
Included meals: Breakfast, lunch & dinner
Included activities: River Tubing, Speed Boating and all hikes
Overnight: Nature's Valley & Tsitsikamma
TSITSIKAMMA – PLETTENBERG BAY
Today we make our way to Plettenberg Bay. Plettenberg Bay's magnificent landscape combines with a warm Mediterranean climate, making this coastal town a perfect cocktail of sunshine and scenery. We will explore the Wolf Sanctuary just outside town. Lunch will be prepared with some of the best locally sourced ingredients available at the popular Plett Market and after lunch we make our way for some personally prepared cocktails on the beach…
Included meals: Breakfast, lunch and dinner
Included activities: Wolf Sanctuary, Plett Market and Cocktail Making Challenge
Overnight: Plettenberg Bay
PLETTENBERG BAY – WILDERNESS
Vast expanses of pristine golden beach run along the coastline, where you can frequently spot dolphins, and whales during the whale watching season. Relax in the warm sun, and revel the fact that the beach is never too crowded - even in the height of summer, today we make our way back to Wilderness.
Our adventures for the day includes: Stand Up Paddle Boarding (SUPing). Stand Up Paddle Boarding is the latest craze that is taking the world by storm. Join in the surfing lifestyle and discover how much fun it is too play in the waters of the Garden Route. Also we will end of the day with the highest abseil on the entire stretch of the Garden Route. With a vast number of granite, basalt and sandstone cliff faces beckoning the extreme adventurer, there's oodles of space in which to hang out (abseil) and have fun.
Included meals: Breakfast, lunch and dinner
Included activities: Stand Up Paddle Boarding and abseiling
Overnight: Wilderness
WILDERNESS – MOSSEL BAY
After breakfast at the wildly popular George Farmer's Market we depart for Mossel Bay where we hike along the cliffs of the Cape St Blaize Trail, overlooking the Indian Ocean. We will also experience to sand board the longest dune in South Africa.
Included meals: Breakfast, lunch and dinner
Included activities: Cape St Blaize Trail and Sand Boarding
Overnight: Mossel Bay
MOSSEL BAY – CAPE TOWN
This is unfortunately our last day… We travel along the famous Route 62 to Cape Town. Stop near Barrydale for lunch at the very famous Ronny's Sex Shop. Continue to Cape Town where your retreat will end with drop-off at your establishment of choice in and around Cape Town.
Included meals: Breakfast and lunch
Included activities: Lunch at Ronny's Sex Shop
ADDITIONAL INFO:
Most of your meals on the retreat will be prepared by your very experienced and passionate guides. Some of the ingredients and supplies will be sourced from locally produced places and people to make this retreat a truly all through South African experience. If you have any dietary requirements please let us know well in advance so we can make sure to dish up something really tasteful and awesome just for you.