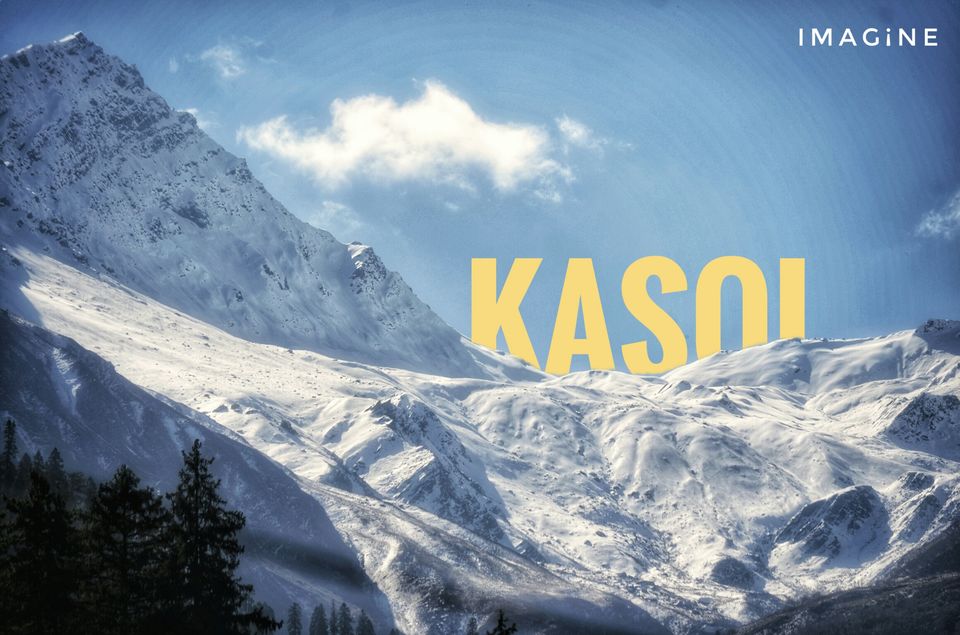 Before sharing about my trip experiences, it is my humble request whoever visits to Himachal Pradesh, never pollute that heavenly lands.
As from last few years due to commercialisation Kasol has been adversely affected, due to tourism. Please take care of the environment.
For more images you can follow my instagram handle @im_saswat :)
So our trip started from this spot named as Majnu ka tilla present in New Delhi.
It is the hub where most of the buses for Himachal & Uttrakhand gathers. You will find many monks, foreign nationals gathered for the bus to leave. So we were waiting here for our bus to drop us at Bhuntar.
It takes around 11 hours to reach Bhuntar from  Delhi. So our journey starts now !!!!
We reached here around 5:30 am. Your jaw will drop after seeing the scenic beauty while entering into Kullu district. Parvati river flowing by side, covered by big valleys around us and sun peeking out through the valleys. We were welcomed by this scene while reaching to Bhuntar.
So bus dropped us at the bus stand. We had to wait for another bus to make us reach to Kasol.
In the meantime while waiting for the bus we seeked out for a  local tea shop and at that moment it was needed too as temperature was around 4•c.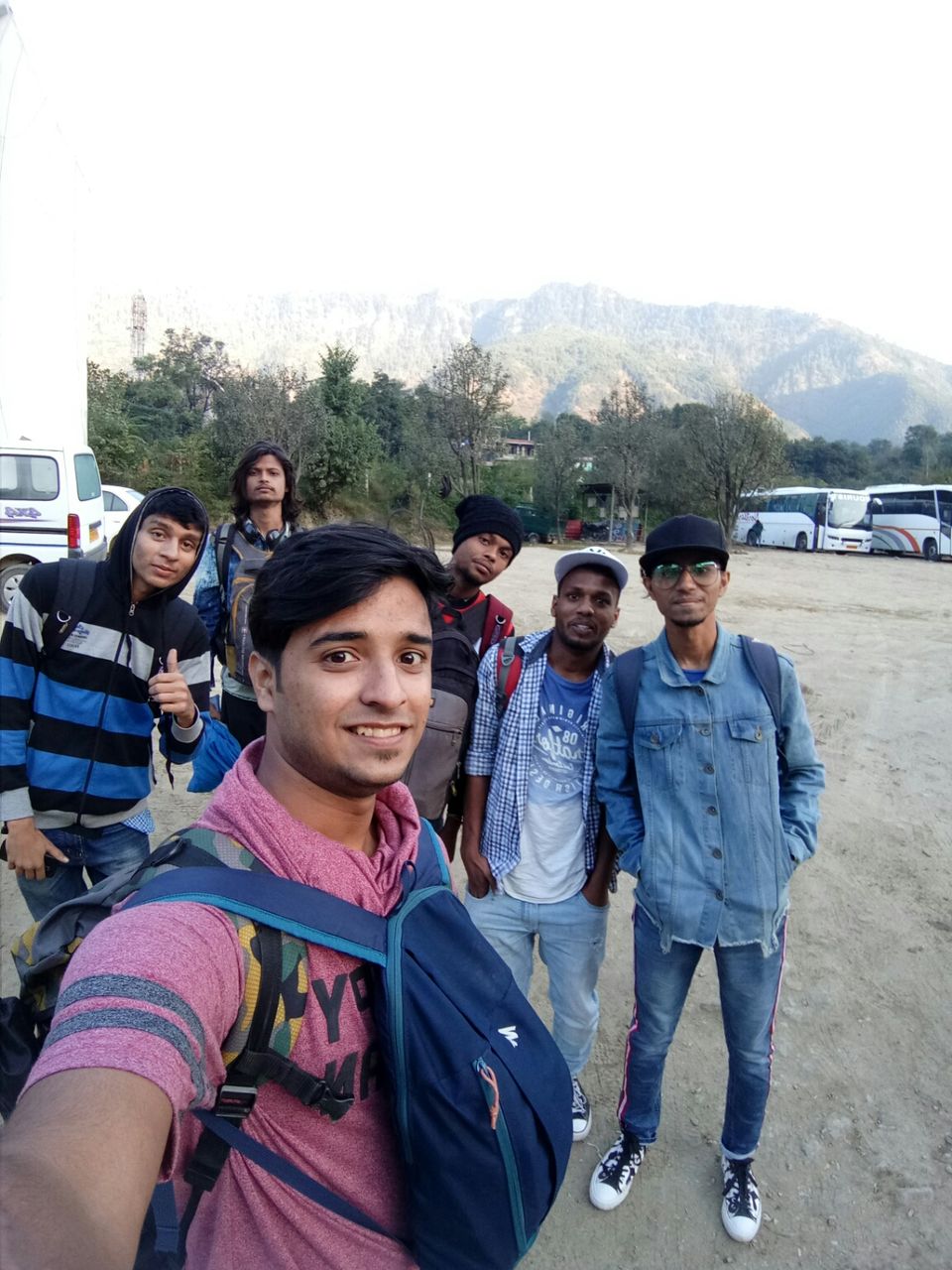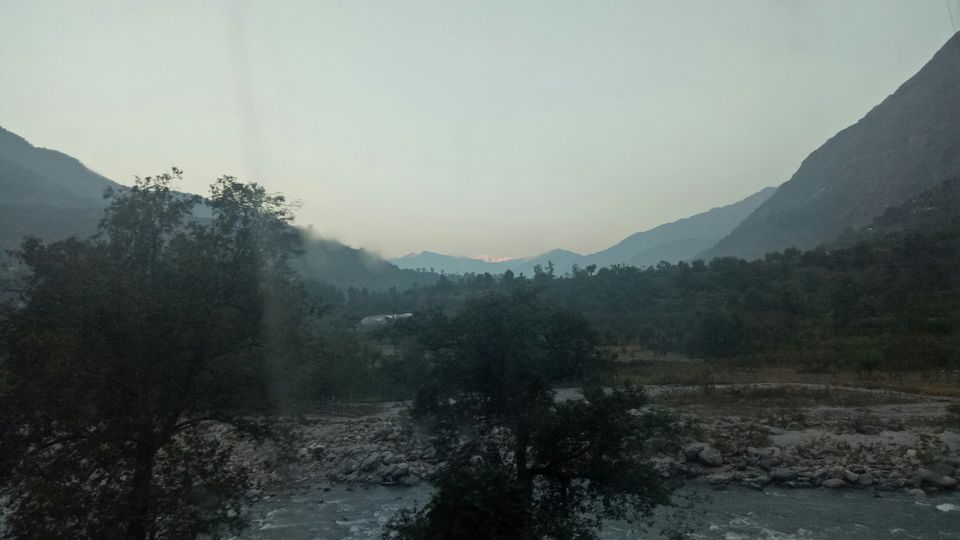 So after waiting for around half an hour we got the bus which dropped us to Kasol main stand. It took around 1.5 hours for the bus to climb up the hills. Salute to those driver who drive on a daily basis make us reach safely to the hill top.
After reaching to Kasol our mouth was literally open after seeing nature's beauty. Sun was just coming out from clouds, sound of rattling parvati river, smell of local food item and mountain peak covered with white shiny snow.
We were hungry like wolf at that time so we went to eat local famous chicken momos. I swear momos with that chutney it took away all our tiredness.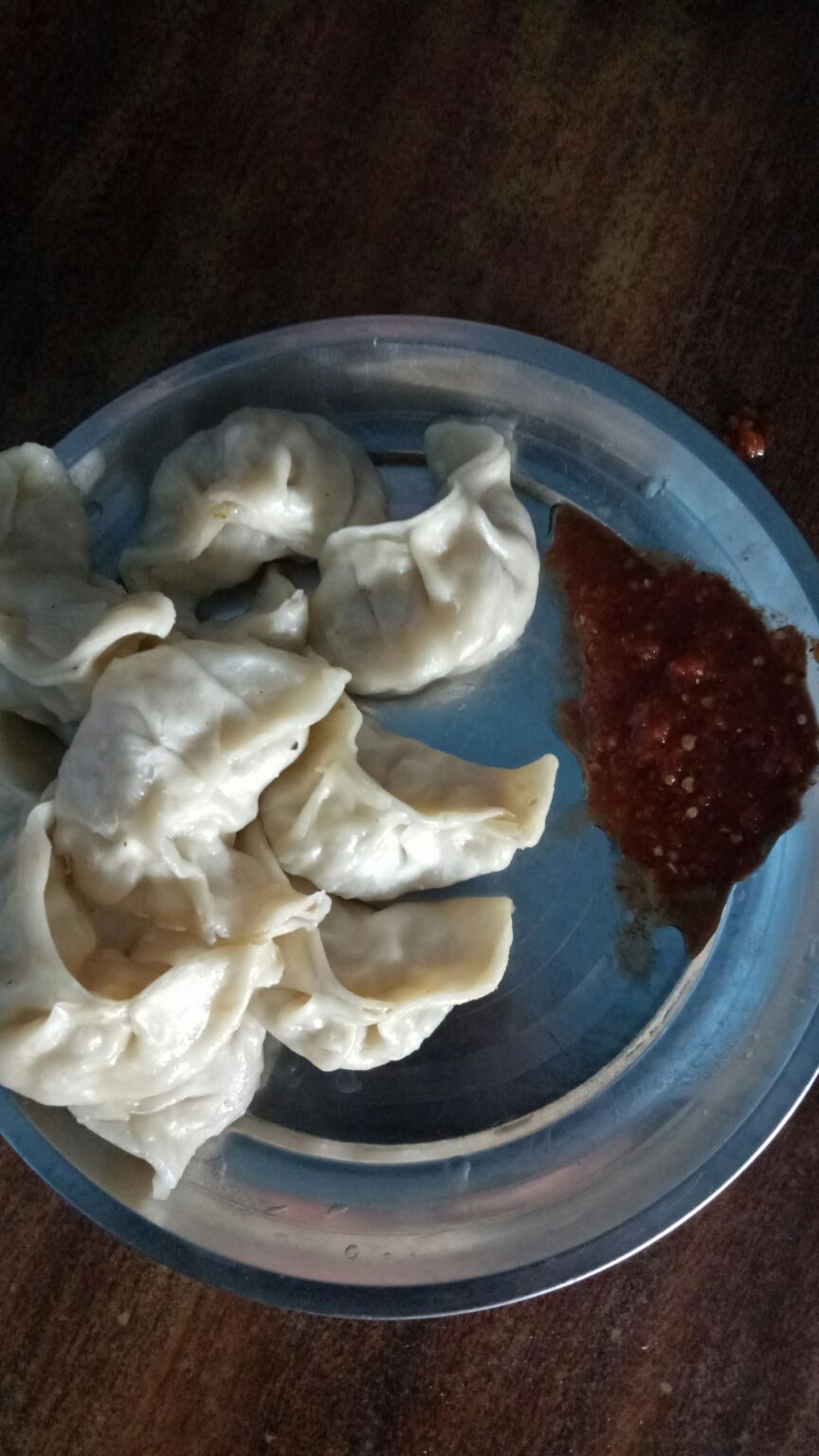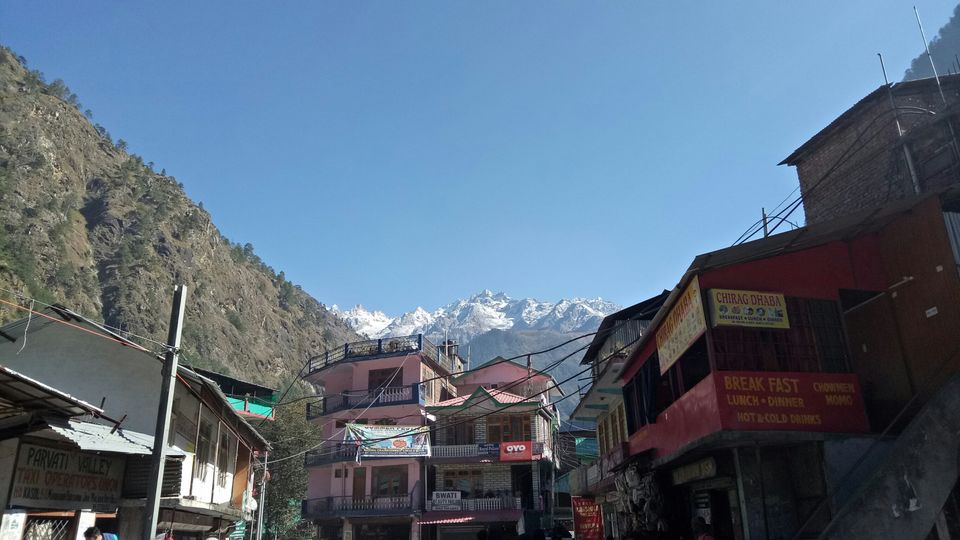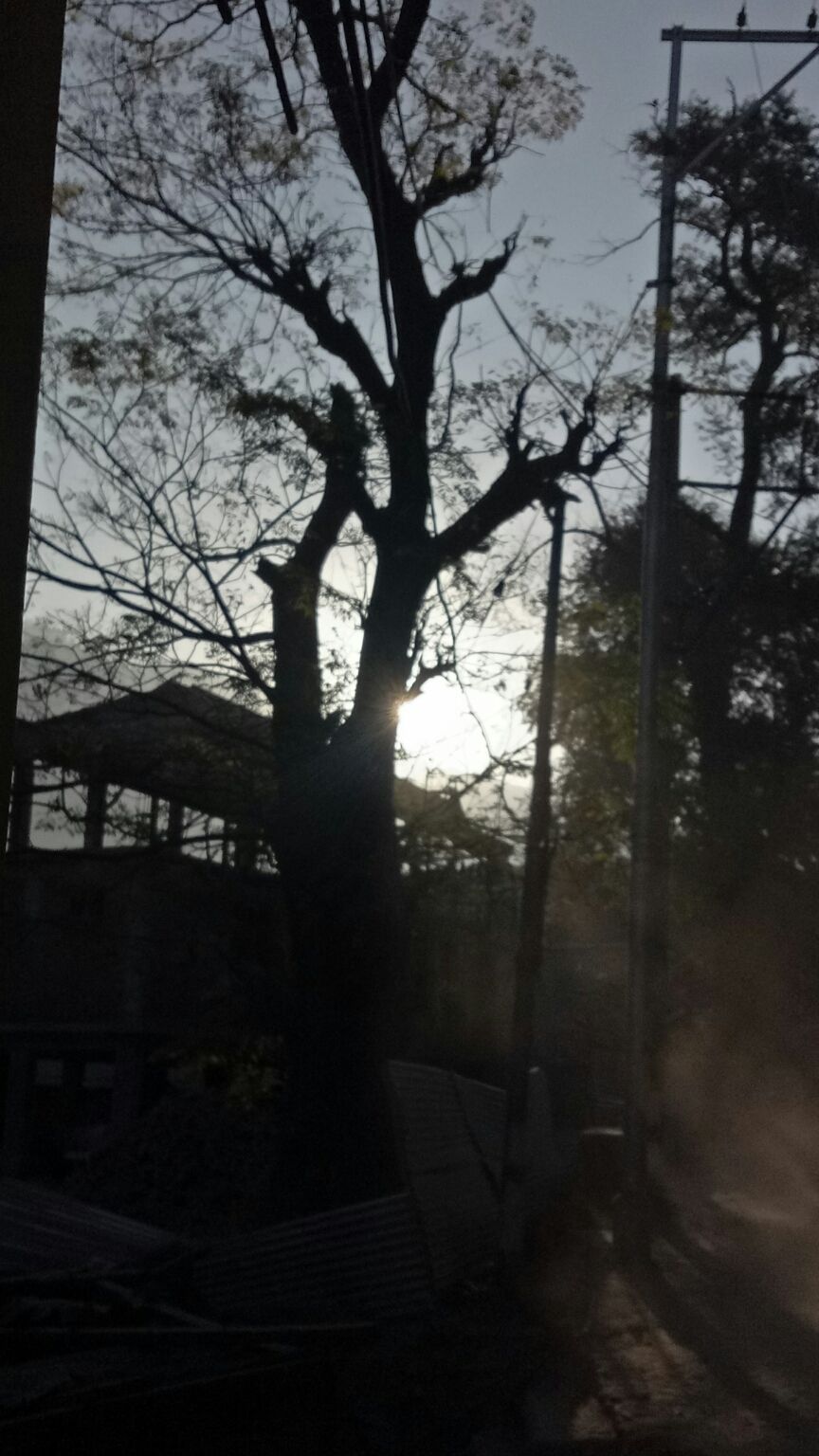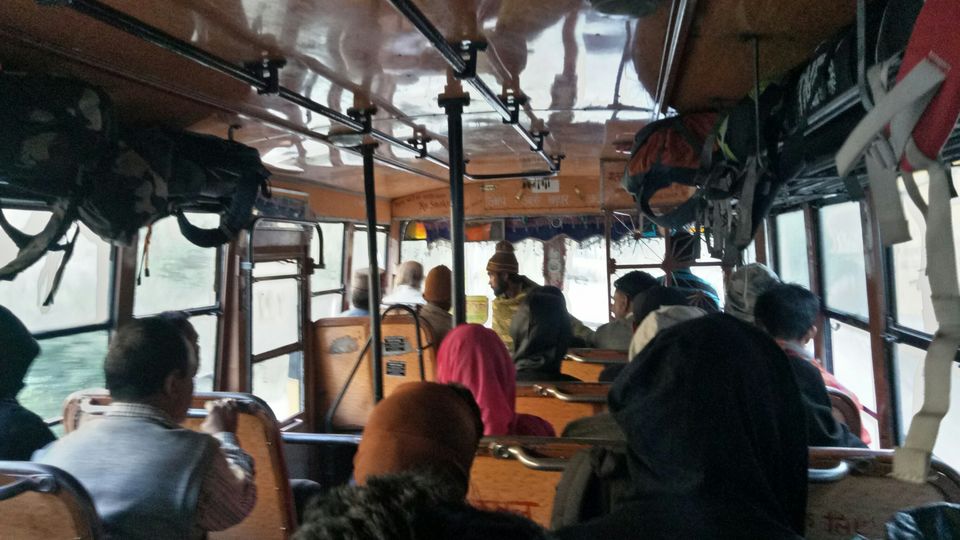 After eating and getting fresh we started our 1st trek of this trip that was to Chhalal.
This trek is about 12 kms and it is a moderate one. While doing this trek you wont be having much problem as it is not much steep than others.
One more thing while going for trek we bought some energy bars too :p i.e Most famous Malana cream. Malana cream is really among the himalayas for its quality, cultivation etc As it is cultivated in a village named Malana so it is called as Malana cream it would cost you around 2000-4000/- for 10gms it depends upon you how much you want to intake.
One should try this once in a lifetime to experience the magic of this hash.
So after walking for an hour we sat beside the river for little bit rest and to enjoy the beauty.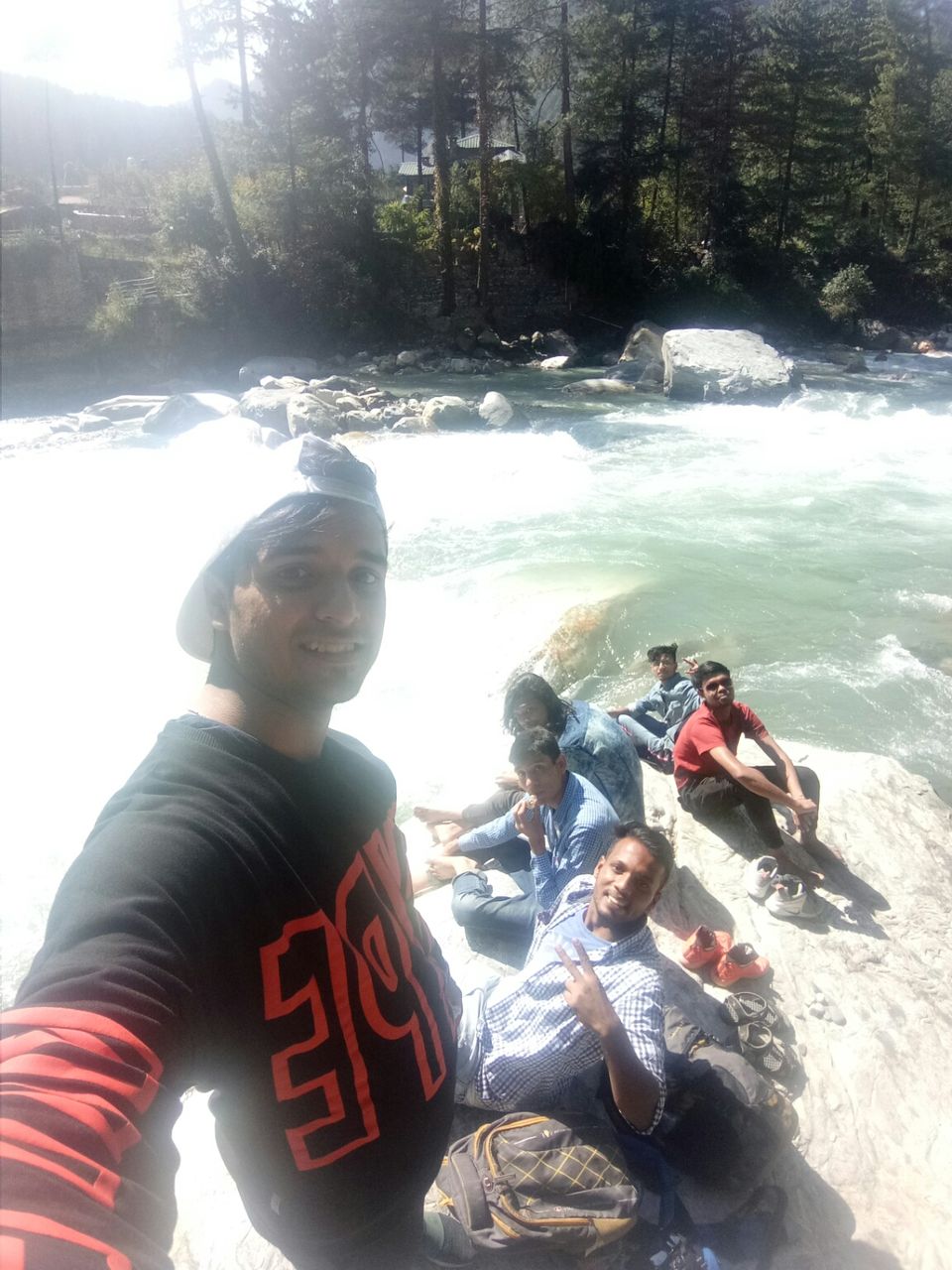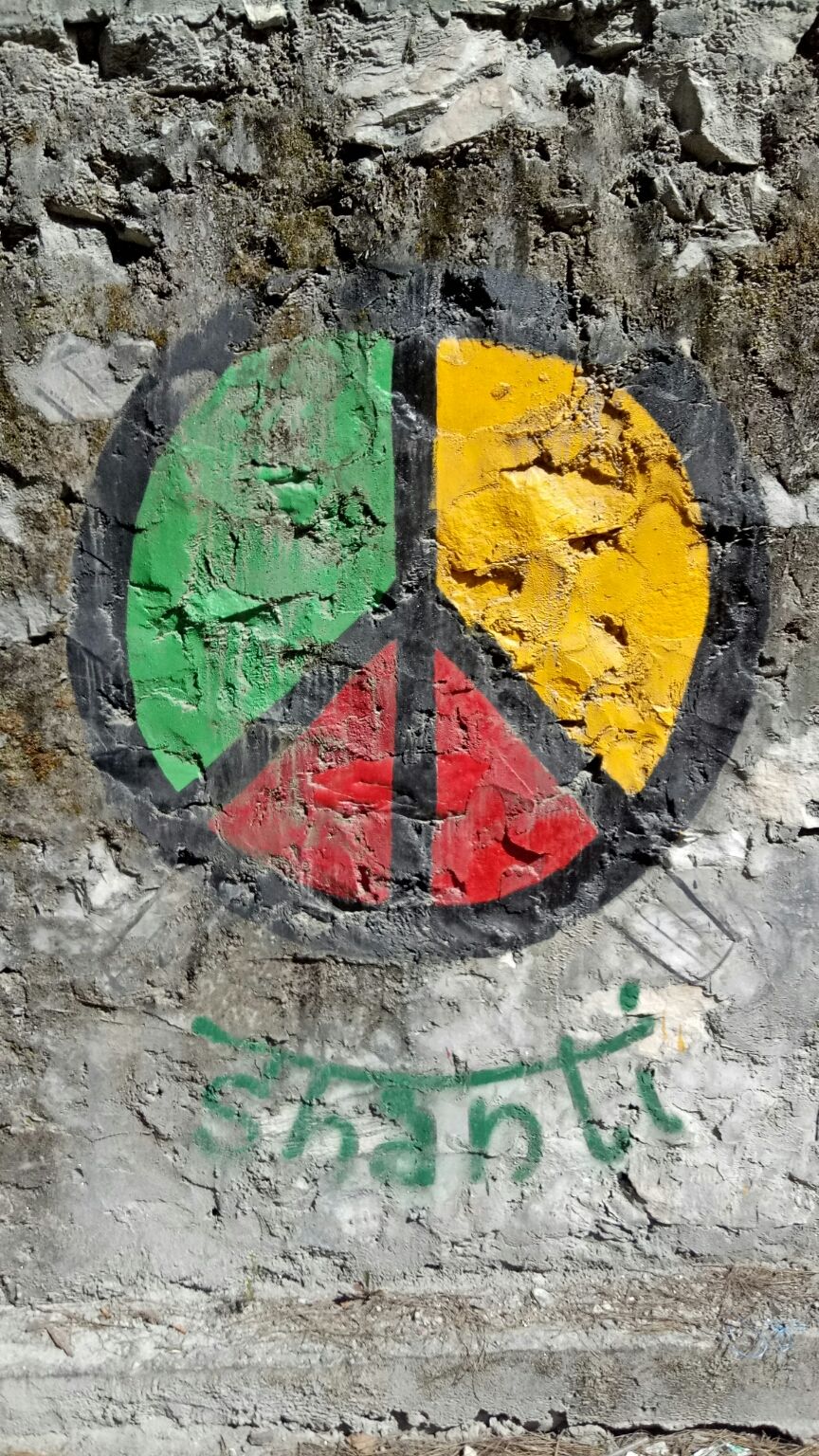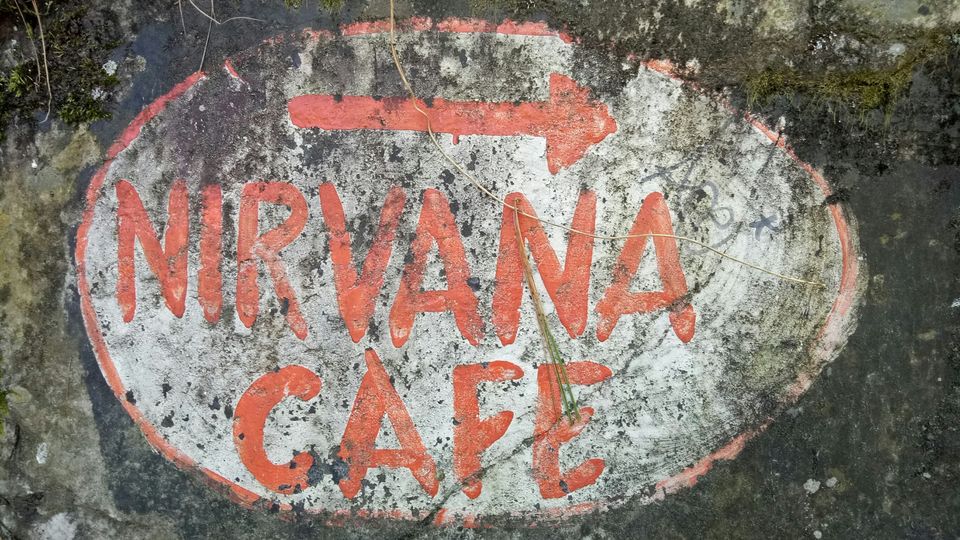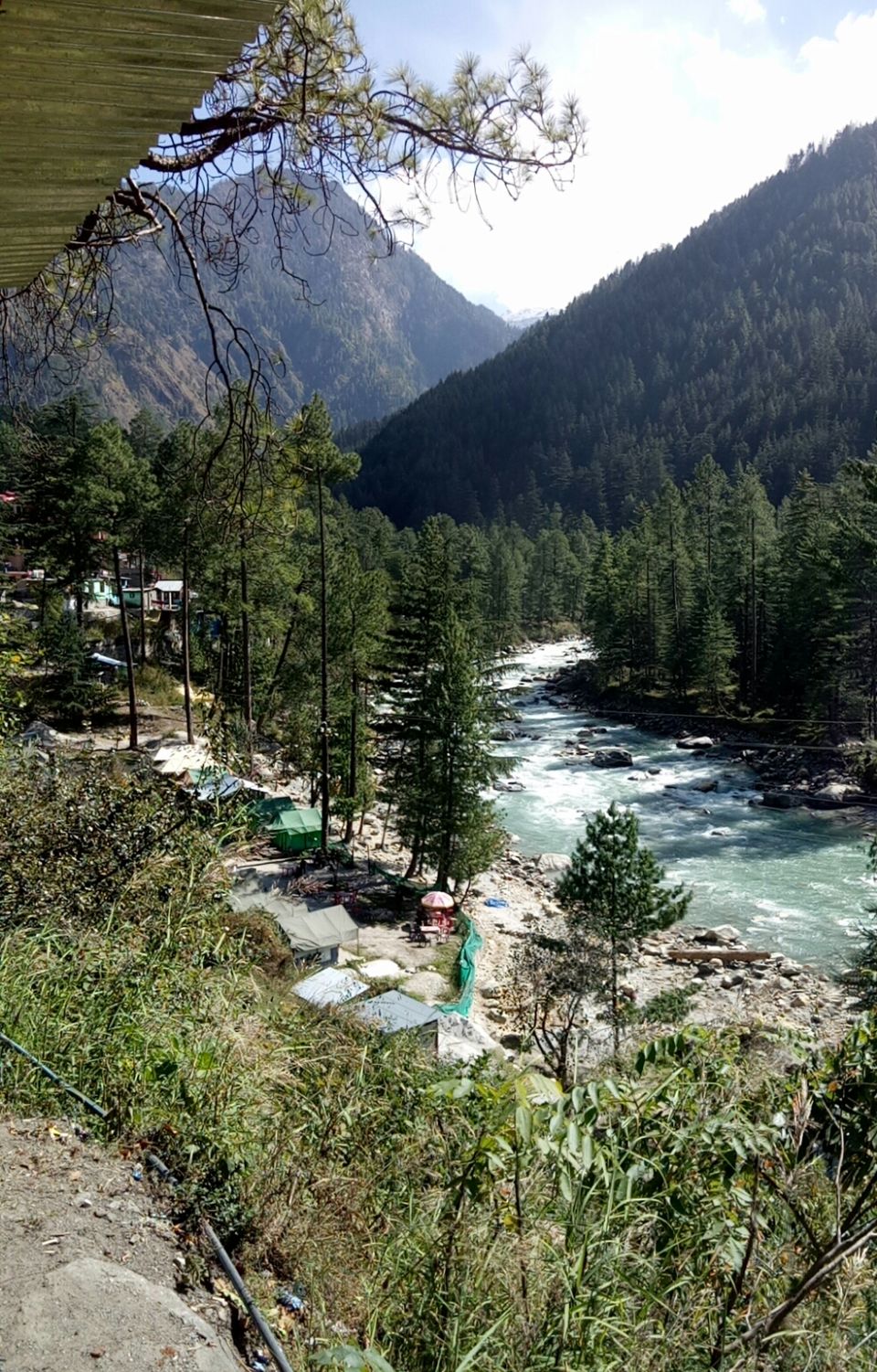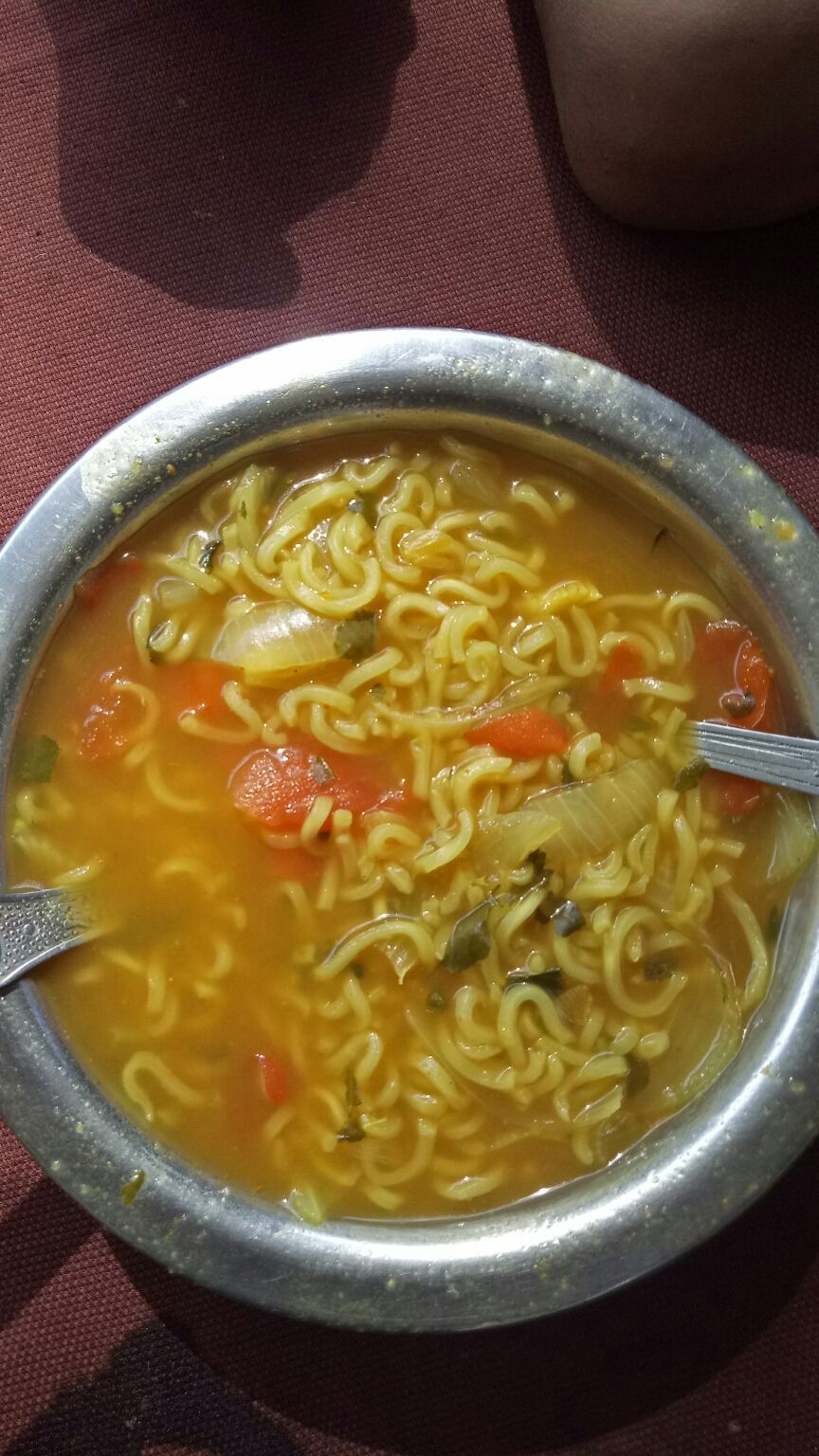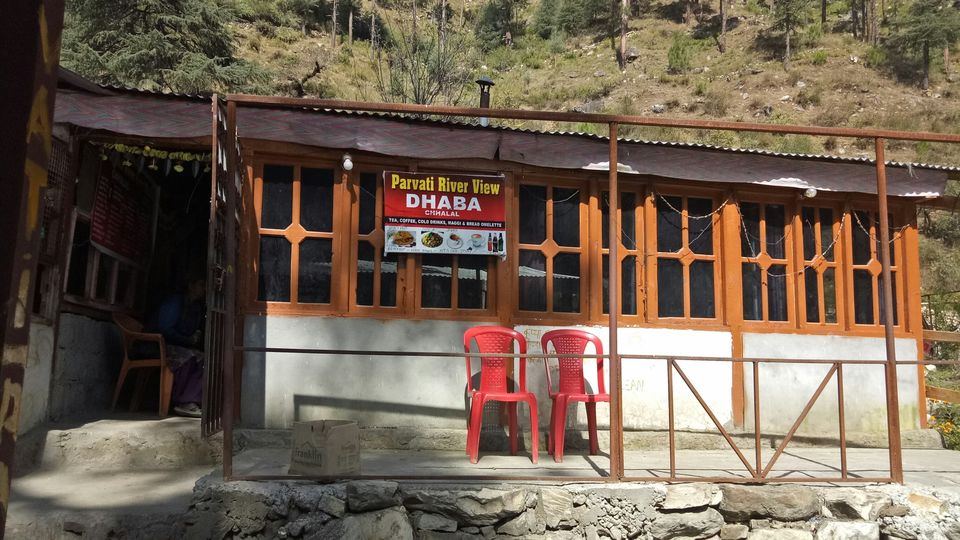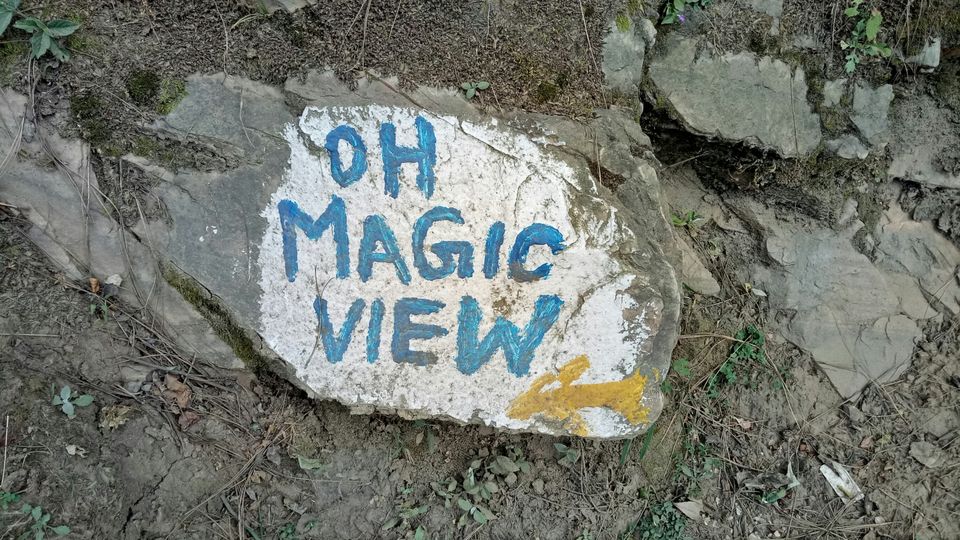 On the way you will come across many signs , graffiti arts etc on the rocks and wall. You can see them in above images.
The place where we were sitting from that you can see the bridge which joins kasol and chhalal and it is breathtaking view. Below I am sharing some images of it.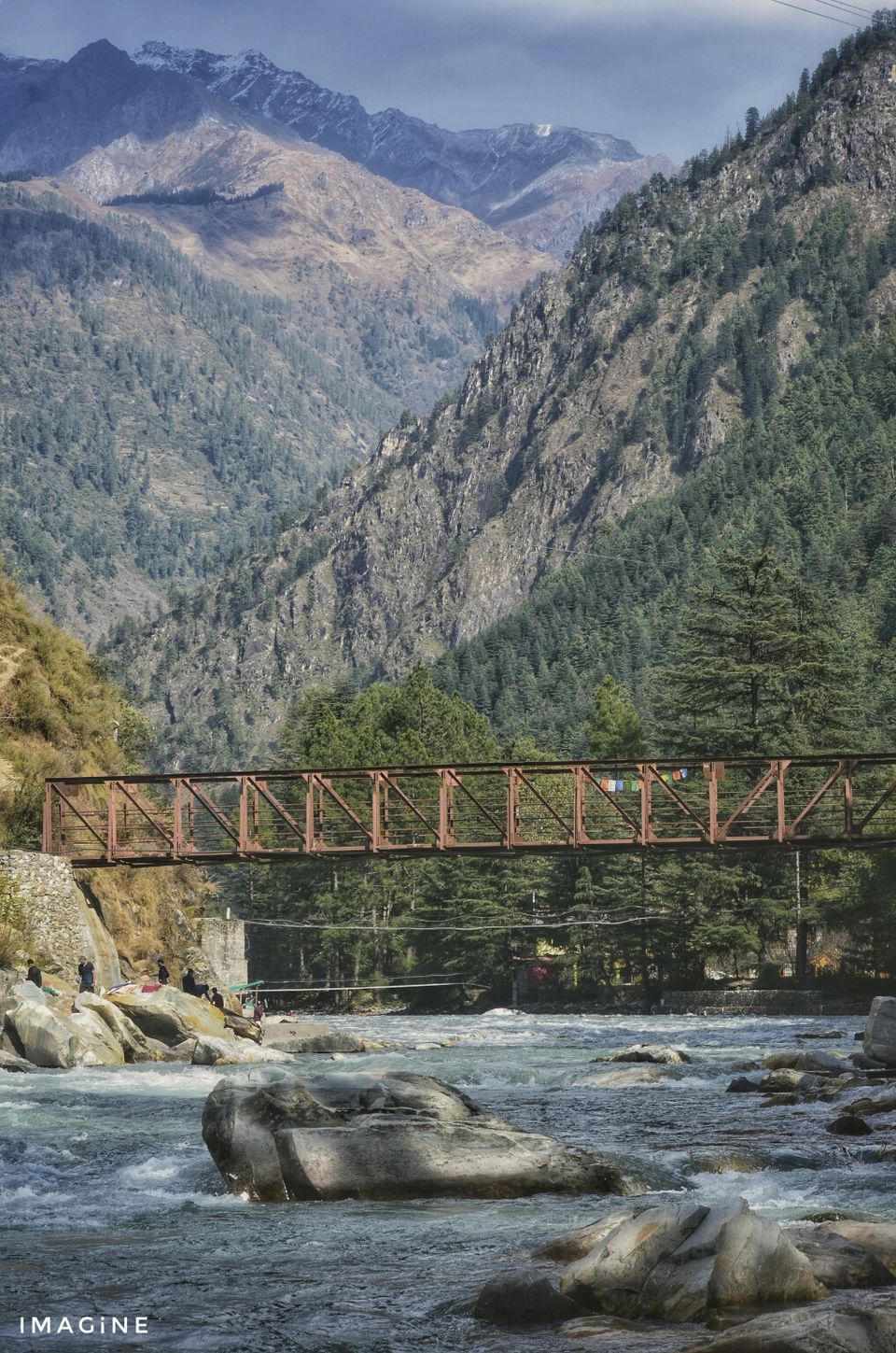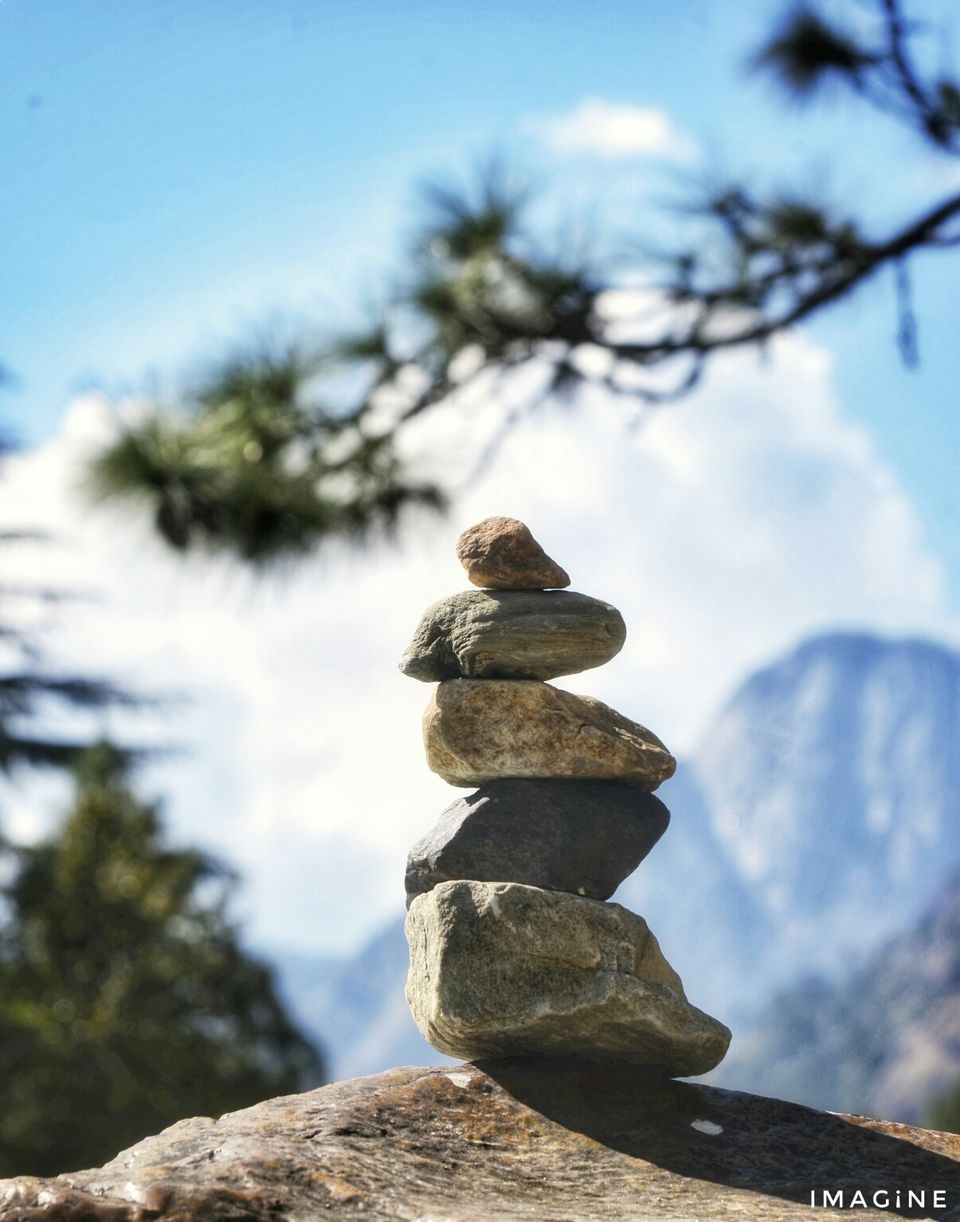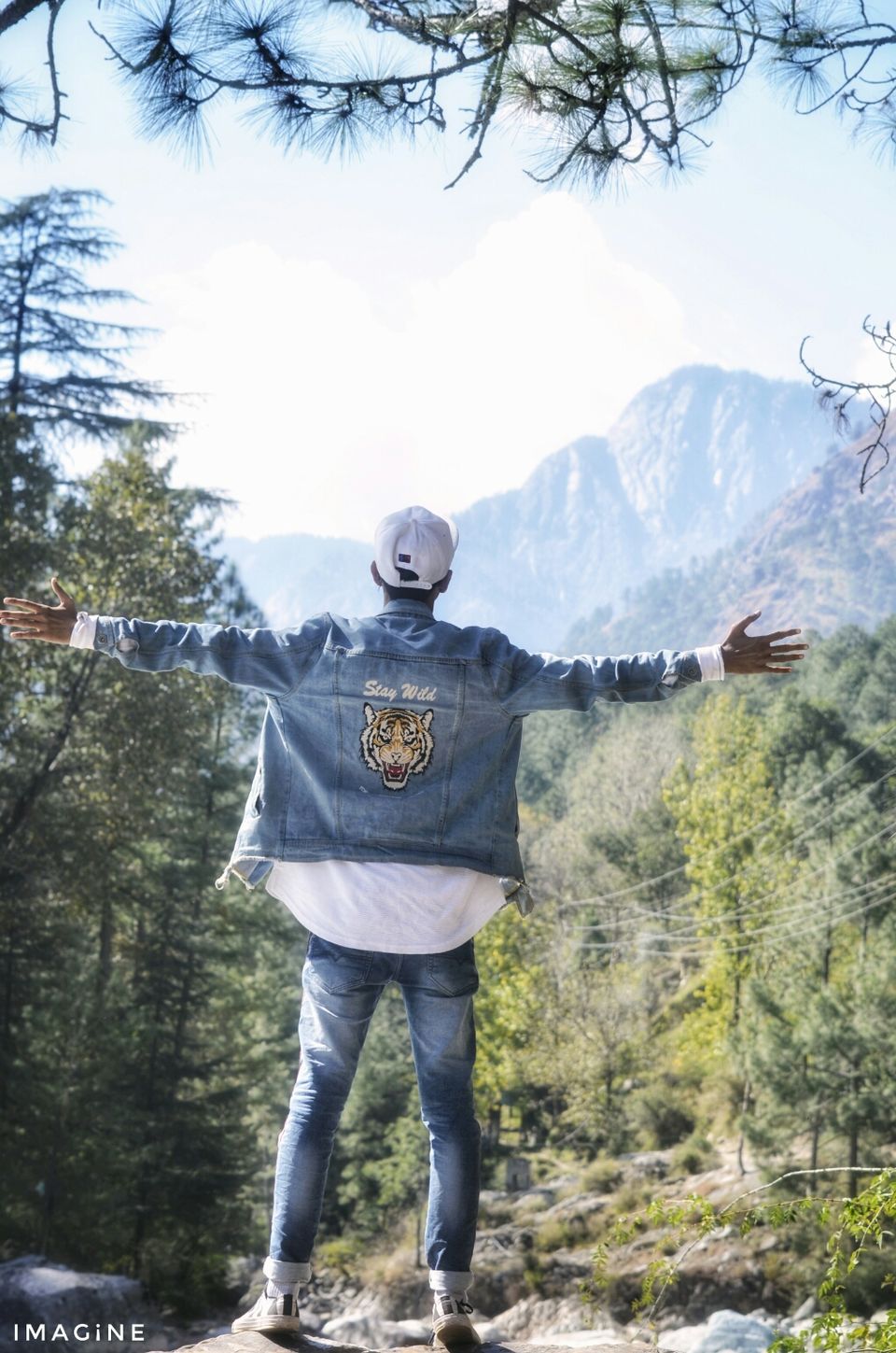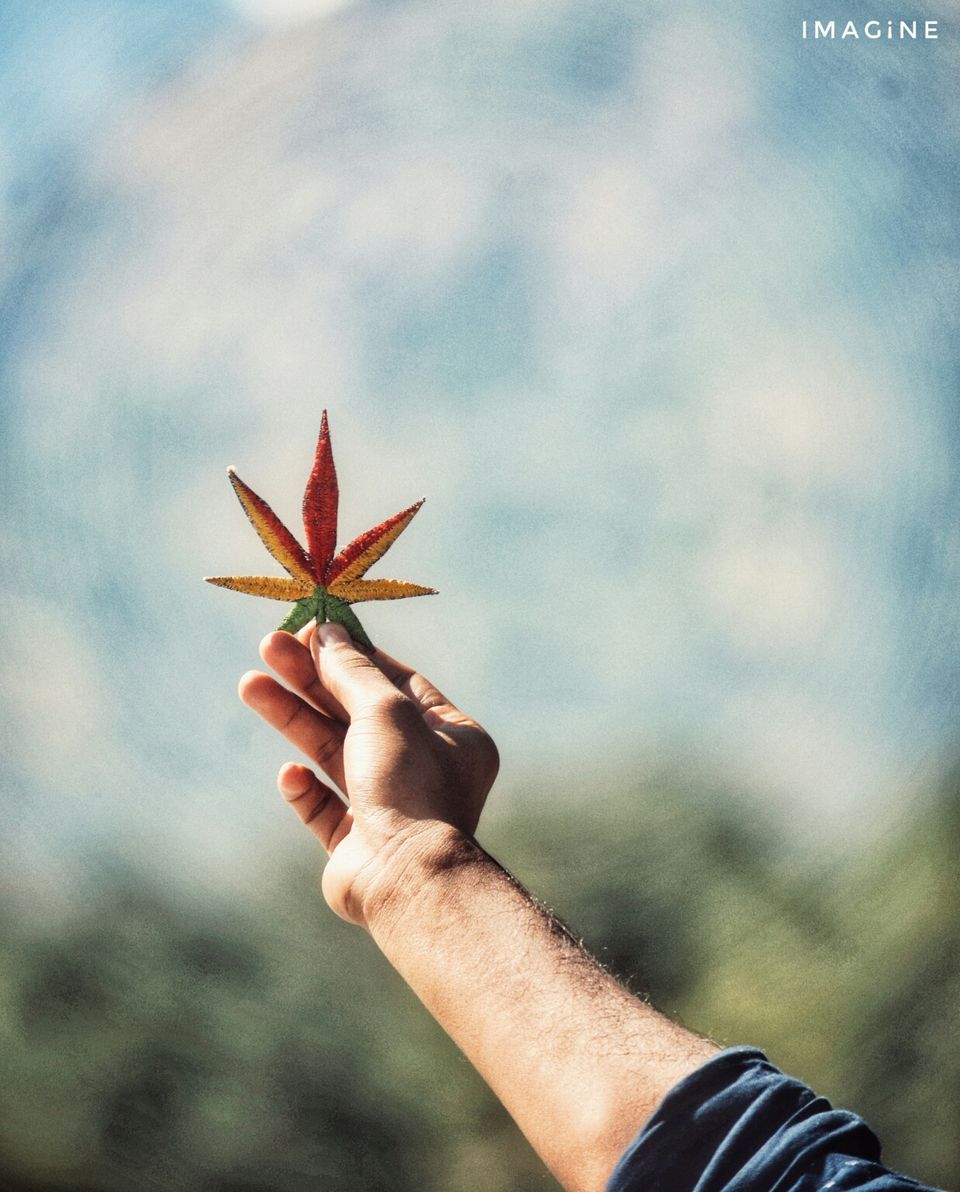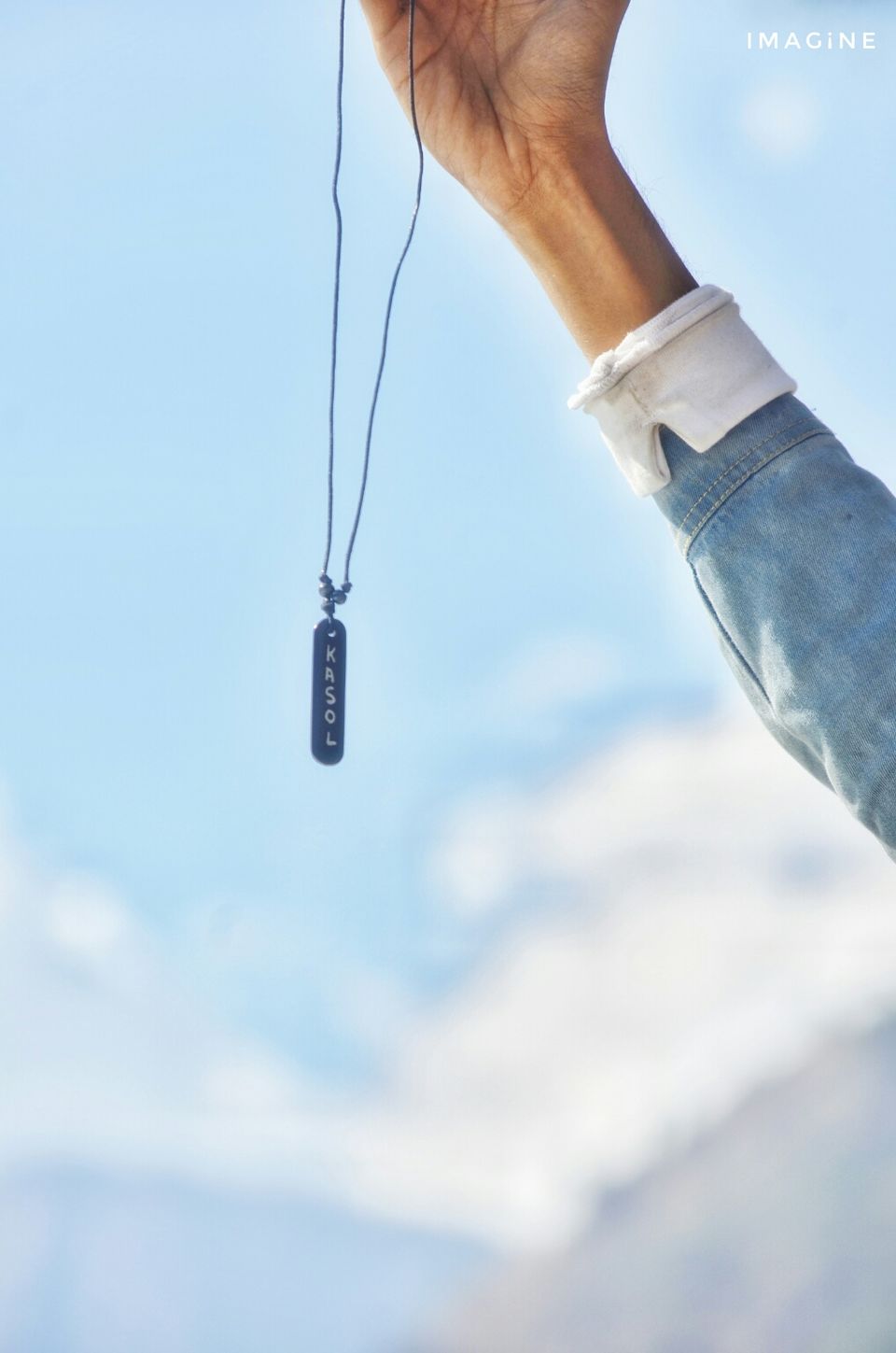 After taking the proper rest we started again our trek and reached to the top most point of Chhalal. It took us around 2 hours to reach to that point.
After enjoying the scenic beauty then once again we started to go back to Kasol as we had decided to stay our night at Kalga which is a village in top and it is the base camp for kheerganga trek. It is around 24kms above kasol town.
So after returning from Chhalal we took bus from Kasol to Bhairini which is the last motorable road for buses to go up.
The journey is about 26 kms and it takes around 2 hours to go to the Bhairini.
We reached Bhairini around 5pm so the sun light was hardly more visible for more half an hour. So we rushed to Kalga village which was small trek of 5kms but a steep one.
It took us around 1.5 hours and it was fully dark while we reached Kalga. It was around 6:30pm.
Then we went out to find some cafe to take the break for the day. After searching for half an hour we got one named as Moonlight cafe.
There in kasol, Kalgha , Tosh etc where ever you go you will find mostly cafes or camp site to stay. They take around 200-1500/- per person for one night stay.
So we accomadated ourselves there after a long day.
Temperature at that time was around 1°c so you can imagine how cold it was outside.
Cafe provided us with dinner and some local hash to smoke. That was the end of the day for  us.
Last night the minimum temperature went around -2°c. While waking up in morning you can see the mountains are covered through more snow. Sunlight used to hit the Khalga around 9am until then it is really cold outside. Once the sunrays pops out the temperature gets to normal 10°c - 12°c
Later I will also show you how the snow patterns of mountains, how they gradually got covered by snow more day by day.
The morning scenes was brilliant as cafe was looking so beautiful when sunrays hit the cafe , behind mountains and to our adjacent side was Tosh village which is one of the most famous place in Kullu valley.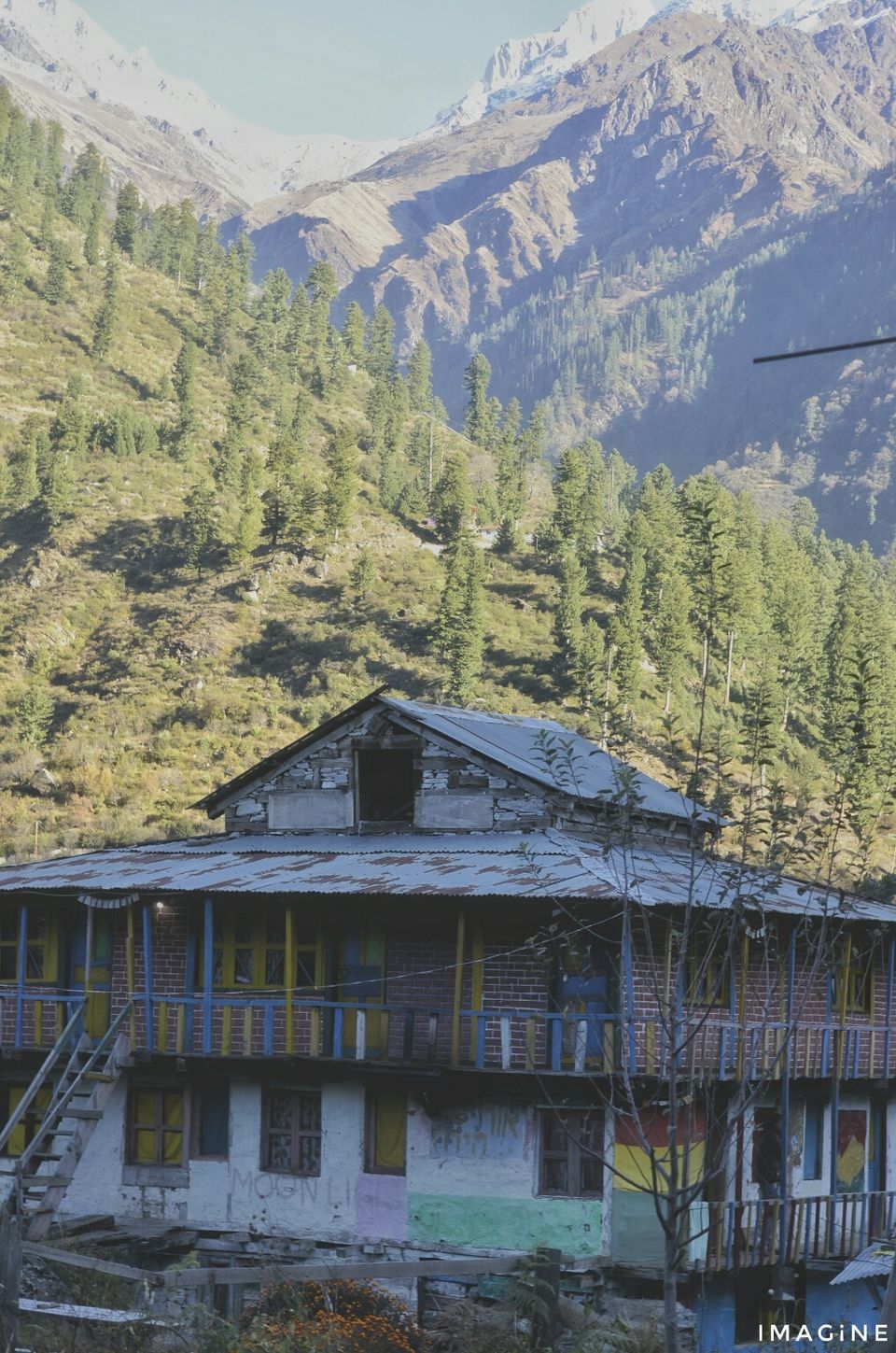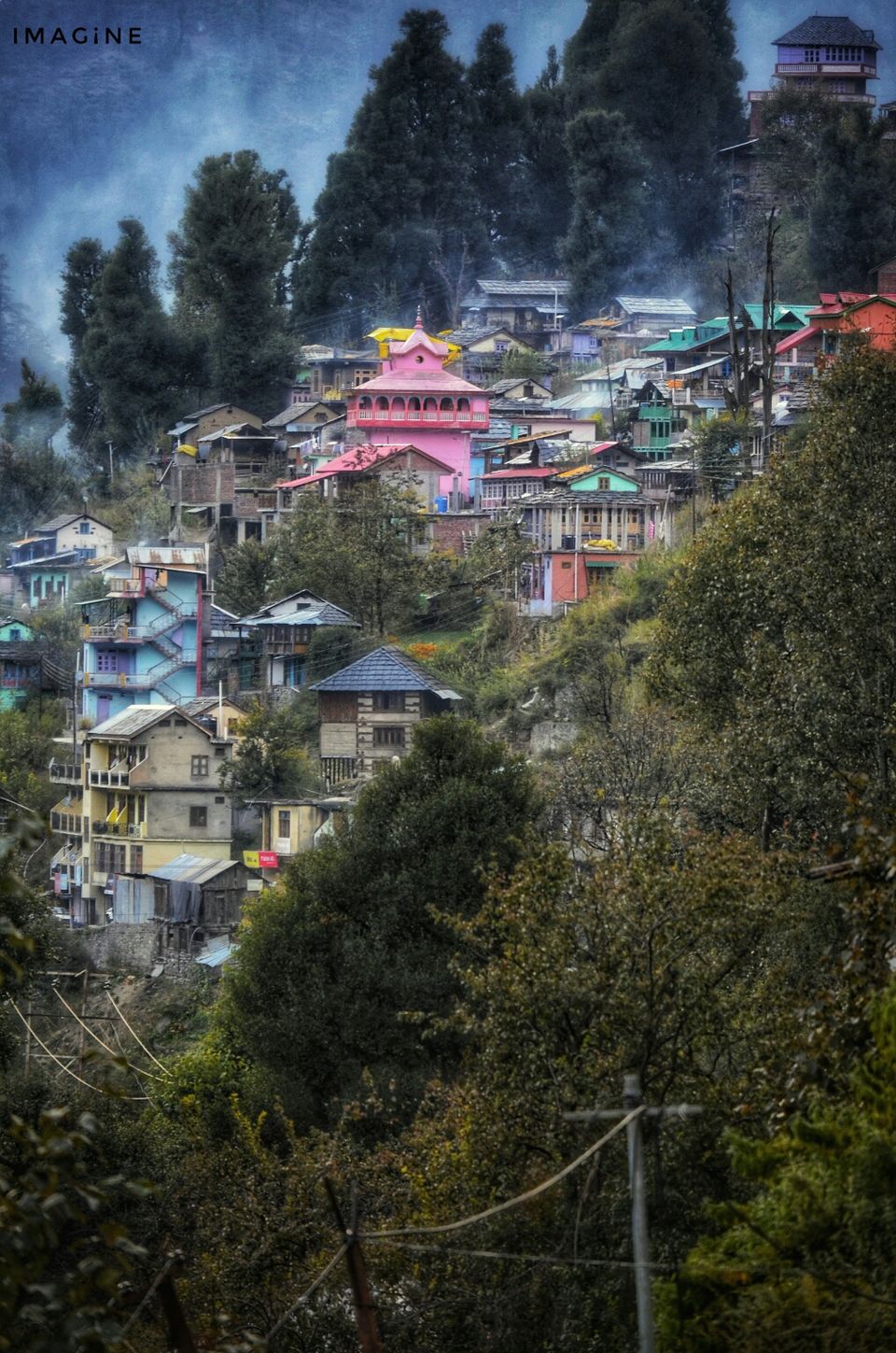 After having cups of chai and some aloo parathas we planned to go nearby sister village of Khalga that is named as Pulga.
Pulga is situated just situated in the opposite side valley of Khalga.
It was around 15-18kms from khalga.
So we all started our journey towards Pulga in between you will face a dam and that dam is known as Parvati sarovar dam and it is a huge one. That dam is the reason by which electricity is produced and every home are having lights. We were accompanied by two himalayan dogs too :D
In whole trek you will find art , graffiti, signs etc on the roads and walls.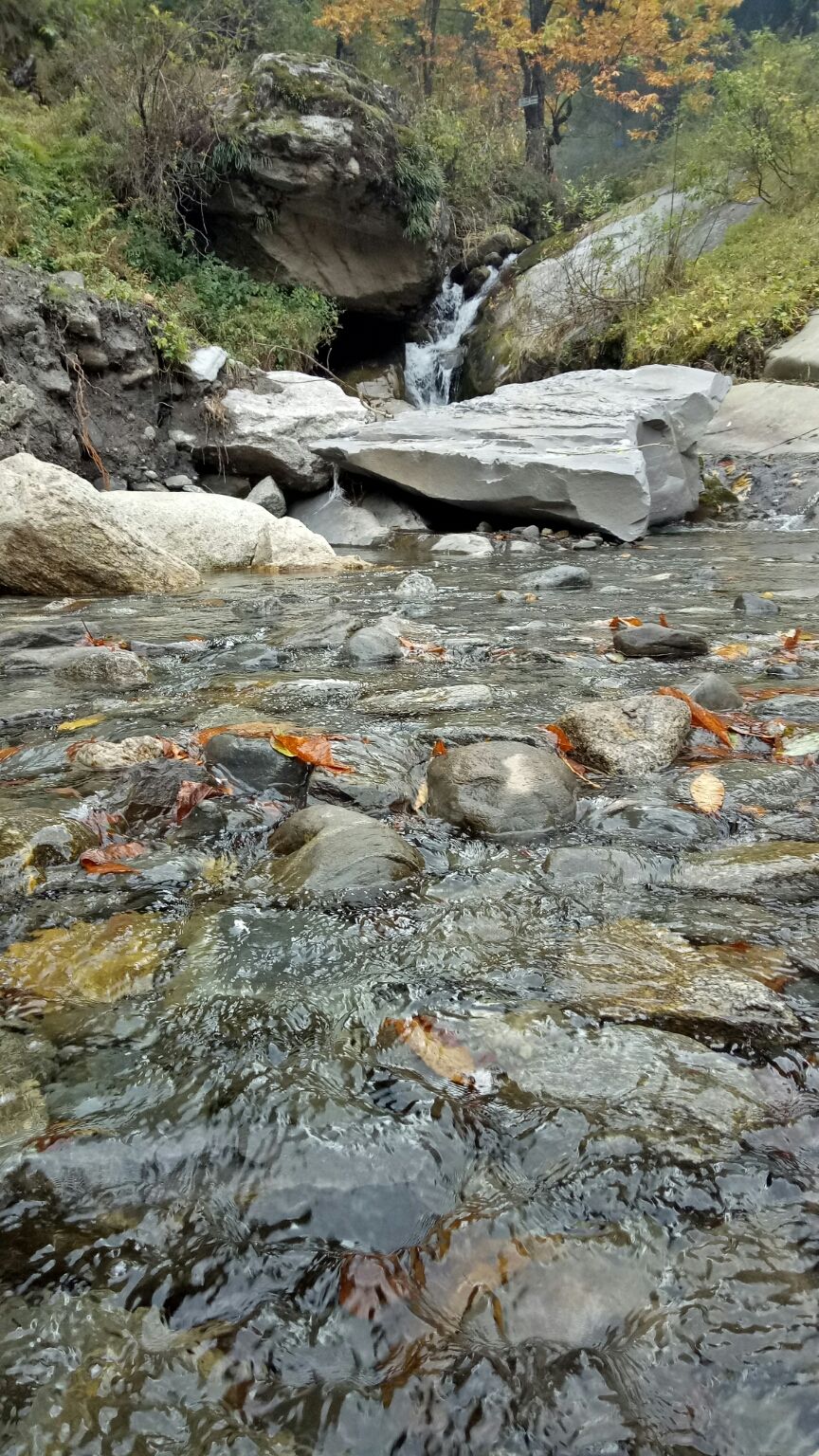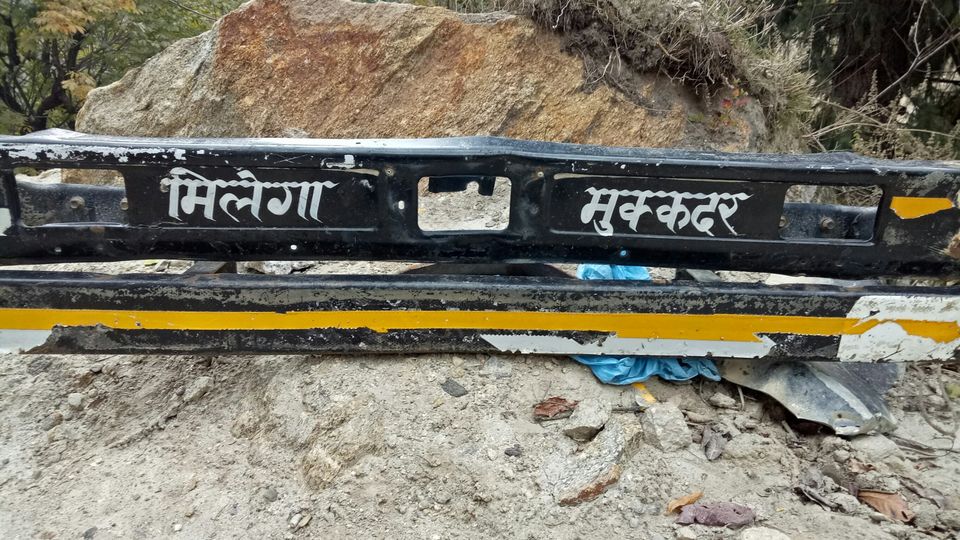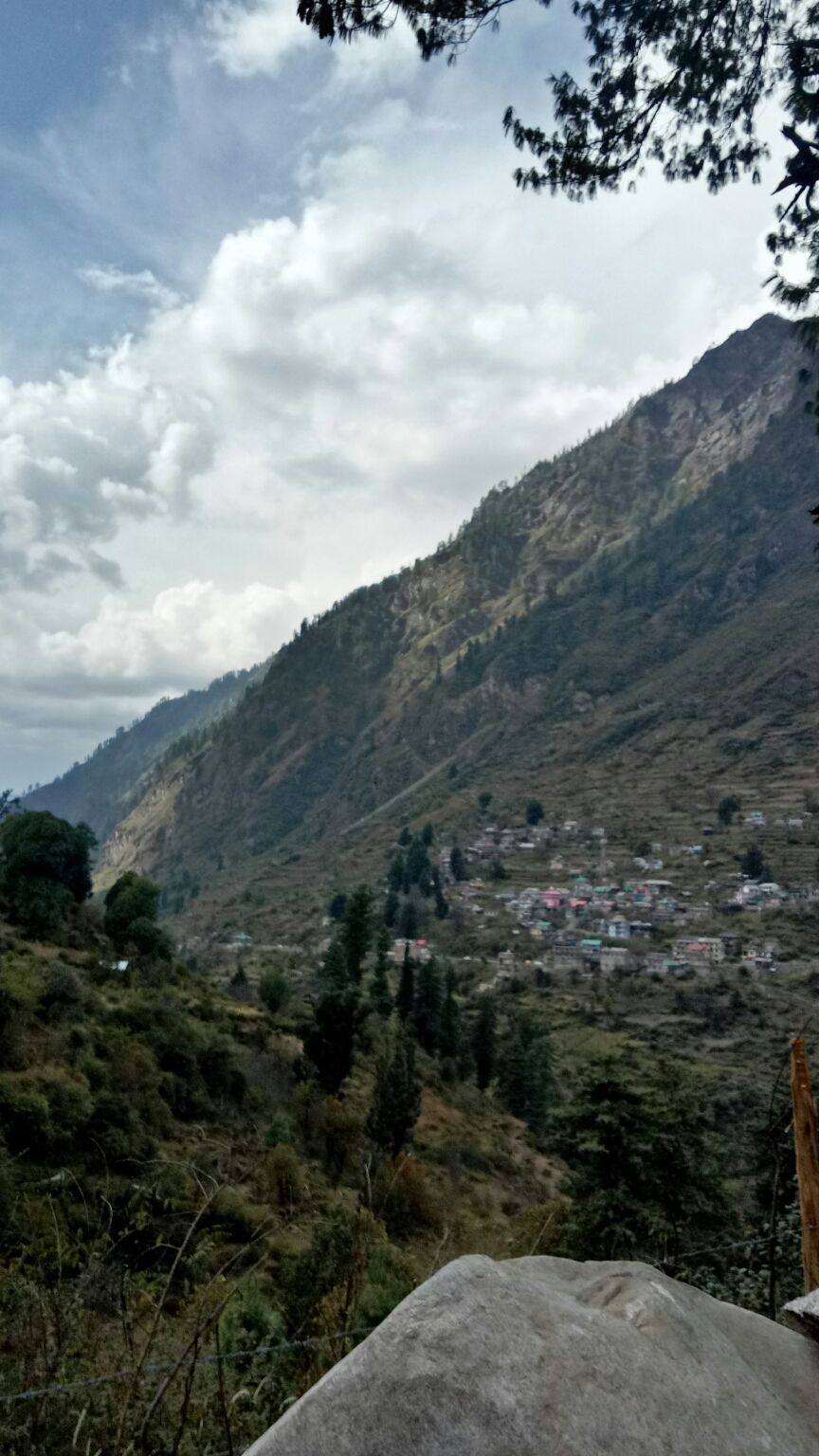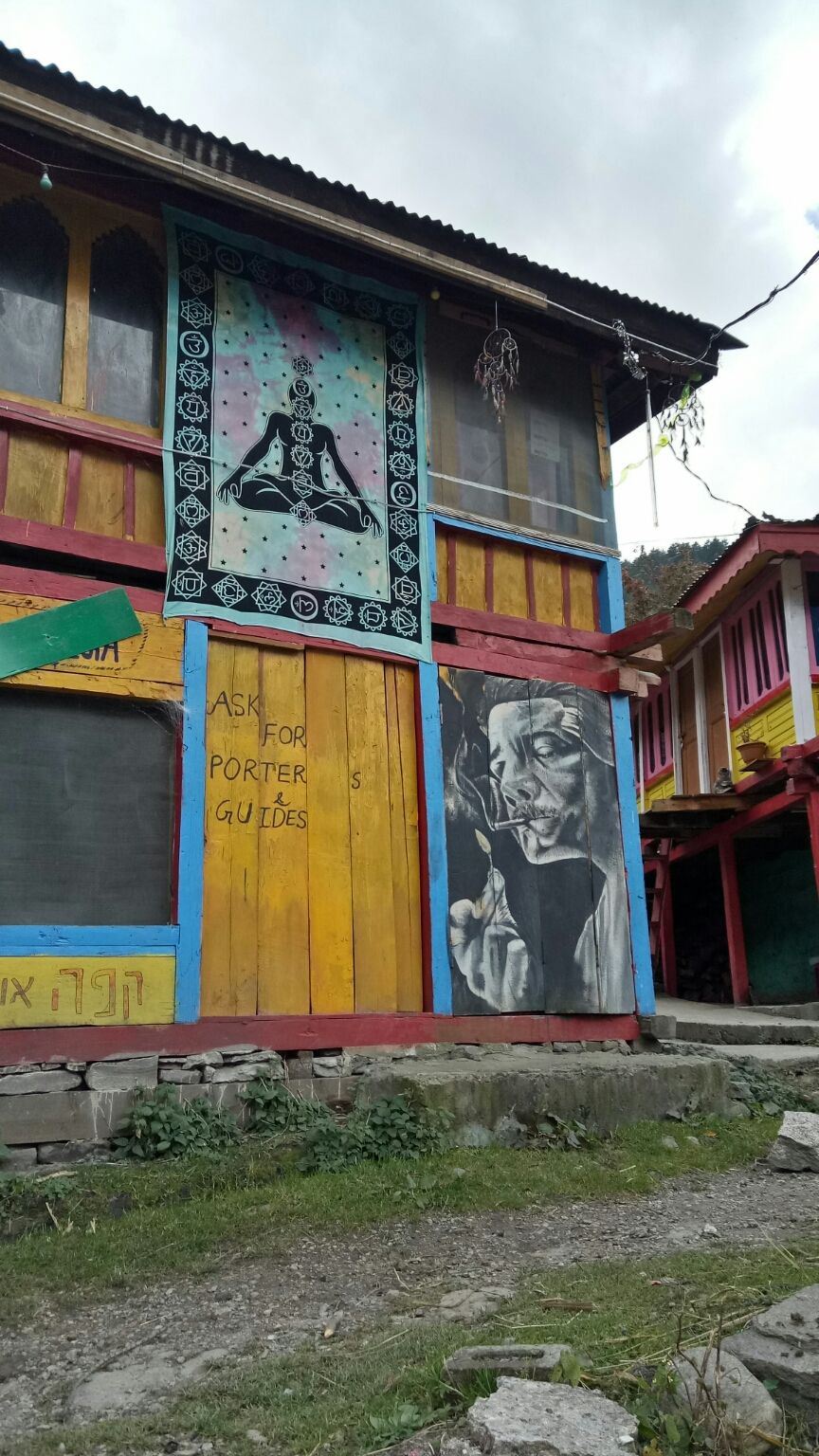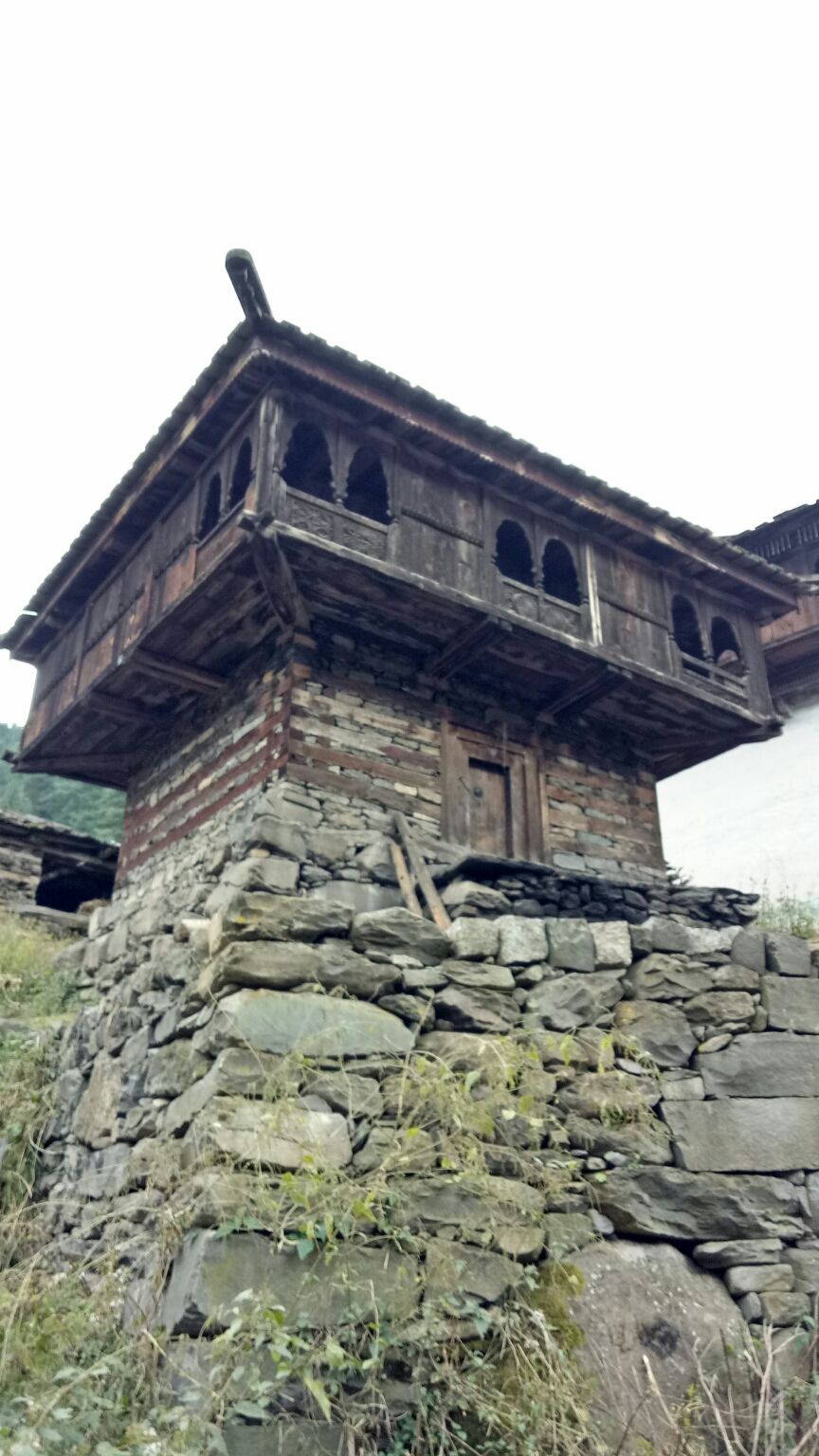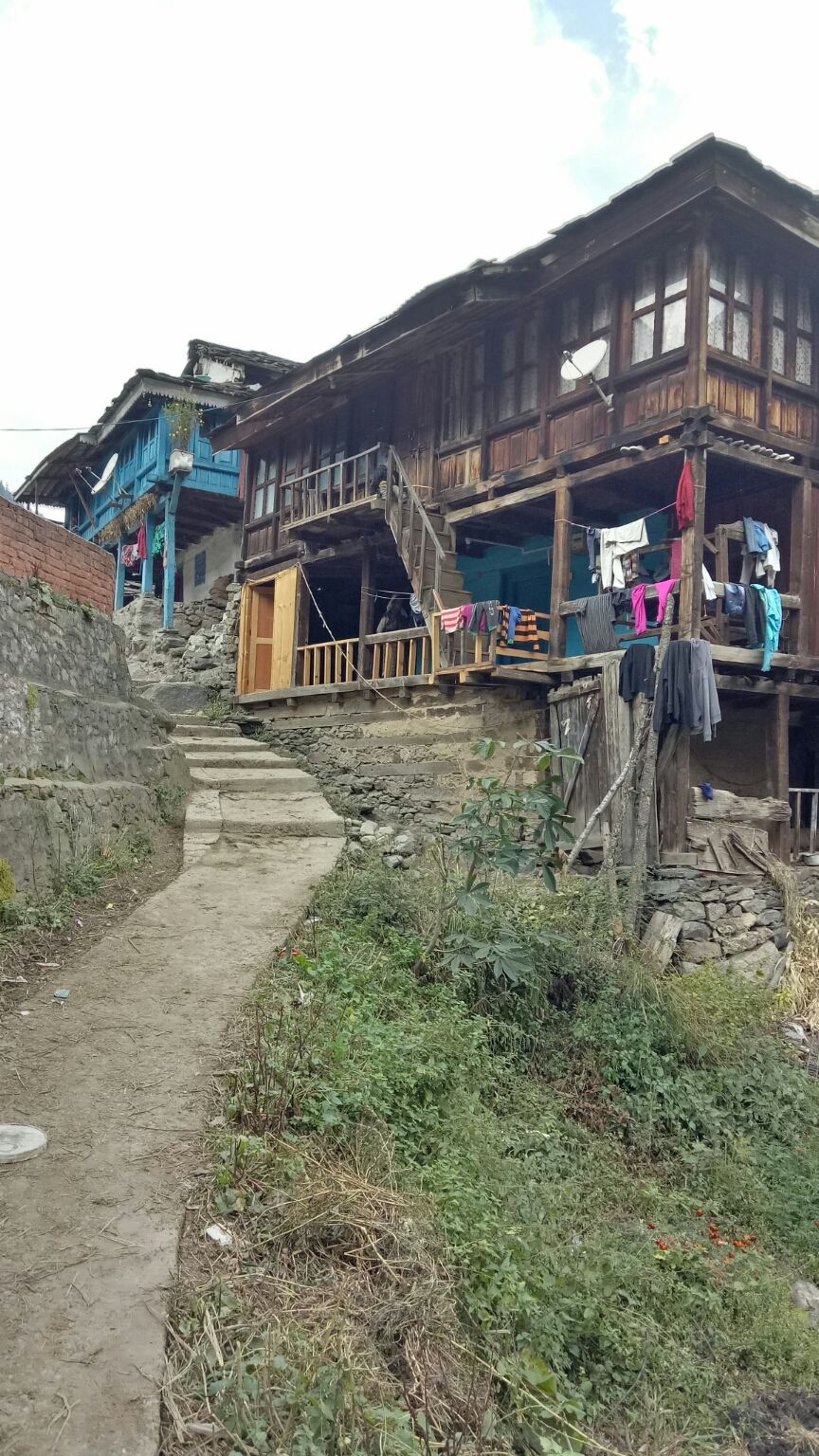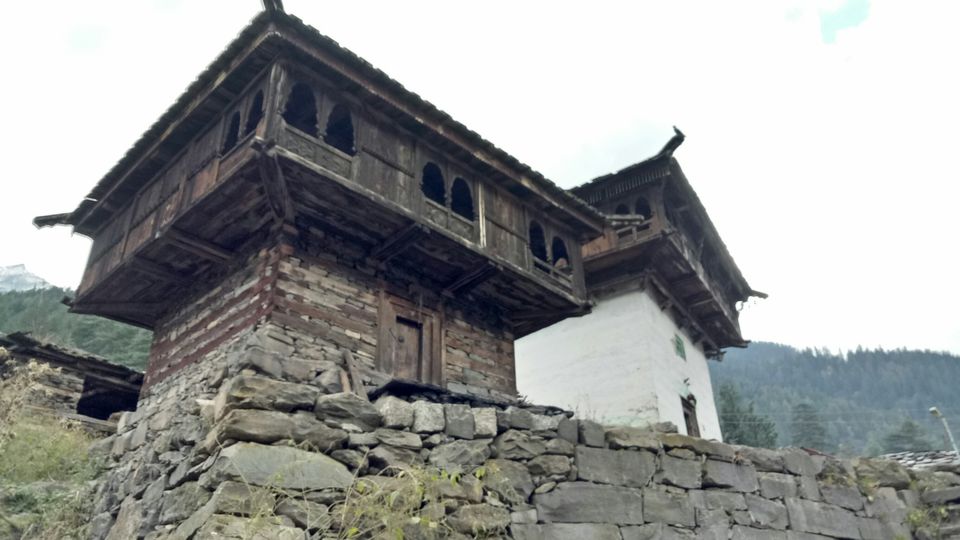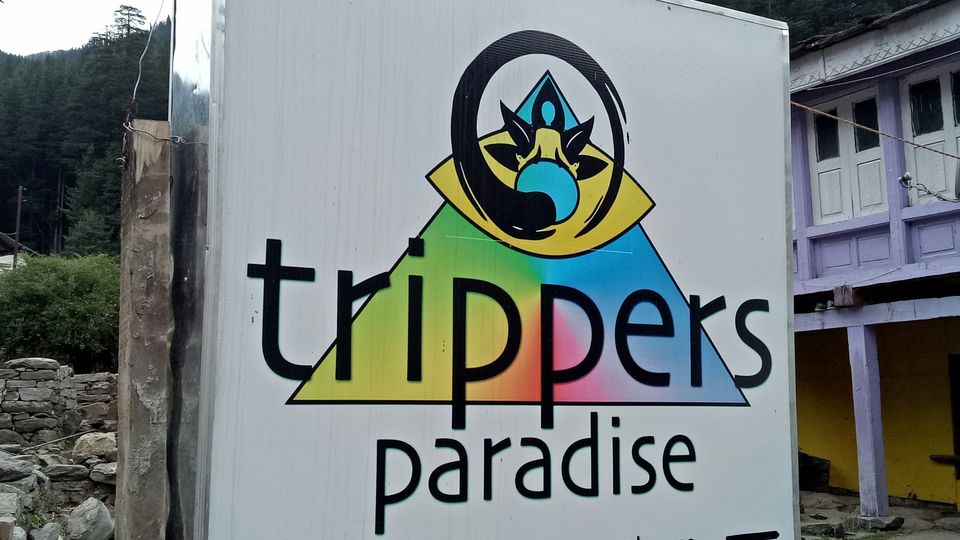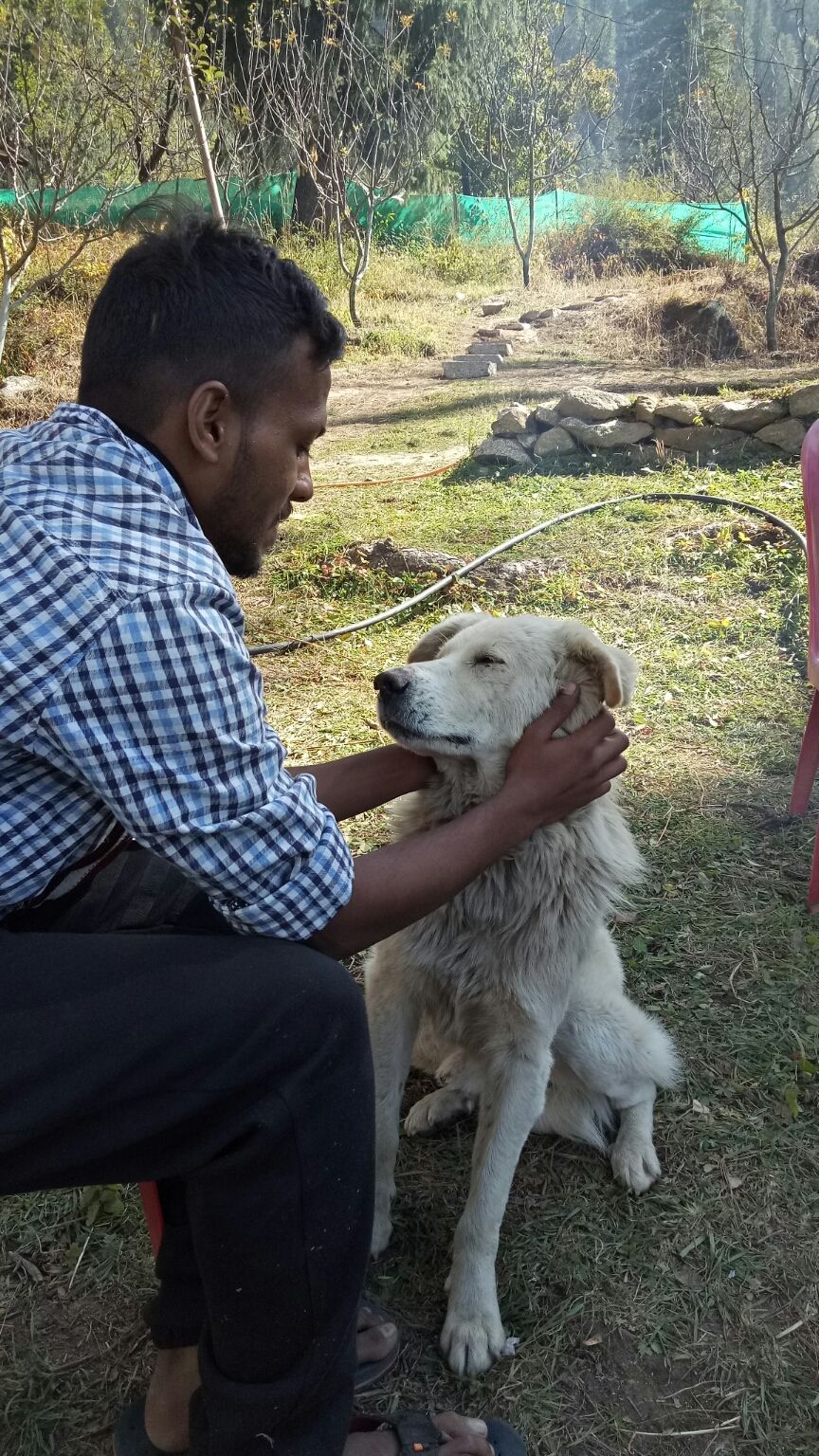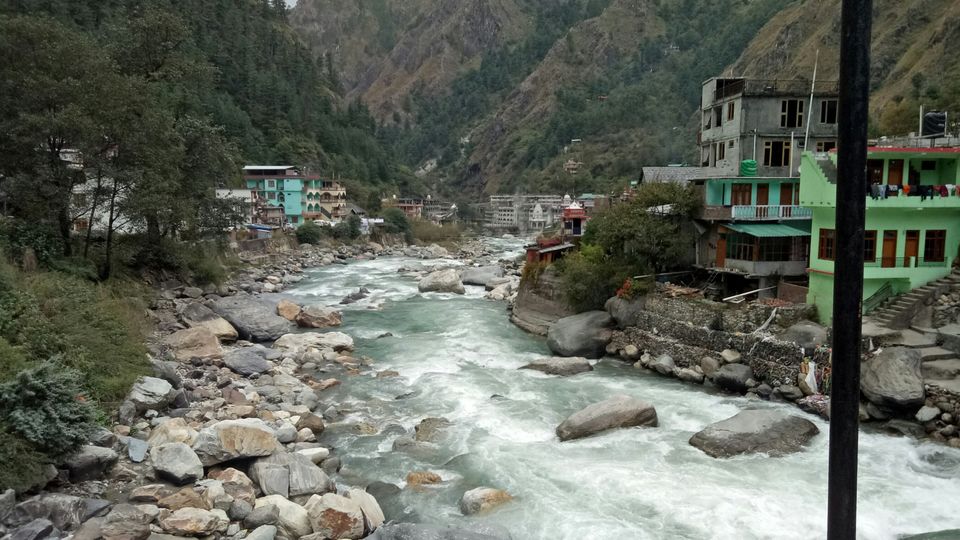 It took us around 2 hours to reach Pulga. Pulga was really an awesome place as it was silent and meadows. It is not as commercialised like Tosh, Kasol and Khalga.
One more special thing in pulga was the famous fairyland forest. Whole forest is covered with trees having pink color flowers which was like japan only.
After having the breathtaking view we went out for the local cafe and ate Thupka, momos, rice etc
Food was really delicious as it was served hot.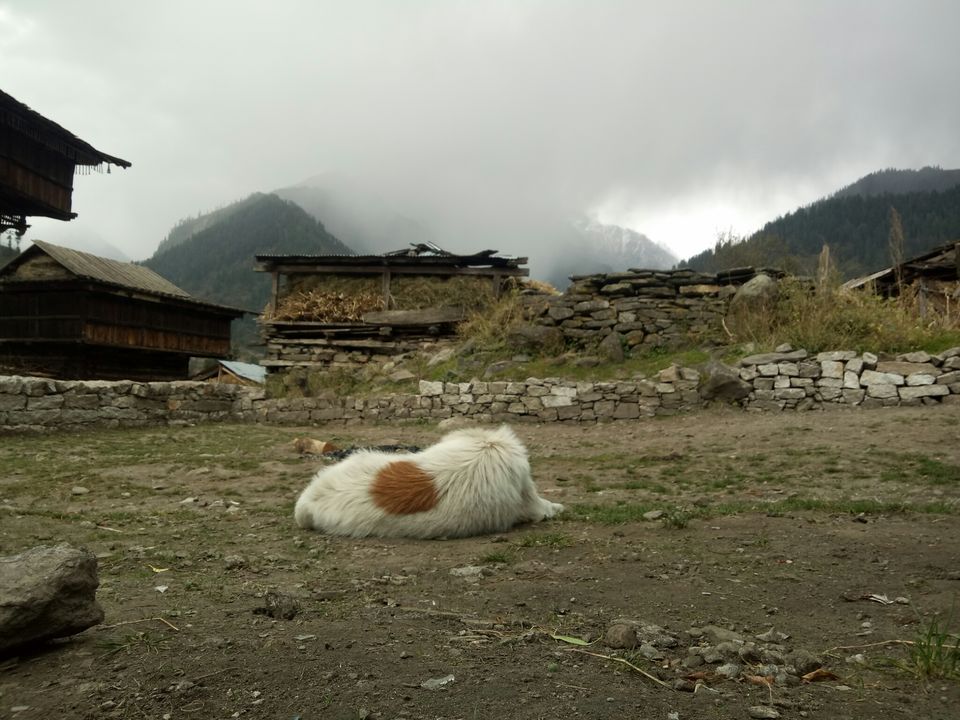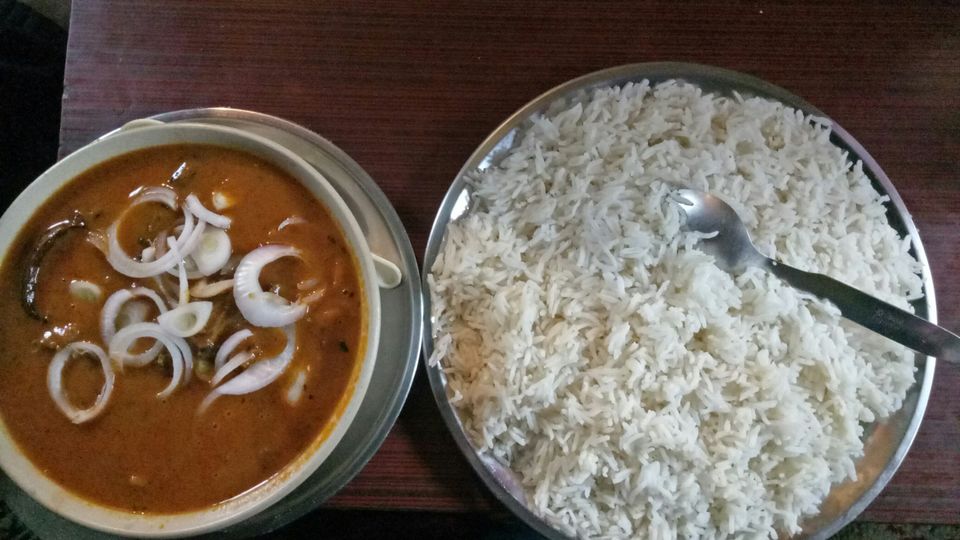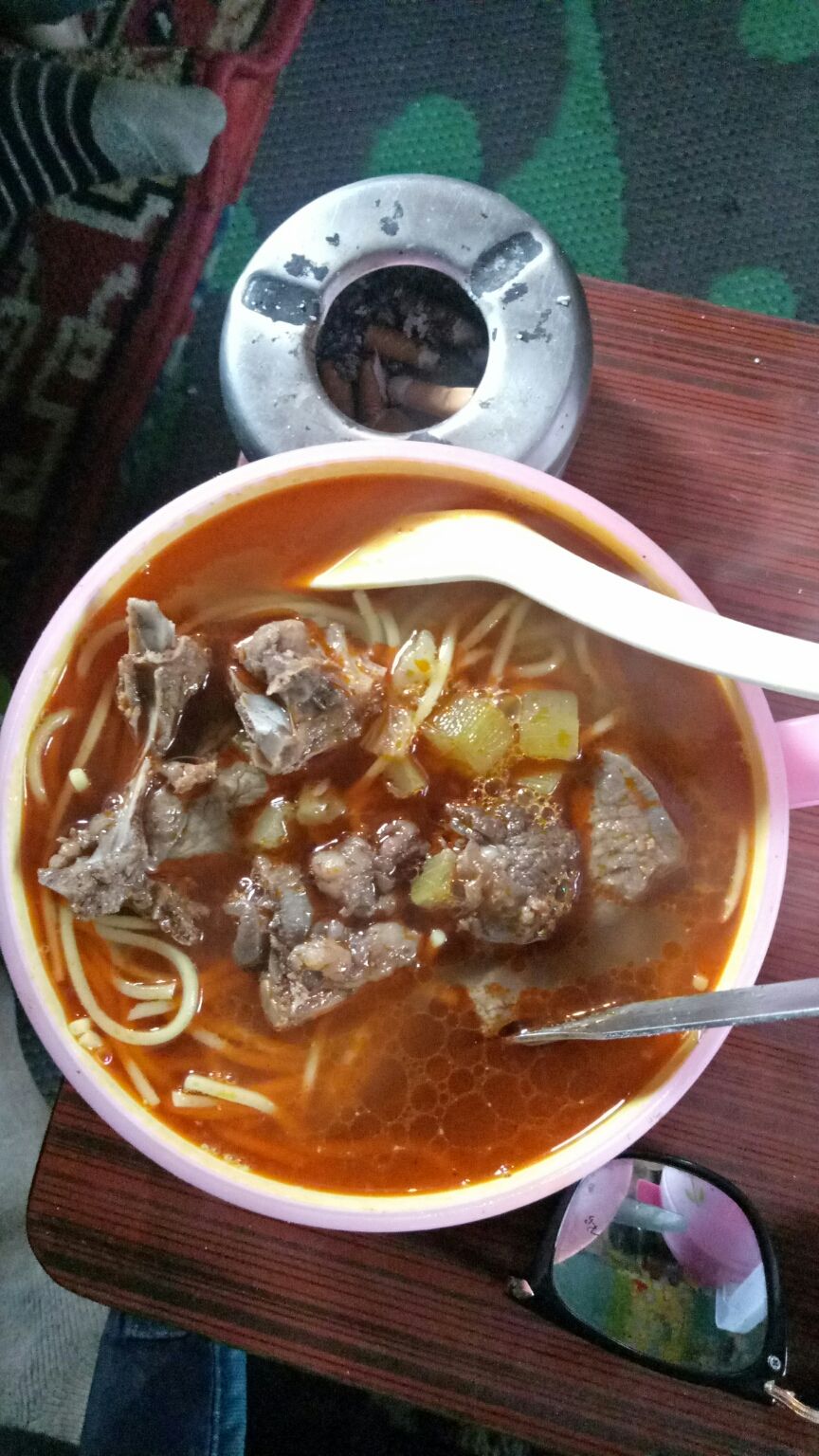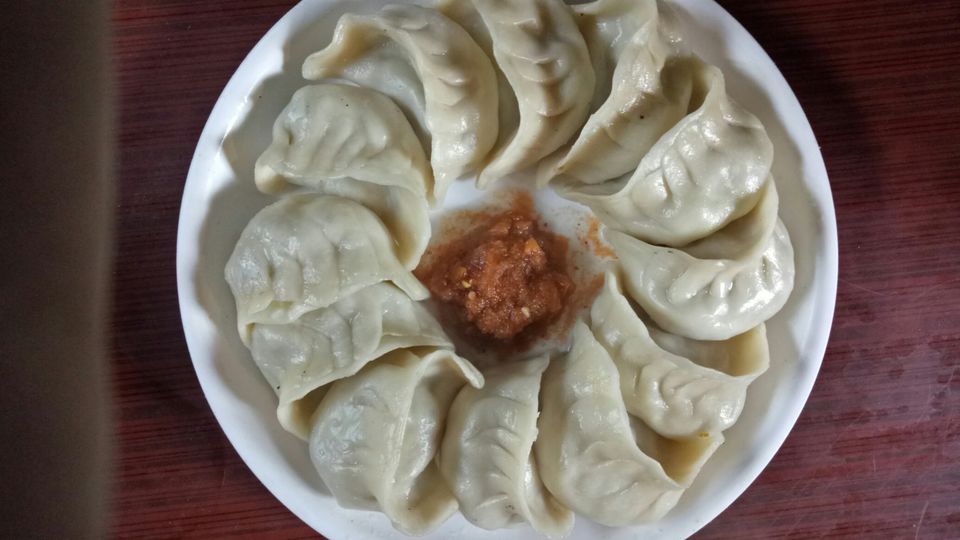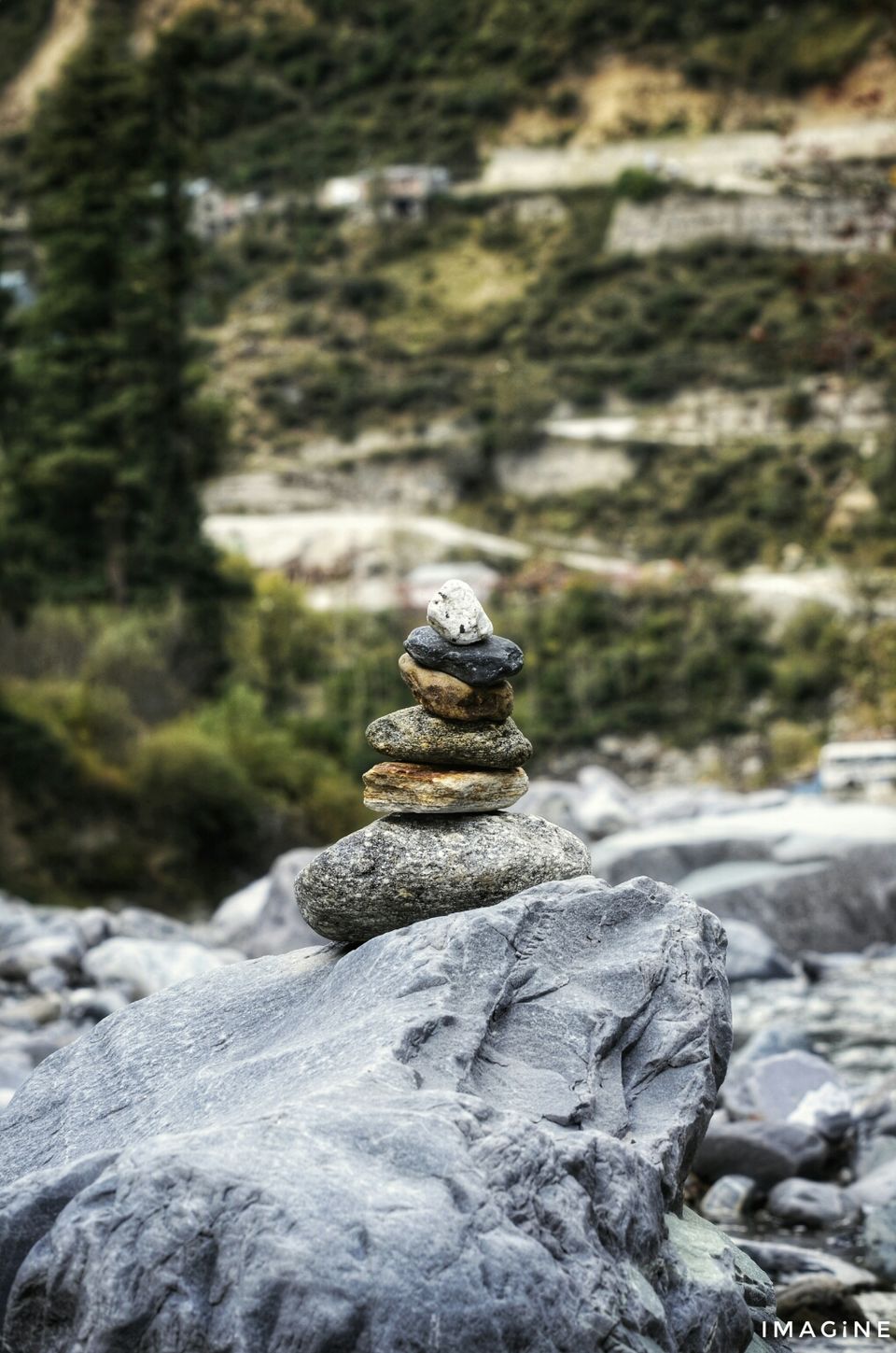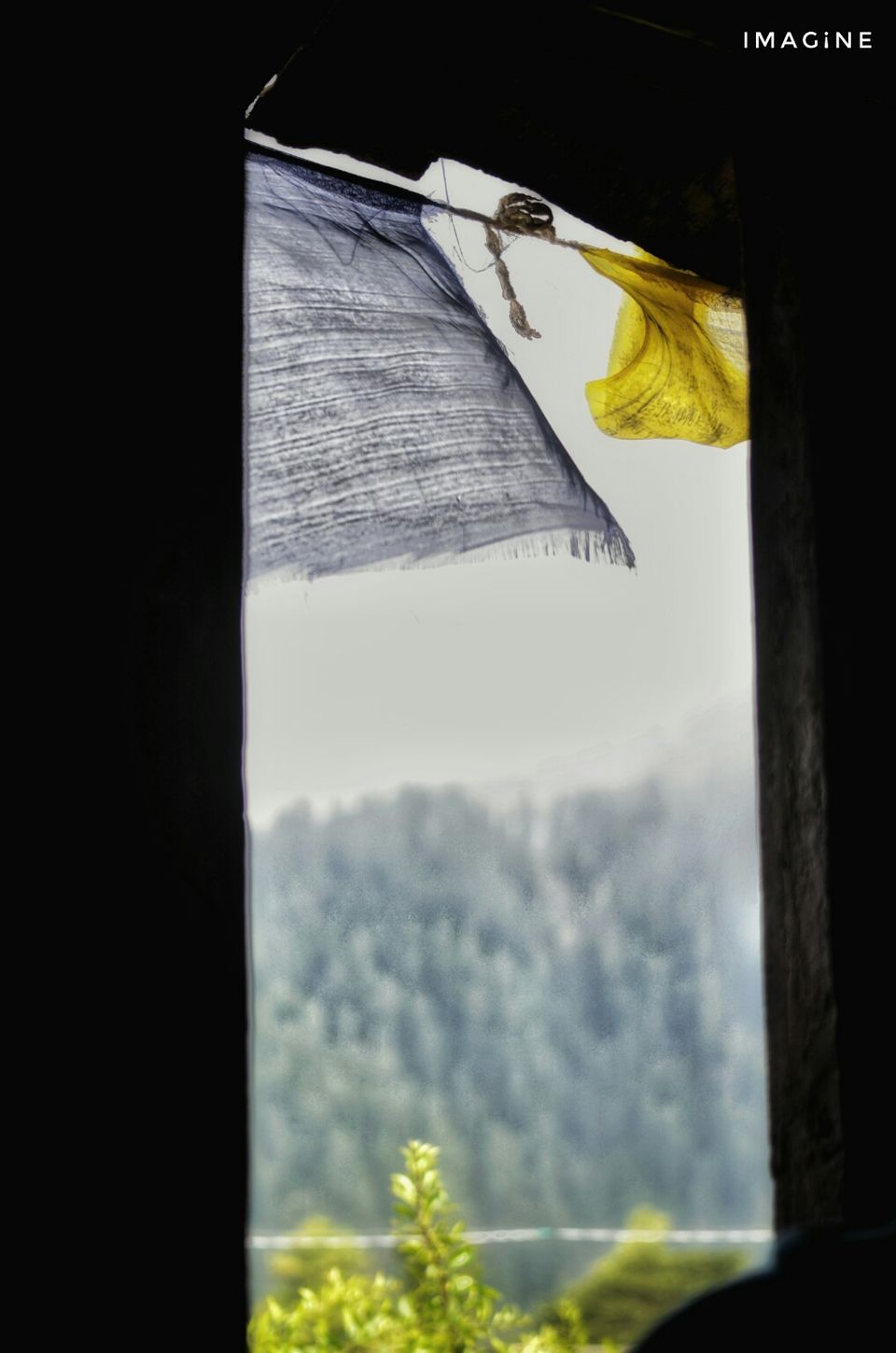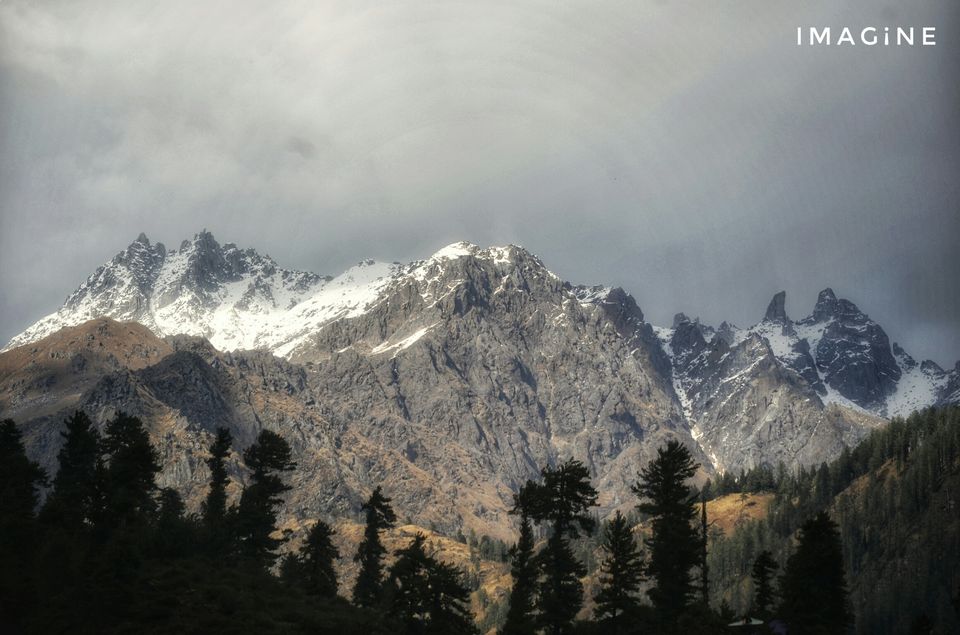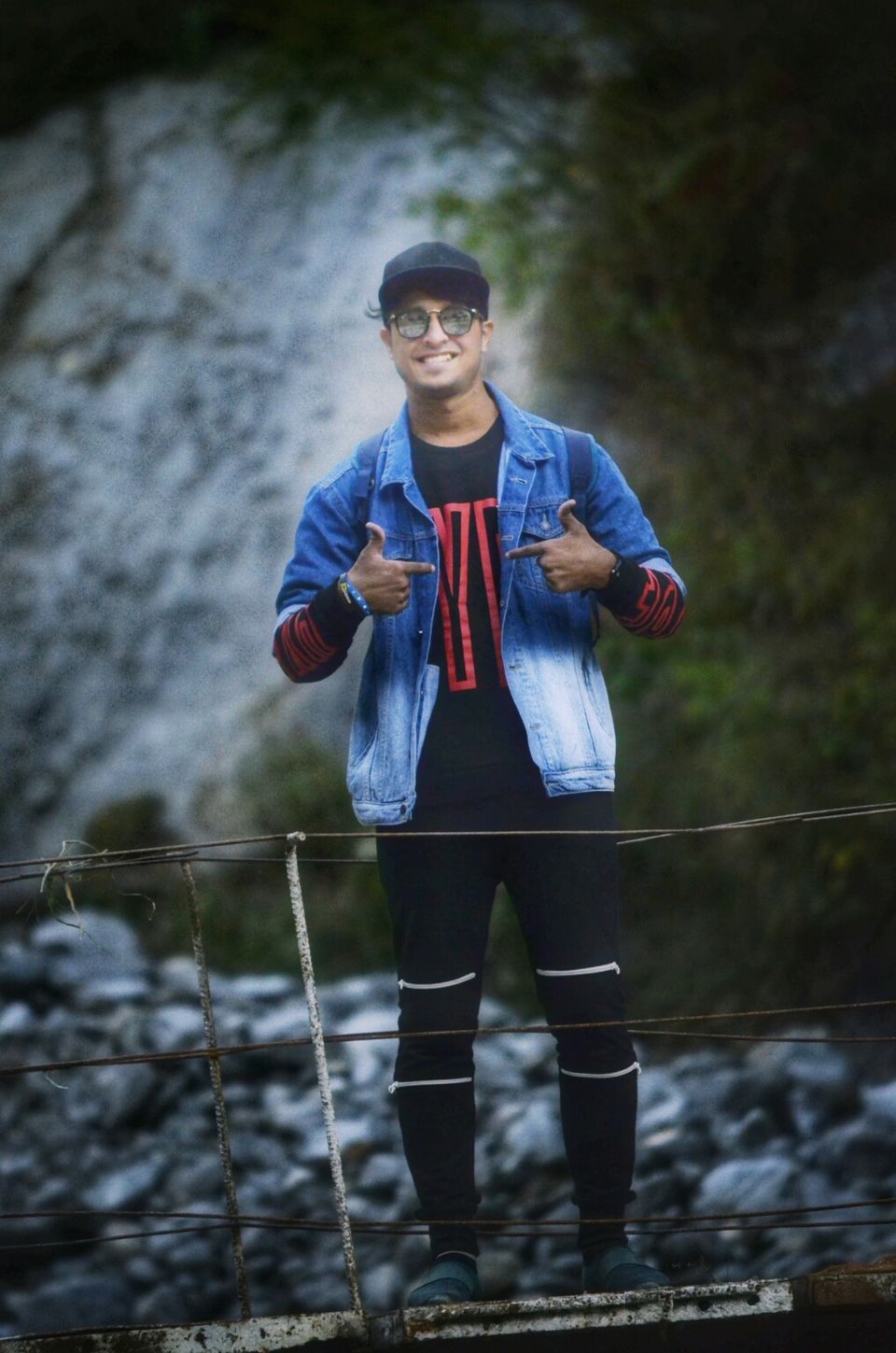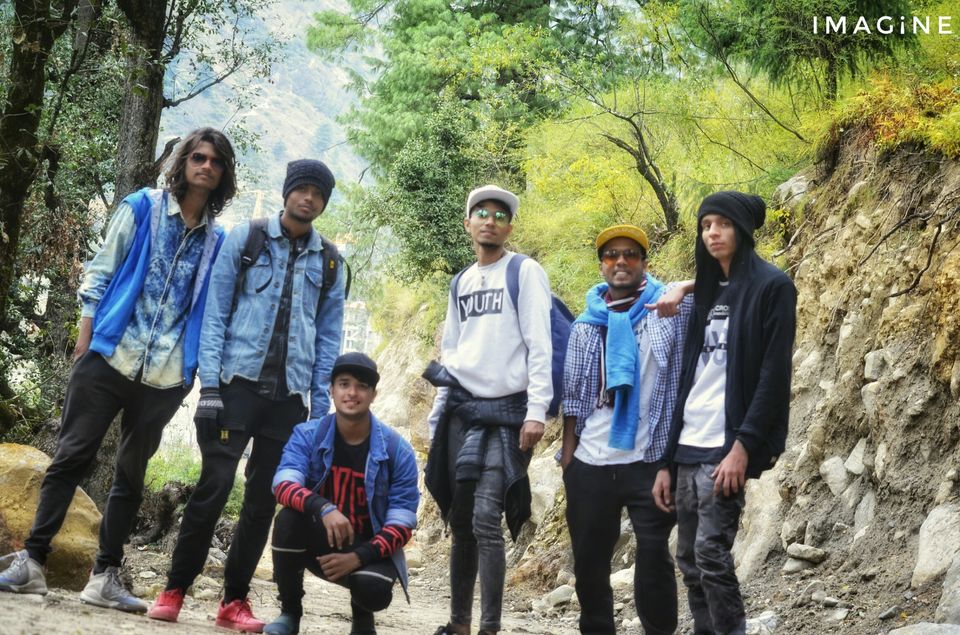 While going back again to Khalga weather got bad as it started to raining and it was heavy one as wind was also blowing too fast and temperature went more down.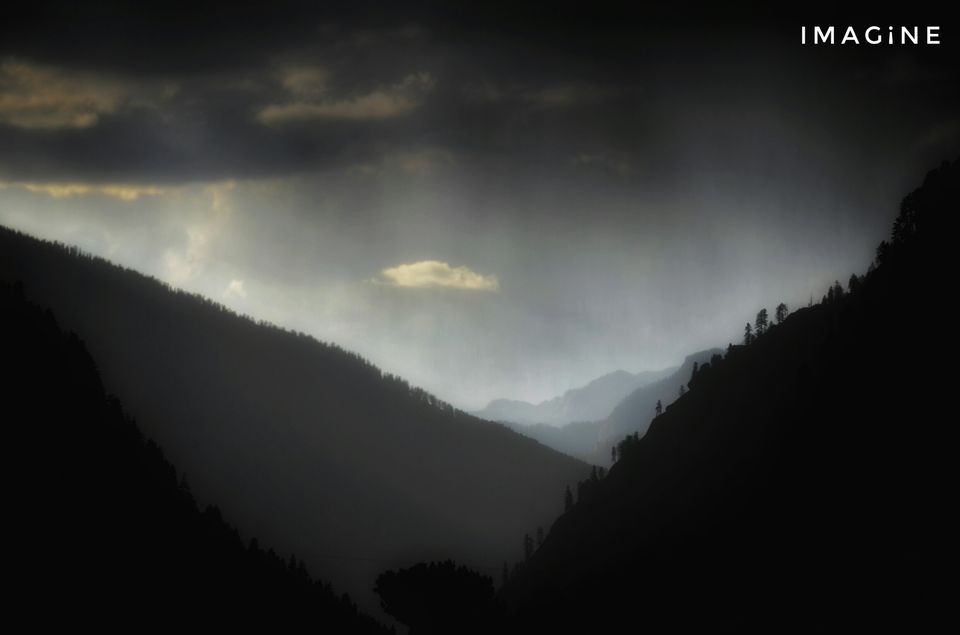 But we managed to tackle the bad weather and reached to our cafe at khalga before it got more worse.
In khalga there was not much bad weather but in pulga it was really bad as it rained there for 4 hours.
After reaching Khalga we decided to move out from cafe to camp site so we checked out from there and found out the tents provided by another cafe called as Wildchild adventures.
So we decided to stay there. It was really good as we set up our own tent. After setting up the tent we were really tired then after dinner we took rest as tomorrow was the most challenging trek was waiting for us that is kheerganga.
As last day rain happened so temperature went more down and it was -5°c at night. After waking up we sat around the bonfire with a cup of chai to make out body warm.
So we got ready after having breakfast in one of the famous aloo paratha shop in whole kullu valley. ( name I forgot :3)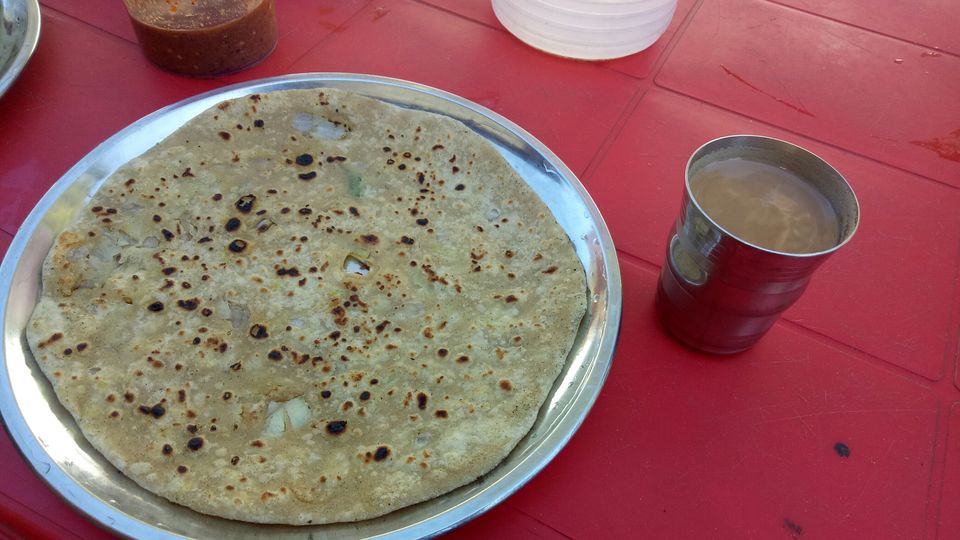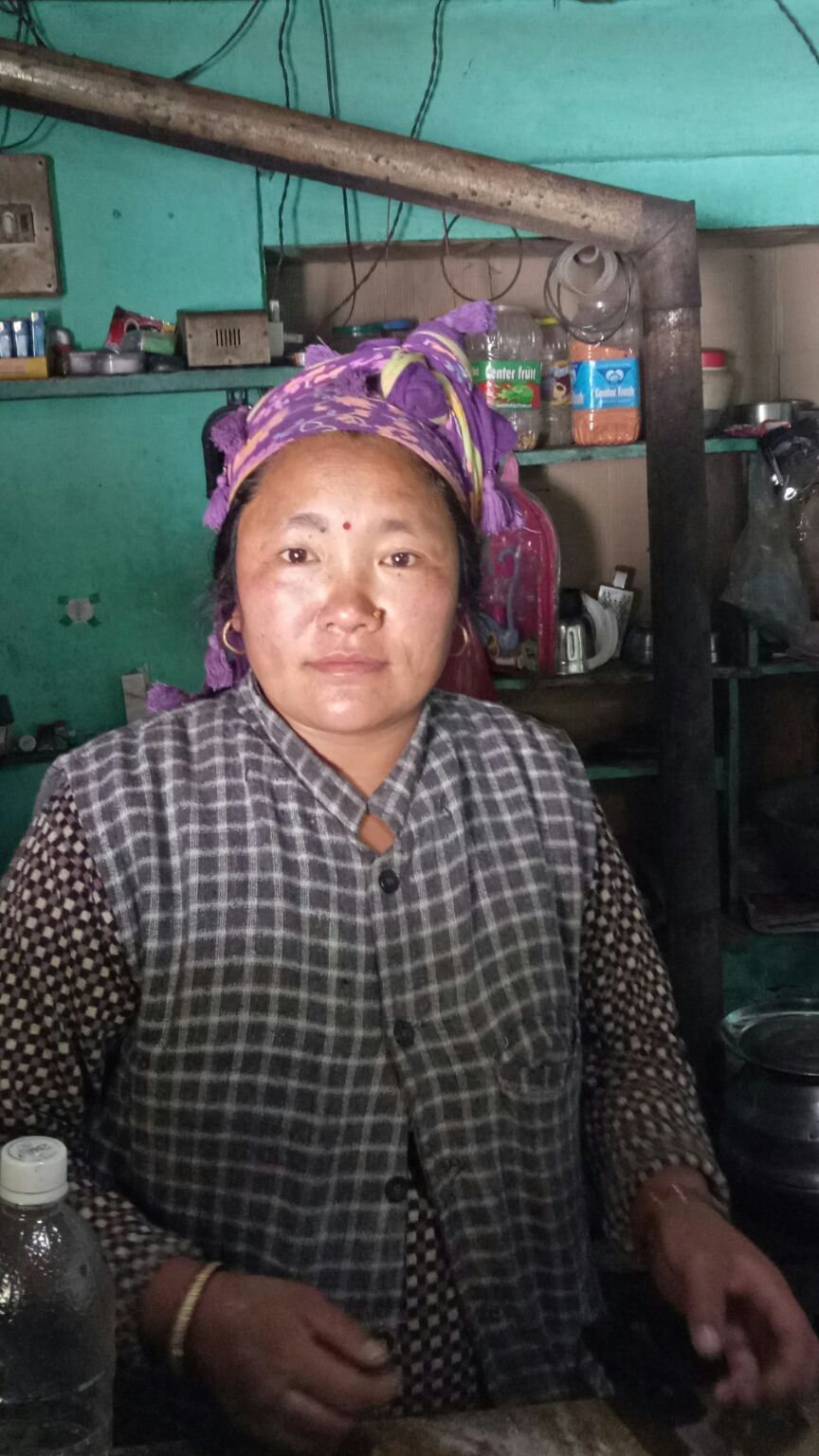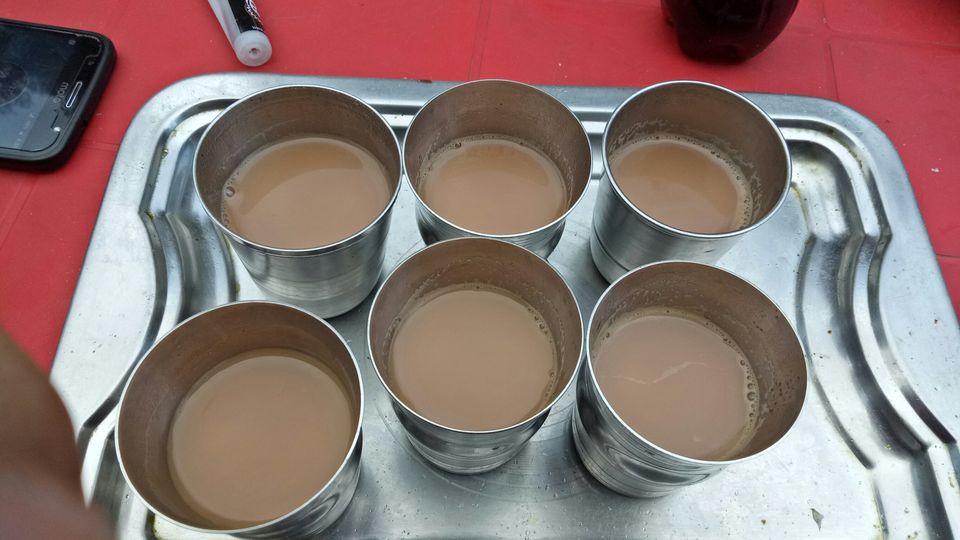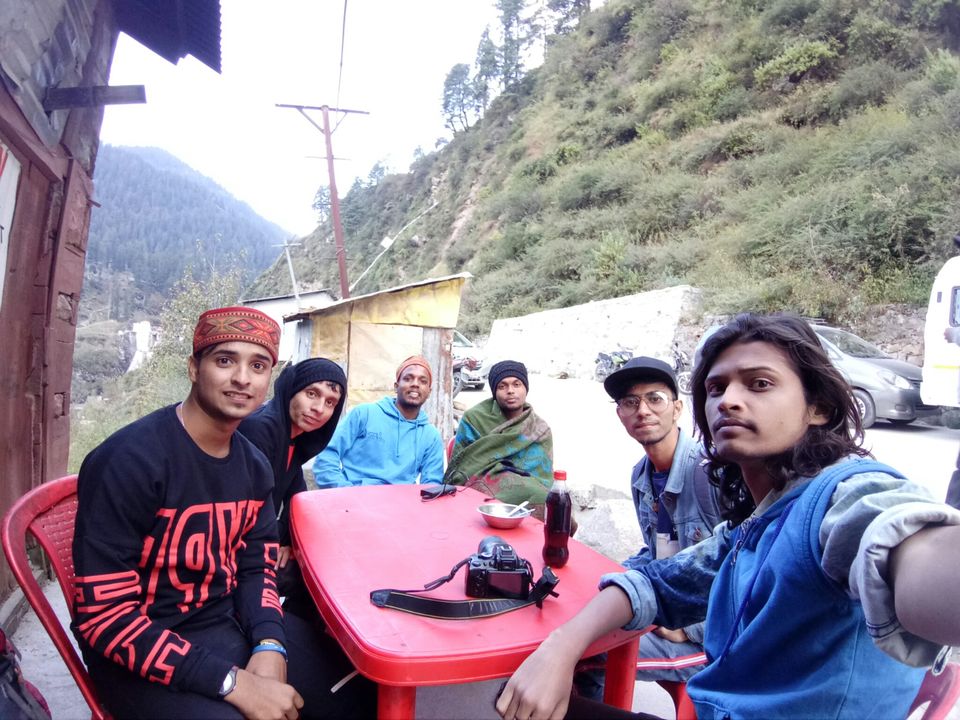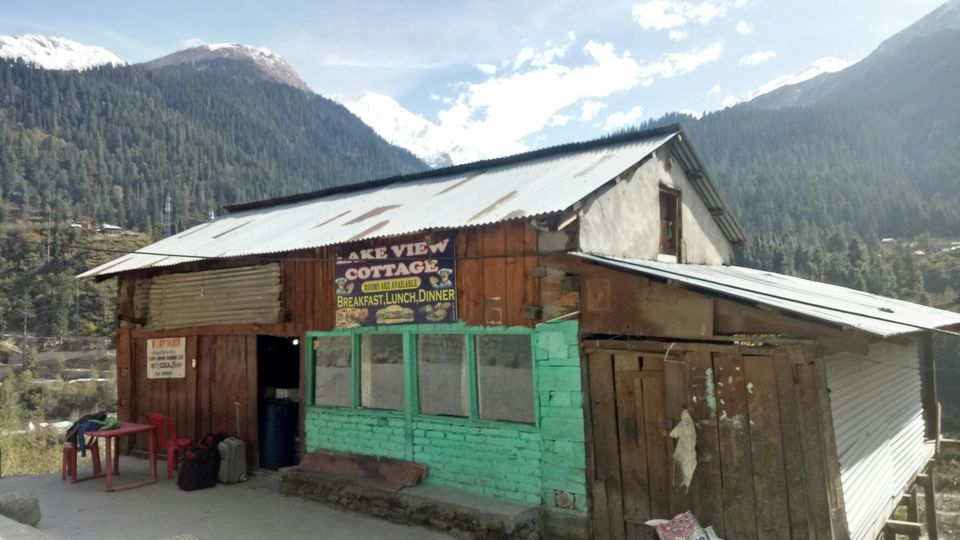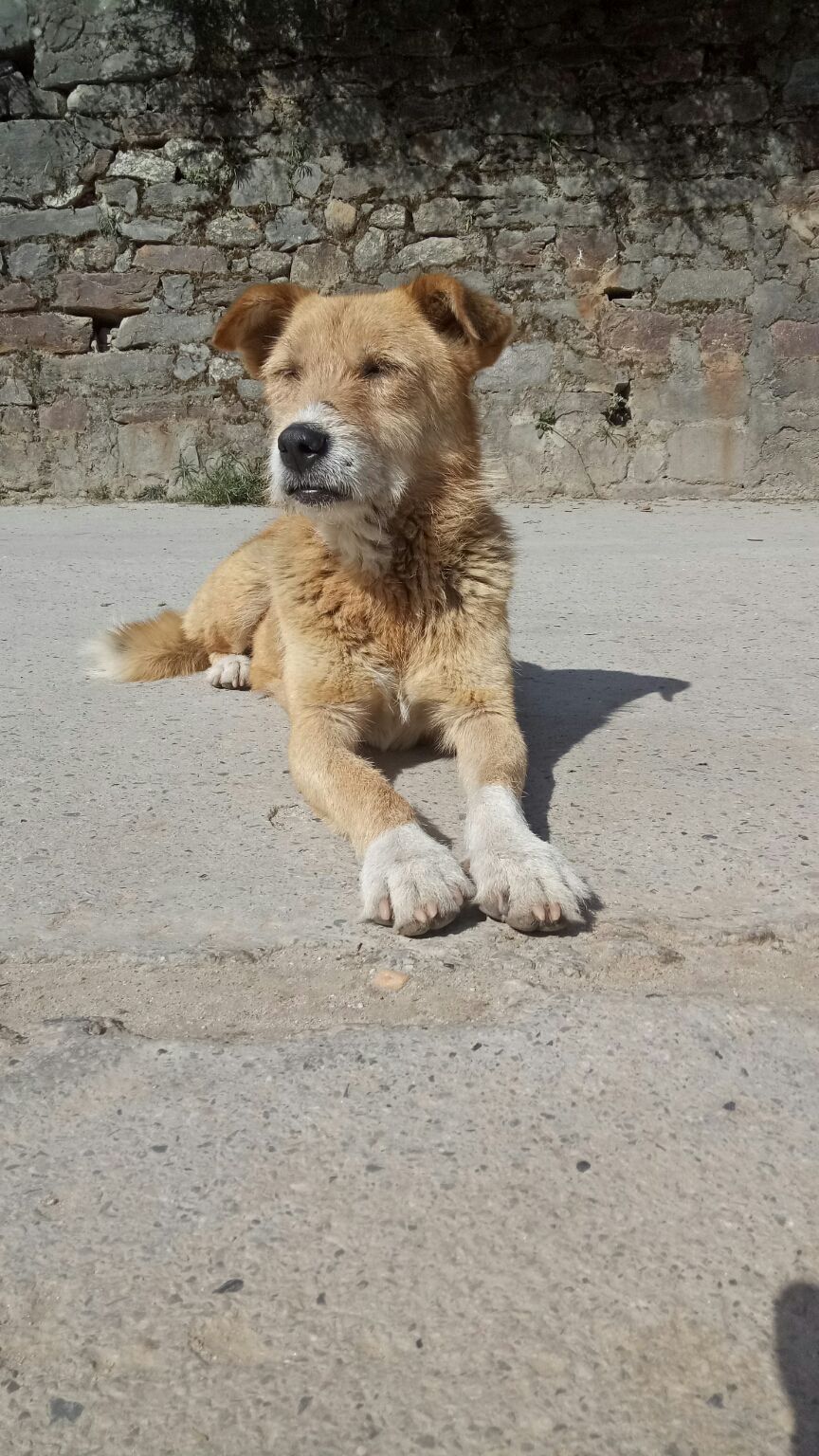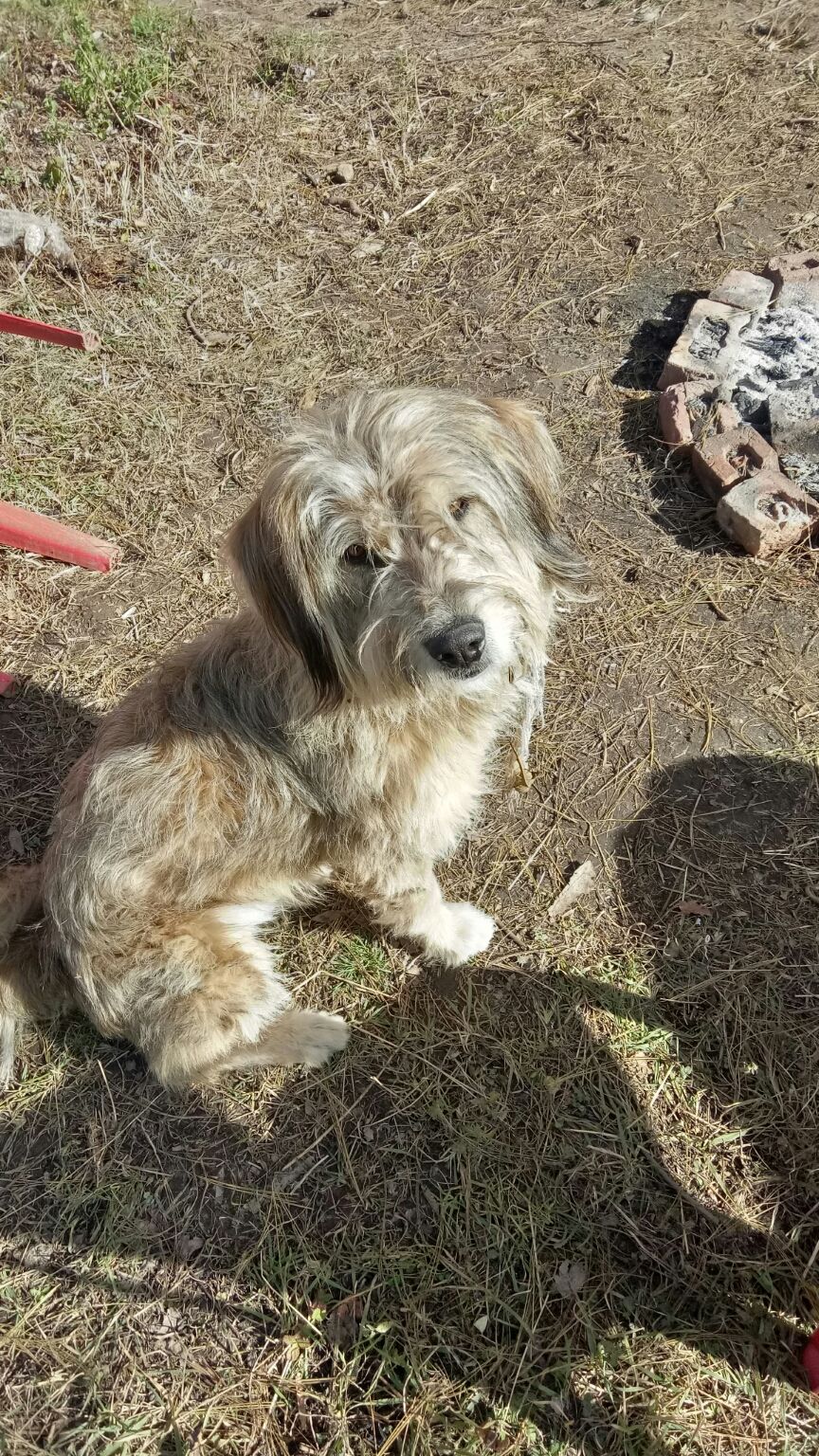 After having delicious parathas we started our treak to kheerganga which is around 18kms but it is hard and challenging one as it is a lamdslide area too. Path is covered with rocks, bridges, waterfall etc
In kheerganga trek you will find around 4 waterfalls in between Khalga and kheerganga.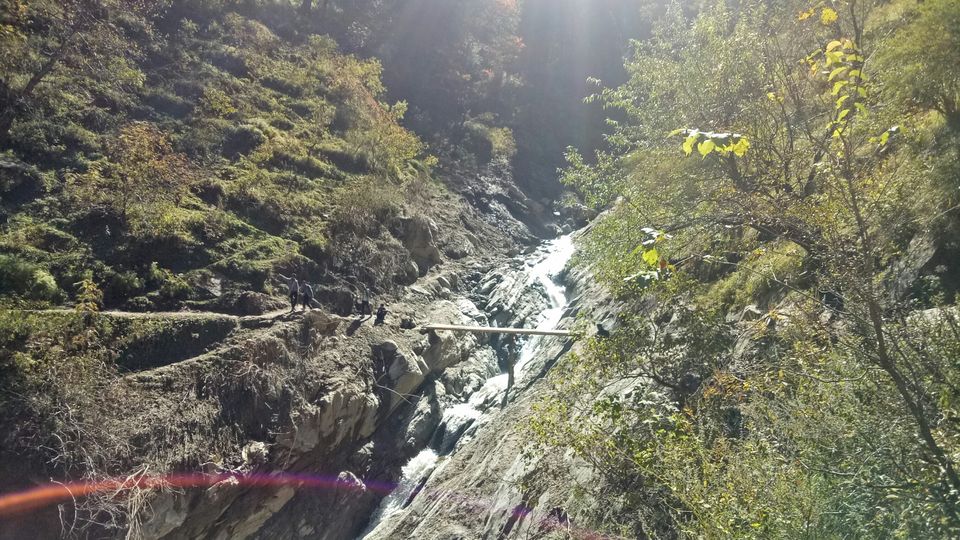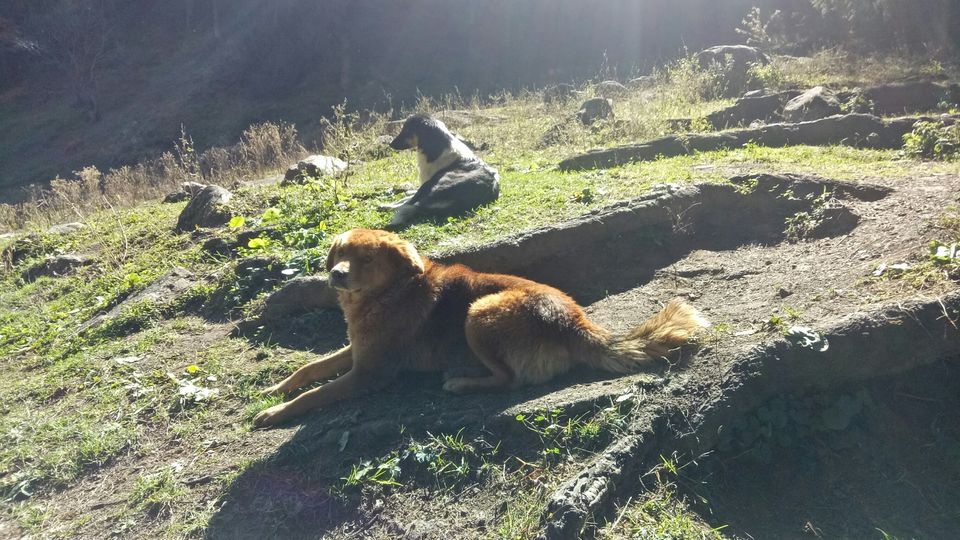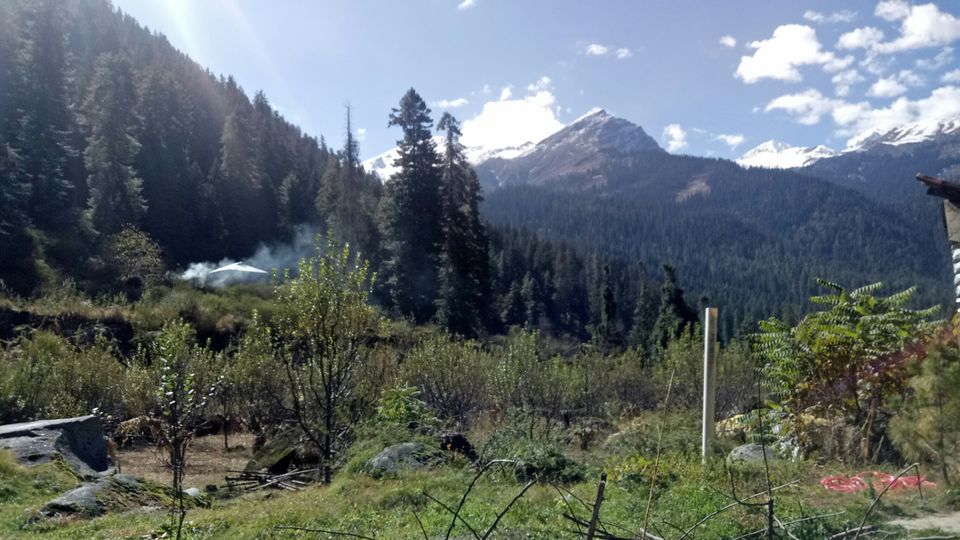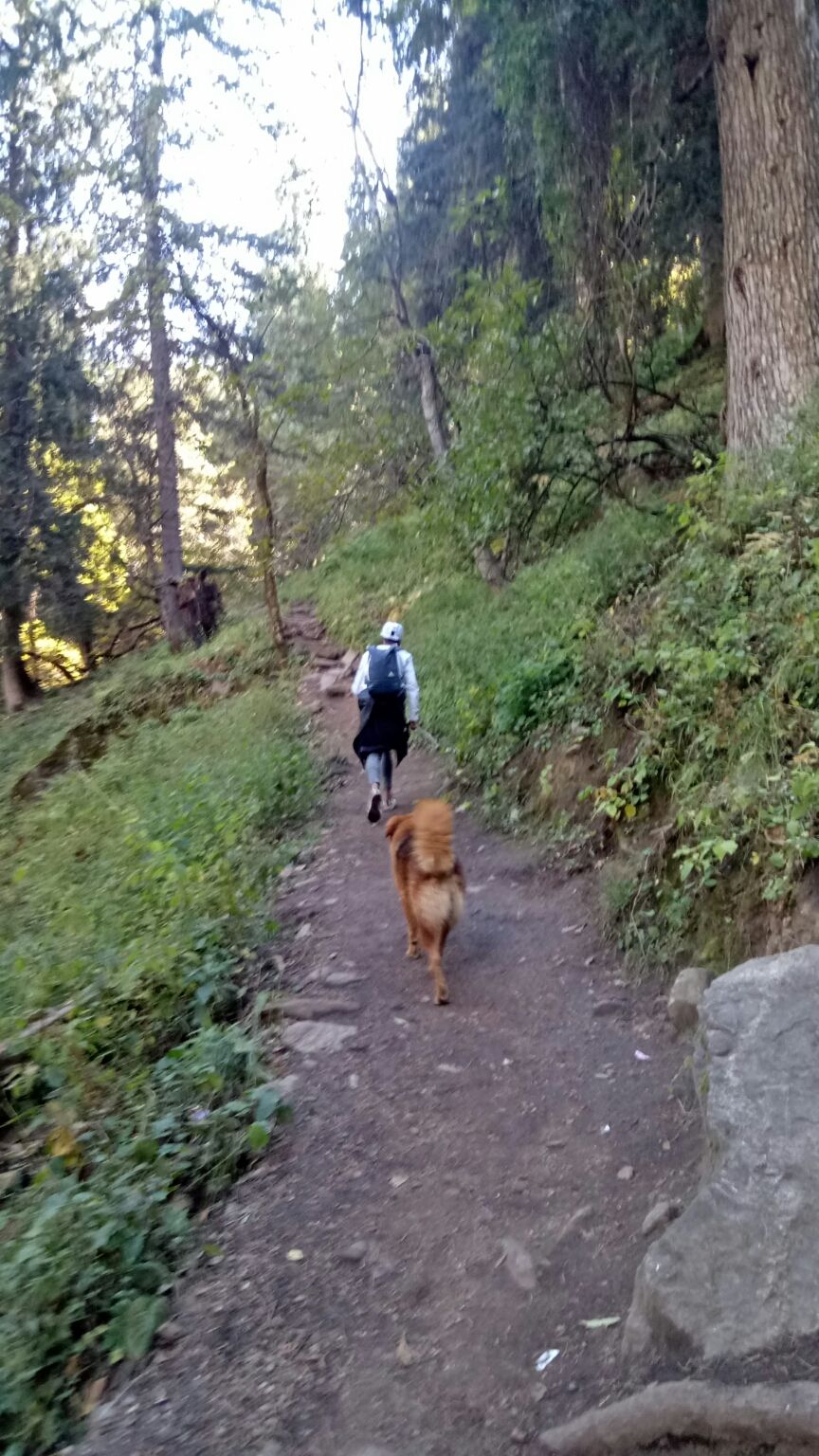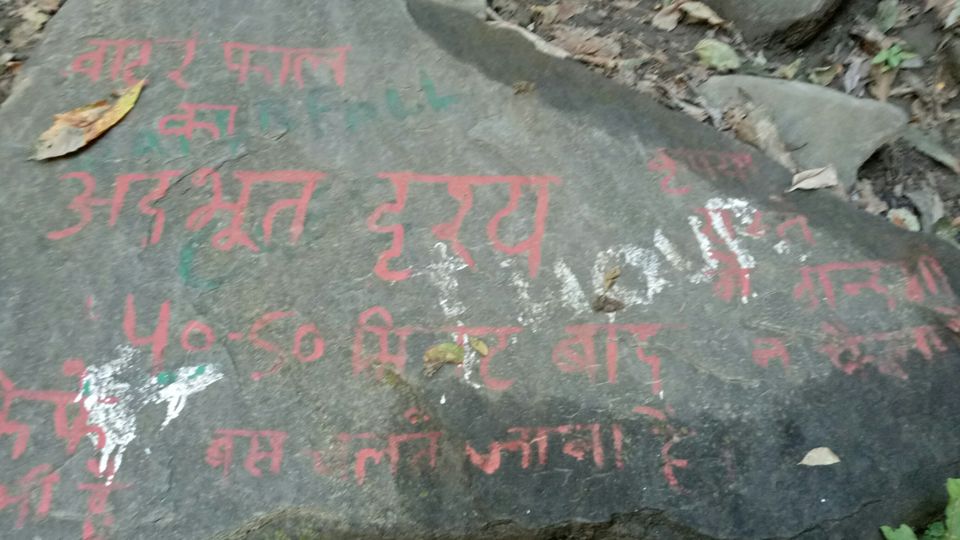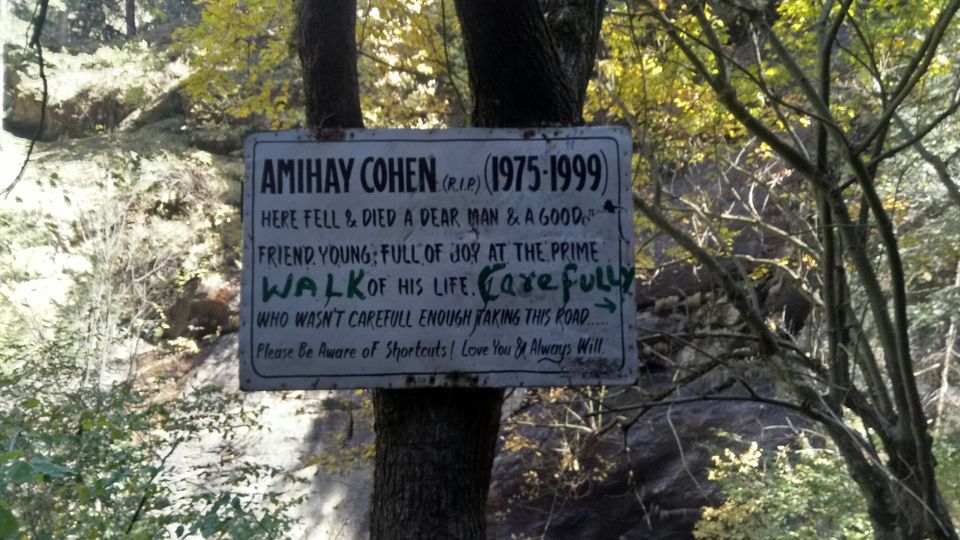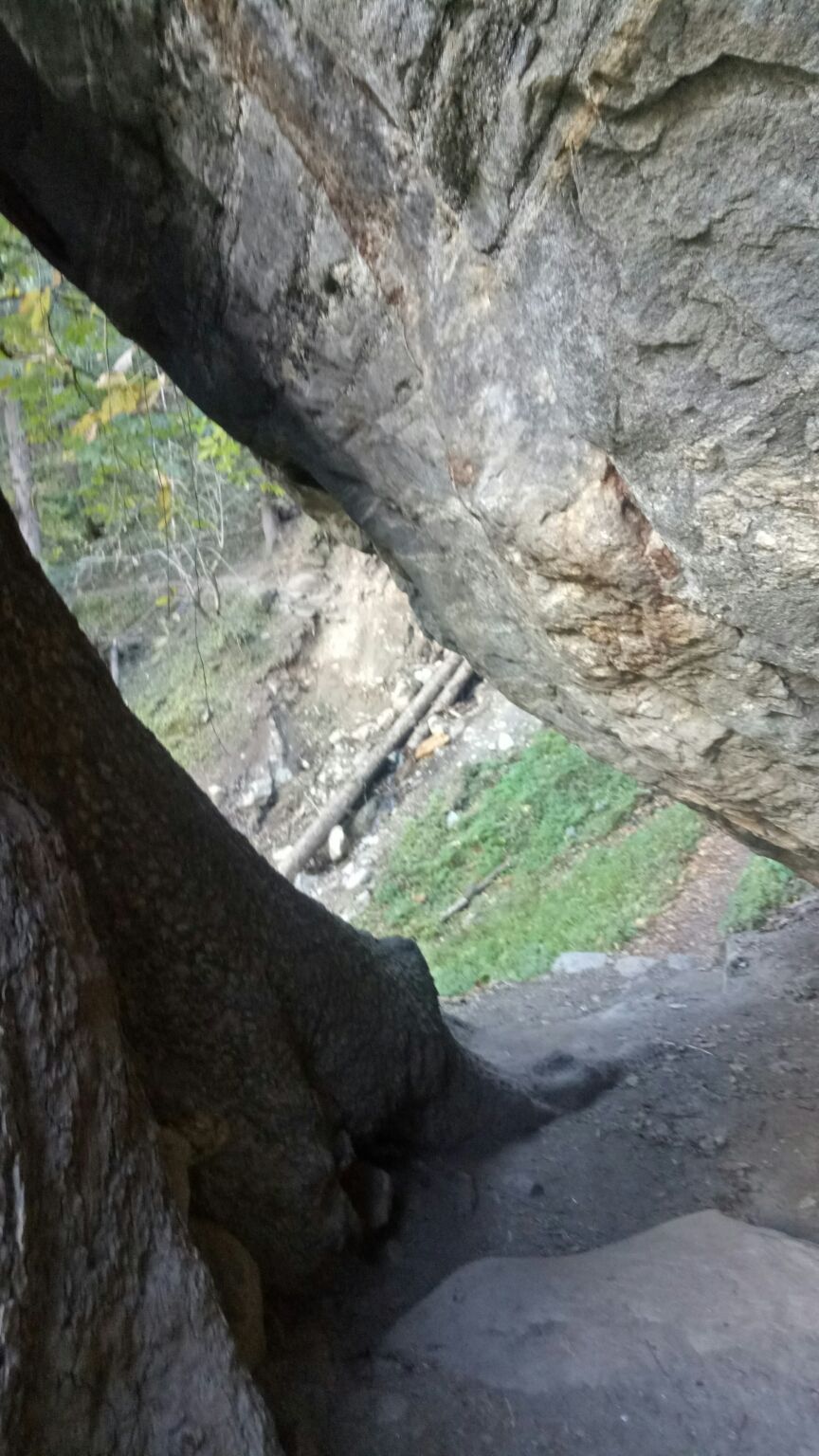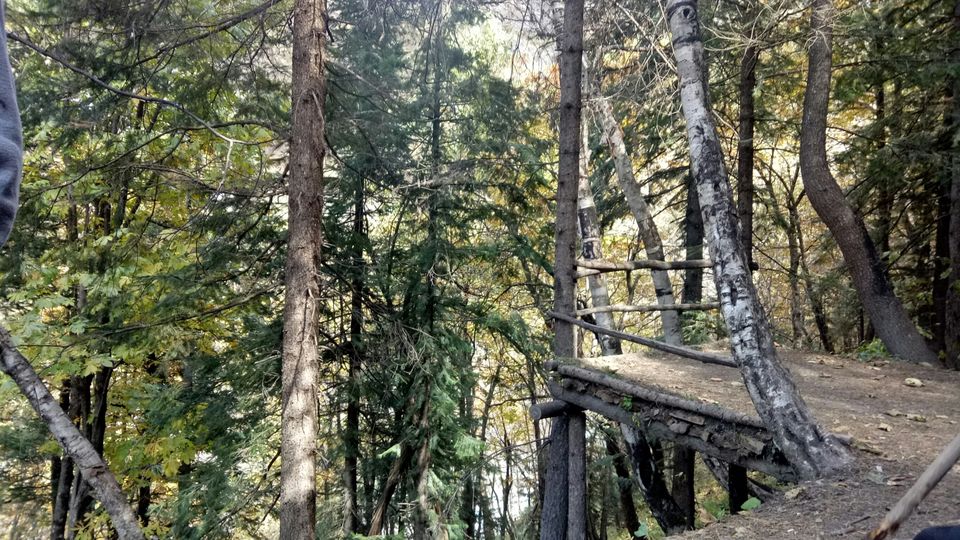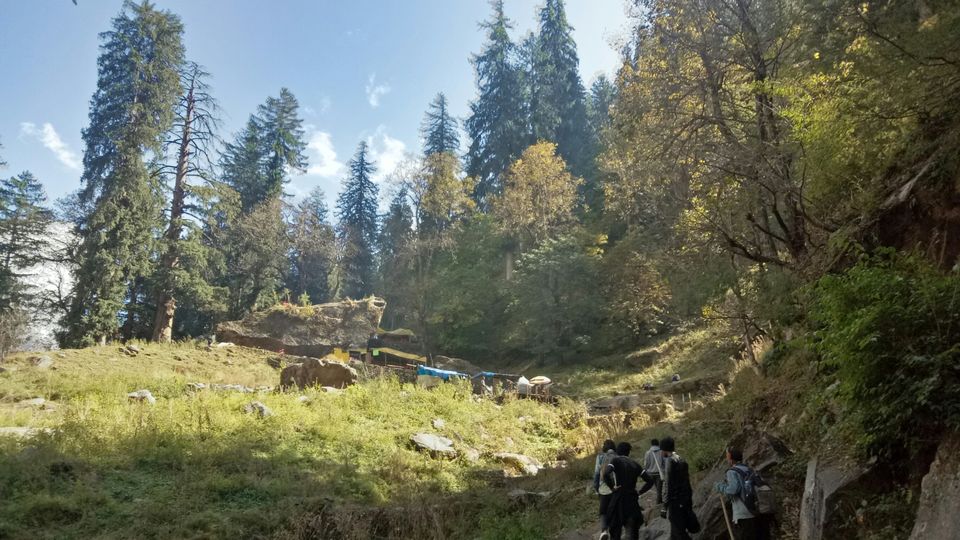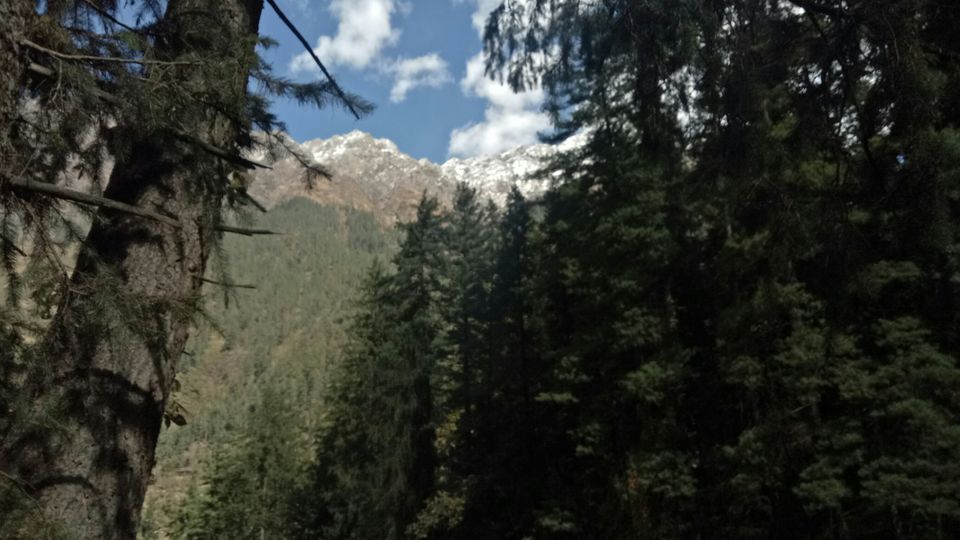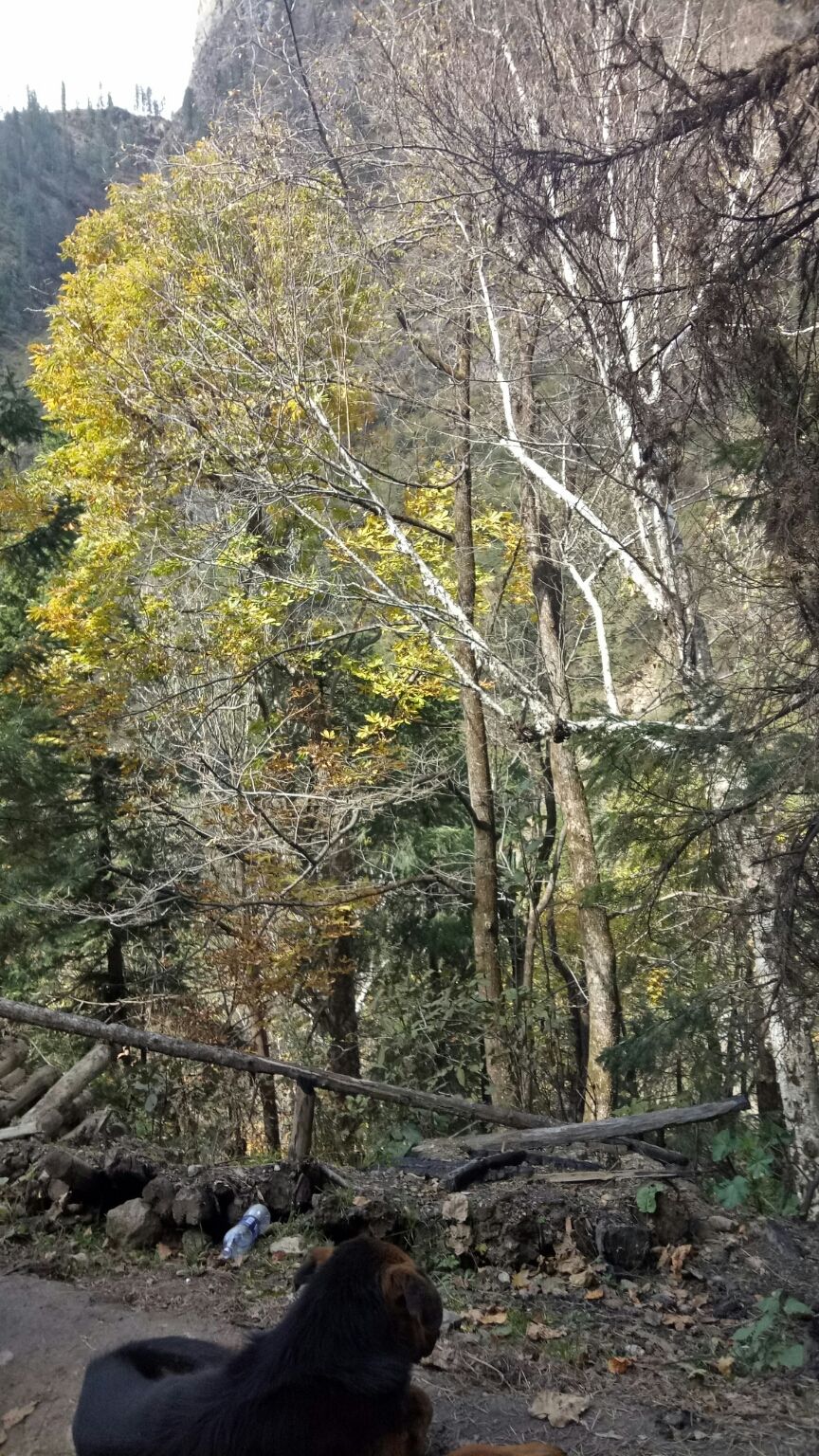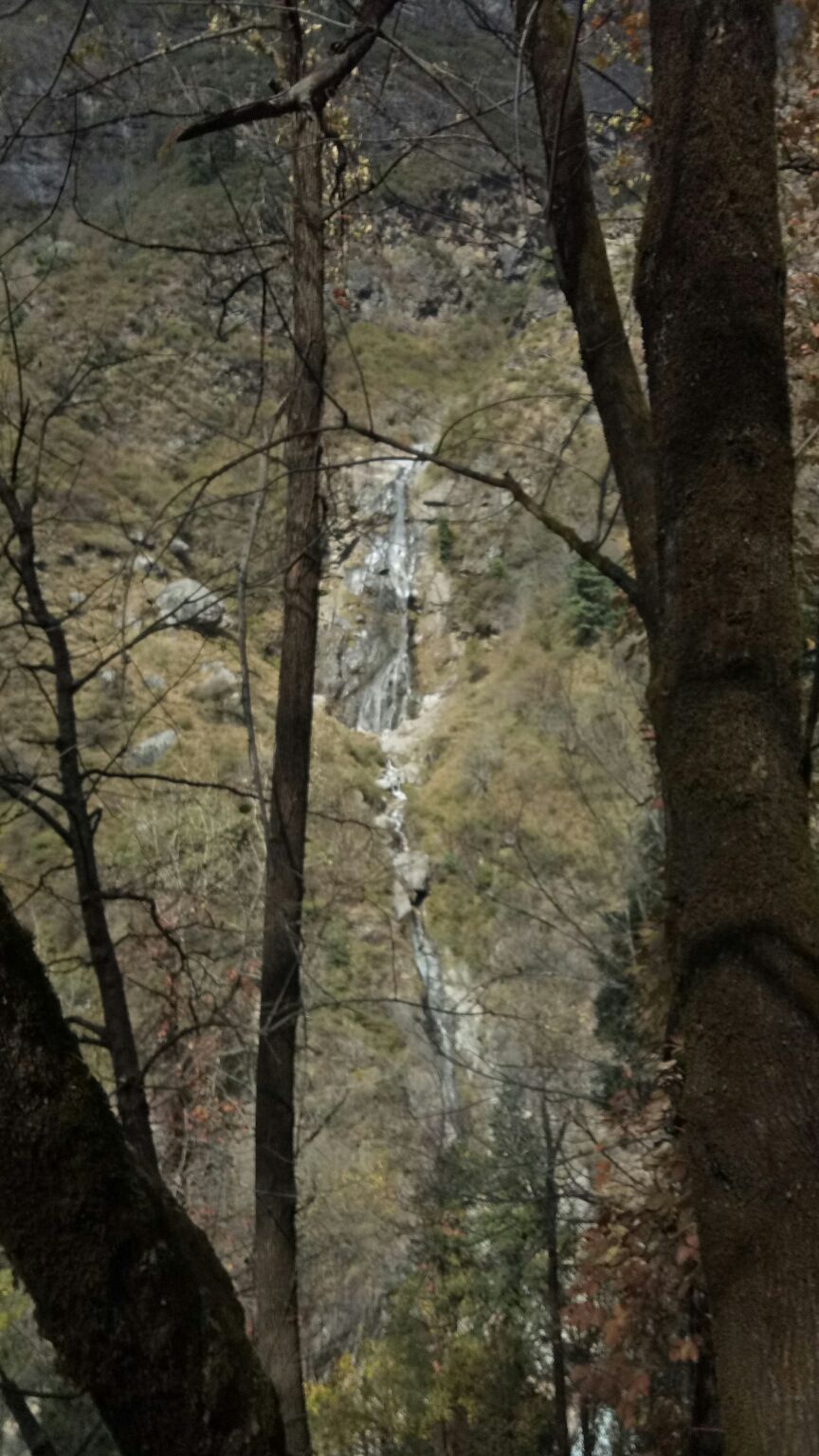 We were accompanied with Bagha and shera too :D those are himalayan dogs.
Let me give you a fact these dogs are so awesome that they show you the way to the top and ensure us we reach to the top safely. They help trekkers whoever has lost its way so that they can reach to their camps safely. They are actually the Batman of himalayas❤
In the above images you can see the beauty in between the trek. Waterfalls, trees, cafes, art etc
There is one saying too you have to shout BOOM ! In every 10 mins to let know others that you are still on the right way and not lagging behind.
So after 3 hours of hard sweating trek we reached to our destination Kheerganga.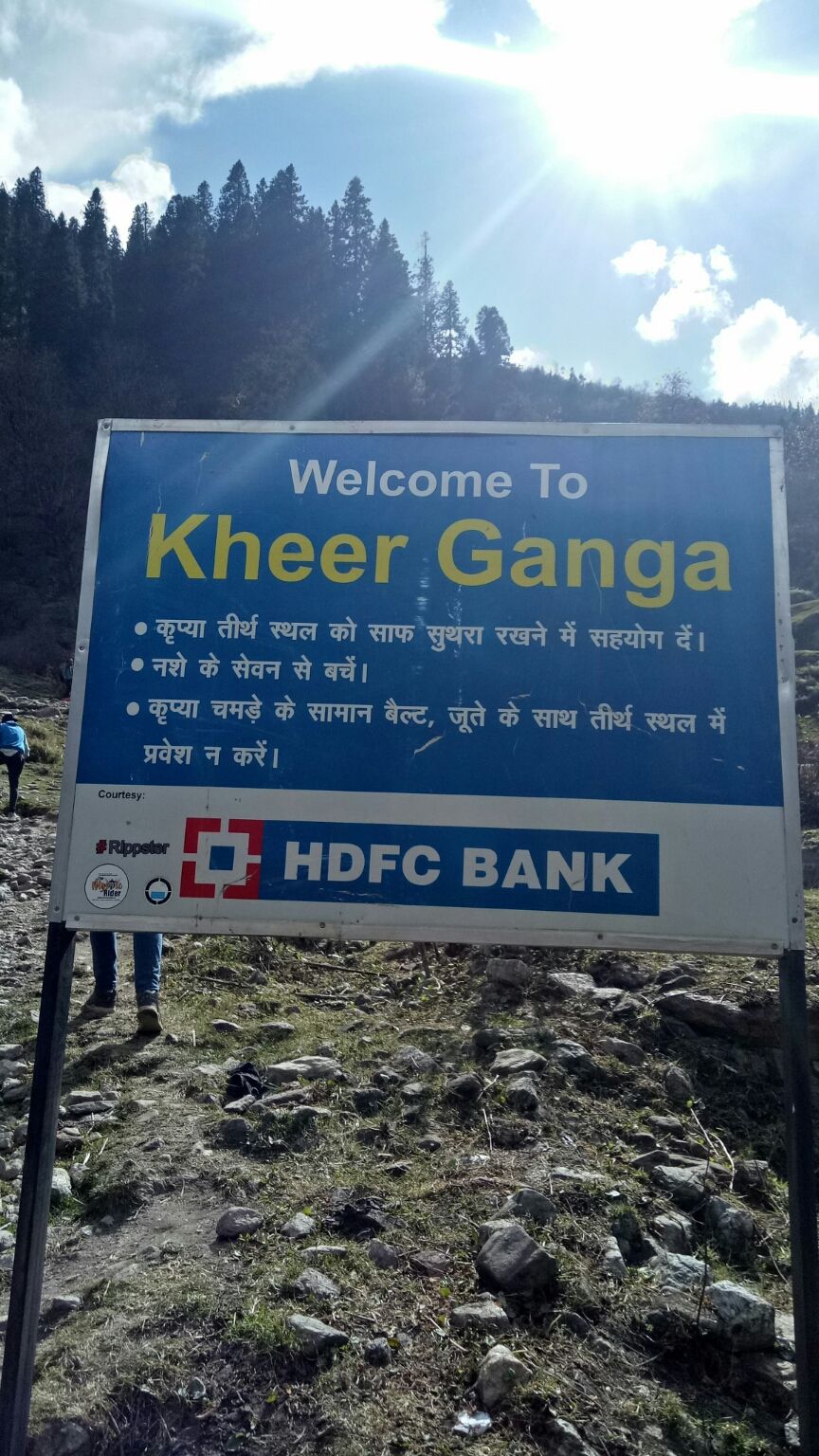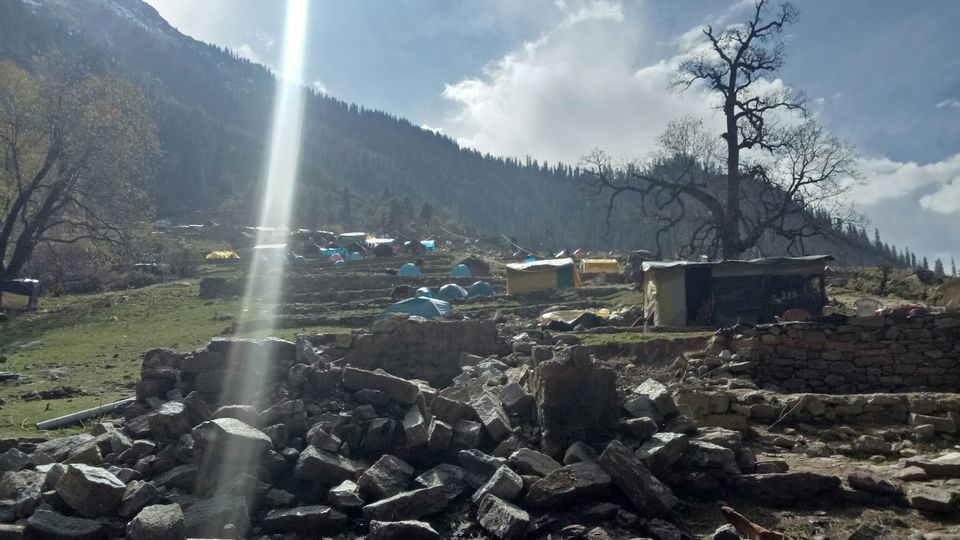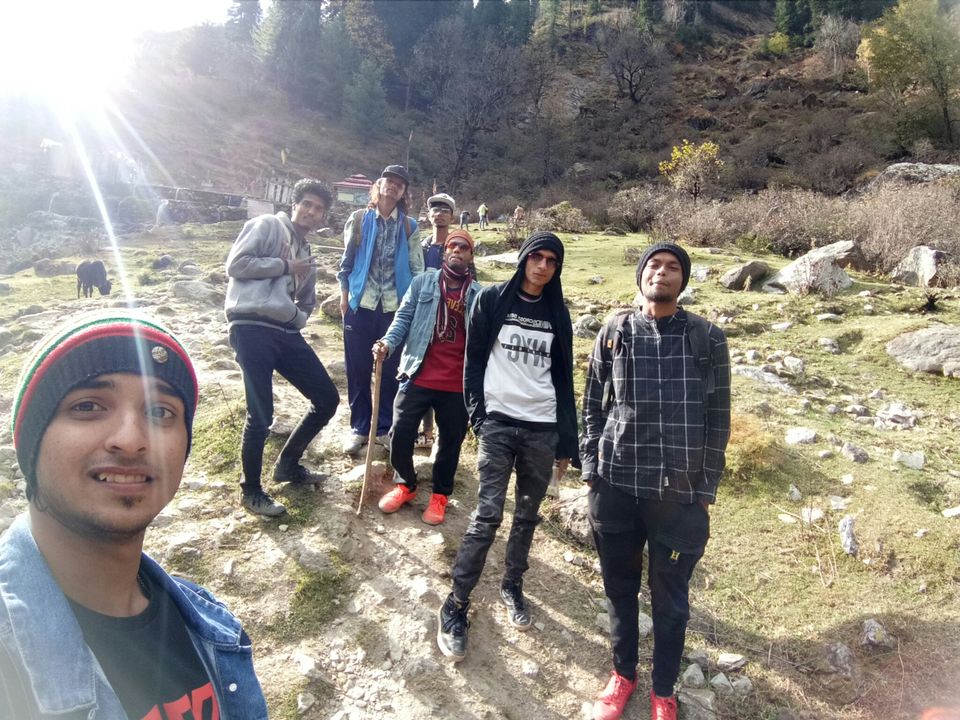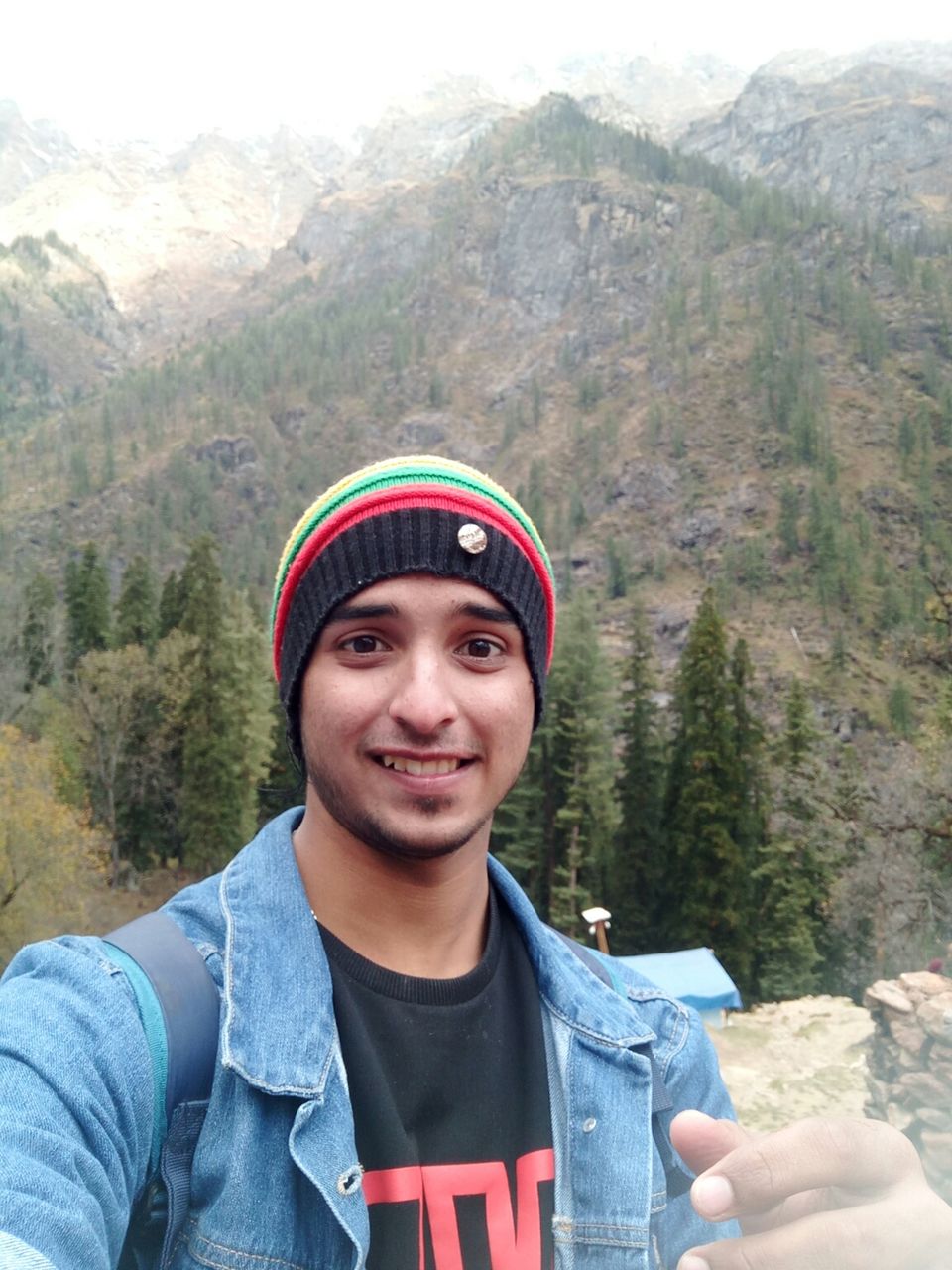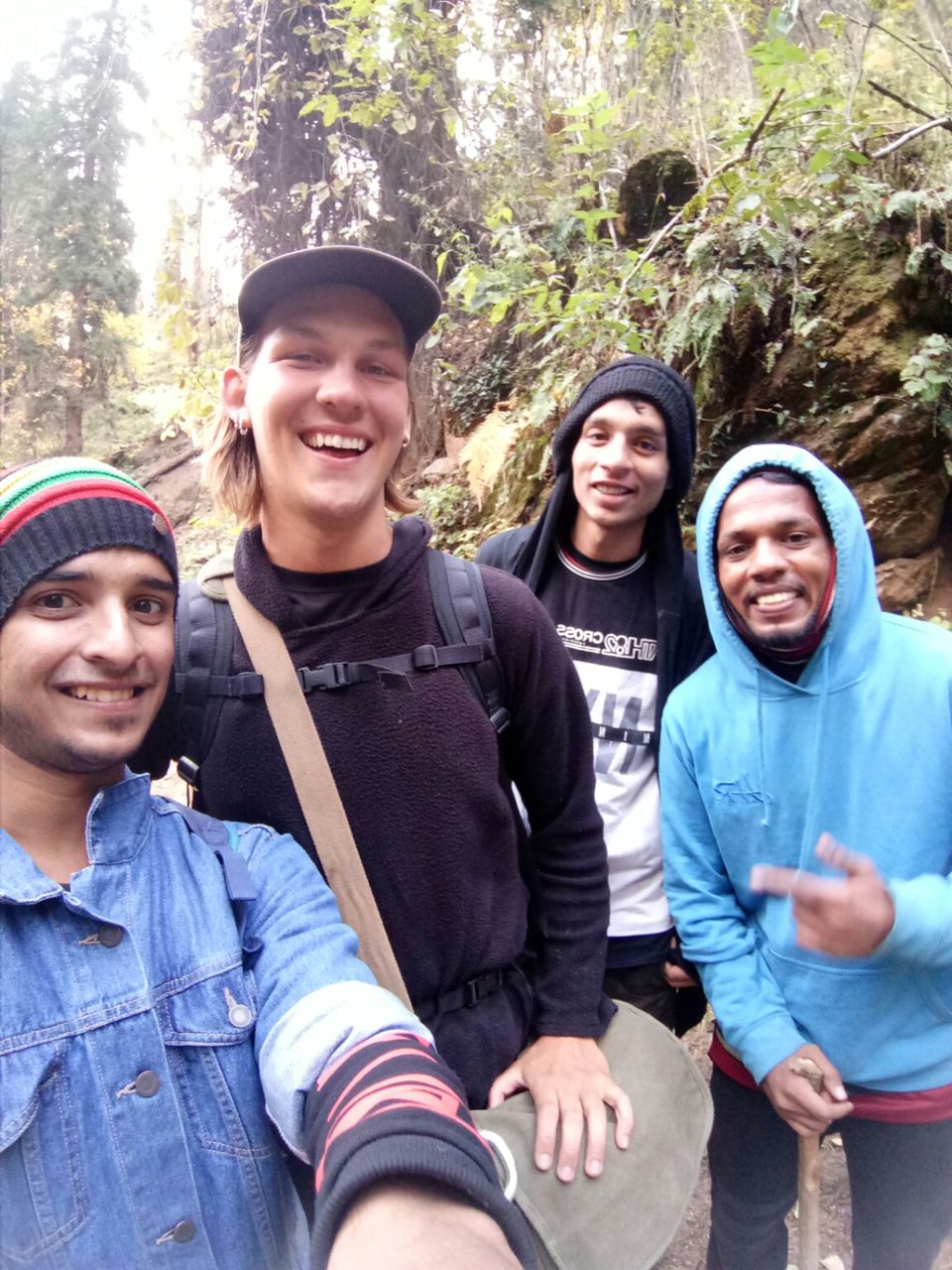 The place is named as kheerganga because the water here is milky in nature. Local says that this water is used for medicine purpose and if you drink this your whole body pain will go away.
After reaching there we rushed to the kund (Hot water place) Hot water naturally originates from there it is really surprising as temperature there remains around  -5°c - 2°c but the water in that kund is always hot act like geysers. Locals tell that it is originated from Lord Shiv hair that is why it is named as ganga and as the water is milky in nature so place is known as Kheerganga.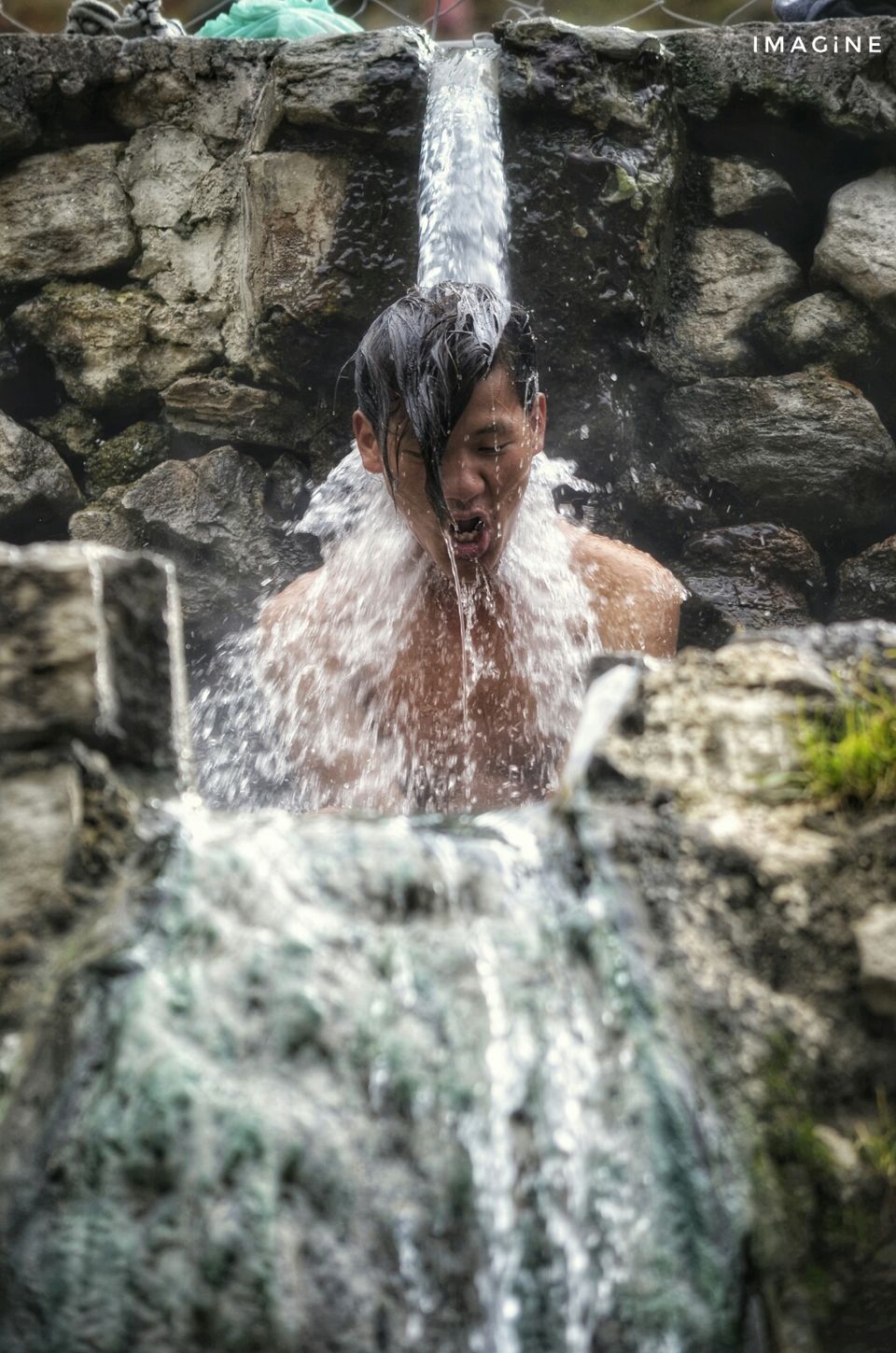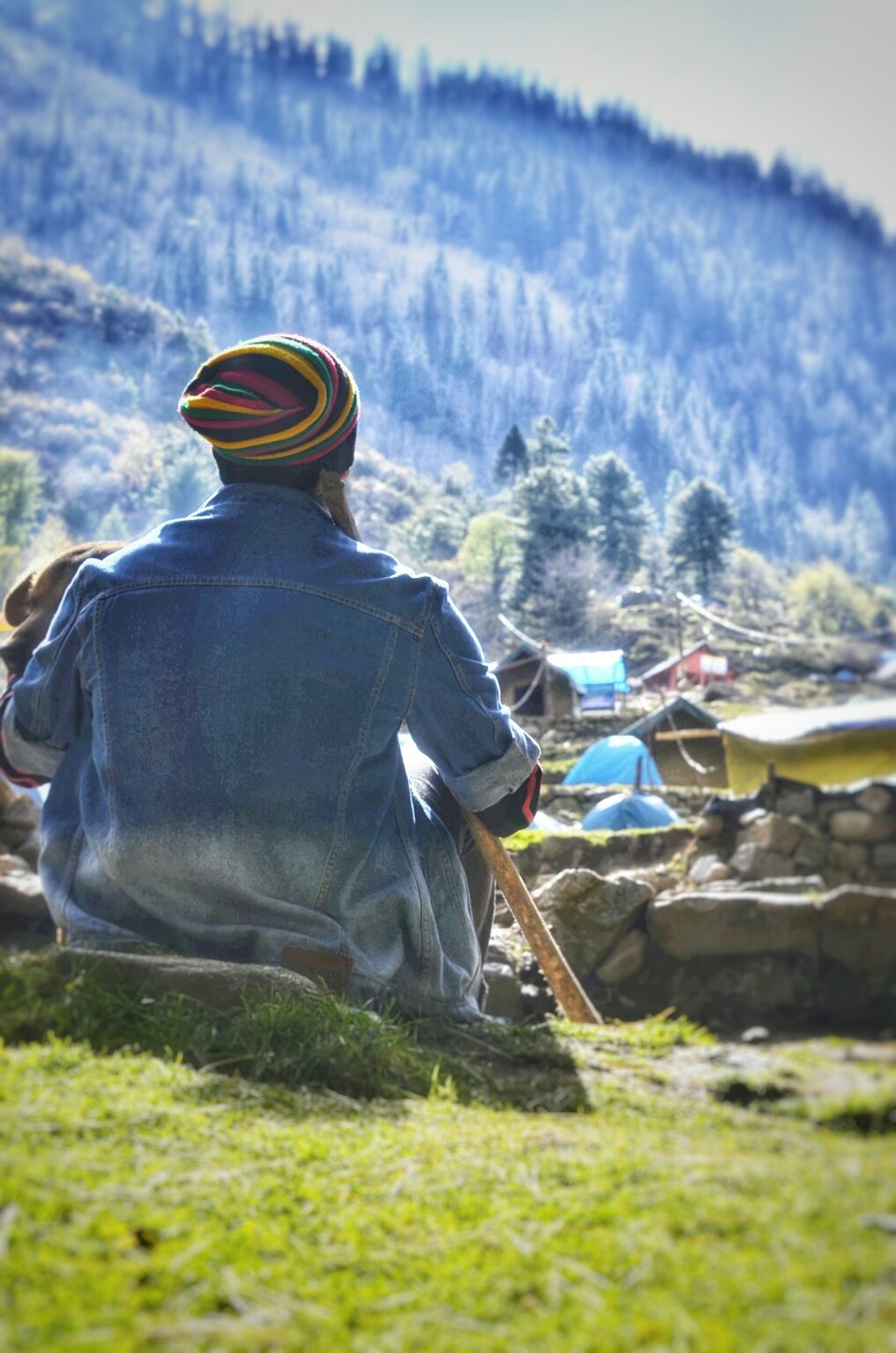 After taking bath we went for lunch and started again to go back to camp. One can stay there also if you want but our plan was to return back to camp. Meanwhile we also had a round of Chillum with a local :D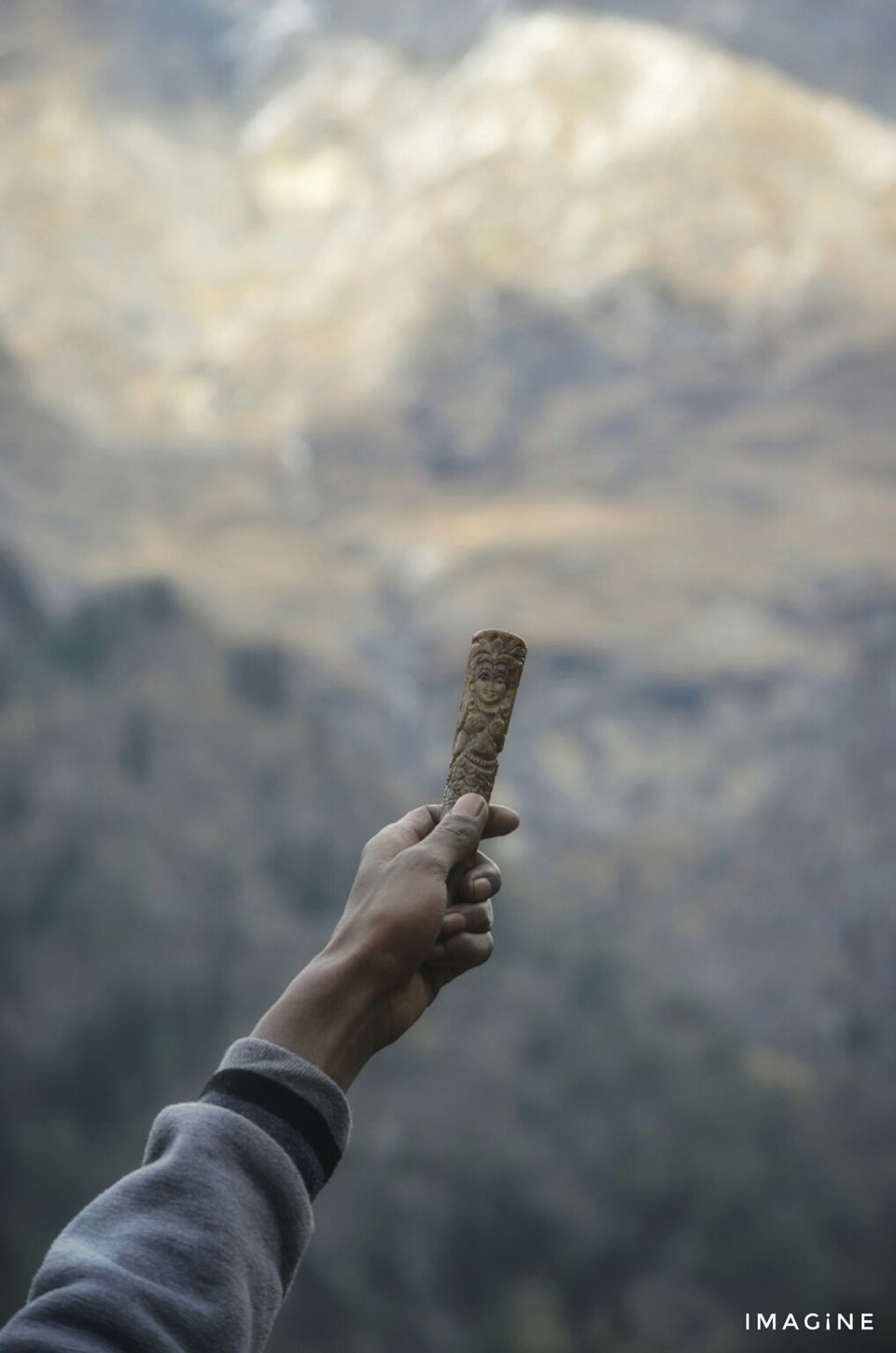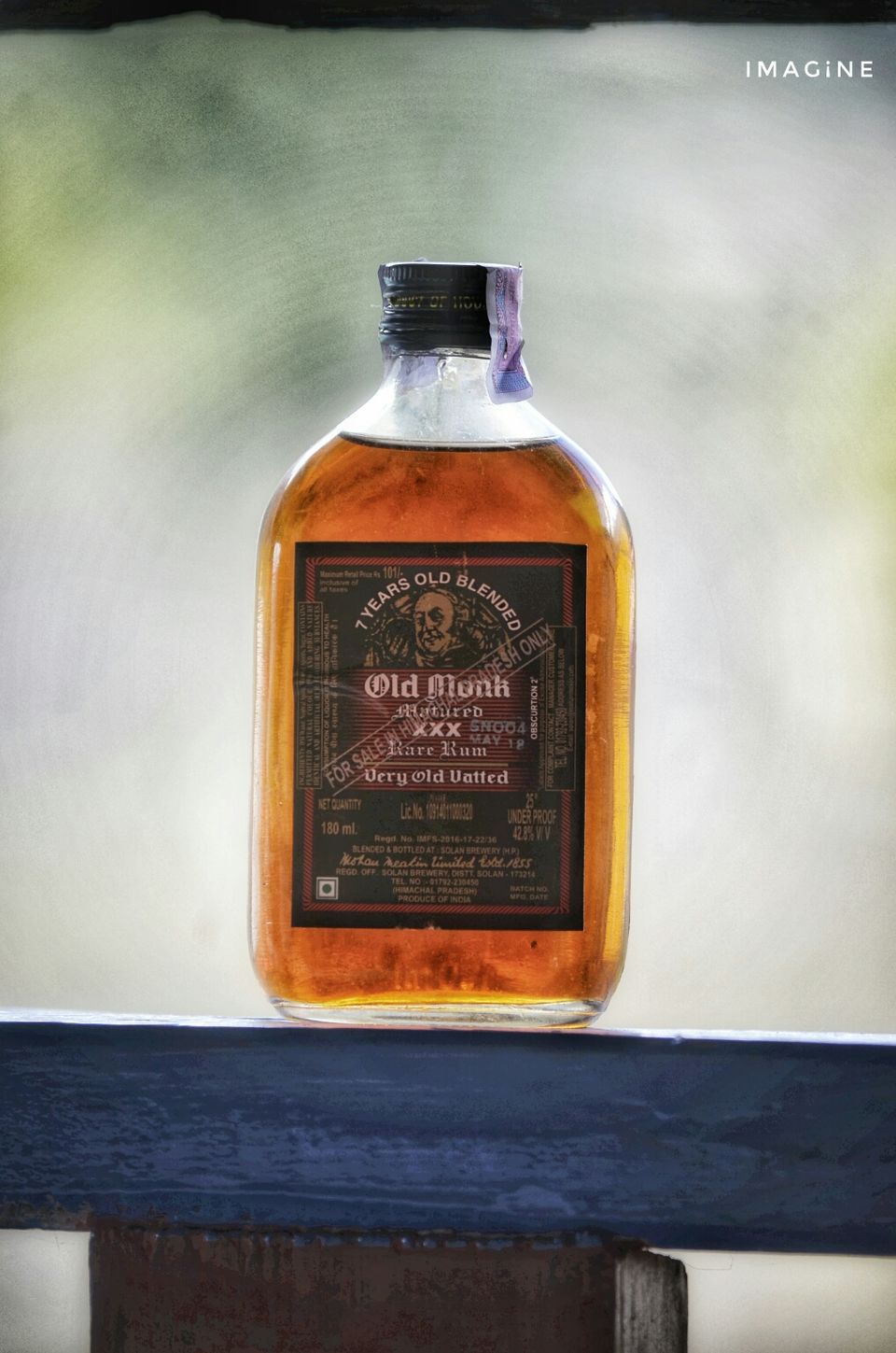 we had to hurry up as we have to reach camp before it gets dark or else we would be stuck.
It took us more 3.5 hours to reach to the camp. We reached around 7:00 pm.
After getting fresh we sat with others and camp owners for some dance, liquor etc to lighten ourselves in that cold night.
At night mountains gets more fascinating as moon light shine on that mountain top covered with snow.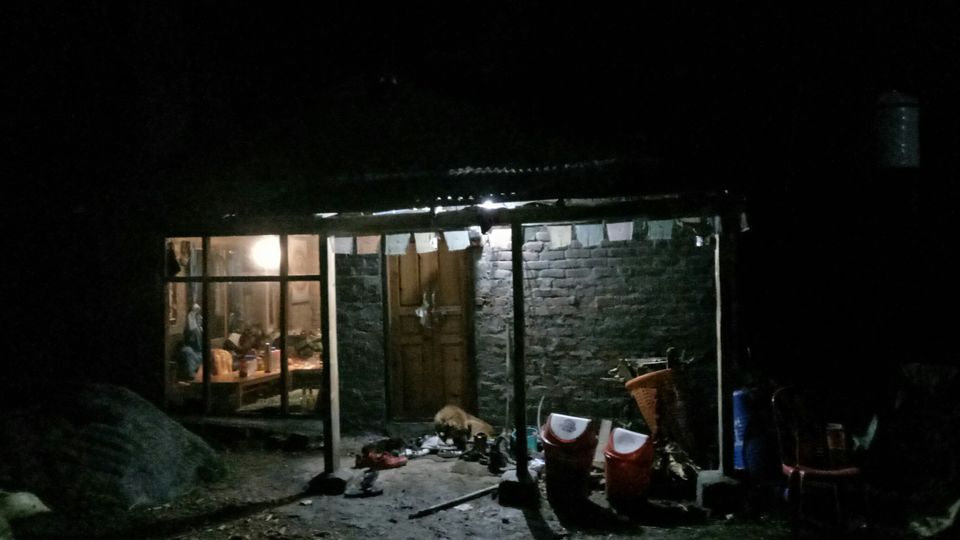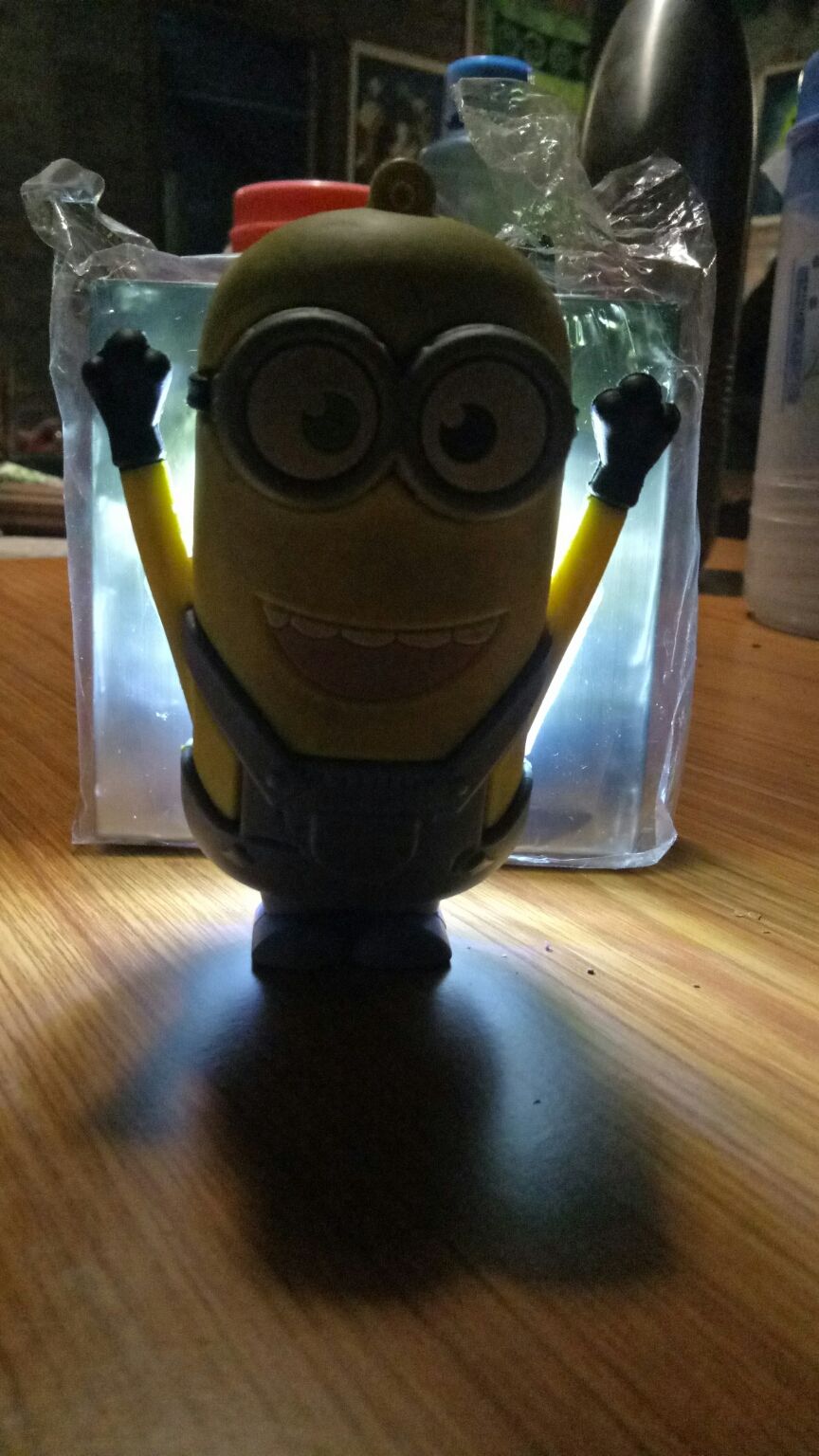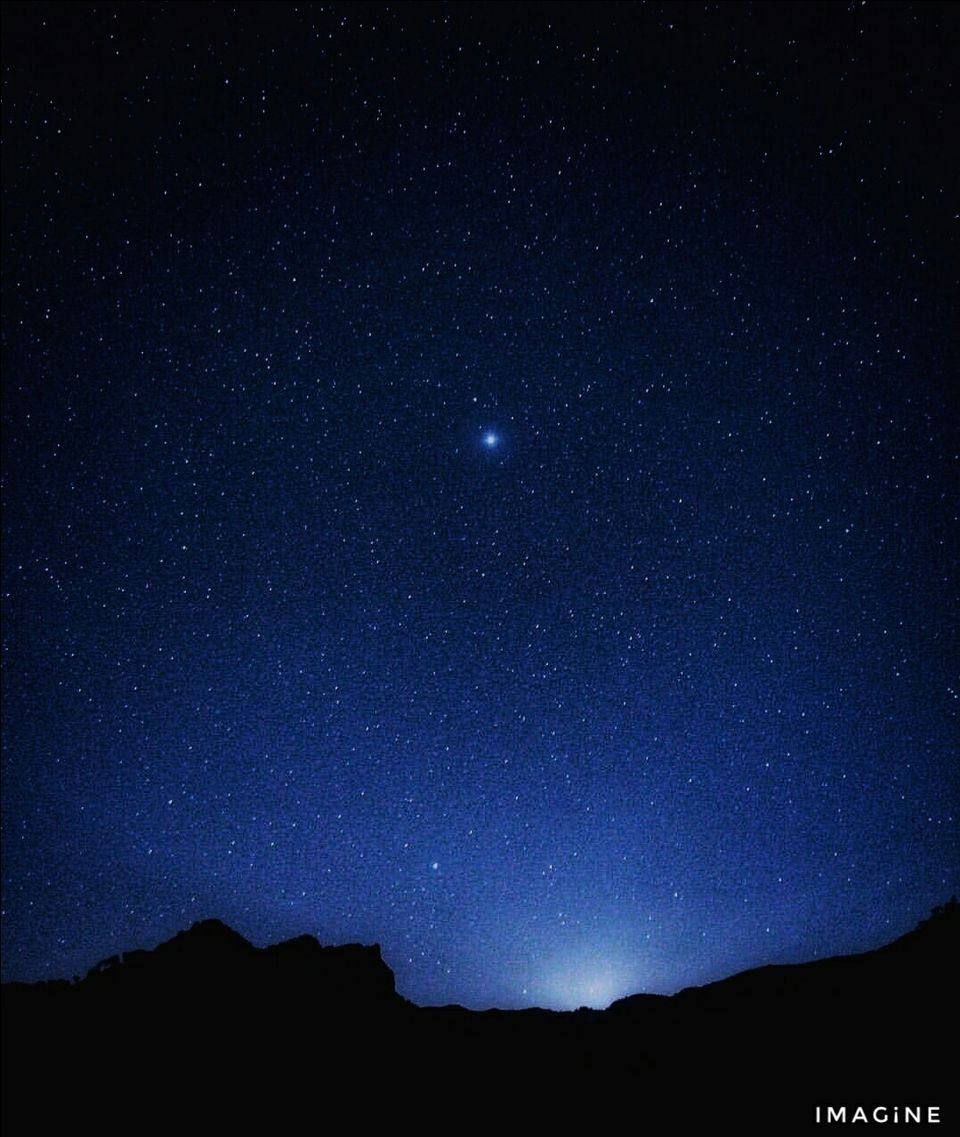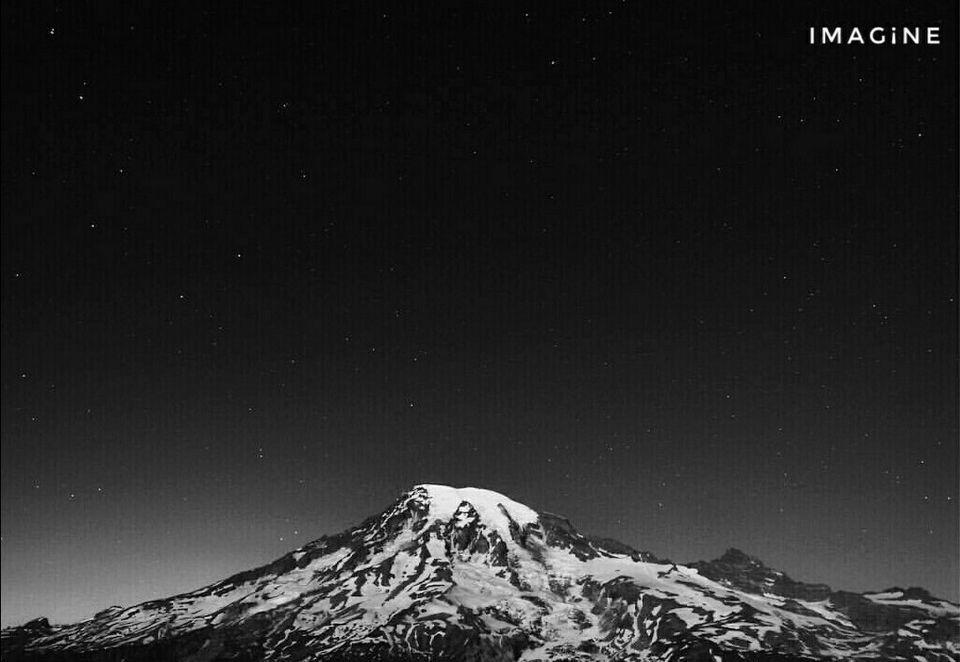 So after staying up in khalga for 3 days we decided to go the last spot of the trip that was Manikaran.
It is situated between Kasol and Bhairini.
We have to take bus to reach there and it takes around 1 hour to reach there.
Our stay was really awesome in Khalga and in wildchild adventure. It was really sad to leave that place as it was so beautiful and to bid farewell to Shera and Bagha our travel partners.
So after taking the bus we reached manikaran.
Manikaran is famous for its Guru Sahib Manikaran Gurudwara. So directly went to there and had langar in gurudwara. It was really peaceful to have those simple food. You have to serve food to others, you have to wash plates and make food if you are willing to.  Everyone is allowed in gurudwara to help in making langar.
They also provide rooms too that for free. So we availed that. After having lunch again we went to hot water kund which is there in gurudwara itself but this is not a natural one like Kheerganga.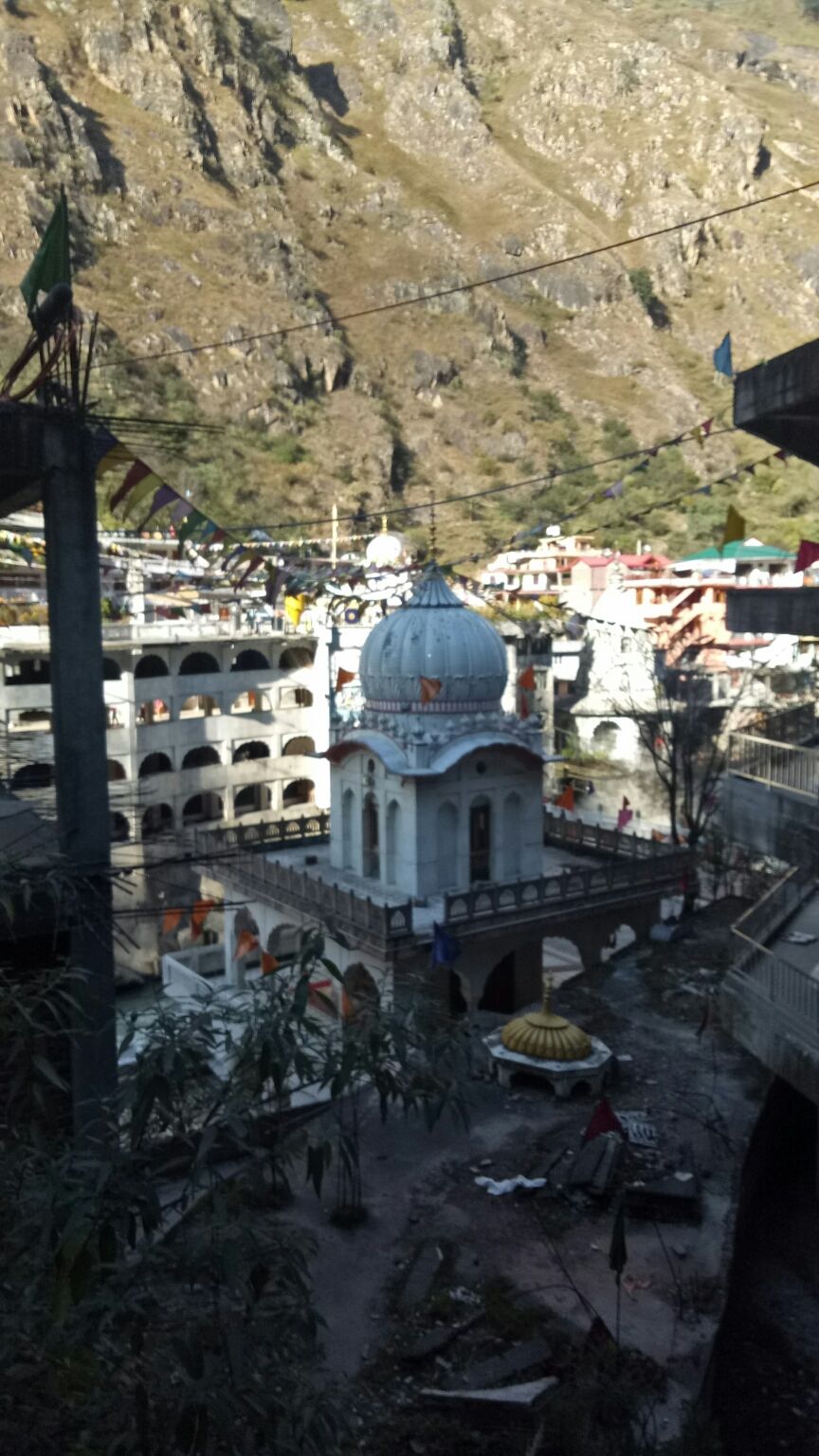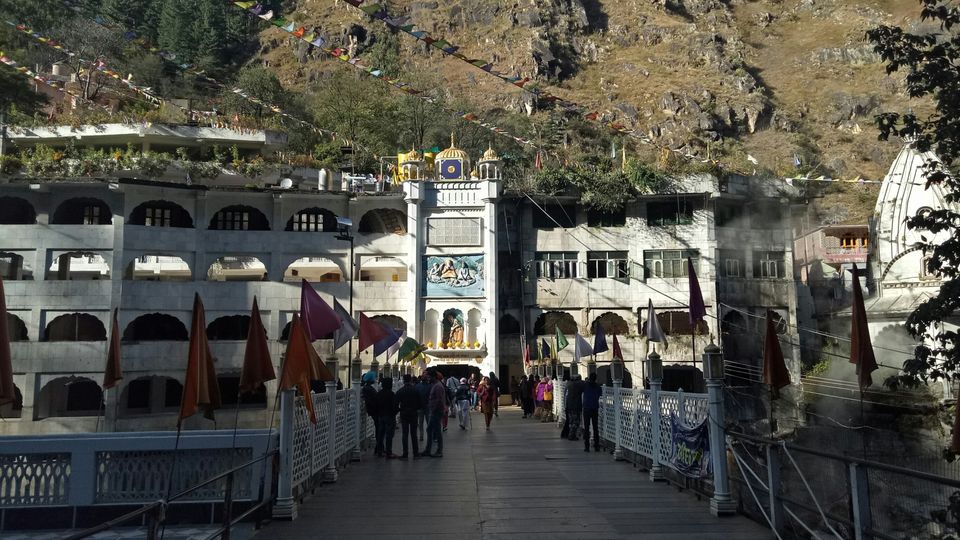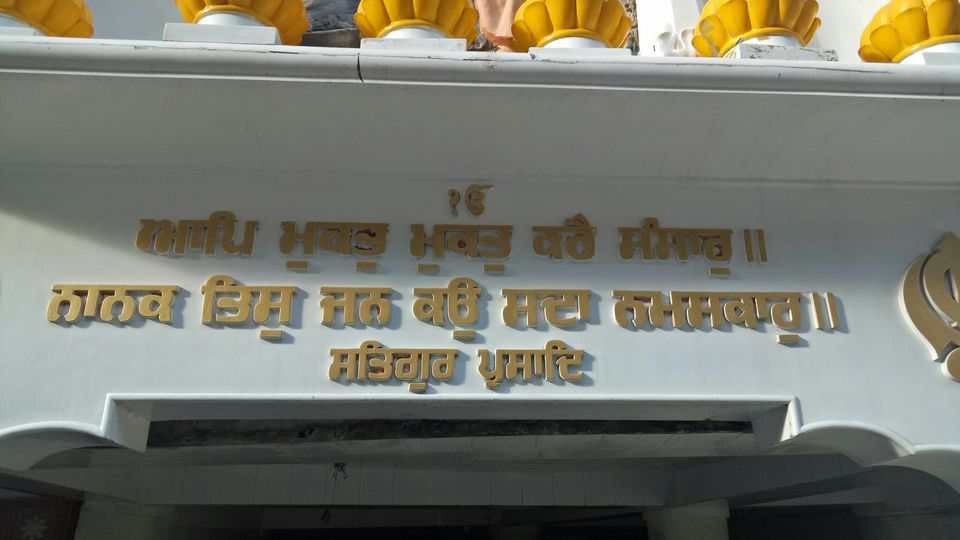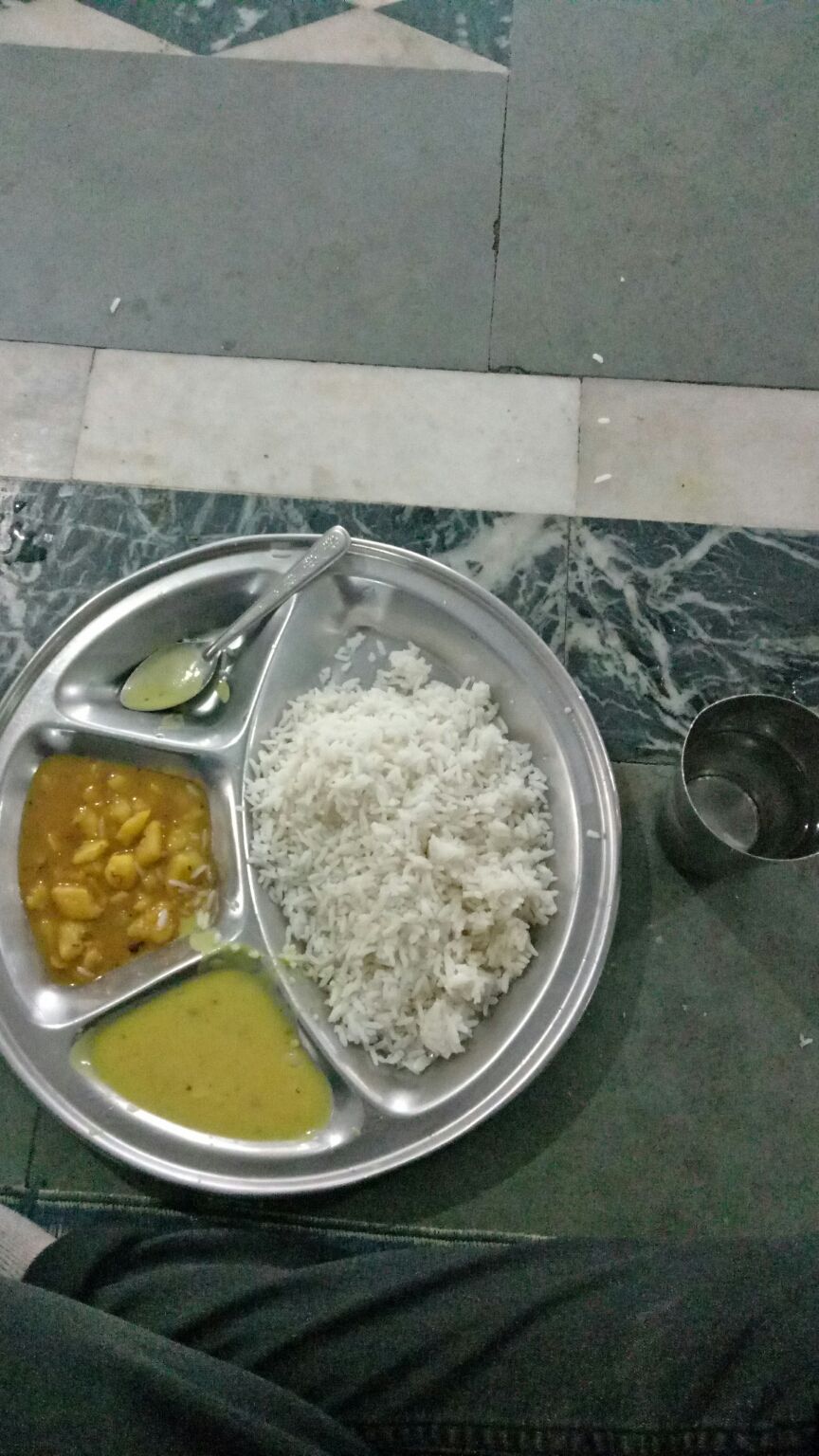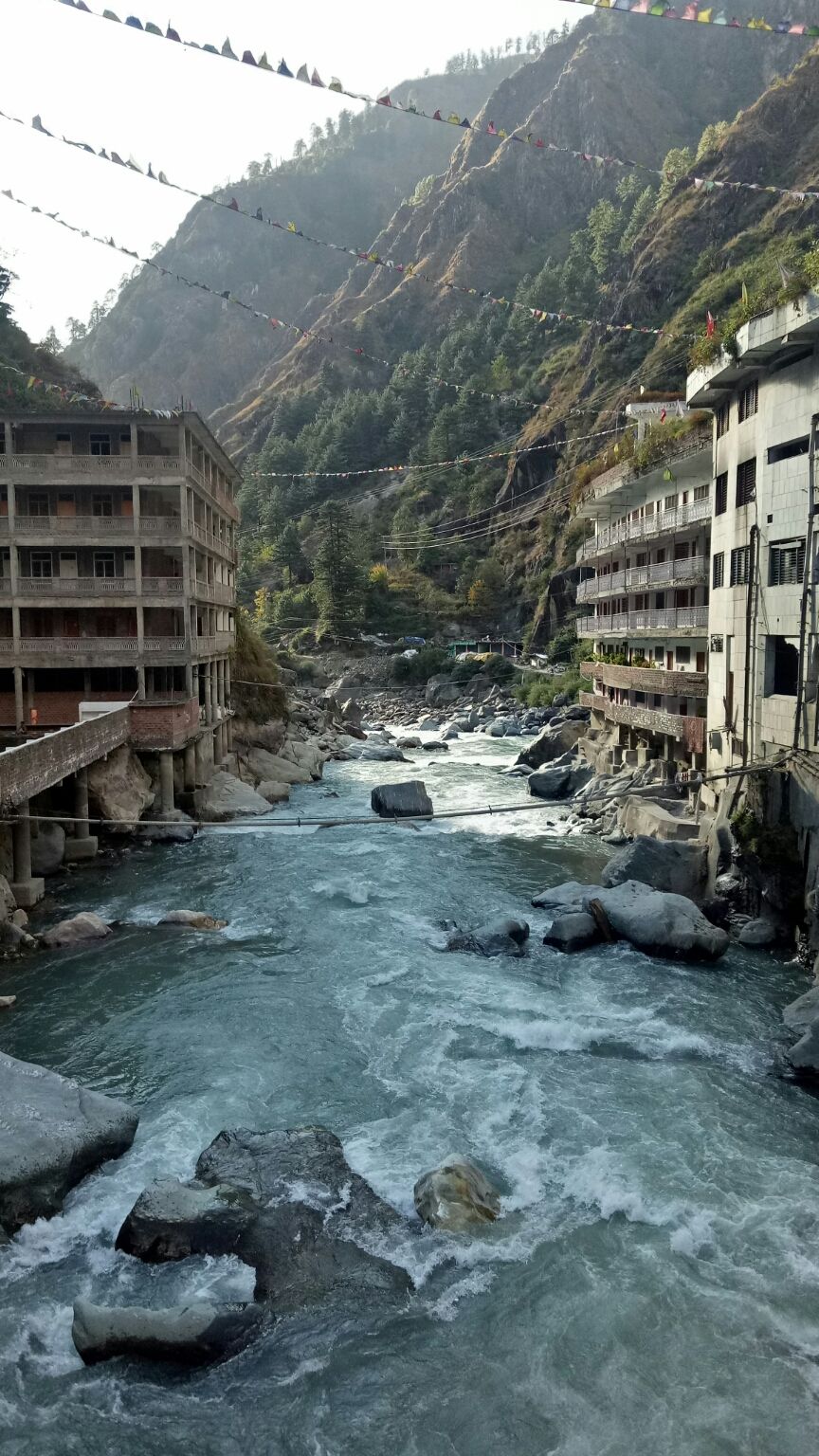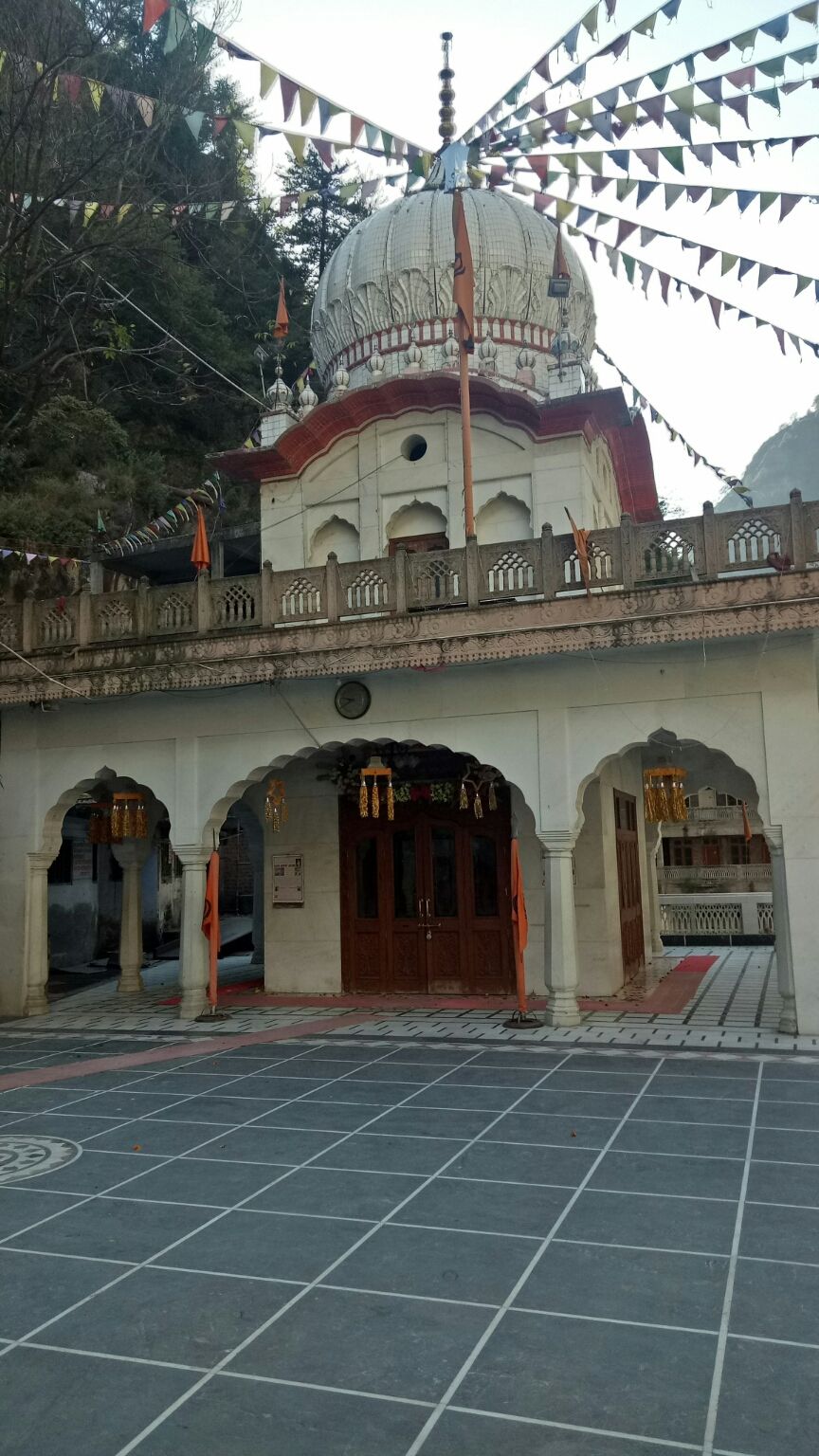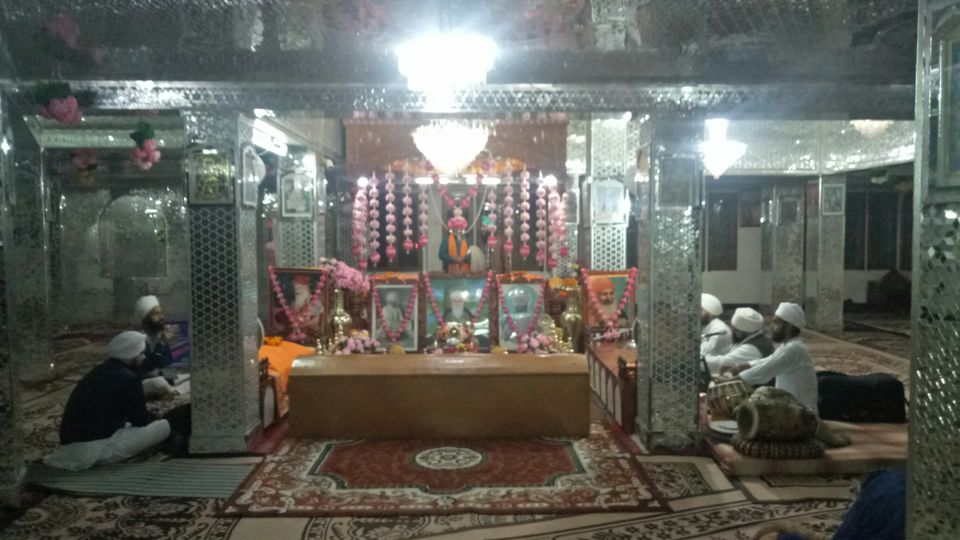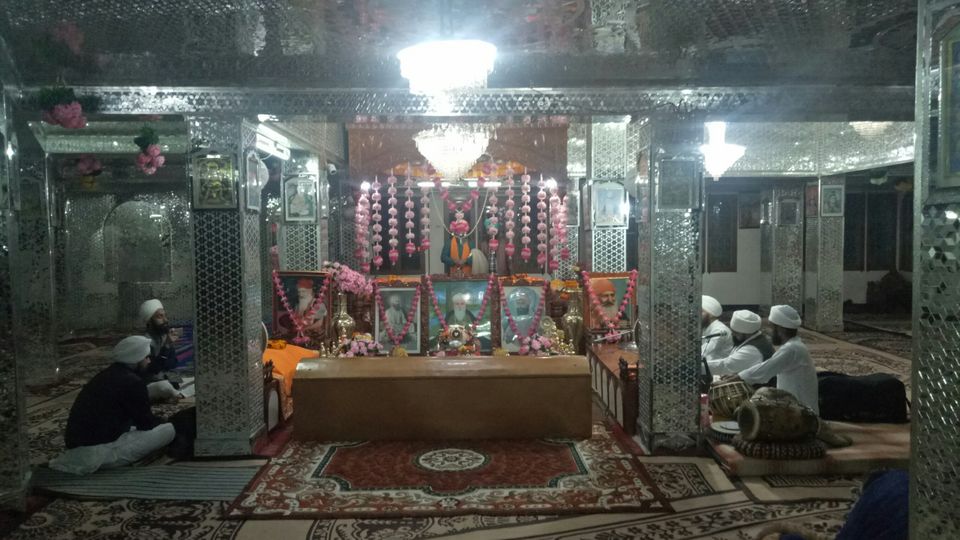 Then we went to gurudwara for offering prayers and sat there for bhajans. After that we went to nearby Ram mandir and local market present there. Manikaran is really a peaceful place as spirituality runs there and sikh people are so generous who help every individuals with food and shelter.
After going through local market we called the day off.
The saddest day of the trip as today was the day we have to return to delhi again.
We reached to Kasol from Manikaran around 11am then we went through locals shop in kasol and are famous hash nutella crossiant.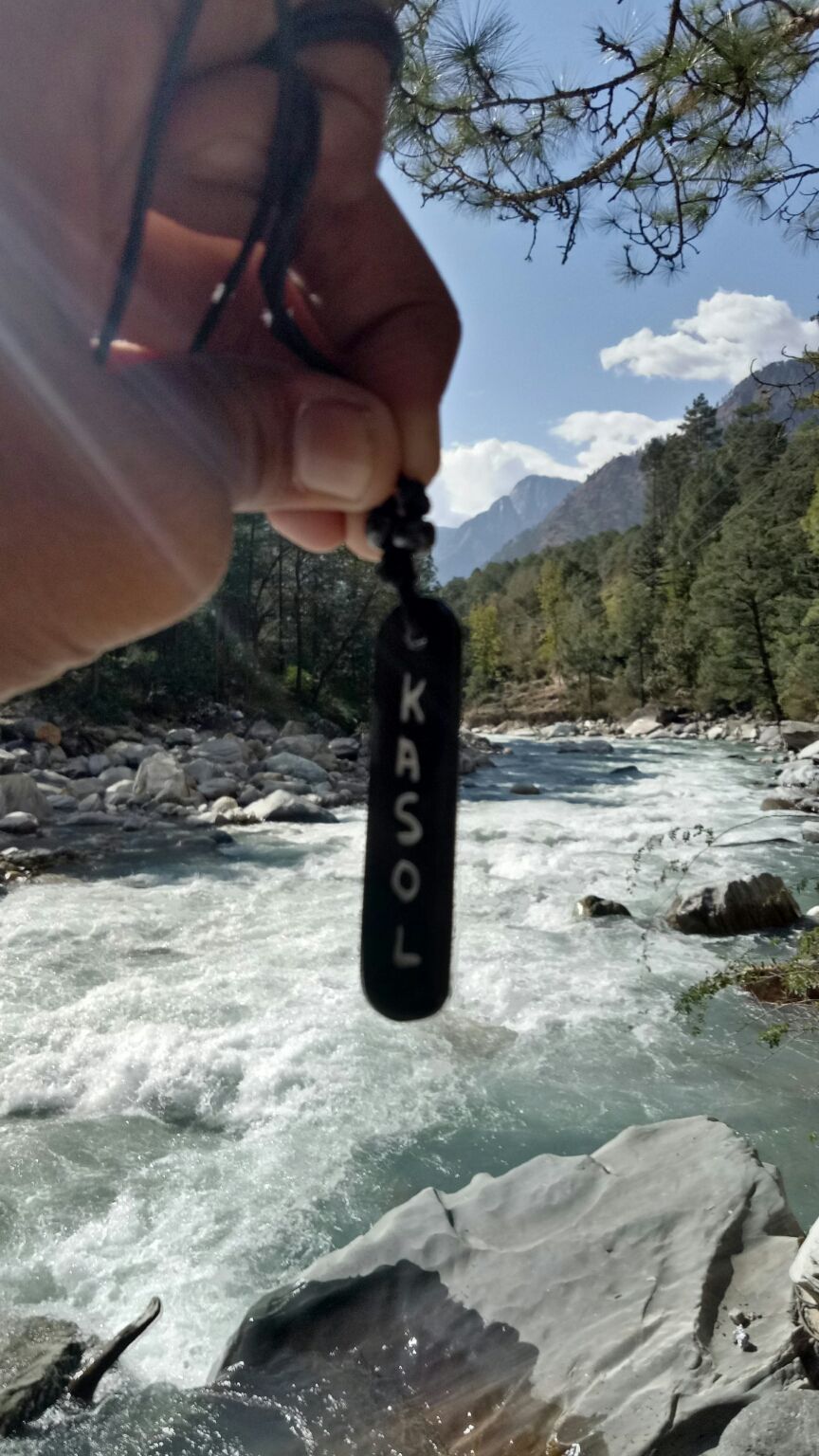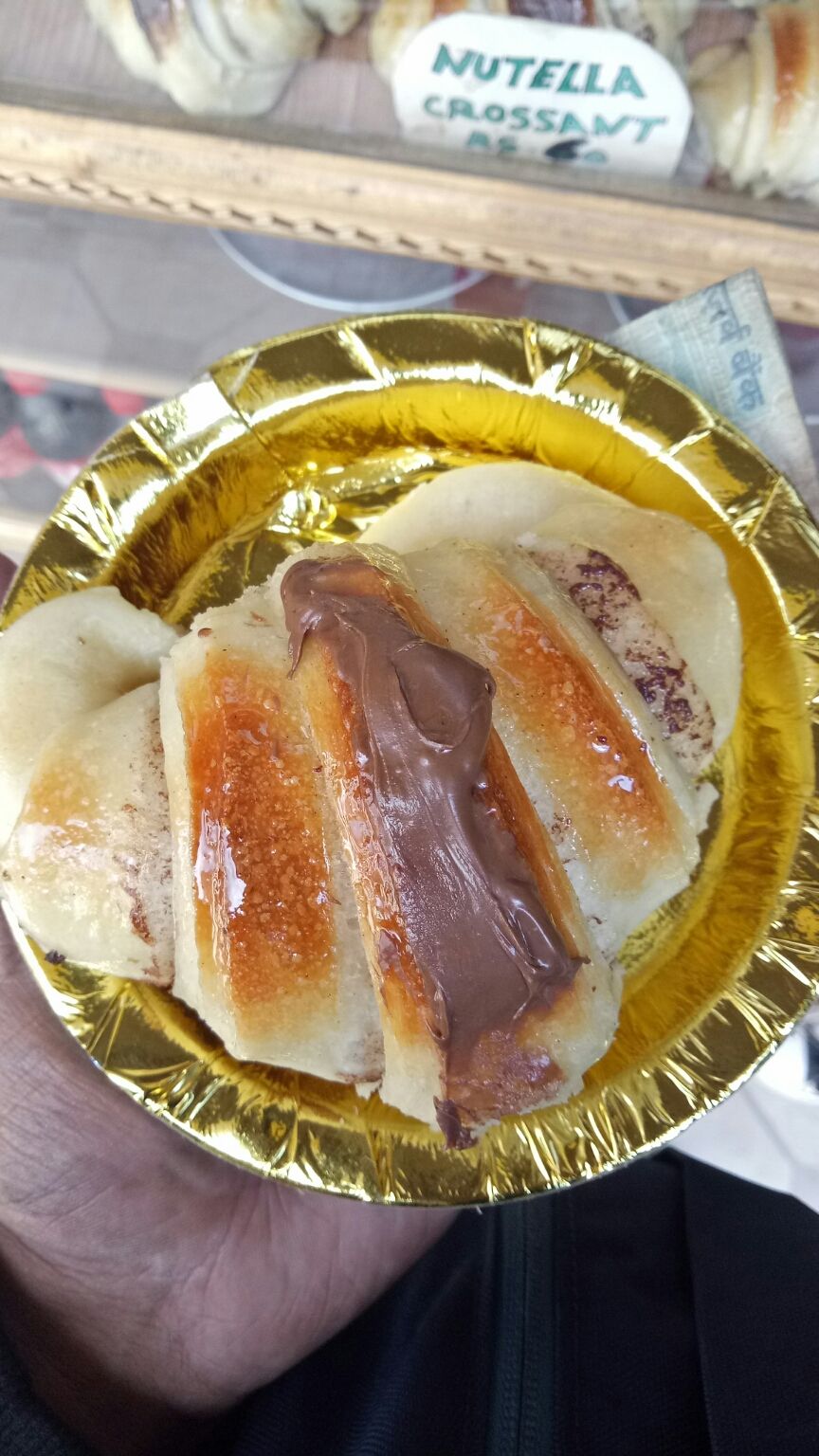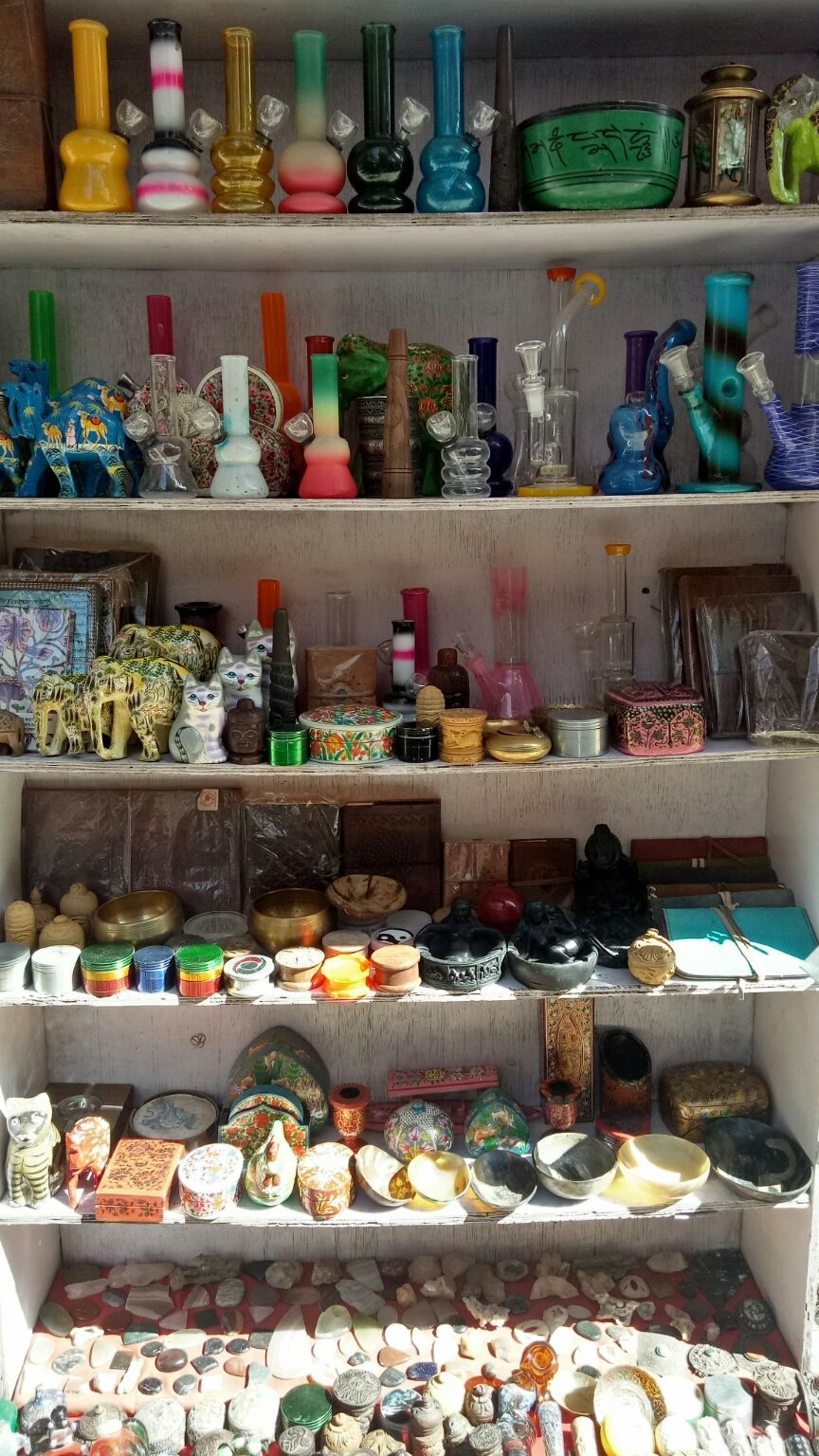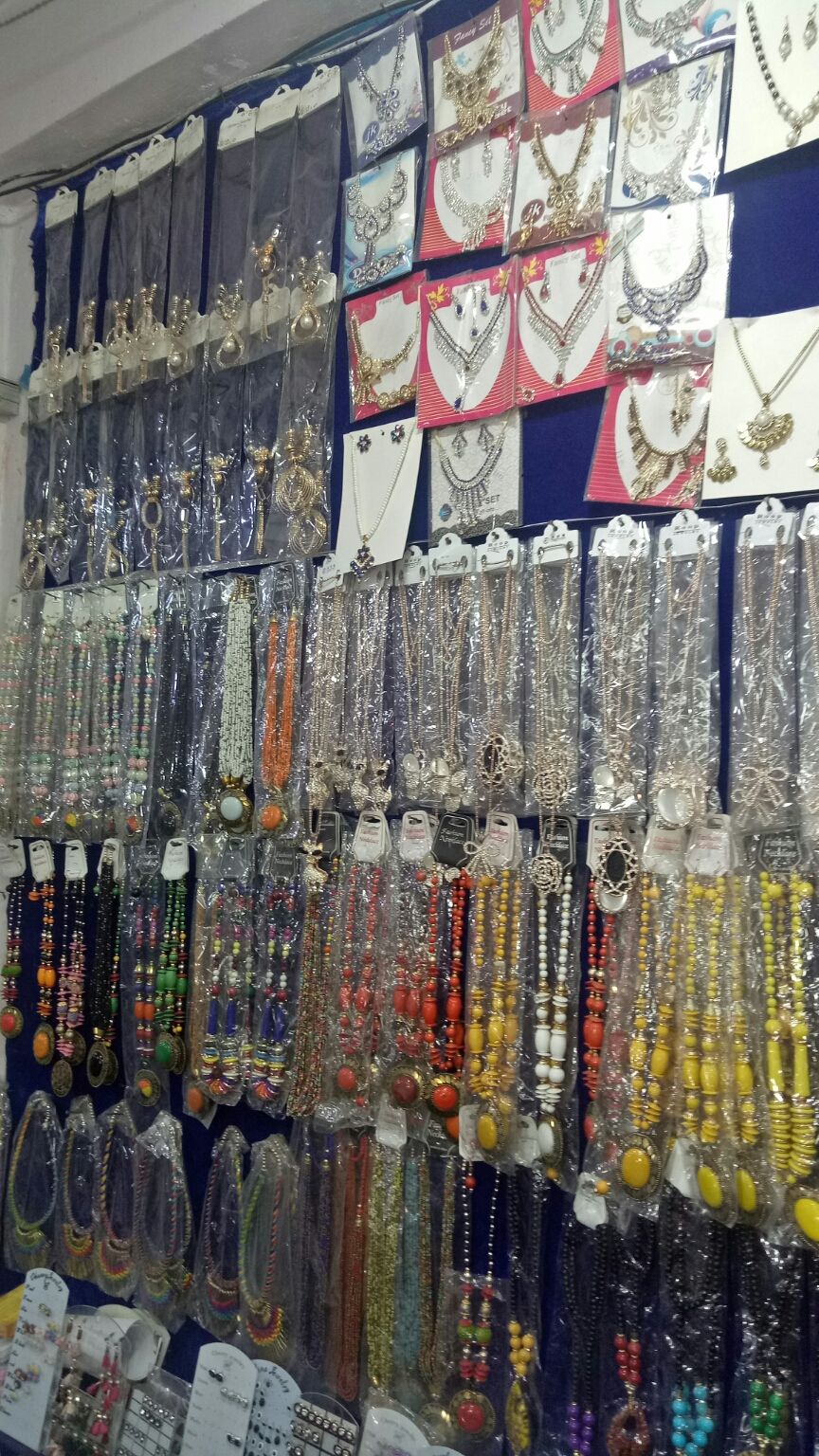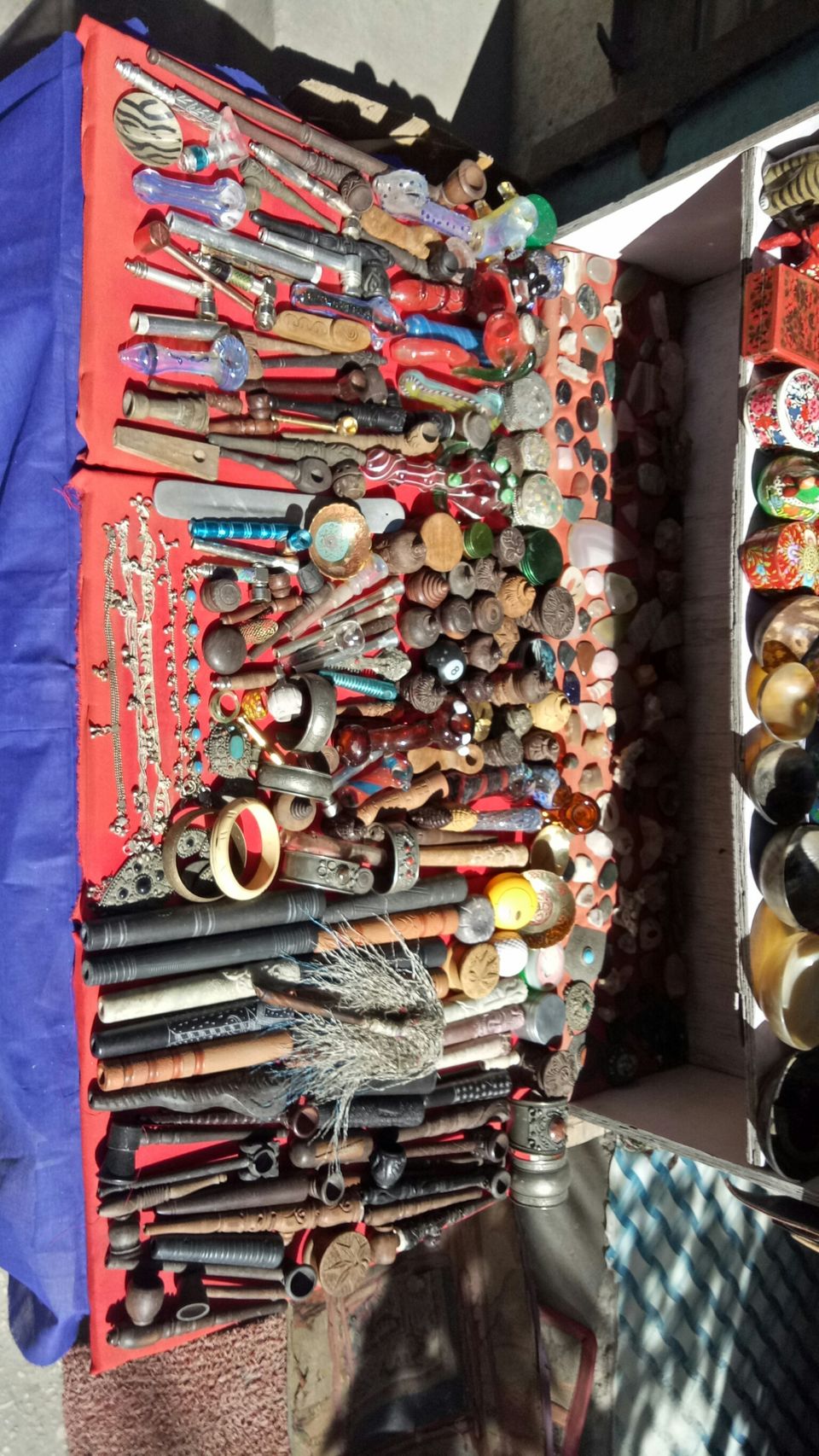 Then we had to catch the bus for Bhuntar as our bus bookings was from Bhuntar to Delhi at 8pm.
So we reached around 5 pm at Bhuntar.
It was really bad to leave heaven and go back again to city jungle.
Then we had local famous red wine.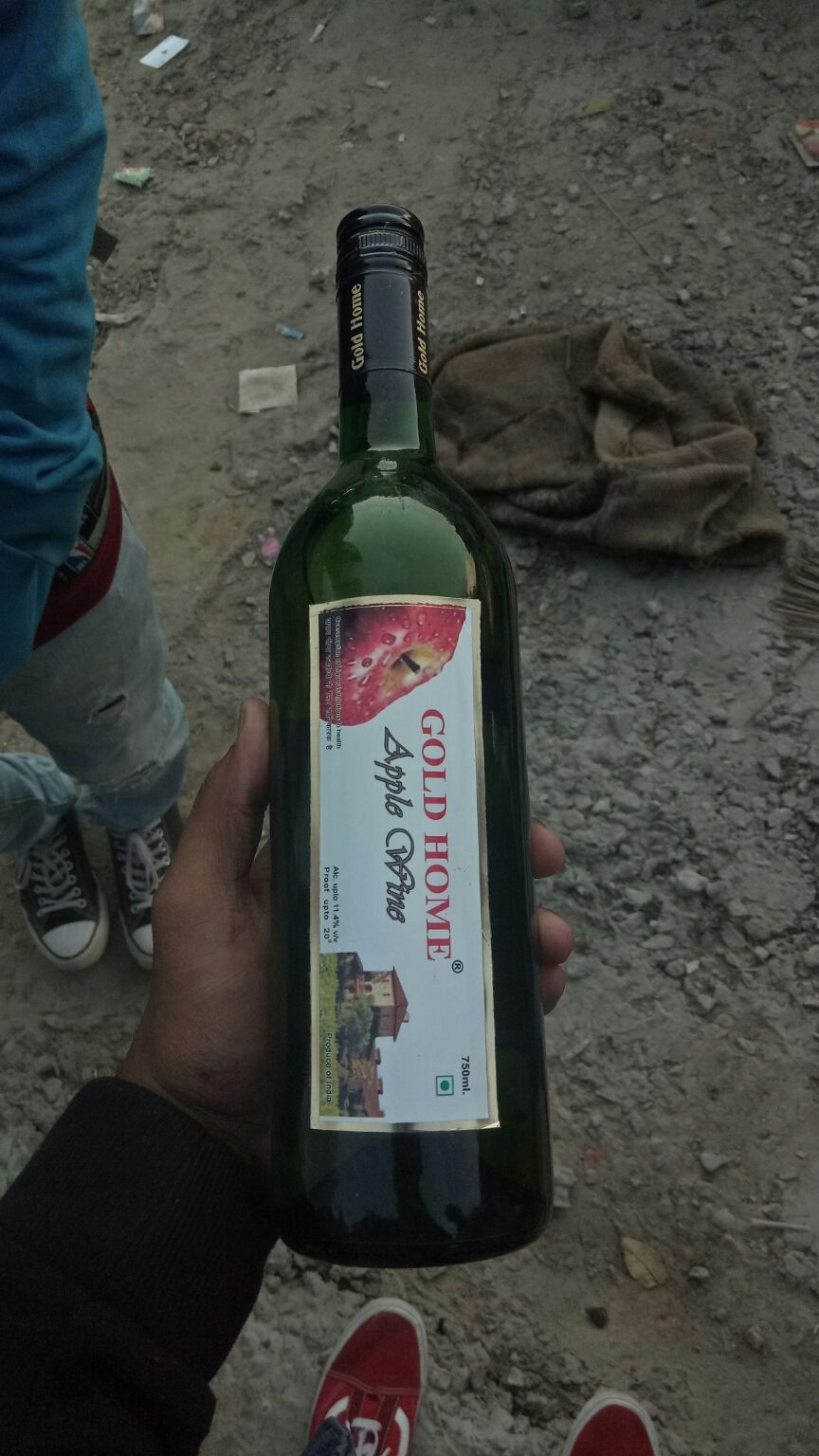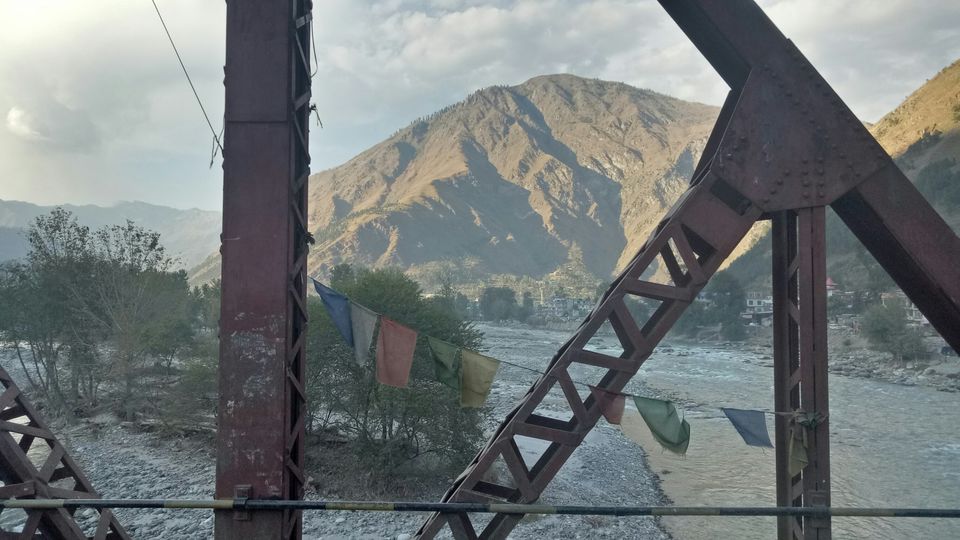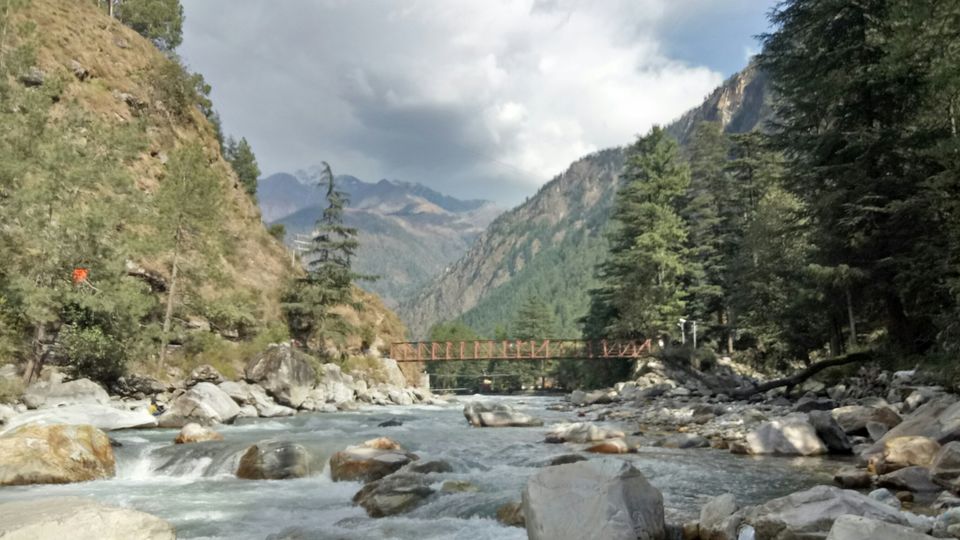 Then after eating street food our bus was there to catch up from bus stop.
This was the end of our trip.
It was really sad to return but it gave us so much memories to cherish upon. Nature teaches us many things we have to just protect it and respect it.
Many people think travelling cost money but it is wrong if you have a bunch of good friends and willingness to go money wont stop you from exploring the beauty of nature.
Meanwhile I just want to share the exact cost also we spent in whole trip it was around 5200/- each person including food , stay and travel.
Yeah it is true under 5000/- it is too easy to travel kasol happily.
As I promised I will show you now the patterns of snow in kullu valley when we stayed there.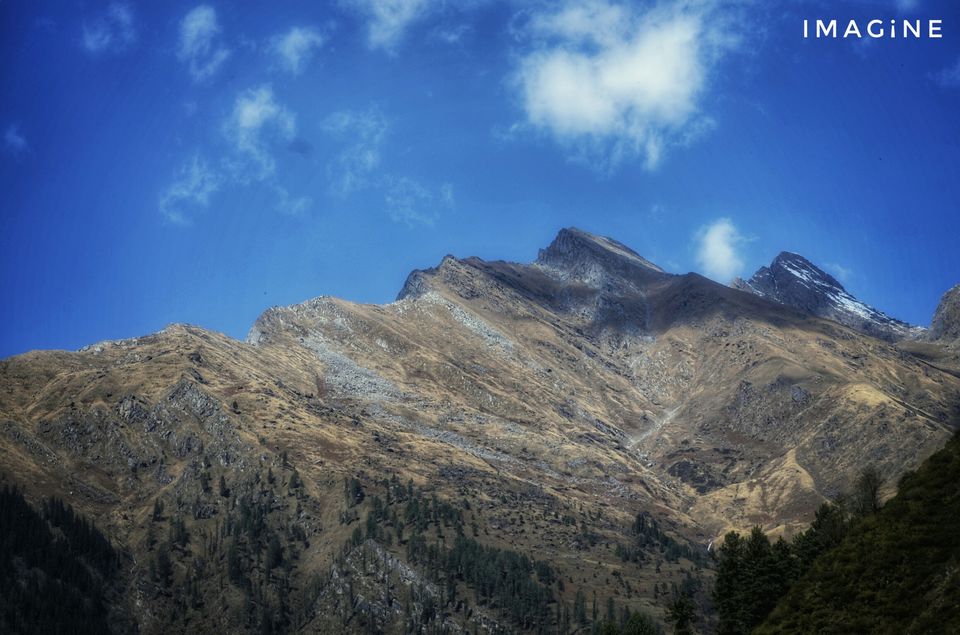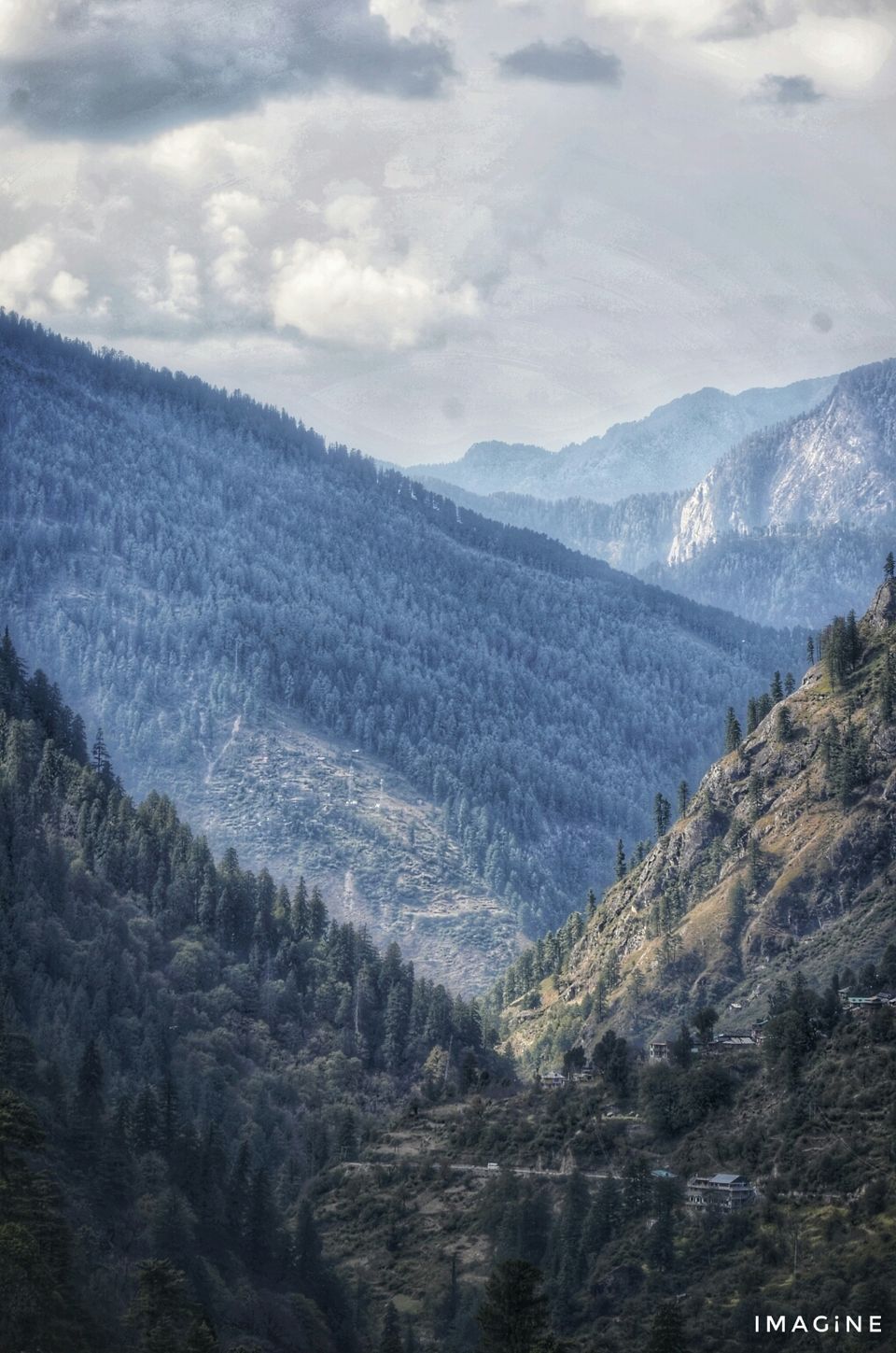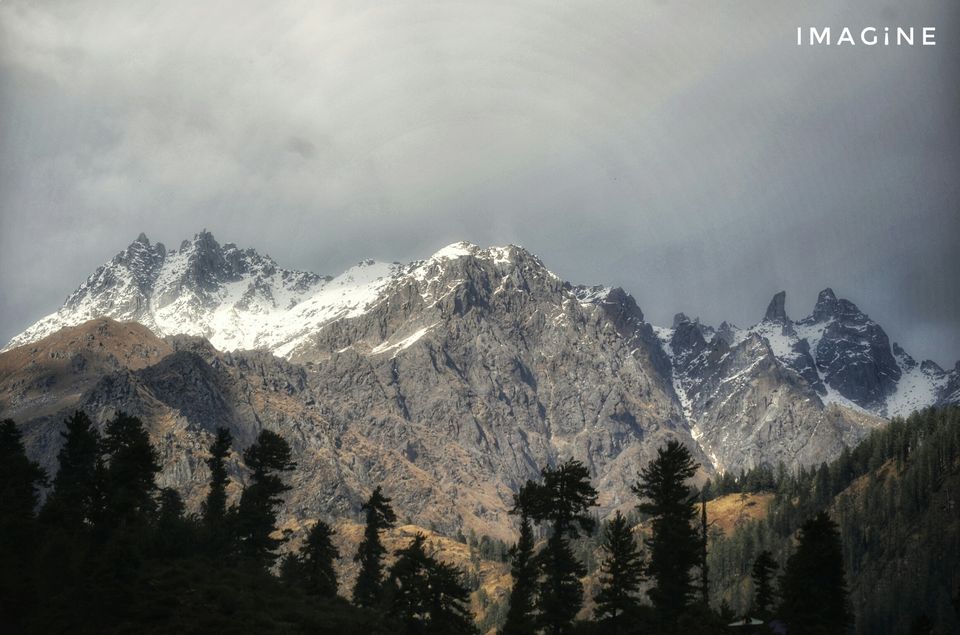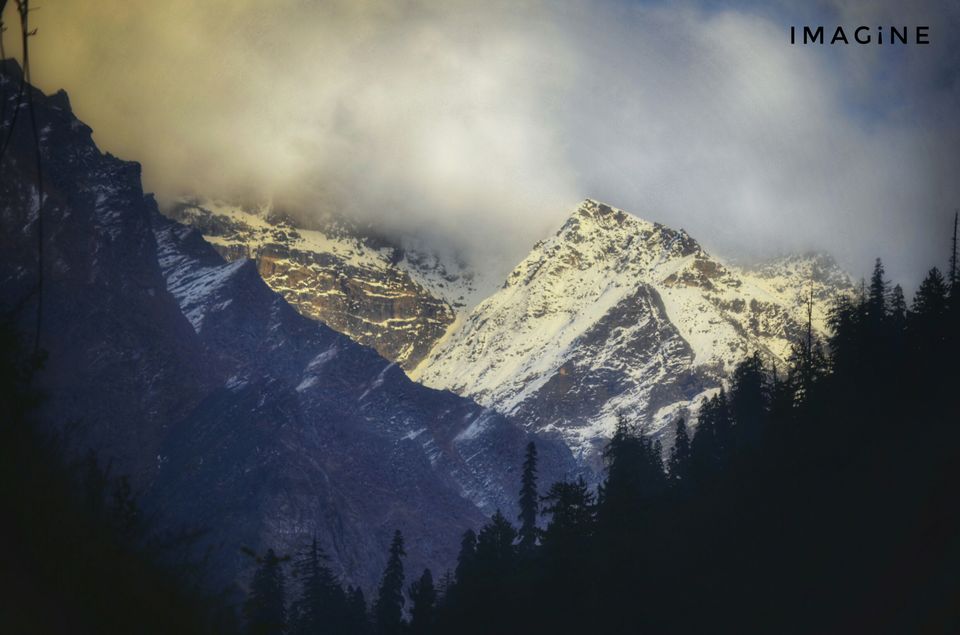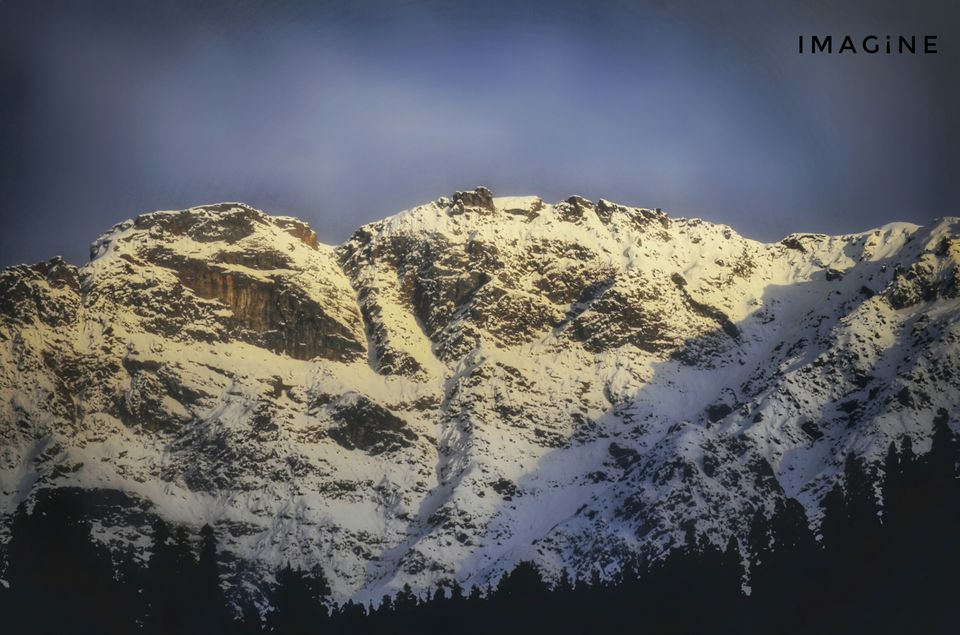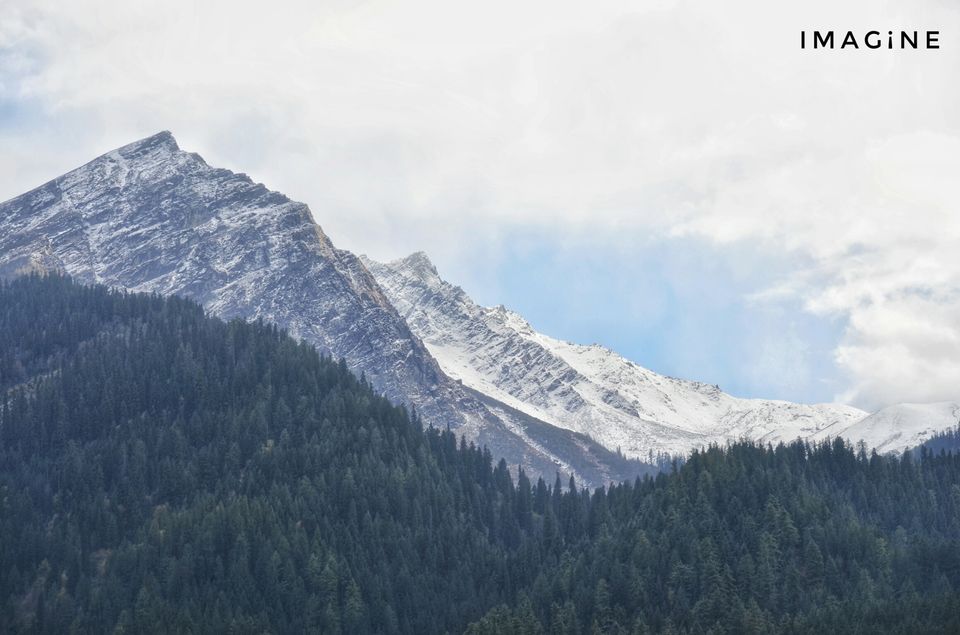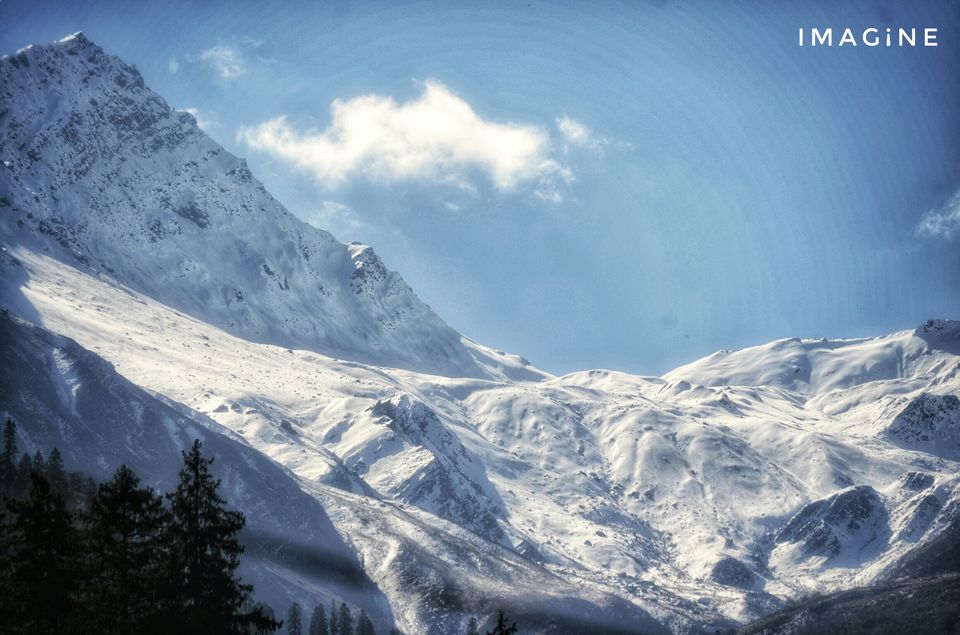 I hope this article  inspired each one of you to travel more and explore more.
We had missed Grahan trek and Rasol trek this time but next we will be covering that too.
Keep travelling as you know your limits once you start travelling and start to know yourself in a more better way. :)
Below I am sharing some of the pics which I clicked during thr trip.