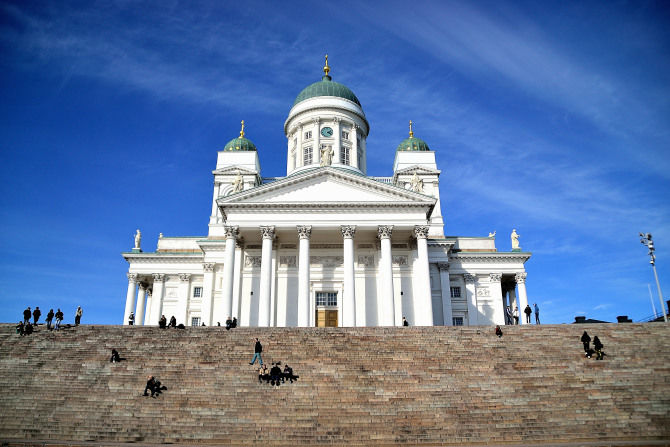 My way out from Tallinn was through a ferry which would take me across the Gulf of Finland. After this journey, I had crossed borders on foot, by road, by train, by air and by sea. That pretty much sums up all possible ways except for teleportation. I was in Helsinki in late March, and from Indian standards it was freezing even during the day.
Helsingin kaupunki, the city of Helsinki was established in 1550 by the Swedish king to rival the city 80 kilometre across the sea, now known as Tallinn.  In coming years the city saw massive deaths during the plagues and could get restored only after Russian declared it Grand Duchy of Finland and moved capital from Turku to Helsinki.
Esplanadi is a splendid park not very far from the harbour and the railway station. I started my Helsinki walk essentially from this place immediately after having a light breakfast at Stockman. The park spans from Erottaja to Market Square. Fun fact, Erottaja is the geographical 'zero mile' reference for Finland. Crossing the City Hall, after spending some time in market square which given the season and time of day was not very crowded, I visited Uspenski Cathedral. It situated on a small hillock and gives a very nice view of the harbour and the city. The central attraction of the Helsinki is the Helsinki Cathedral which is situated in the heart of the city with big open space in front of it and colonial steps leading up to the mound it is made upon. One can imagine the kind of crowd which just hangs about in this place on a sunny summer noon.
Helsinki city has grown from the old city centre to northwards over the period of time. So, essentially there is the city centre area close to city hall, market square etc. and across the bridge on the northern side is Kalio neighbourhood which is more of a working class area, relatively more densely populated. In this neighbourhood there is a Kalio Church which serves as landmark in Helsinki. Walking through there and then the Holenens Park and through the Olympic stadium area I reach Sibelius Monument dedicated to Finnish composer Jean Sibelius. This monument is made up of 600 hollow pipes welded together to create a wave like structure weighing 24 tons. It is done by Eila Hitunen.
The Parliament House and the National Museum of Finland are just few hundred meters away from each other and opposite to the Music Centre. Parliament and music centre are very interesting architectural example which sporadically appear on the Helsinki landscape.
Unfortunately, I had very little time and had to travel deeper in Finland on the same day, from the capital of Finland to a city which is the capital of Santa Claus – Rovaniemi!
My Route:
8:00 AM – Tallinn (Estonia) – Viking Lines to Helsinki (Finland) at 10:40 AM
My Stay:
Did not stay the night.
This post was originally published on 'TaxidiAxios'.